Kelp Granules Shaker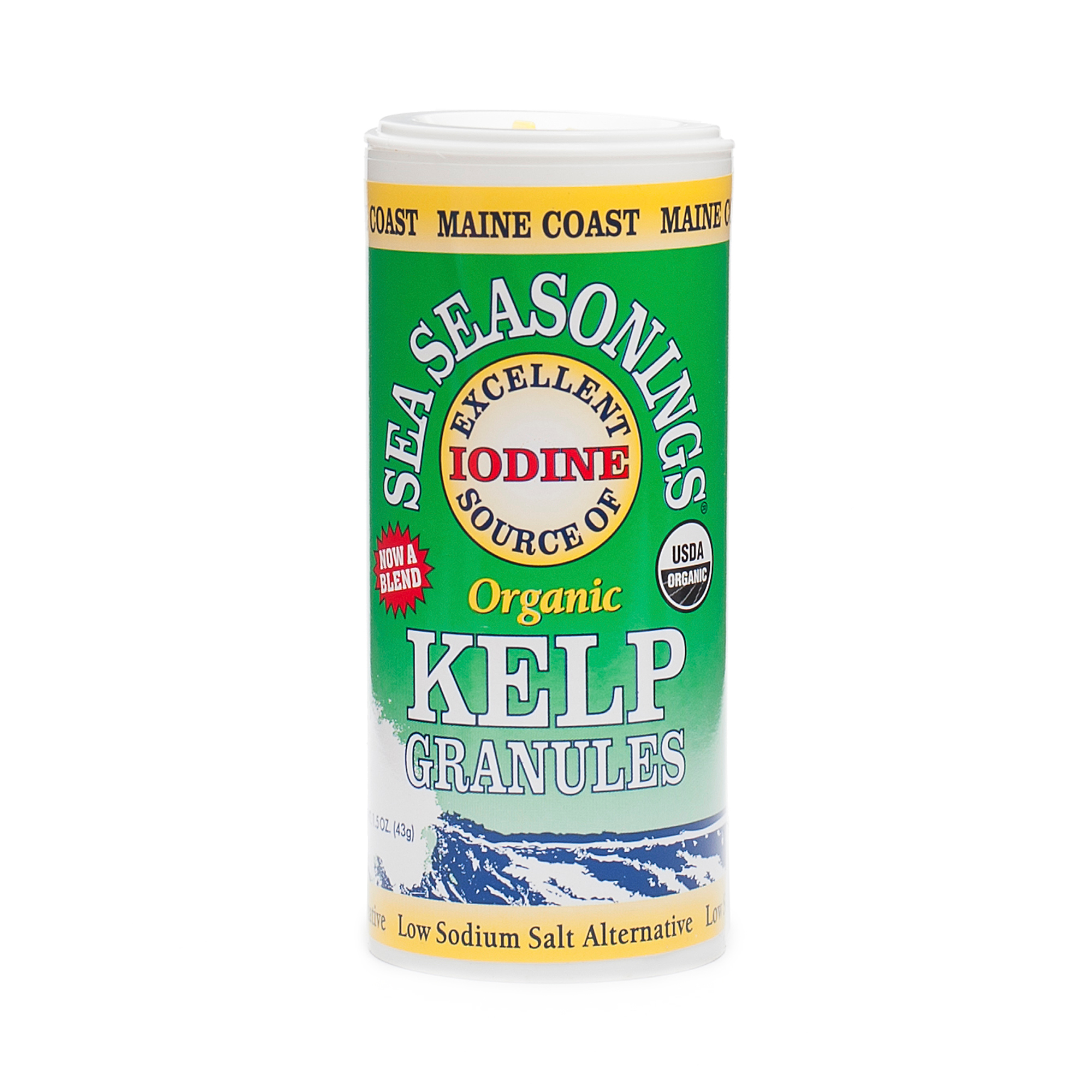 034529123735
Low sodium Kelp Granules (now a blend) are a convenient way to get your sea veggies. Kelp granules are "salty" yet low sodium, thanks to the rich complement of potassium, magnesium, and other mineral salts. Kelp granules are an especially rich source of potassium, iron, iodine, Vitamin B-6, Riboflavin, and dietary fiber. Kelp also contains a natural substance, glutamic acid, that enhances flavor and tenderizes. Phytochemicals in kelp have been shown to absorb and eliminate radioactive elements and heavy metal contaminants from our bodies. Our Kelp Granules are great sprinkled on soups, salads, tofu, pasta, stir-fries, dressings, dips, sauces, breads and tabouli. Get the nutritional benefits of sea veggies, and skip the table salt. Our kelp granules are a blend of Alaria esculenta and Ascophyllum nodosum. They are sustainably harvested, OCIA Certified Organic and a Raw Food. We also voluntarily test for heavy metals, herbicides, pesticides, PCB's, fuel oil, and microbiological contaminants.
1.5 oz shaker
Nutritious Salt Substitute
- by
Avril
I use this in place of salt. It's salty but with a slight hint of sea flavor. Also kelp contains nutritious elements. It has 10 times as many minerals as plants grown in soil. And since it is granulated, it's very convenient for sprinkling on food. I use it on potatoes and anything that you would salt. It's delicious on fries!
Great source of iodine
- by
Melinda
My Dr recommended that increase my iodine intake. Since I'm not a big fish eater, she recommended sea veggies and seasonings. I have added a sprinkle to chicken, salads, and pastas. The flavor blends well. I highly recommend!
Works on Savory Foods
- by
Joy Baisden
Works on savory foods, but not on sweet foods or cereals.
Very nutritious
- by
Sharon
I appreciate this organic kelp. I sprinkle it into my food and I hardly taste it, though I know I'm adding enough to up my iodine levels and for sea vegetables nutrition.
Not a fan
- by
Linda
These arrived opened and seemed stale. Definitely won't buy again.
0034529123735
034529123735
Maine Coast Sea Vegetables