Organic Red Lentil Rotini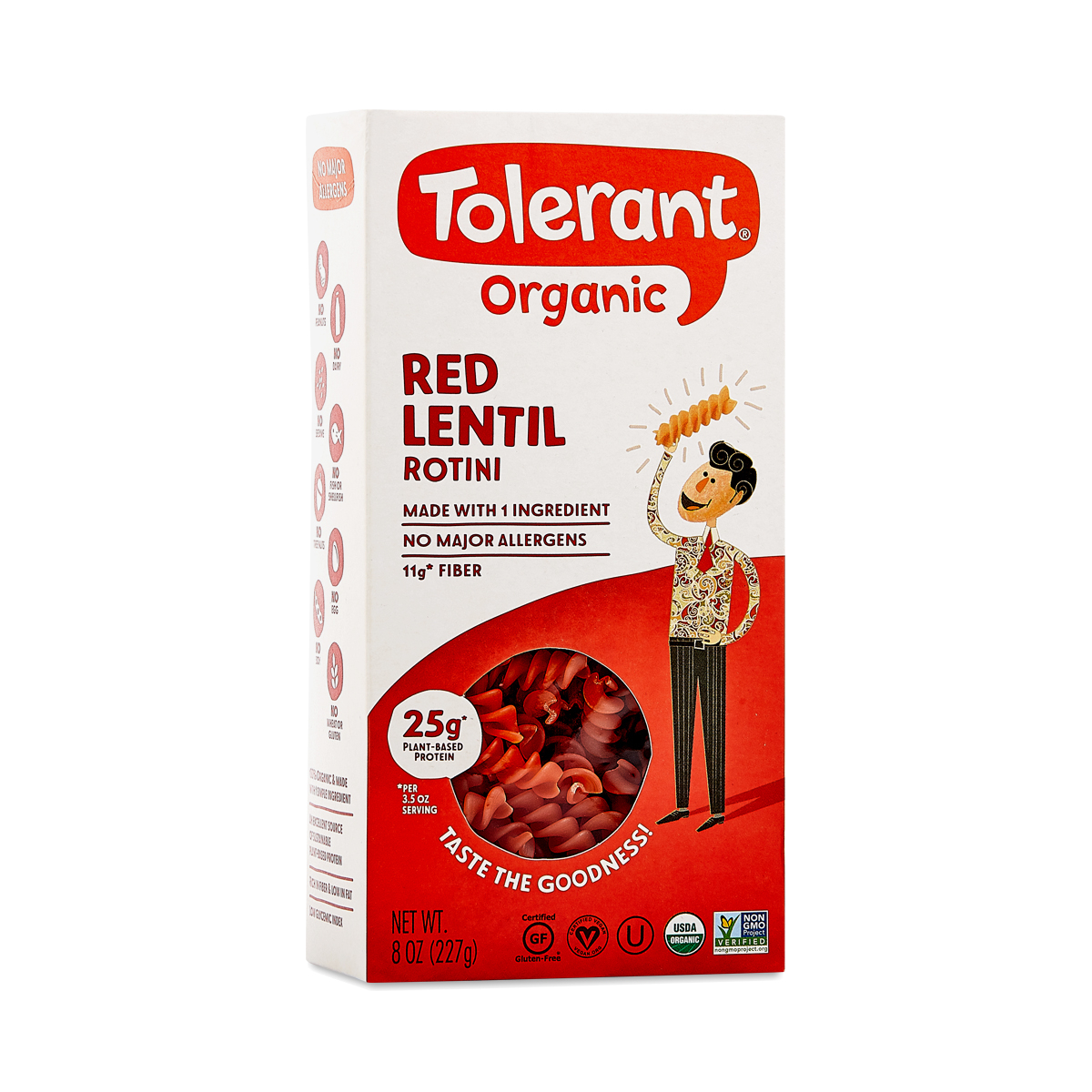 837186006294
Natural Single Ingredient Pasta: Made with just 1 organic ingredient, red lentil flour, for a delicious, nutritious experience—perfect for a clean eating diet. Red Lentil Pasta: Delicious taste and texture—Tolerant Pasta looks and tastes just like traditional pasta, but adds variety to your daily diet by delivering the goodness of legumes in traditional pasta shapes. Vegan Pasta: The plant protein found in legumes provides the body with steady, lasting energy—Tolerant pasta is a simple way to add whole foods to your diet. Each 3.5 ounce serving contains 25 grams of plant-based protein, 44% Daily Value of fiber and a full serving of vegetables. A Whole Food Free from Major Allergens: Tolerant's pasta is certified gluten free, contains no soy, eggs or dairy, and is produced in a dedicated gluten free and major allergen free environment. Clean and Balanced Nutrition: Tolerant's pasta is a low glycemic index food and features a combination of natural plant based protein and complex carbohydrates in a delicious noodle.
8 oz box
fave pasta!
- by
Shannon
this pasta has been a favorite of mine for years. the texture and taste beats everything else i've tried! super allergen friendly too:)
great
- by
Amy
very happy and impressed with these noodles!!
5 stars
- by
Laurie Ordou
Best tasting substitute for wheat pasta. I can't tell the difference.
Best Lentil Pasta
- by
Erika Vargas
When I talk about Tolerant I was always say: It's amazing, the only Lentil Pasta that doesn't get gooey or watery. The texture is great and cooks perfectly!
Rotini
- by
Becky
So delicious!
0837186006294
837186006294