In 2002, Danielle Dietz-LiVolsi adopted the first of her two sons from Ukraine. He was a picky eater, struggled with eating solid foods, and was having a hard time reaching the weight of a healthy 3-year-old. When she realized he wasn't fond of meat, Dietz-LiVolsi became interested in nut butter as an alternative protein source. "Growing up, I remember eating Jif peanut butter by the spoonful," Dietz-LiVolsi recalls. She quickly realized that most of those familiar, store-bought nut butters contain things that she didn't want to feed her son (like hydrogenated oils and sugars), so she began experimenting with making her own.
"I spent countless hours blending a variety of nuts and seeds into a food processor to create a multi-nut and seed butter," Dietz-LiVolsi remembers. "It was a powerhouse of superfood nutrition." Her son fell in love with the taste nearly instantly, and she was pleasantly surprised to find that the rest of her friends and family soon followed.
At the time, peanut and almond butters were some of the only nut butters on the market, so Dietz-LiVolsi took what she calls a "leap of faith", and in 2008, she officially launched NuttZo, a line of healthy nut butters made with only whole, natural ingredients.
A Better, Healthier Nut Butter
"I think NuttZo has resonated with so many customers because of our dedication to the authenticity of our products," Dietz-LiVolsi says today. "We value the importance of ingredients, and only source the highest quality." NuttZo's nut and seed butters don't just use one singular nut in each batch, but rather a blend of ingredients like pumpkin seeds, chia seeds, flax seeds, hazelnuts, brazil nuts, cashews, almonds, coconut, and other nutrient-dense foods. "We take into account the diverse flavors of each nut and seed, and then experiment with different combinations," Dietz-LiVolsi says.
It's not just the taste that sets NuttZo apart; it's also the health benefits. "We make sure that every spread provides customers with a sufficient source of omega-3s, amino acids, proteins, and healthy fats," Dietz-LiVolsi says. Unlike many other nut butter brands, NuttZo's nut and seed butters are free of palm oil, soy, and GMOs. Ingredients are USDA Organic-certified and Certified Non-GMO, and they're always harvested according to national standards for use of renewable resources and conservation of soil and water.
While they were initially created for a young child, NuttZo nut and seed butters are for everyone, including those adhering to health-forward diets and lifestyles. The brand makes paleo nut butters and keto nut butters, as well as non-peanut nut butter varieties for those with allergies or aversions. NuttZo isn't the same peanut butter you ate on PB&J sandwiches growing up—it's more nutrient-dense and versatile, but with the same comforting flavor and thick, spreadable texture.  
Project Left Behind: NuttZo's Non-Profit Benefits Orphaned Children Around the World
With her business on the rise (and now two sons adopted from an orphanage in Ukraine), Dietz-LiVolsi began considering how NuttZo could help more children in need. She decided to create a non-profit called Project Left Behind to benefit other children in orphanages. "After adopting, it was very difficult to leave all of the other children we met at the orphanage—we felt like we were leaving them behind," she explains. "I decided to launch Project Left Behind because I wanted the business I created to contribute to not just better health, but a better world."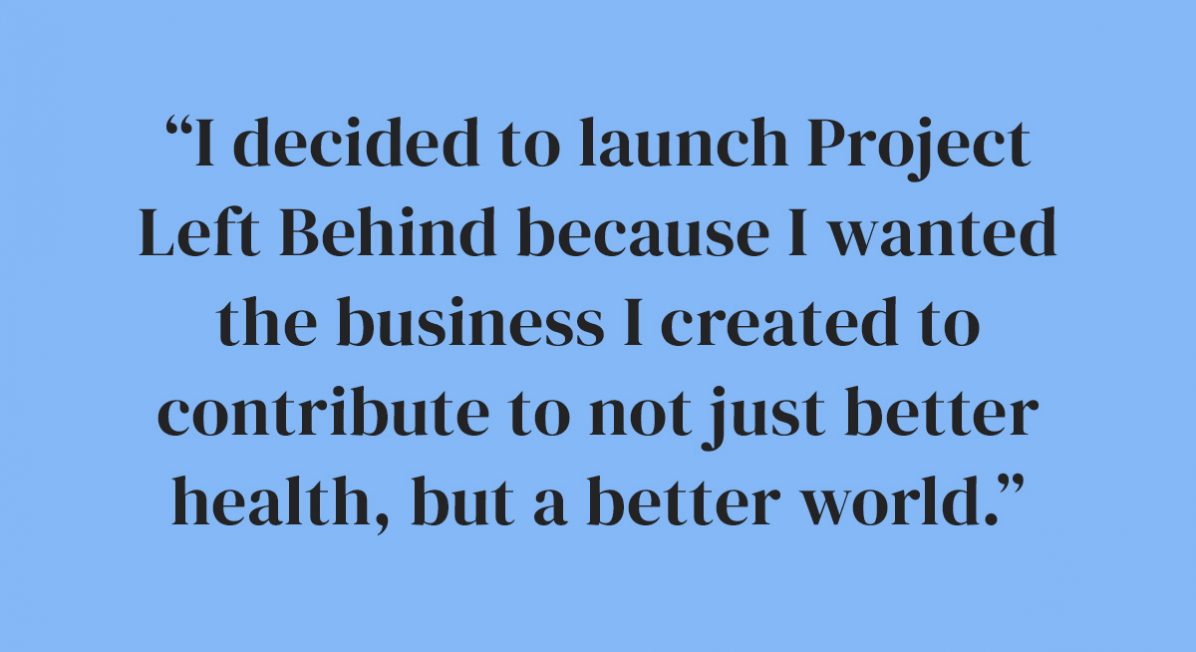 Project Left Behind's mission is to help provide education, nutrition, and improved living conditions for orphaned and disadvantaged children. A portion of the proceeds from all NuttZo sales are donated to the project's efforts, and Dietz-LiVolsi shares that many of the company's employees choose to donate their time through volunteer hours and service trips.
Currently, NuttZo provides the full financial support to a children's home in Peru that houses over 20 children through Project Left Behind, including their shelter, education, food, employees' pay, and medical services. In recent years, they've gone a step further, helping children from the orphanage to obtain an education once they reach college age. "We've been especially proud the last few years to offer full college scholarships to four of those children," Dietz-LiVolsi says.
It's been a full circle journey from the adoption that launched NuttZo to now being able to support other children in similar situations, and with every NuttZo purchase, customers are helping the brand on this incredibly important mission.
---
NuttZo Nut Butter Recipe Ideas (For Kids and Adults Alike)
"One of the greatest things about NuttZo is that it is as versatile as it is delicious," Dietz-LiVolsi says. Dietz-LiVolsi encourages people to think beyond sweets, sharing that NuttZo spreads are equally delicious in savory sauces, warming soups, and even to give picky kids an added boost of protein. Here are some of her favorite ways to use NuttZo nut and seed butters.
Use it as a dip paired with crackers, cookies, or fresh fruits
Add it to salad dressings
Use it to thicken and add flavor to soups
Add a spoonful to post-workout shakes ("It's also a great protein addition in kid-friendly smoothies," Dietz-LiVolsi says.)
Put a dollop on a sliced banana for a child's afternoon snack
Spread it on toast (with or without other toppings)
Use it in place of syrup on pancakes or waffles
Stir it into oatmeal
---
This content is not intended to be a substitute for professional medical advice, diagnosis, or treatment. Always seek the advice of your physician or other qualified healthcare provider with any questions you may have regarding a medical condition or treatment and before changing your diet or healthcare regimen, and never disregard professional medical advice or delay in seeking it because of something you have read on this website. Thrive Market does not represent or warrant that the nutrition, ingredient, allergen, and other product information on our website is accurate or complete, since this information comes from the product manufacturers. On occasion, manufacturers may improve or change their product formulas and update their labels. We recommend that you do not rely solely on the information presented on our website and that you review the product's label or contact the manufacturer directly if you have specific product concerns or questions.