When was the last time you took a good look at your pots and pans? We're not just talking about scratches—we mean the actual materials used to make that kitchenware. If you're drawing a blank, not to worry. Jordan Nathan, founder and CEO of Caraway, is here to help.
In today's Dining In feature, Nathan shares the dangers of common cookware materials, how Caraway is disrupting the industry, and the ways he uses these thoughtfully designed products at home.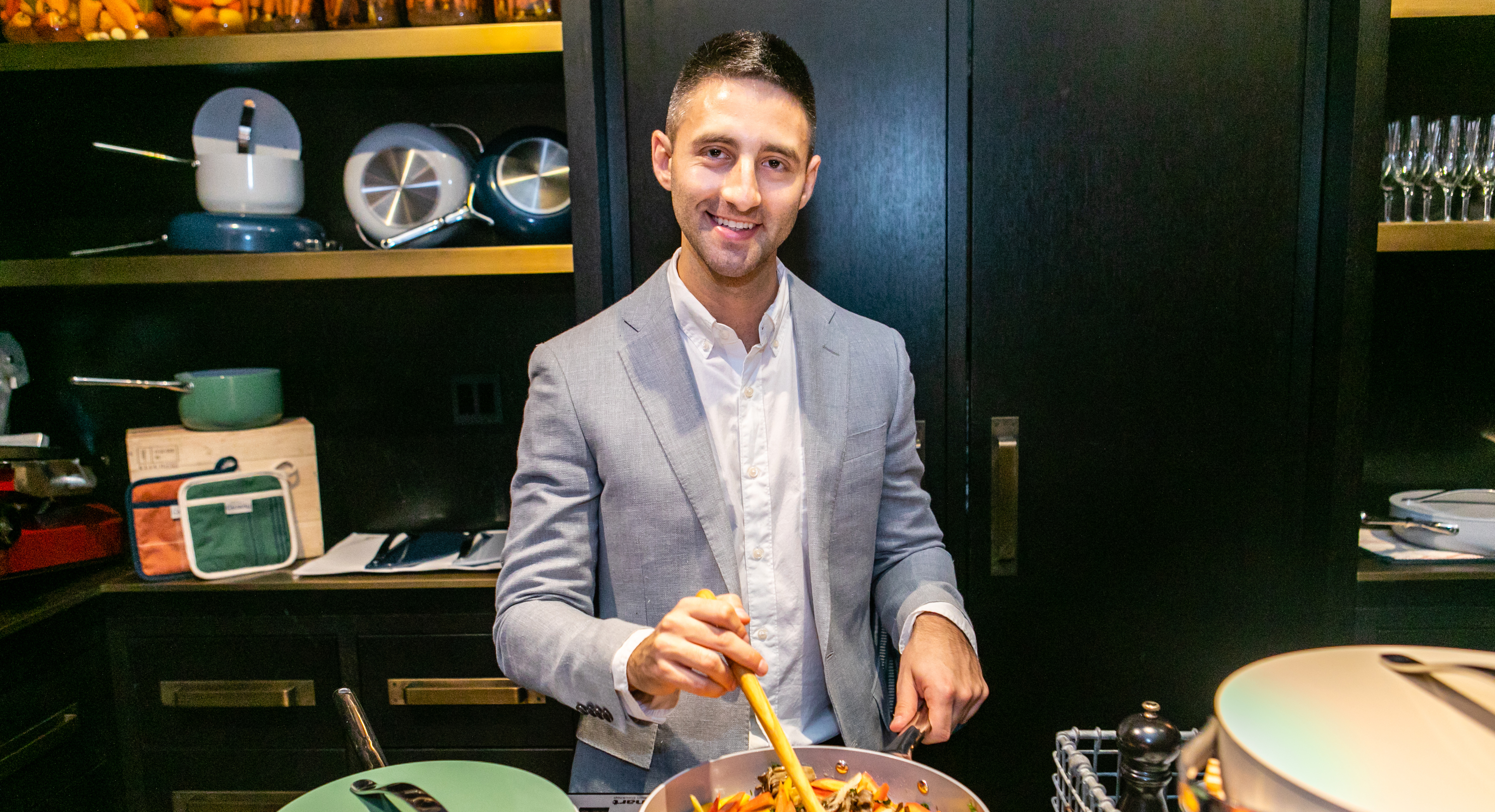 How did Caraway get started?
The idea was sparked after an incident I had a couple of years ago. I accidentally left an empty Teflon-coated fry pan on my stovetop burner that unfortunately overheated and filled my small apartment with toxic fumes and left me feeling sick. I contacted Poison Control and they told me I had likely been exposed to Teflon poisoning. After that, I made it a priority to get rid of all the potentially dangerous products in my home. That lead me down the path of founding Caraway, a home goods brand committed to producing well-designed and nontoxic products.
Why should people be aware of the materials that cookware is made out of?
Everyone is very conscious of the food they cook and put in their bodies, so it makes sense to pay as much attention to the specific pans and tools that touch and interact with that food. The majority of nonstick cookware sold in the US is made with some form of PTFE (Teflon), a synthetic, man-made chemical that easily leaches into your food if not used properly. In the age of Whole30®, Keto, and meal prepping, we'd like to set the expectation that your cookware should be as clean as your ingredients.
What are Caraway pots and pans made out of instead?
We use a ceramic-based nonstick coating, a safe-to-use material that ensures you're not exposing yourself to harmful chemicals, making the process of cooking easier and healthier.
How did you choose on these materials?
Having only been around for the past 10 years or so, ceramic is still a fairly young and new nontoxic material for nonstick cookware. As a digital-first brand, we felt we had the unique opportunity to be one of the first cookware brands to educate consumers on the benefits of ceramic and offer an alternative to PTFE based pans.
What does ethical manufacturing mean for Caraway?
We support manufacturing partners where employees are safe, paid fairly, given benefits, and work regulated hours. We are also constantly evaluating ways in which we can improve as a business to further that cause. This was especially tested recently with the challenges COVID-19 has posed to us and our global supply chain. We were swift in making the needed adjustments to ensure the health and safety of every single individual that produces our products, from welding our steel handles all the way to dropping off the packaged box onto the doorsteps.
Along that same thread, let's talk about Caraway's thoughtful packaging.
Our packaging and unboxing experience is definitely one of the most talked-about parts of our brand, other than our cookware! We ship our pans inside a recycled cardboard box, with zero single-use plastic bags (traditional 16-piece sets from legacy cookware brands usually contain dozens in their packaging), zero styrofoam, low-impact print dyes, and we include biodegradable cork trivets as an added bonus for each order.
For someone new to the Caraway brand, which product would you recommend first?
Our signature Cookware Set is definitely the best way to gain the full Caraway brand experience—discover how our four-pan set will elevate your cooking and how our storage system will completely take your kitchen cabinet organization to the next level.
And now switching gears. What does Dining In look like for you nowadays?
Since I've been working from home and virtually no longer have a commute, it's been fun being able to cook breakfast and lunch for myself and my fiancé, which are the two meals we don't normally have much time for during a normal work week. For breakfast, I've been making a lot of eggs, but mixing things up like doing a stir fry with potatoes and vegetables, or taking things very slow, a la the Chrissy Teigen method.
What advice can you give others in a similar scenario?
It's very easy to sit behind a screen all day, so make sure you set aside time to change your scenery. I personally have been taking more walks, reading, and trying to get outside as much as I can.
How do you make meal-time feel special?
I'm definitely a creature of habit when it comes to cooking weekly, but I do make an effort to expand my horizons at least once or twice a month by trying out new and interesting recipes. I'm also constantly blown away by what our Caraway community creates, like this delicious tuscan chicken recipe!
What's your go-to meal when you don't feel particularly motivated?
I love making my signature chicken marsala with my fiancé as our Sunday-night ritual.
Which Caraways pots and pans have served you the greatest while cooking at home more?
The sauté pan is definitely the do-it-all workhorse in my kitchen. The oversized diameter makes it optimal for one-pot meals or large batch recipes that may require a little more elbow grease in prepping, but result in over a week's worth of leftovers. It's also great that you can bring it directly from the stovetop (or oven) to the tabletop and make it the perfect centerpiece.
How has Thrive Market made dining in easier?
It's a great peace of mind that everything I need to make delicious and healthy meals can be delivered straight to my doorsteps without the hassle of venturing out to a crowded indoor grocery store.