These little molasses cookies hold two secrets that make their gingery bite even better. One is the fruitiness and subtle, dark edge of pomegranate molasses and the second is that they're deliciously gluten-free.
Yield: 12 to 15 cookies
Active Time: 10 minutes
Total Time: 50 minutes
1 1/3 cups almond meal
1/2 teaspoon baking powder
1 teaspoon ground ginger
1/2 teaspoon cinnamon
1/4 teaspoon cardamom
1/4 teaspoon sea salt
1/3 cup raw sugar
1 egg
1 tablespoon pomegranate molasses
2 tablespoons honey
3 tablespoons grapeseed oil, or another neutral oil
1/2 teaspoon vanilla extract
3/4 packed cup chopped crystalized ginger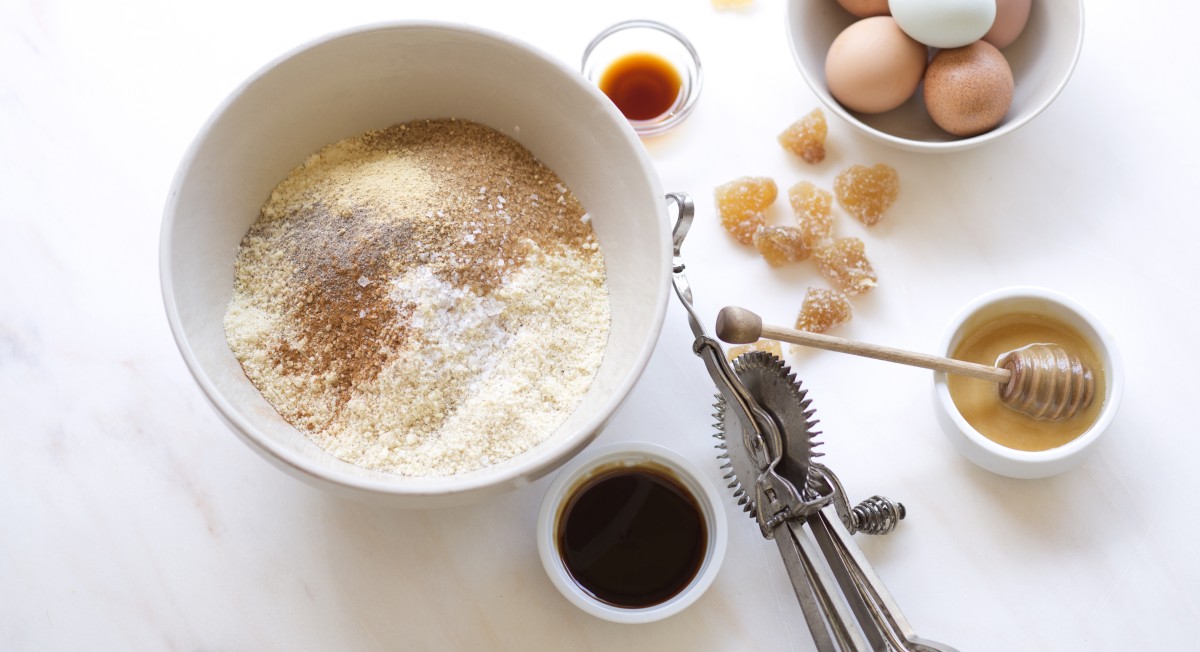 Preheat oven to 375 degrees and line a baking sheet with parchment paper.
In a large bowl, whisk together almond meal, baking powder, ground ginger, cinnamon, cardamom, salt, and sugar. In a small bowl, whisk together the egg, molasses, honey, oil, and vanilla. Fold the wet ingredients into the dry and incorporate well. Fold in the crystalized ginger.
Refrigerate the batter for at least 30 minutes, up to 3 days. When ready to bake, form into 1 1/2-inch diameter spheres and place one inch apart on parchment-lined baking sheet. Bake for 7 to 10 minutes. Remove from oven, and allow cookies to firm up on the tray before serving.
Note: This batter is quite sticky. A little trick is to periodically coat hands in nonstick spray when rolling dough between palms—this helps to form a smoother cookie and keeps hands clean.
Photo credit: Paul Delmont