The year is 1996. A young man from Togo, West Africa, Olowo-n'djo Tchala, meets a young woman, Prairie Rose Hyde, who is serving in the Peace Corps. Similarly passionate about doing right by the world, Tchala and Hyde developed a bond that's more than a beautiful love story. It's also the story of Alaffia, a social enterprise and natural skincare brand, that's redefining the natural products industry.
Tchala recently spoke to us about how he and Hyde launched Alaffia, how the brand gives back with each product it develops, and how the company embodies beauty, equality and empowerment.
Take us back to the beginning, when you and Prairie Rose first met. What inspired you to start a company together?
Rose helped me realize that I can act on my beliefs and help alleviate poverty in my community. Rose also grew up in poverty, across the world in a country where we forget it exists. Our shared experiences have given us a strong commitment to help others.
Our initial plan was for Rose to obtain her graduate degree, and then return to Togo to work for non-government development programs. During this time, I also returned to school, and while studying organizational theory at the University of California, Davis, I began to understand how global economic systems created and perpetuated poverty in Africa. After graduating, we wanted to use our skills to create economic opportunities for women in rural African communities to receive fair prices for their skills and resources to fund their own community empowerment projects.
Growing up, I lived with my mother and seven siblings in an 8' x 10' room in Kaboli, Togo. I had to drop out of school in the sixth grade to farm alongside my mother to provide additional sources of income for the family. Even though we faced hardships of our own, my mother always made it a point to look out and care for others in our village and beyond. My mother's love and sense of responsibility for others, along with the inequities I witnessed her endure, became the driving forces behind the creation of Alaffia.
Rose and I decided to focus on shea butter. Its natural and cultural histories fit our fundamental beliefs and criteria for a sustainable resource. Shea trees grow wild across Togo, requiring no irrigation, chemical fertilizers or pesticides. The shea fruits have been harvested for centuries, and most importantly, the knowledge on extracting and using shea butter are deeply entrenched in the culture and spirituality of our communities. We felt that the fair trade of this indigenous resource would not only help the women regain control of their own resources, but also give them the opportunity to become directly involved in moving their families and communities out of poverty.
We formed the Alaffia/Agbanga Karité Shea Butter Cooperative in 2003 and began Alaffia Sustainable Skin Care in 2004 as a way to bring the benefits of this wonderful resource to communities across the world. The shea butter is handcrafted in Togo, and then brought to Olympia, where Rose and the team combine it with other indigenous oils and extracts to create unique, high-quality skin care products for our customers. The funds we receive from our sales are used to support community projects back home.
The fair trade of handcrafted shea butter not only gives control of this indigenous resource back to our communities, but also gives us a sense of pride and incentive to preserve our cultural knowledge. Cultural diversity is essential to humankind, and it makes the world an exciting place to be. Rose and I have dedicated our lives to giving others the same opportunities we've had—to rise above poverty and use our skills to help others.
Tell us about your professional background before founding Alaffia.
Before starting Alaffia, I had no professional experience. However, I did have a strong drive and determination to serve others and a sense of moral responsibility for my people.
What were the biggest challenges to getting the company off the ground?
The two biggest challenges we faced early on were securing a small business loan and establishing the cooperatives in Togo.
In the spring of 2003, Rose and I decided to take some direct action. We felt that only a "moral economic process" using indigenous resources and traditional techniques could help Africa alleviate poverty. So, we designed a business plan to start a women's cooperative in central Togo to make traditional shea butter, which we would sell in the U.S. to raise funds for community projects in Togo.
We gathered our plan, sales projections, possible customer lists and our hopes and took them to our local bank in Davis, Calif., to apply for a $50,000 loan. The loan was denied; Rose and I did not have any collateral and because we didn't have credit card debt, our credit history was incomplete. Fortunately, the bank officer was a kind and thoughtful person, and after seeing the sadness and disappointment in my face, asked if we had a relative who would be willing to provide collateral. We paid a visit to Rose's brother in Oakland who had purchased a home there. I explained how the cooperative could provide for women in central Togo, and the only way we could create it is if he would be willing to place his house behind the loan. He agreed, and two weeks later the loan was issued.
The most difficult task in establishing the cooperative was finding 50 women willing to trust a crazy young man—me. Our intention was to invite participation from as many ethnic groups as possible. We wanted representation from at least 70% of the 42 different ethnic groups of Togo. We also wanted our members to be women from the poorest villages and born during the colonial period, since this is when girls were systematically excluded from formal education systems. Finding 50 women that met these criteria and were willing to trust me was not easy. Far too often, promises for help are made—by aid organizations, governments and individuals—only to be broken later. Many of these promises actually result in the poor communities being taken advantage of and being worse off afterwards. I was able to convince 50 women to take a chance on me, and a month after I returned to Davis to finish my last year of school, our first shipment of shea butter arrived.
How do you source ingredients for your products?
We are dedicated to ethical trade standards for all our ingredients. This policy is applied to all materials that can be certified fair trade or can be produced at the artisan level, either with traditional or environmentally responsible techniques. This policy is extended to all ingredients from West Africa as well as those we source in the United States, including other natural butters and oils, all plant materials for extracts, and beeswax and other bee products. All our key ingredients, like shea butter and our indigenous soaps, are sourced directly from our certified fair trade women-led cooperatives in West Africa.
The shea nuts that we use to make our fair trade, handcrafted and unrefined shea butter are collected from wild shea trees over a vast area in central and northern Togo. Handcrafting shea butter in the traditional manner is an extensive process that requires several complicated and critical steps. The members of our cooperative use centuries-old extraction techniques to produce a truly exceptional shea butter.
When you think about your business, what gives you the greatest sense of pride?
I'm very proud of the fact that we go beyond fair trade. The women in our cooperatives are paid above fair trade requirements, and we also invest in the communities where they live, supporting everything from maternal health to education to reforestation. I'm so proud that Alaffia is a real example of a social enterprise model. Businesses can positively impact thousands of lives.
What are your favorite Alaffia products and why? How do you use them throughout the day?
I love ALL of Alaffia's products—they are like my children, I can't have a favorite! Given that I grew up with black soap and shea butter, I use the Authentic African Black Soap line and our pure, unrefined shea butters every day. Authentic African Black Soap is great because it's an All-In-One product that's detoxifying, but also moisturizing because of the high shea butter content. What's even better is that it can be used as a body wash, facial cleanser, hand soap or shaving lotion. I use it every day in all of those ways.
I also use products from our EveryDay Shea and EveryDay Coconut lines. These collections are amazing not only because they feature two of our key ingredients—unrefined shea butter and virgin coconut oil, which are good for all skin types—but also because it means that our social impact is doubled.
Which product do you recommend most often to people who are unfamiliar with your brand?
To people unfamiliar with Alaffia, I tend to recommend our Authentic African Black All-In-One soap. It's part of a key collection and it exemplifies West Africa—from the unrefined shea butter to the cooking of the ingredients to the curing of the soap.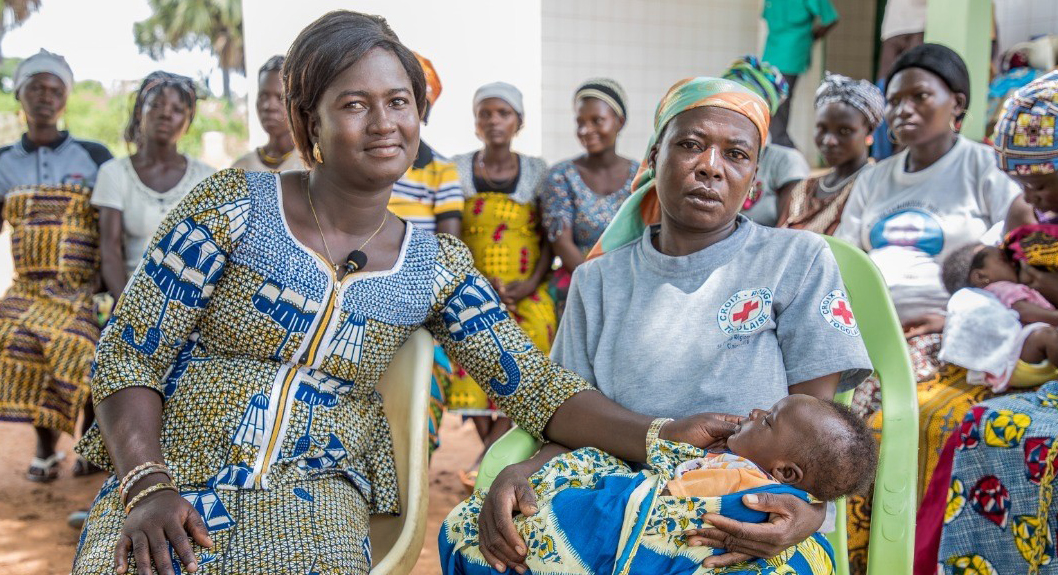 Alaffia has an impressive social enterprise model. Can you walk us through its key initiatives and programs?
After sixteen years of dedication, we have real cumulative impact in our communities, resulting in the following as of 12/31/19:
Support 5,597 births
Delivered 37,521 school supplies to students
Distributed 9,989 bicycles for education
Built 15 schools
Distributed 28,018 pairs of eyeglasses
Planted 93,009 trees
With this, my team and I are very motivated daily to continuously grow Alaffia. Our success is not simply measured by profit: our success is measured by empowerment.