If you've been bypassing the frozen aisle when you shop, it's time to take another look. Why? Because a well-stocked freezer is a home cook's secret weapon for fast, flavorful, and healthy meals. Famed Italian chef Lidia Bastianich encourages cooks to make their freezer "a treasure chest" and Camilla Marcus, owner of LA catering company West-Bourne, always keeps chicken stock and wine on ice "for future uses, like deglazing pans and making sauces." So smart! Frozen foods are also total time-savers. Keep reading to learn our tips and tricks for getting flavorful meals on the table fast—no thawing required.
Benefits of Cooking With Frozen Ingredients
There are plenty of reasons to pack your freezer with healthy ingredients that fit seamlessly into your meal planning rotation.
It amps up nutrition: For a nutritional boost, fruits and vegetables pack a punch, especially when they're picked with care and frozen at peak season freshness so you can enjoy seasonal flavors year-round. Flash-freezing also locks in the good stuff your body needs. A 2017 study discovered no significant differences in vitamin content between frozen and fresh veggies, and suggests the frozen option had a slightly higher concentration of nutrients than their fresh counterparts.
It's more convenient (and minimizes prep time): With proven nutritional benefits, there's no reason to shun frozen foods. Our premium brands do the prep work (see below) like harvesting, cleaning, and packing produce so it's always at the ready. No need to shuck peas, slice kernels off ears of corn, or destem fruit. With less prep needed in the kitchen, you automatically save time during the dinner rush, so sit back and let our best picks do the work of getting ingredients ready to add to your favorite recipes.
It reduces food waste: Each year, 108 billion pounds of food is wasted in the United States (that's a whopping 40% of our food supply). Fresh produce needs to be used promptly and has a greater risk of spoiling before you get to it. (We see you, limp carrots in the back of the crisper drawer.) But when items are shipped frozen, less food goes to waste on the journey from farms to your fridge.
---
Must-Have Tips for Cooking With Frozen Meats and Vegetables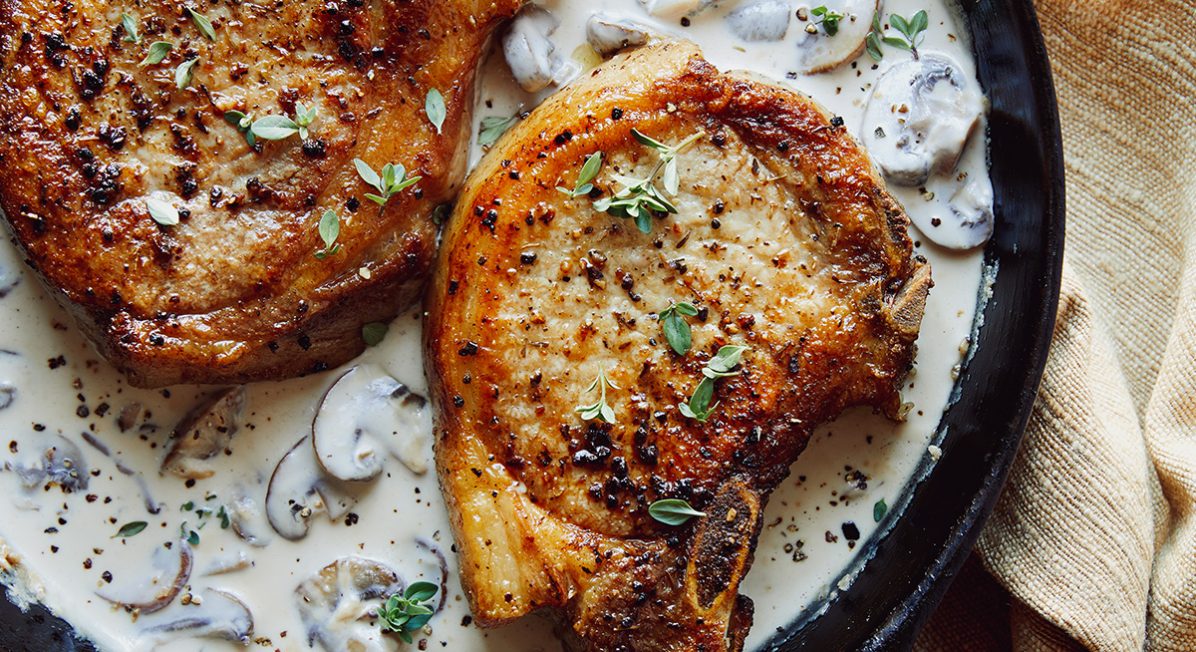 No time to thaw? No problem. Once you get into the swing of cooking with frozen foods it'll be easier than ever to incorporate vegetables, meats, and seafoods into your routine.
Keep safety in mind. According to the USDA, you can safely cook frozen meat and protein so long as you follow a few guidelines—namely, remembering it will take approximately one and a half times as long to cook as it would from a thawed state. Also, don't forget to discard any wrapping or paper before roasting.
Adjust cooking time. Since they're often more tender in frozen form, some veggies cook faster than their fresh counterparts. If you're roasting or stir-frying, The Kitchn suggests cutting cook times in half, and adding frozen vegetables (like corn, peppers, or peas) to soups during the last few minutes of cooking.
Don't overthaw your berries. How you thaw berries (or not) will depend on the final dish. Because some of their texture can be lost when fully defrosted—which works great in recipes like overnight oats—only partially thaw them if you plan on using fruit as a dessert topping or enjoyed as a snack. And here's a defrosting tip: Place the berries you want to use in a covered container and allow them to defrost in the fridge overnight, which helps retain juices.
Minimize water use. Sautéing a vegetable medley? It's a great side dish. Just be sure to minimize the liquid you use. When frozen vegetables hit a hot pan, they'll start releasing water. If you add more water, limp veggies may be in your future. Resist the urge and just use olive oil, ghee, or grass-fed butter for flavor.
Avoid freezer burn. Although freezer burn doesn't make food unsafe (just dry), it's not usually appealing for dinner. Before or after cooking, cut any freezer-burned sections off (they typically look like white ice crystals), and store ingredients in sturdy resealable bags that are freezer-safe.
Go fast, not slow. You can do a lot of things with frozen meat, but using a slow cooker isn't one of them. This method can cause your beef, chicken, or pork to spend too much time at a temperature that encourages bacteria growth, so stick to faster approaches like roasting.
---
5 Best Frozen Vegetables You Don't Need to Thaw
Some frozen ingredients are easier to use than others. For ready-in-a-flash meals, here are five ingredients you can use without thawing.
Peas: When frozen peas hit a hot pot of pasta or pan of risotto, they'll soften up in just a few minutes. You can also toss in peas to homemade pesto recipes for a protein boost.
Corn: Similar to peas, corn kernels are small enough that they don't need much cooking time, especially if you're adding a scoop to soups and stews.
Cauliflower rice: Low-carb cauli rice cooks up in a flash—add it during the last few minutes of heating up taco filling for a nutritional boost no one will even notice. (Be sure to add our extra special spice mix for a tasty supper.)
Mixed veggies: If you're making a cold noodle salad, pour a bag of mixed veggies into a large bowl and let them sit while you cook the noodles. After adding hot, drained noodles on top, everything will be the right temp for a perfect pasta salad.
Broccoli: Keep reading for our fail-proof roasted broccoli recipe. This cruciferous vegetable can go from freezer to oven with ease—just add EVOO and salt, and your side dish is practically done.
---
Essential Recipes for Building Meals Around Frozen Ingredients
Perfect your frozen foods strategy with these simple-yet-indispensable recipes.
How to Roast Frozen Broccoli
One of the secrets to successfully roasting frozen broccoli is using high heat. The florets will start browning immediately, and cook up perfectly golden and tender. Here's a basic method to follow.
Arrange a rimmed baking sheet in the middle of the oven and preheat to 450°F. Empty a 16-ounce bag of frozen broccoli into a large bowl and toss with 2 tablespoons olive oil, ½ teaspoon salt, and a pinch of crushed red pepper if you like a little spice.
Remove the baking sheet from the oven (don't forget your mitts!) and spread the broccoli in an even layer. Roast for 15 to 18 minutes, or until broccoli is tender and brown in spots.
Cooking Frozen Chicken
The USDA says it's safe to cook chicken from a frozen state; you'll just need to up your cooking time. (For breasts, you're looking at between 30 and 45 minutes.) Try this easy method:
Preheat the oven to 350°F and prepare a foil-lined pan. You can go in pretty much any direction from a flavor perspective—brush on BBQ sauce or mustard, season with salt and pepper, or try a bold, ready-made paleo spice mix. Since thawed breasts will cook for 20 to 30 minutes, double the time and check your chicken along the way. They're done when the internal temperature reaches 165°F.
While the chicken roasts, you can prepare peppers and onions for fajitas, sort out your sides, or whisk a vinaigrette for chicken salad.
How to Cook Frozen Salmon
You can cook salmon straight from its frozen form by placing filets on a sheet tray, covering with foil, and baking for 15 minutes at 425°F. Remove the foil and bake for another 8 to 10 minutes, or until cooked through. For a slightly fancier (but super simple) recipe, watch this video for Honey Mustard Baked Salmon to see how it's done.
Honey Mustard Baked Salmon
You'll love this fall-inspired dish complete with roasted Brussels sprouts and salmon dressed with a tangy mustard sauce. Optional: a glass of clean wine on the side.
Yield: 2 servings
Active time: 5 minutes
Total time: 30 minutes
Ingredients

For the salmon:
14-ounces Brussels sprouts, halved
Thrive Market Organic Extra Virgin Olive Oil
Sea salt
Thrive Market Organic Ground Pepper
2 (5-ounce) Thrive Market Wild-Caught Sockeye Salmon filets, frozen

For the sauce:
1 tablespoon Thrive Market Organic Spicy Brown Mustard
1 ½ teaspoons Thrive Market Organic Maple Syrup
Generous pinch Thrive Market Organic Ground Pepper
Instructions
Make the salmon:
Preheat oven to 425°F and arrange Brussels sprouts on a sheet pan. Drizzle with a little olive oil and sprinkle with salt and pepper; toss. Push some of the Brussels sprouts to the side, making room for the salmon in the middle. Place salmon filets skin side down on the sheet tray. Bake for 10 minutes.
Make the sauce:
While the salmon cooks, combine all sauce ingredients in a small bowl. Remove the sheet pan from the oven and spoon sauce over the salmon filets. Bake for another 15 to 17 minutes, or until cooked through.
How to Cook Frozen Shrimp
Whipping up a shrimp dish straight from frozen is as simple as picking out your favorite spice mix (try Cajun, Garam Masala, or Herbes de Provence) and preheating the broiler with a baking sheet inside. Place shrimp in a colander and rinse under cold water to remove any ice crystals. Pat dry to remove excess water, then toss shrimp in a bowl with your seasonings of choice. Broil on the preheated baking sheet, arranged in a single layer, for 5 minutes, or until tender.
---
Top Picks From Thrive Market's Frozen Aisle
Start your freezer upgrade with 7 of our best ingredients that are ready to simplify meal times.
Versatile and nutritious, every freezer needs a bag (or two) of cauliflower rice. This bag is keto- and paleo-friendly, and can easily be added to bowls, taco fillings, burger patties, and more.
Enjoy fresh-from-the-farm flavor any time of year with organic blueberries. Add them to smoothies, simmer with maple syrup for an ice cream topping, or add a handful to pancake batter.
Our wild-caught shrimp are caught with small boats, helping to reduce bycatch and minimize fuel use. You can cook them from frozen (see our recipe tips above) and experiment with different seasonings.
Iron, potassium, and calcium are three of the essential nutrients broccoli offers, and a frozen bag stashed away means you can quickly add some to pasta or grains, steam it up for a side, or even sneak a few florets into a smoothie (no one will ever know).
With 4g of dietary fiber per serving, incorporating more peas into your family's diet is a great way to boost nutrition. These vine-sweetened peas from Cascadian Farm are harvested at the peak of freshness and flash frozen.
Our wild-caught fish is harvested in icy Alaskan waters by MSC Certified fisheries that use sustainable methods to help minimize overfishing. Bust out your sheet pan (and bookmark the recipe above) because you don't even need to thaw filets before baking.
Boneless & Skinless Chicken Breasts
Mary's Poultry chicken breasts meet GAP Step 3 animal welfare standards and are never treated with antibiotics or added hormones. Lean breasts make a great cook-from-frozen option. Serve them up with a zippy chimichurri or pesto for an added flavor boost.