How do you plan a menu that makes everyone feel included? It's a classic Thanksgiving conundrum, but on today's episode of Prep School, Megan Mitchell has a solution. This veggie-forward side dish works for almost everyone, including vegetarian, vegan, paleo, gluten-free, dairy-free, keto, and Whole30® diets. It's simple to prepare, but the cashews need to soak overnight, so plan accordingly.
Vegan and Paleo Green Bean Casserole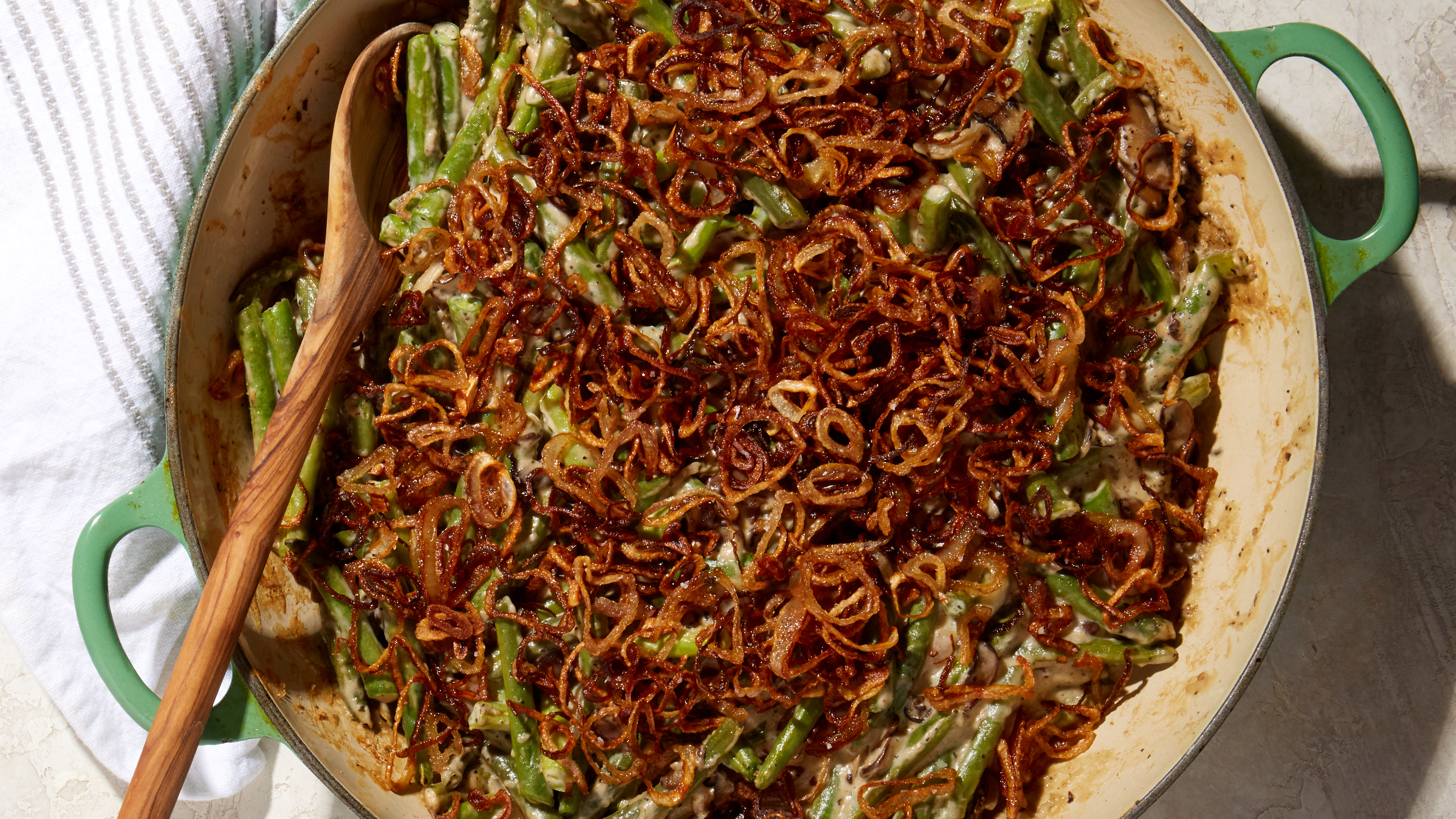 Yield: 6 to 8 servings
Active time: 20 minutes
Total time: 1 hour, plus soaking time
Ingredients
For the green beans:
1 cup raw cashews
1 (13.5-ounce) can coconut milk
2 to 3 tablespoons Nutiva Garlic-Infused Coconut Oil
1 pound cremini mushrooms, stems removed and thinly sliced
4 medium shallots, thinly sliced into half moons
Sea salt
Ground black pepper
1 teaspoon dried thyme
½ teaspoon dried sage
¼ teaspoon ground nutmeg
3 pounds fresh green beans, trimmed and cut into 2-inch pieces
For the crispy onion topping:
½ cup Nutiva Organic Virgin Coconut Oil
6 medium shallots, peeled and thinly sliced
Sea salt
Instructions
Make the green beans:
Soak cashews the day before you want to make this dish. Place cashews in a small bowl and cover with water by at least 1-inch; leave on counter overnight. The next day, drain and rinse cashews under cold water; place in a high-powered blender along with coconut milk and blend until creamy.
Preheat oven to 350°F. Add 2 tablespoons garlic coconut oil to a large, shallow Dutch oven and heat over medium. Add mushrooms and sauté for 10 to 12 minutes, or until golden. Season with salt and pepper to taste. Add shallots and cook for 2 to 3 minutes more, or until softened. If the pan looks too dry, add 1 tablespoon of garlic oil.
Off heat, add thyme and sage; stir. Pour in the cashew mixture and stir, scraping up any browned bits from the bottom of the pan. Liberally season with salt and pepper. Add green beans and stir until each bean is coated. Cover dish with a lid and bake 25 minutes. Remove lid and stir, then put the lid back on and bake another 15 minutes.
Make the topping:
Add coconut oil to a medium nonstick skillet and warm over medium high. Working in batches, add shallots and fry until golden and crisp, 2 to 3 minutes. Remove with a slotted spoon and drain on a paper-towel lined plate; season with salt while shallots are still warm. Scatter on top of casserole before serving.
Recipe by Chef Megan Mitchell
For more, check out our ultimate guide to the keto diet!