As the year 2020 drew to a close, news of multiple effective COVID-19 vaccines elicited collective feelings of relief. The world watched as the first individuals—among them world leaders and healthcare workers—received the initial injections, simultaneously making history and signaling the first steps down the long road to recovery.
But at the same time, cars lined up for miles at food banks in big cities like Houston, Minneapolis, and Detroit. Food pantries and soup kitchens in New York City reported a 65% increase in users. Across the country, after a year marked by so much hardship, American families were facing yet another crisis: how to put food on their tables.
An Urgent & Imperative Cause
While the arrival of a vaccine may mark the beginning of the end for the COVID-19 pandemic, food inequality remains an urgent issue. Last fall, the World Bank reported that the pandemic would cause global extreme poverty to rise for the first time in more than two decades. Here in the United States, the pandemic widened the food inequality gap from 37 to 54 million people, BIPOC communities and single parents representing a disproportionately large share. Experts from Columbia University's Earth Institute project the economic effects of the pandemic may still be felt in 2050.
Food inequality won't disappear as the country rounds the proverbial corner on COVID-19; it's a long-standing issue that's rooted in racial injustice. Erasure of indigenous culture—including farming practices and food traditions—by white colonization dates back to the earliest origins of the United States. Today, low-income BIPOC communities often lack access to affordable, healthy food options; these conditions are commonly referred to as "food deserts" (places where food options are limited) and "food swamps" (places where food options are plentiful but low-quality). Karen Washington, a community organizer and activist for food justice and sovereignty, told Guernica Magazine in 2018 that she prefers the term "food apartheid" to describe these inequities, because it speaks to the deep-seated institutionalized racism in the food system that touches issues of geography, economics, and faith.
The lack of access to healthy food and education in BIPOC communities is contributing to a growing health crisis; children of color are significantly more likely than white children to suffer from diseases related to diet, such as type 2 diabetes.
Our Mission: Healthy Living for All
Food equality is in Thrive Market's DNA. "Our core ethos has always been to solve the primary problem—access to healthy food and products for all Americans—without creating problems along the way, like environmental issues or poverty," explains Jeremiah McElwee, Thrive Market's Chief Merchandising Officer. As a company, it's our goal to make it possible for everyone to live a healthy life, with access to the food they need at prices that aren't prohibitive. Together with our members and our partner organizations, we're on a mission to make healthy living a priority for all, not a privilege for a few.
Food Equality Now: Our Progress So Far
Thanks to the support of our one-million-member Thrive Market community, we've raised $4M since 2015 to help promote a more equitable food future. We introduced our Food Equality Fund in the end of 2020 to support non-profit organizations addressing the root issues: lack of access to healthy food and lack of education about healthy living. Since its inception, the fund has been able to provide support to 1,000 families and children through our partnership with the non-profit organization Baby2Baby.
In October of last year, we partnered with Baby2Baby to provide families impacted by COVID-19 with holiday essentials. Our team packed boxes of groceries and other items, distributing them to 150 families in need. In November, Thrive Market and Baby2Baby joined forces with the Los Angeles Unified School District to distribute an additional 750 boxes of healthy essentials to families in advance of the Thanksgiving holiday. And in December, we helped bring holiday cheer to homes and shelters in our community through Baby2Baby's annual Family2Family Program, assembling gifts and essentials—everything from books and toys to clothing and PPE—for 11 children. We also provided grocery essentials for an additional 300 families.
Meet Our New Partner: FoodCorps
We're committed to taking our food equality mission nationwide this year. To help us do it, we're proud to be partnering with FoodCorps, a non-profit organization founded in 2010 that is dedicated to connecting children with healthy food in schools.
"Schools are an incredibly important piece of the puzzle in providing kids opportunities to learn about the benefits of nourishing food, and the tools to make healthy decisions on their own," says Sarah Hausman, Co-Vice President of Impact at FoodCorps. Recognizing that education is a cornerstone of healthy living, but that it's plagued by systemic racism and classism, FoodCorps puts a particular focus on schools that serve kids most impacted by these inequities. Hausman reports that 76% of the children they're serving this year are students of color and 81% are eligible for subsidized meals.
Through their nationwide network of AmeriCorps volunteers, FoodCorps teams up with teachers, cafeteria staff, school administrators, and community members to provide hands-on education opportunities for kids in schools and gardens across the U.S. "Our program and lessons integrate academic priorities and standards and honor the geography, ecology, and cultures of the places kids call home," Hausman explains. She adds that FoodCorps service members often use locally sourced produce in cooking lessons, to give kids the opportunity to learn about—and taste—what's growing in their own backyards. "We've seen that when kids know how to grow and prepare nutritious food on their own, they are more likely to reach for fruits and vegetables come mealtime."
When the COVID-19 pandemic forced schools to close, it didn't just take away math and history lessons; even more urgently, it put 30 million kids who relied on school meals at risk of going hungry. FoodCorps recognized a call to action amid the crisis. "This is a moment to lift up the deep-seated racism, classism, and inequities in our school food system that disproportionately impact kids of color," says Laura Hatch, Co-Vice President of Impact at FoodCorps.
When the pandemic hit, FoodCorps acted quickly to adapt lessons for home use, trained service members to record and edit video lessons, and developed strategies to support safe in-person lessons when it became possible to do so. Service members also mobilized in their own communities, from connecting families with food drives in Boston, to filling in for quarantining cafeteria workers in Mississippi, to distributing homemade food to families along a school bus route in rural Montana.
Outside of the classroom, FoodCorps works to influence policies that help ensure access to healthy food for all children. The organization works with its partners to advocate for legislation that supports an equitable, sustainable school food supply chain; universal school meals; nutrition education as an academic priority; and the school nutrition professionals and infrastructure that make these programs successful.
Over the last year, FoodCorps has taken steps to support healthy food education and access nationwide. Hatch recounts a day of advocacy the organization held in fall 2019, during which program alumni and partners visited Capitol Hill and met with more than 30 senators and representatives regarding the Farm to School Act of 2019 and the Kids Eat Local Act. Early last year, Senators Cory Booker (D-NJ) and John Cornyn (R-TX) introduced the bipartisan Food and Nutrition Education in Schools Act, which FoodCorps helped to develop.
Through our partnership with FoodCorps, we're committing to provide more than 10,000 families and children with access to healthy food through Thrive Market memberships and healthy grocery distribution. We also pledge to fund food education for over 6,000 children at two high-need schools.
How You Can Help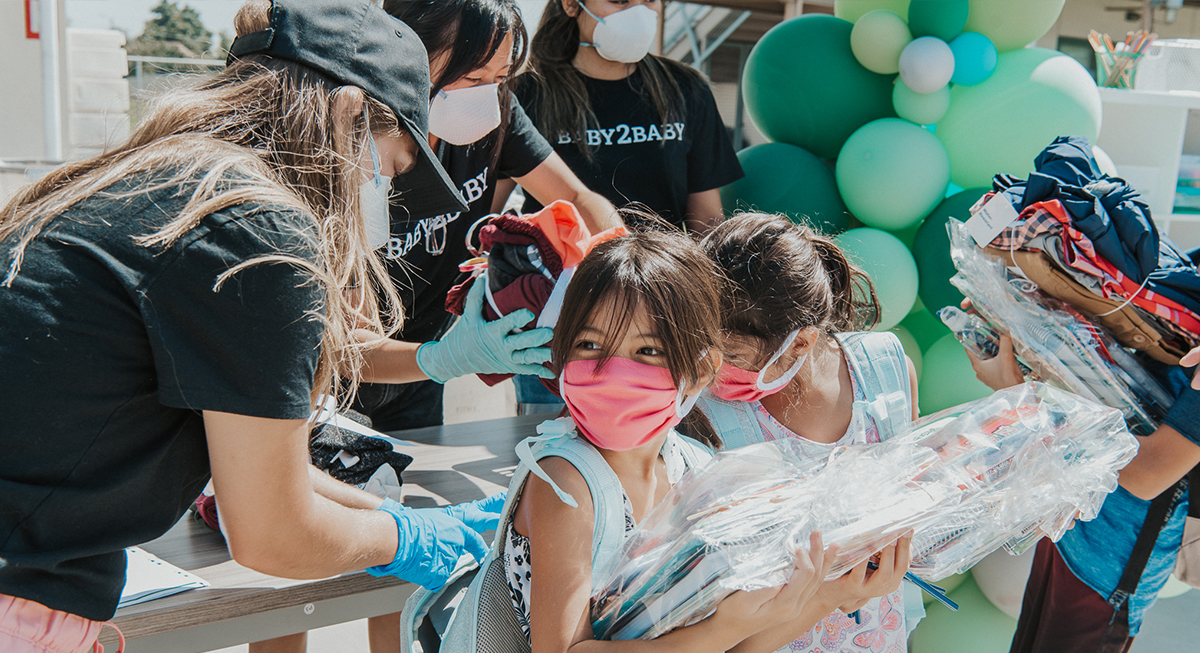 With our Thrive Gives program, we sponsor a membership for an individual or family in need for every paid Thrive Market membership. That means that simply by being a member, you're an important part of the effort to democratize healthy living and create a more equitable food future.
Thrive Market member donations made at checkout to our Food Equality Fund will benefit the food insecure and help us reach our goal of raising $10M by 2025. Member support allows us to donate healthy groceries and essentials to families in need and to support education initiatives via organizations like FoodCorps and Baby2Baby.
Stay connected here and @thrivemarket to learn more about our partner organizations, keep up to date on our progress, and continue to get involved with the fight for food equality.