Trying to sneak more veggies into your day? Reach for a bag of Thrive Market Mixed Vegetable Chips. The ideal snacktime companion, they're made from a delicious medley of Ecuadorian root vegetables. Plus, they're helping to create a better food future. Read on to get the full scoop.
A Snack That Gives Back
"Our Mixed Vegetable Chips have a one-of-a-kind flavor and story," says Jenna Engleman, Thrive Market Goods Director. "Every batch is ethically sourced from Ecuador, which helps to empower local communities."
Many of the farmers live in remote villages high in the Andes mountains. By sourcing directly from them, we're able to ensure that they're being paid fairly, helping their families and communities prosper. Beyond providing fair wages, our supplier works closely with each farmer to provide high-quality seeds, technical support, and training to help increase crop diversity and yield. Plus, they offer a direct financing program that gives farmers the opportunity to grow their businesses even more.
"It's partnerships like these that can raise the standard on conscious sourcing throughout the supply chain and truly make a difference in the lives of others," says Engleman.
4 Veggies. 1 Amazing Mix.
Our Mixed Vegetable Chips are made of a blend of four different root vegetables for a seriously crunchy, sweet-meets-savory snack. Each batch is kettle-cooked in certified sustainable palm oil (RSPO) from South America and sprinkled with sea salt. Plus, they're free of artificial colors, flavors, and preservatives. Here's the lowdown on these tasty tubers:
Andean Potatoes
Native to the Andes mountains in South America, Andean Potatoes grow at high elevations (up to 11,000 feet above sea level). They come in an amazing array of shapes and colors, and contain nine times more antioxidants than regular potatoes.
Beets
A popular root vegetable, beets are known for their deep purple hue and sweet-yet-savory flavor. Plus, they contain hard-to-find nutrients like folate and manganese. Fun fact: Wine was often colored with beet juice in the 19th century.
Taro
A staple crop in Asia, the Caribbean, and Africa, taro is believed to have been one of the earliest cultivated plants. Unlike potatoes, it thrives in moist and swampy soils and has a mildly sweet taste.
Sweet Potatoes
Contrary to popular belief, sweet potatoes are only distantly related to the common potato and are actually members of the morning glory family. Naturally sweet and vibrant, they get their orange color from beta carotene, a powerful antioxidant.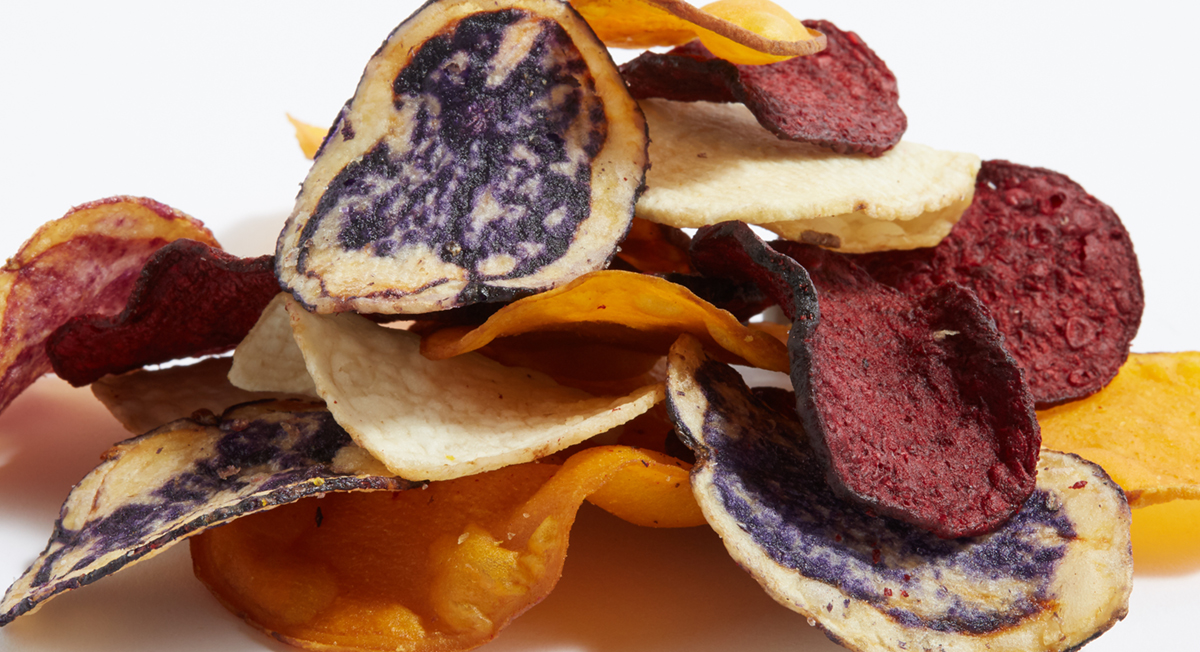 More Snacks From Thrive Market Goods
From cassava chips to seaweed snacks, we have lots of wholesome snacking options to curb your cravings. Here are three staff favorites:
Smoky BBQ Cassava Chips
Craving that fresh-off-the-grill flavor? Our Smoky BBQ Cassava Chips are like summer in a bag. They hail from Colombia, where the cassava roots are harvested, sliced, and kettle-cooked in sustainably sourced South American palm oil, and then seasoned with robust spices. Sturdy with a superior crunch, they're gluten-free, vegan, and ready-to-dip.
"I usually grab a handful of these around 3pm in the office. They satisfy my cravings and I appreciate that they are made from simple ingredients!"—Hailey, Thrive Market Employee
Chili Lime Plantain Chips
Our Chili Lime Plantain Chips are ethically sourced from Colombia, where volcanic soil and high altitudes help make them unbelievably delicious. Each batch is hand-picked, sliced long, kettle-cooked in sustainable South American palm oil, and then seasoned with zesty spices. They're crunchy, gluten-free, and have a spicy kick!
"I'm a huge fan of these plantain chips. They have the perfect amount of crunch and an amazing flavor. I also love that they use sustainably sourced palm oil."—Lindsay, Thrive Market Employee
Sea Salt Seaweed Snacks
In search of a savory snack made from simple ingredients? Dive into our Organic Sea Salt Seaweed Snacks! To make them, we harvest sustainably farmed seaweed off the coast of South Korea and press it into thin sheets. Then, we lightly roast the sheets with sunflower oil and sea salt. The end result is vegan, gluten-free, and perfectly crispy.
"I didn't think I would be a fan of seaweed snacks, but after trying them I'm hooked! They have a savory, umami flavor that's out of this world."—Julia, Thrive Market Employee