Amid the hustle and bustle of the holiday season, the dinner table is a place to pause and reconnect. Cooking engages all our senses, helping us get grounded and find gratitude in the present. Especially at the holidays, gathering around a home-cooked meal is a chance to reflect on our fondest memories and make new ones.
We asked Thrive Market employees to share a holiday recipe that holds special meaning for them, and we're so excited to share them with you. From our team to your table, we hope you have a joyful season filled with good health and great food.
Art director JP Danley describes his upbringing as "painfully Southern." Born in Memphis to two Tennessean parents, his dad's military career meant the family moved a lot. Wherever JP lived, his mother's cooking was a constant—particularly her biscuits. "It wasn't until I was in late elementary school that I realized not everyone's mom makes biscuits every night," he recalls.
A fascination that started with watching Mom roll out biscuit dough by hand evolved into a beloved hobby. Now an avid home baker, JP frequently treats loved ones to bountiful loaves of fresh bread and beautiful multi-layered cakes. He considers the holidays—indulgent, celebratory, and always full of delicious food—his power season. "Food is the main attraction," he says. "For me, [biscuits] are the vehicle for all your favorite things at the holidays, like mashed potatoes, gravy, and turkey. Having a little bit of turkey between a split biscuit is like magic." 
Maybe making good biscuits is in his blood, but JP says high-quality ingredients help, too. In this recipe, he uses Thrive Market's regenerative pork fat (from responsibly raised pigs) in place of the vegetable shortening his mom favored. It's a compromise that fortunately doesn't take anything away from the final result. "These biscuits are what I would call a warm hug," he says.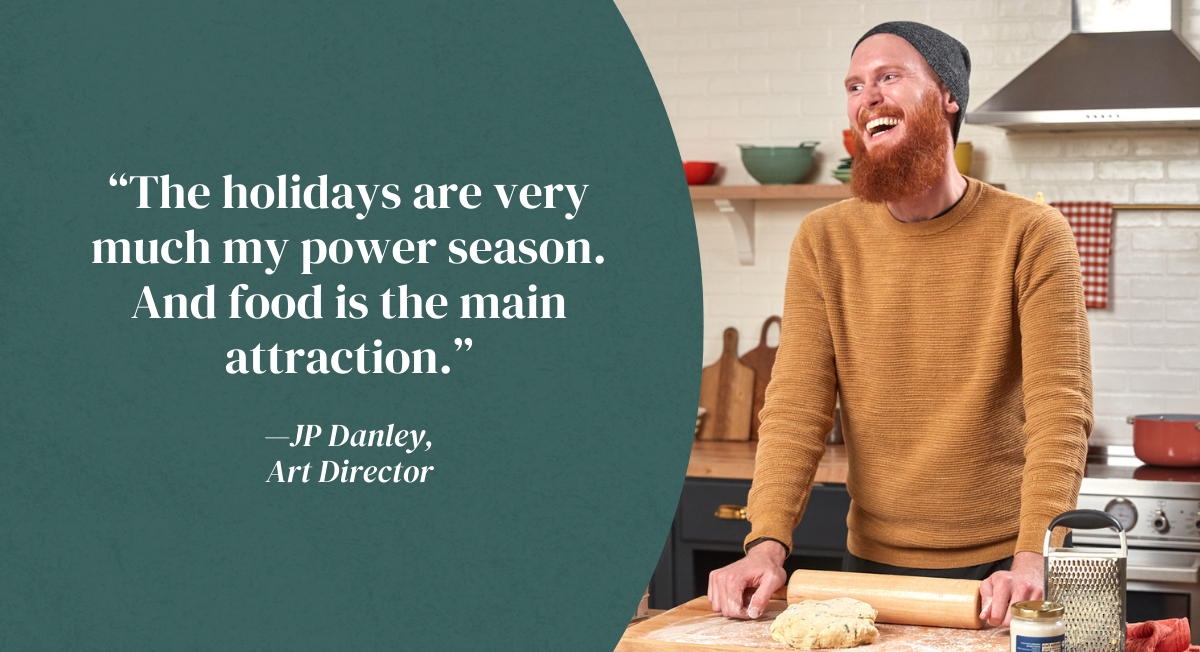 For JP and so many others, the holidays are all about food: not just eating it, but sharing it. Making his signature cheddar and chive biscuits is a way for JP to "share a bit of where I come from with my friends and chosen family. And it's super rewarding to share what you make with people you love. When you get to see your friends experience your food…it's really incredible."
Cheddar and Chive Biscuits Recipe
Yield: About 13 biscuits
Ingredients
2 cups all-purpose flour, poured/sifted
2 ½ teaspoons baking powder
¾ teaspoon mustard powder
½ teaspoon salt
1 cup shredded cheese (preferably a blend of sharp and mild cheddar)
⅓ cup fresh chives
4 tablespoons cold (preferably frozen) grass-fed, unsalted butter
2 tablespoons pork fat
¾ cup whole milk
Whipped butter, flaky salt, and/or jam to serve, optional
Instructions
Preheat oven to 425ºF and line a baking sheet(s) with parchment paper or silicone baking mat.
In a large mixing bowl, stir flour, baking powder, mustard powder, salt, cheese, and chives until combined.
Using a box grater, shred cold butter into the mixing bowl, then add pork fat. Cut in the fats by hand using a pastry blender or large fork until it resembles coarse pebbles.
Add in milk and stir with a fork or spatula until combined. Add additional flour or milk as needed to achieve a malleable but not-too-moist texture. Try not to "overwerk" the dough.
Roll out dough on a lightly floured surface to your desired thickness. "(½-¾" thickums' is my pref!)"
Use a floured biscuit cutter to cut out biscuits. Be sure not to twist your biscuit cutter! Press straight up and down for even, "full-bodyodyodied" biscuits.
Place biscuits on your prepared baking sheet(s). "Optionally, you can brush with melted butter or heavy cream for some golden brown realness."
Bake on a middle rack for 12 to 15 minutes or until golden ("but nowhere near burnt, hunny").
Cool slightly then serve immediately "because nothing beats a hot buttered biscuit!"
Tip: Store cut-out biscuits on baking trays in the fridge. Bake right before serving dinner "for the freshest of fresh holiday biscuit moment."