Update: See today's store hours, as well as daily updates on shipping delays, inventory levels, and more here.
To give our warehouse team time to restock our shelves and process each day's orders during this period of unprecedented demand, we're temporarily reducing our store hours. We've created the FAQ below to explain how reduced store hours will work, why we're putting them in place, and when we'll return to our regular 24/7 hours.
Why are you reducing store hours?
Over the last six weeks, we've experienced an unprecedented surge in order volumes, leading to shipping delays and higher than usual out-of-stock rates on some products. While we grow our team and inventory levels to meet this higher demand, temporarily reducing our store hours will give our warehouse team more time each day to restock the shelves and pack out the high volume of incoming orders while maintaining our industry-leading commitments to food safety and employee well-being.
Will the store hours be the same every day?
No, we will set store hours daily based on order volumes from the prior day and the progress the team is making on packing out orders. Our goal is to stay open as long as we can each day.
How will I know what time the store will open and close each day?
We'll share the day's store hours each morning here. We'll also announce the closing time on our site 30 minutes beforehand so that all members have time to finish their shopping session and check out.
What will happen when the store closes?
Once the store closes, you will no longer be able to add items to your box or place an order. When the store is closed, you will still be able to browse the site, add items to a Shopping List, read the blog, or view and edit your Account information.
What if I need to place a critical or urgent order?
Our top priority is to do right by our members while staying true to our mission, so we want to ensure that first responders, healthcare workers, and others with a critical need are able to get healthy essentials. If this describes you or you need to place an urgent order while the store is closed, please reach out to our Member Services team via live chat on our site—they'll help place your order and get it out the door as soon as possible.
How long will reduced store hours be in place?
We know that reduced store hours is an inconvenience, so we're doing everything we can to rapidly and safely scale up our operations. Over the last few weeks, we've doubled the size of our warehouse team and increased our inventory levels on essential products and categories by more than 500 percent. Our goal is to return to our normal 24/7 store hours by May 1.
Are there any features that can help me plan my shopping around reduced store hours?
Yes! We're encouraging members to use the Shopping List feature to plan out their orders ahead of time. With all of your items in a Shopping List, you can easily add them to your cart and check out once the store is back open in just a few clicks.
Here's a walkthrough:
Create a new list to plan your order by clicking on the Add Shopping List icon near any product. We'll call this example list "My Next Order."
Add each item you plan on ordering to your "My Next Order" list.
Once the store reopens, click on the Shopping List icon. You'll find it at the upper right of your homepage on desktop web or at the center of the bottom navigation bar on the Thrive Market app. Then open your "My Next Order" list.
On desktop, click the black "Add all #" button to add everything to your box. You can adjust quantities by clicking the + or – symbol. On the app, simply scroll through the list and add each item in the quantity desired.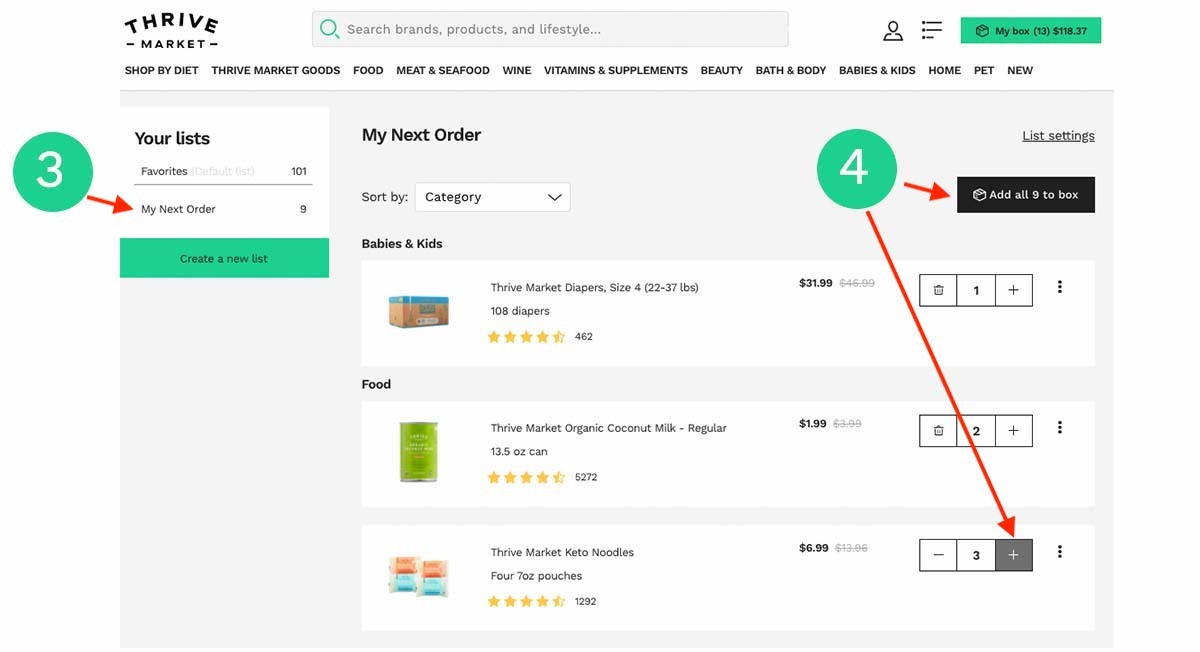 That's it! Go to

your box

 and complete checkout.
More questions?
Don't hesitate to connect with our Member Services team anytime.