It might be the dead of winter, but any time of year, you can still find an abundance of high quality lettuces in the farmer's market — as you might be able to guess from my blog,
Salad For President
.
Some of them are so good, your job is as simple as finding a way to enhance their flavor alone (think mustard varietals, kale, arugula, baby swiss chard). Forget the bells n' whistles.
To that end, I give you three solid dressings that pack a punch, but don't detract from those high quality greens that you may have labored over (or coughed up money for). I am also incorporating some really healthful ingredients in these dressings — chia seeds, cold-pressed squash seed oil, apple cider vinegar, tahini and seaweed. These salads are super easy to make, but still break the pattern of "balsamic vinaigrette syndrome."
Mustard Greens with Maple Tahini Dressing
Ingredients:
2 tablespoons tahini
1 tablespoon Braggs Apple Cider Vinegar
1 teaspoon maple syrup
1 teaspoon olive oil
4 teaspoons water
1 small shallot, thinly sliced
3 cups baby mustard greens
1 teaspoon black mustard seeds
1 tablespoon dried currants
Instructions:
Wash and spin mustard greens, add to bowl. In a skillet, toast mustard seeds on low heat with a cover slightly ajar, until they start to pop. Remove from heat and allow to cool.
Combine tahini, oil, water, maple syrup and cider vinegar, whisk together. The dressing should be thick but pourable. If it is not pourable, add 1 teaspoon water at a time to thin.
Gently coat greens with dressing. Sprinkle with mustard seeds, dried currants. Add salt and black pepper to taste. Add shallot and serve.
Tatsoi with Miso Dressing and Toasted Seaweed
Ingredients:
1 teaspoon white miso paste
1 teaspoon toasted sesame oil
1 tablespoon rice wine vinegar
1 tablespoon fresh squeezed orange juice
1/2 clove garlic, finely minced
3 cups tatsoi/asian greens
1/2 cup sugar snap peas
1 red chili, thinly sliced
1 teaspoon toasted sesame seeds
1 to 2 shiso leaves, thinly sliced
Directions:
Wash and spin tatsoi. If using small tender tatsoi, you can include the whole stem, but if they are more mature, taste the stem, and discard if it is too fibrous to chew. Wash snap peas and remove ends, thinly slice on a diagonal. Add to serving bowl.
In a small dish, combine miso, orange juice, rice wine vinegar, sesame oil and garlic. Whisk until blended and smooth. Toss greens with dressing, top with thinly sliced chili, toasted sesame seeds and seaweed snacks. Thinly slice shiso leaf and scatter on top. Serve.
*Note: Miso is salty — this doesn't require added salt.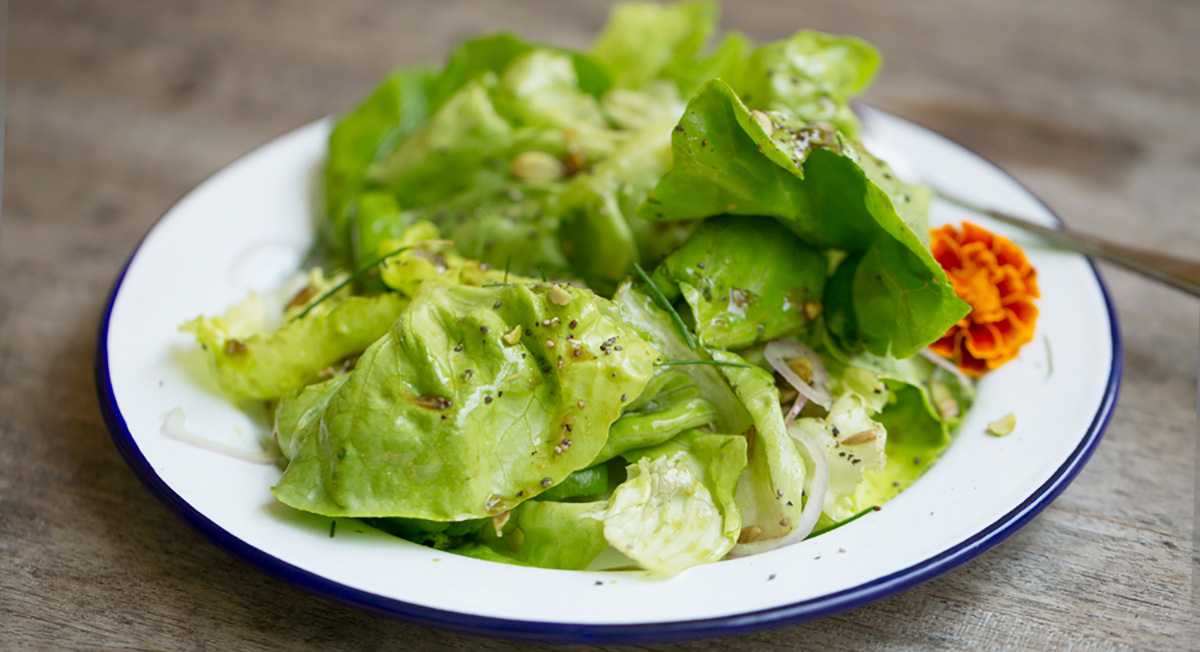 Butter Lettuce with Kabocha Squash Seed Oil Vinaigrette
Ingredients:
1 tablespoon raw sunflower seeds
1 tablespoon raw pepitas (or pumpkin seeds)
1 teaspoon maple syrup
3 tablespoons kabocha squash seeds
1 tablespoon red wine vinegar
1 head butter lettuce
1 small shallot, thinly sliced
1/2 teaspoon chia seeds
Instructions:
Wash and spin butter lettuce, add to bowl. In a high-powered blender of food processor, combine lightly toasted pepitas and sunflower seeds, oil, vinegar and maple syrup. Blend until seeds are broken into small pieces.
Gently toss with greens with dressing, sprinkle chia seeds on top, add sea salt, black pepper and thinly sliced shallot. Serve.
Photo credit: Julia Sherman, Salad For President