From spiked eggnog and hot toddies to wine and champagne, the holiday season is an alcohol-heavy time of year. For people who don't drink (or just aren't drinking right now), that can be a challenge.
Peg O'Connor, Ph.D. is well-versed in dealing with the pressures around drinking that pop up this time of year. She's a philosophy professor, an expert in addiction studies, and the author of several books on recovery, including "Higher and Friendly Powers: Transforming Addiction and Suffering." She's also been sober for a number of years—which means she's gotten pretty good at fielding nosy questions from fellow party-goers.
Being a non-drinker at a party, Dr. O'Connor says, "is like being a vegetarian at a pig roast. People take your choice to be an indictment of them. Other people will put us in a position as if we're judging them, because I think many of them are judging themselves."
We talked to Dr. O'Connor about why the holiday season can be especially difficult for non-drinkers, and some helpful tips for how to meet those challenges with grace, whether you're the guest or the host.
Thrive Market Expert Q&A: Peg O'Connor, Ph.D.
Why do you think the holiday season can feel so stressful, especially for non-drinkers?
"It's stressful for all kinds of reasons. There's almost a pressure to be full of joy. [Women] are the keepers of tradition and we put this pressure on ourselves, on top of the regular domestic labor we do anyway.
Now suddenly we've got 17 people coming to dinner and we feel as if we need to manage all the social dimensions of that. At the same time we're thinking, Is the turkey going to be done in time, and what happened with the potatoes…? We acknowledge how important the traditions are, but we don't acknowledge all the hard work that goes into that. That starts to stoke some resentment. Then the person next to you is getting a buzz on, and you start resenting them."
Some social engagements are unavoidable, like the office holiday party. What are some ways non-drinkers can cope in these often-uncomfortable situations?
"Before you go, you've got to take some preventative measures. Always have an exit strategy. Any situation you go into, know how you're going to get out of it. If you can, take your own car so you're not dependent upon someone else to leave.
Have a commitment to yourself of how long you're going to stay, and have your explanation ready for why you have to leave. I have a prior commitment can mean, I have a prior commitment to myself to get away from you. You don't need to elaborate.
If you are "out" in recovery and one or two people at work know, enlist them to be your allies. You need to have someone who is going to be able to intercept or cut off the person who starts saying, Well why aren't you drinking?"
Any advice about what to say to avoid or defuse awkward situations about drinking at holiday parties?
"I used to say I've had plenty, without specifying what timeframe I'm talking about. I never lie, but I can equivocate. Then I immediately ask them a question about themselves. Most people, if you get them talking about themselves, will think they're having a wonderful conversation with you, and you don't have to give up diddly squat. You can hide in plain sight. That's my go-to."
If you're hosting a party, what can you do to create an environment that's welcoming to all guests, including those who don't drink?
"There's nothing more inhospitable than going to a gathering and finding that the only [non-alcoholic beverage] is tap water. There have to be a variety of delicious, festive non-alcoholic beverages. That will make everyone feel included, particularly if there are toasts going on. With those high-end mocktails, I think many people wouldn't notice the absence of alcohol! If there is passing of drinks, that tray should always have non-alcoholic alternatives. Food is important too. Don't wait so long in between cocktails and dinner."
Non-Alcoholic Beverages to Serve at Your Holiday Gathering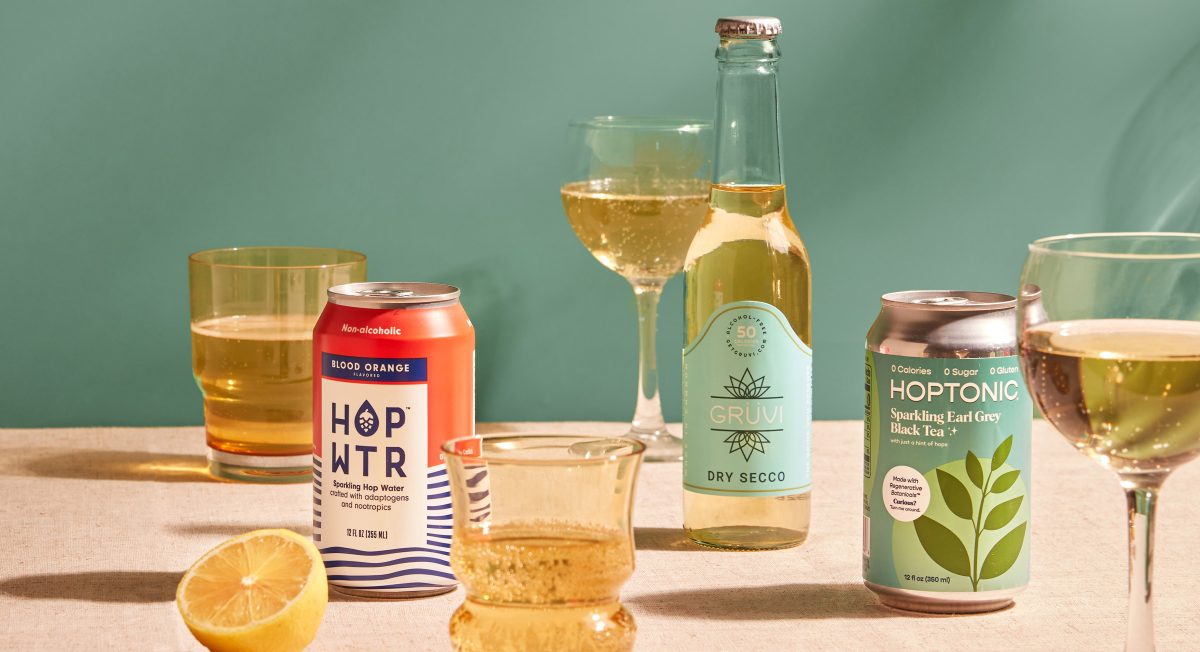 Create a celebratory atmosphere that everyone can partake in with these sips and tips.
Uncork some non-alcoholic wine. Gruvi's Dry Secco is an inclusive option for toasts, while Surely's California pinot noir will pair nicely with a holiday meal.
Stock a mocktail-friendly bar. Author Julia Bainbridge suggests items like fresh herbs, tea, spices, and high-quality tonic water. (Her book, "Good Drinks," is full of sophisticated mocktail recipes.)
Think beyond seltzer and lime. With health-conscious sodas in classic flavors, essenced sparkling waters, and refreshing adaptogenic tonics, there are plenty of interesting options to choose from.
This content is not intended to be a substitute for professional medical advice, diagnosis, or treatment. Always seek the advice of your physician or other qualified healthcare provider with any questions you may have regarding a medical condition or treatment and before changing your diet or healthcare regimen, and never disregard professional medical advice or delay in seeking it because of something you have read on this website.