Welcome to Dining In—a series that takes you into the homes of Thrive Market employees and brand partners to share what cooking in our own kitchens really looks like. Today, we're introducing you to Kelly LeVeque. LeVeque is a holistic nutritionist, wellness expert, and celebrity health coach based in Los Angeles. She shares her tips for how to eat more mindfully—regaining control of your food choices and relying on your intuition.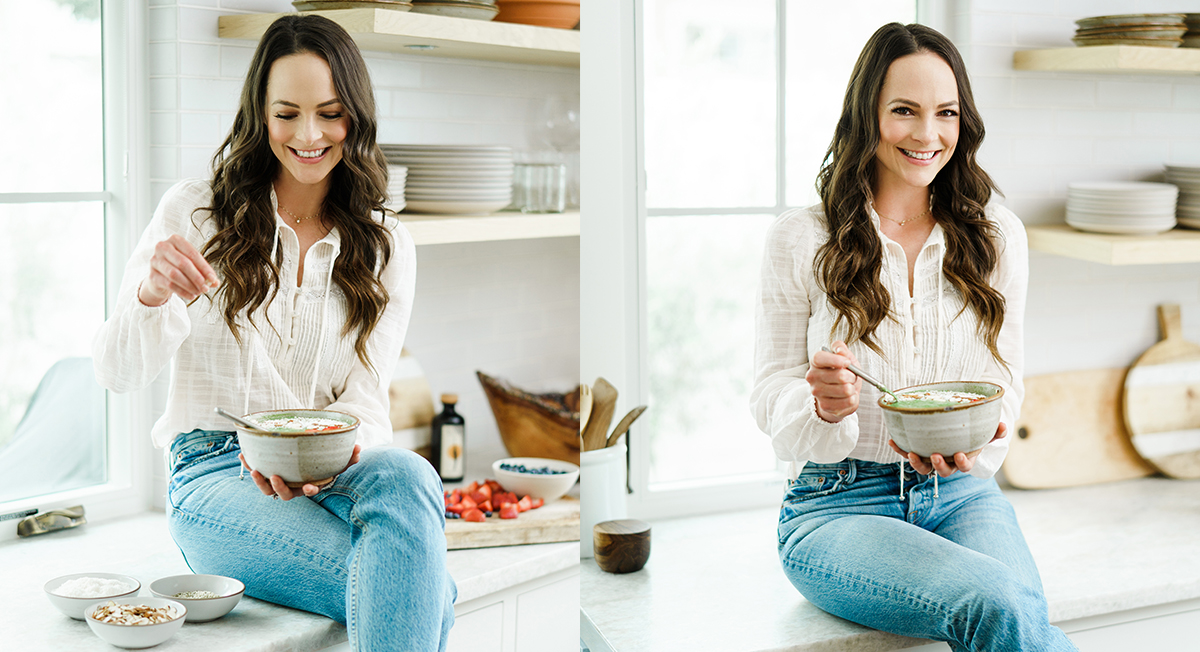 What does dining in look like for you?
Dining in consists of our little family—me, husband, and our son—enjoying home-cooked meals or smoothies together. We always try to fit in leafy greens and fresh veggies, but that's less convenient now so we're relying on frozen options as well. We've had our favorite recipes on heavy rotation these days—like tacos and chicken fingers—that we can customize but still enjoy together.
What advice can you give others in a similar scenario?
This is definitely an unprecedented time, so first and foremost, cut yourself some slack. Every meal doesn't have to be elaborate or five-star quality. It's perfectly fine to rely on frozen items over fresh or to pull from your pantry stock more than normal. But having some kind of plan and ingredients you can easily throw together to make multiple meals will really help keep the stress out of the kitchen and allow you to keep your goals in view.
How do you make meal-time feel special?
My husband and I do our best to eat together with our son as much as possible. The phones are set aside and we enjoy our food and company with minimal distractions. My son loves to be involved in the cooking process, so we let him help! It can get messy, but it's worth it.
What's your go-to meal when you don't feel particularly motivated?
Cauliflower fried rice bowl! This is freezer friendly and comes together so quickly. I recently shared the recipe on my Instagram.
How has Thrive Market made dining in easier?
Thrive Market has been key in supplying us with our favorite foods and snacks and keeping our pantry stocked. I have always loved how easy it is to find basic meal staples through Thrive Market, and have them delivered to our door, which has been such a benefit since we're not going grocery shopping nearly as often.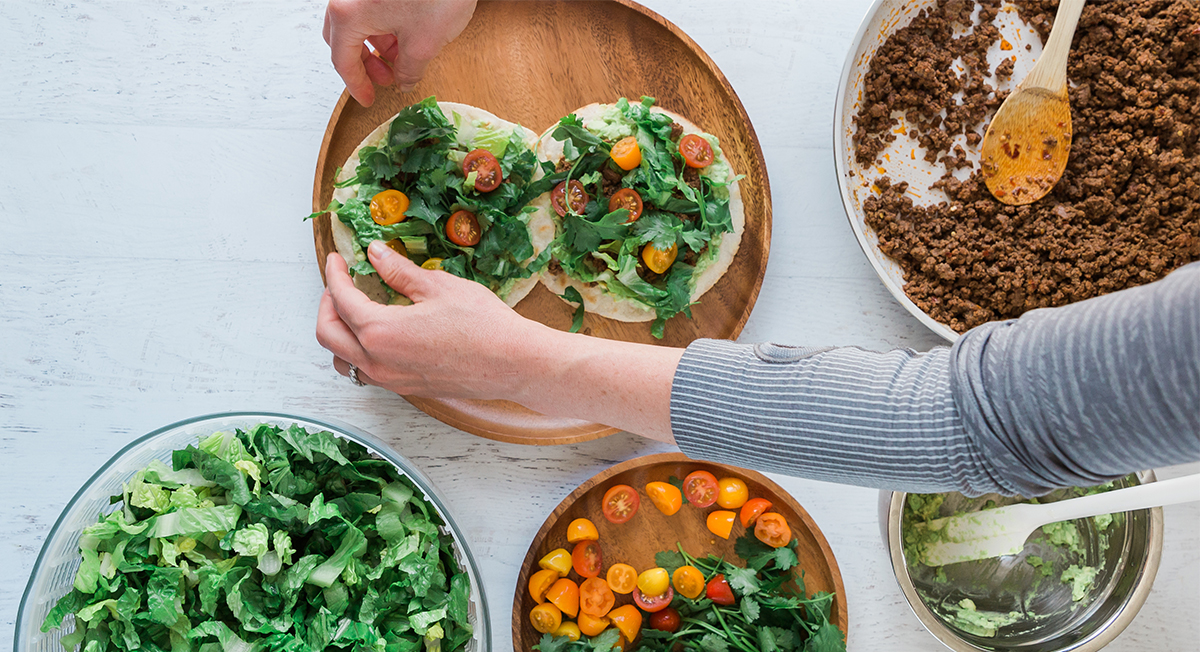 Take us through mindful eating. What does it look like?
When it comes down to it, mindful eating is all about taking control of your food choices and not being controlled by your hunger hormones or cravings. You remain present in each moment of your day, recognizing your hunger cues before you're ravenous so you're able to consciously choose foods that are truly satisfying and enjoyable.
What does mindful eating mean to you?
Mindful eating involves relying on your intuition, which many of us have neglected in current diet culture. Much like my Body Love principles, mindful eating is not about restriction or deprivation, but loving and respecting your body. Its focus is on analyzing what your body needs and finding a place of balance. Blood sugar instability is often at the root of mindless eating. That's why I recommend incorporating foods that regulate blood sugar, preventing spikes and the resulting cravings.
In my life and practice, I use the Fab Four—protein, fat, fiber, and greens—to build meals that are nutritious, satisfying, and keep blood sugar stable. Blood sugar stability makes mindfulness much easier because it lets you stay in tune with your needs. This puts you back in the driver's seat to mindfully choose what, when, and why you eat.
What are the short-term and long-term benefits to mindful eating?
Short-term, mindful eating cuts out the feelings of desperate hunger, crazy cravings, and confusion about what to eat when. You're able to consciously choose meals based on what you need, rather than listening to or fighting your hunger hormones. Beyond these immediate benefits, mindful eating allows you to stay focused on your goals and make choices that will lead you closer to them one meal at a time. You get to take back control of your food choices and your health as a result.
For someone new to mindful eating, what are a few tips that can help them get started?
First of all, slow down and start early. Mindful eating is all about recognizing your hunger cues, and you'll need to determine what those are before you're feeling those familiar hunger pangs. Consider how you feel first thing in the morning—are you extremely hungry or maybe just thirsty?
Are you teaching your son about mindful eating? If so, how are you teaching him?
It's been said that babies naturally eat intuitively, eating when they're hungry and stopping when they're full. With that in mind, we fully respect our son's innate ability to recognize his own hunger cues and choose what he wants to eat from what's served. My son is young, so everything is basically a monkey see, monkey do situation right now. I'm sure this will evolve as he grows up, but for now we focus on serving foods that support rather than destabilize our blood sugar, letting him decide what and how much he eats from what we serve, and enjoying meals together.