Welcome to Dining In—a series that takes you into the homes of Thrive Market employees and brand partners to share what cooking in our own kitchens really looks like. Today, we're introducing you to Diane Teall Evans, a Nutritional Therapy Practitioner (NTP, RWP) who helps clients balance their energy, hormones, and skin through nutrition. She's sharing her best tips and tricks for taking your summer BBQ indoors.
What does Dining In look like for you?
I'm a foodie first, and a nutritionist second. I love turning up in the kitchen with an extravagant Bon Appétit recipe once in a while, but most days I want my meals to work smarter, not harder.
I approach batch cooking and meals by thinking of key components: quality protein, quality diverse fats, and nutrient-dense carbohydrates (colorful veggies and starchy options like sweet potatoes and plantains)!
My husband and I are both small business owners with action-packed schedules, so we rely on what I call "leftover remixes." I love making basics that can be repurposed quickly and easily for meals and trying a few different sauces and spice blends to switch things up.
What advice can you give others in a similar scenario?
Healthy food can be both delicious and nutrient-dense. You don't have to choose! Prioritize responsibly raised meat (organic, pastured, or grass-fed), wild or sustainably caught seafood, and local, in-season produce as much as you can within your budget.
How do you make meals feel special?
I always tell my nutritional therapy clients to make meals sacred again. This means taking at least 20 to 30 minutes away from screens to be present, whether that's solo or with family! Your inbox can wait. Relaxing during meals will also help support your best digestion.
What's your go-to meal when you don't feel particularly motivated?
I love wild-caught sardines with jasmine rice cooked in bone broth. Add some leftover roasted veggies or quickly saute some kale in a little ghee and you're good to go! I love drizzling some sriracha or hot sauce on top. This takes me five minutes to whip up if I already have leftover rice and batch-cooked vegetables.
I also love roasting split chicken breasts (bone in, skin on) with various spice blends. This cut makes for juicy leftovers—no one likes dry chicken! I can add a separate sheet pan of veggies like broccoli and cut peppers to the oven and make chicken-broth rice in the rice cooker. Boom, dinner is ready in about 35 minutes—with leftovers!
How has Thrive Market made dining in easier?
I've been a Thrive Market member for more than two years now and love that I can find pantry staples and new-to-me brands that I cannot source locally, all from the comfort of home. The prices are best, and the shipping can't be beat.
As a nutritional therapist I am always looking for nutrient-dense snack options for my clients and Thrive's brands have so many amazing options that work with my clients' dietary needs. I love how easy it is to search the site for food items that work with client protocols! Paleo, gluten-free, dairy-free, organic—so much to choose from!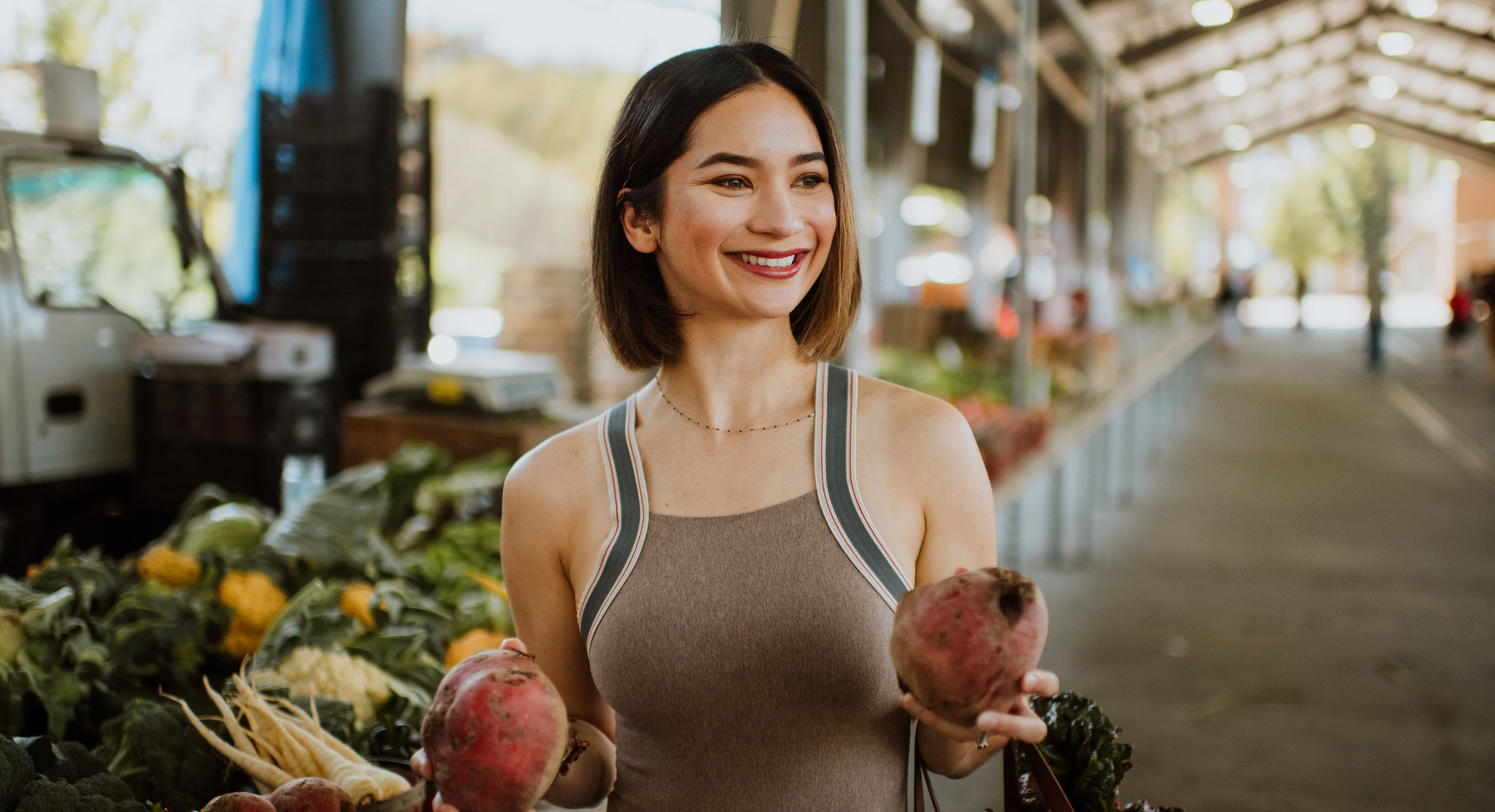 Many of us will be taking our summer barbecues indoors this year—what are your top five tips for making this the best experience?
Upgrade your sides with better ingredients. Sure, juicy burgers and brats get the spotlight, but that doesn't mean that egg and potato salad can't also shine! Try Primal Kitchen Pesto Mayonnaise (with an avocado oil base), add Spicy Thai Relish to brats, use Thrive Market Ketchup!
Make oven-roasted fries. Toss some potato wedges with a stable high-heat fat like EPIC Duck fat, season liberally, and roast at 425°F until crispy, about 30 minutes.
Toast s'mores indoors. These aren't your regular s'mores. I love grilling out and making this traditional summer dessert with a twist. You can find everything at Thrive Market—I order Pamela's gluten-free graham crackers (even if you aren't gluten free, these are nice and thick!), Smashmallow marshmallows, and Justin's Dark Chocolate Peanut Butter Cup or Dark Salted Burnt Caramel chocolate bar! Top a graham cracker with a marshmallow and place under the low broiler in a toaster oven for a few minutes. (Watch it closely so it doesn't burn!) Add your chocolate and top graham and enjoy. You'll never go back to basic s'mores.
Use a good grill pan! If you can't grill outdoors, consider a cast iron grill pan! I like a reversible pan like this one so I can use the flat, griddle side for making gluten-free pancakes and breakfast sandwiches!
Colorful hydration: Infused water isn't just for the spa! Make a pitcher or two of different flavors using fresh fruit and herbs. Some favorite combinations: cucumber and lemon, rosemary and ginger, strawberries and basil!
What are your favorite summer recipes that use fresh fruit and vegetables?
Watermelon, feta, and homegrown tomatoes are such a dreamy combo! Last summer I made this salad often, and it always went fast.
Melon and prosciutto—this is another combo you have to try! I love wrapping slices of prosciutto around ripe cantaloupe for a delicious appetizer.
Grilled summer squash!
For some zing, fresh garden cucumbers with some white vinegar, sliced cherry tomatoes, coarse sea salt and pepper. Add some fresh herbs! It gets even better as it sits.
What are your go-to grilling recipes?
I love picking up house-made brats from my local butcher if I don't want to make something myself. Current favorite flavor: Hawaiian, with pineapple and jalapeno chunks.
If I'm making burgers, I combine one pound each of pastured ground pork and ground beef, then add in minced aromatics like onion, garlic (measure with your heart), and some chipotle or jalapeño peppers for heat. For toppings, some delicious goat cheese, caramelized onions, or guacamole are delicious. I serve ours atop mixed greens, in a lettuce bun, or alongside roasted veggies and duck-fat oven fries!
What are some of your favorite healthy swaps for traditional summer snacking staples?
Siete Grain Free Lime Tortilla Chips – in place of your standard tortilla chip. These are made with cassava flour! Perfect with salsas, guacamole, nachos, or straight out of the bag. Honestly, this is why I got my Thrive Market membership two years ago!
Plantain Chips – instead of your standard potato chip. The savory options are my pick—dip in some guacamole! Raw carrots and guacamole are another favorite dipping combo.
Simple Mills Sprouted Garlic & Herb Crackers – these grain-free crackers are a delicious upgrade for charcuterie platters! Just add your favorite cheese. I love some raw sharp cheddar and salami with these!