In Bill Carvalho's home, there's a no-kill policy for spiders. Creepy-crawly creatures are captured and released outside. "We don't kill stuff," he says definitively. "Unless we're going to eat it."
Carvalho's deep reverence for the sanctity of all life — and for the world's oceans in particular — informs the way he runs Wild Planet, the sustainable seafood business he founded in 2001. "The human race has to look at the ocean as a solar-powered, self-sustaining wild pond," he explains. "[When we] take wild fish at the right time and in the right way…the yield from that food system maximizes its opportunity to feed the world."
Wild Planet's Sustainable Seafood
Wild Planet began with a family trip to the aquarium — not just any aquarium, but the Monterey Bay Aquarium, which in addition to educating visitors about marine life also rates sustainability in the seafood industry.
At the time, Carvalho was running a large seafood company that received fish at nine ports up and down the west coast. An aquarium exhibit called "Oceans in Crisis" left an indelible impression on him. "I saw that the fisheries I was involved with were in a race to depletion," he reflects. "Right then, I discontinued fisheries I was participating in that weren't rated green by Monterey Bay Aquarium. It was a very costly decision financially. I was in no position to take that kind of a stand, but I believed that in time doing the right thing would pay off."
And it has; more than 20 years (and one acquisition by Bolton Group, a large consumer goods corporation) later, Wild Planet still does business with Carvalho's values of sustainable fishing, environmental protection, and ethical labor top of mind. In fact, the name "Wild Planet" is inspired by Carvalho's vision for a more sustainable food system. "The taking of wild food, whether it's wild mushrooms and acorns in the forest or blueberries on the hillside, is the lowest carbon footprint thing a human can do to sustain life," he says. "[Catching] wild fish, in their abundance, is the next thing. It's a hunter-gatherer experience."
With 14 grams of lean protein per serving plus essential omega-3 fatty acids, tuna is a go-to food for people who eat keto, paleo, Mediterranean, Whole30® and beyond. Skipjack tuna in particular is lower in mercury than other fish varieties; Wild Planet reports that thanks to their selective fishing methods (more on that later), their skipjack is up to 13 times lower in mercury than the FDA action limit. Available in cans and jars, Wild Planet's ready-to-eat skipjack tuna is a convenient and affordable way to incorporate high-quality seafood into your diet.
We talked to Carvalho about how Wild Planet's skipjack tuna gets from the ocean to your Thrive Market box while preserving delicate ocean ecosystems and supporting global fishing communities.
Skipjack Tuna, Sourced The Right Way
"Highly powerful fishing enterprises have become too good at fishing for the ocean's own good," Carvalho says. He explains that much of the world's seafood is caught using Fish Aggregating Devices (or FADs) and huge nets called purse seines. Combined, these implements attract and catch not only the target species, but other marine life. "You get this mix of everything that used to be swimming scattered about many square miles of ocean, now densely concentrated," he says. "A lot of the things in there are not the target fish."
Catching marine life indiscriminately is both cruel and wasteful; not only can it ensnare dolphins and other animals, but Carvalho says that catching young tuna (which, at around a pound or two, provide much less meat than a 4-to-7-pound adult), doesn't justify the taking of a life. "It's a matter of reasonable yield per take," he says. "If you harvest the ocean's young like that, it's not truly going to feed humanity."
Wild Planet sources much of its skipjack from the western North Pacific, off the coast of Japan. The fleets Wild Planet work with employ pole-and-line fishing — and instead of bringing the fish to the boats, the boats go to the fish. This not only lowers their carbon footprint, but also allows the fishermen to catch only the target species. "Pole-and-line fishing anywhere in the world is a superior practice because it's selective. It's targeting a school of fish and pulling them in one at a time. There's essentially no bycatch," Carvalho says, adding that any non-target species are always kept and used, never wasted.
From there, innovations on the boats themselves help eliminate waste. Carvalho explains that on many fishing vessels, individual fish are flung from a barbless hook directly onto the deck of the boat, which can cause bruising. That results in waste, since the bruised flesh must be cut out and disposed of.
Japanese fishing vessels avoid this with a system that allows caught fish to bounce against tarpaulins and land in scupper troughs filled with refrigerated seawater, which quickly decreases the fish's body temperature. "That creates the highest quality meat," Carvalho says.
Helping Fishing Communities Flourish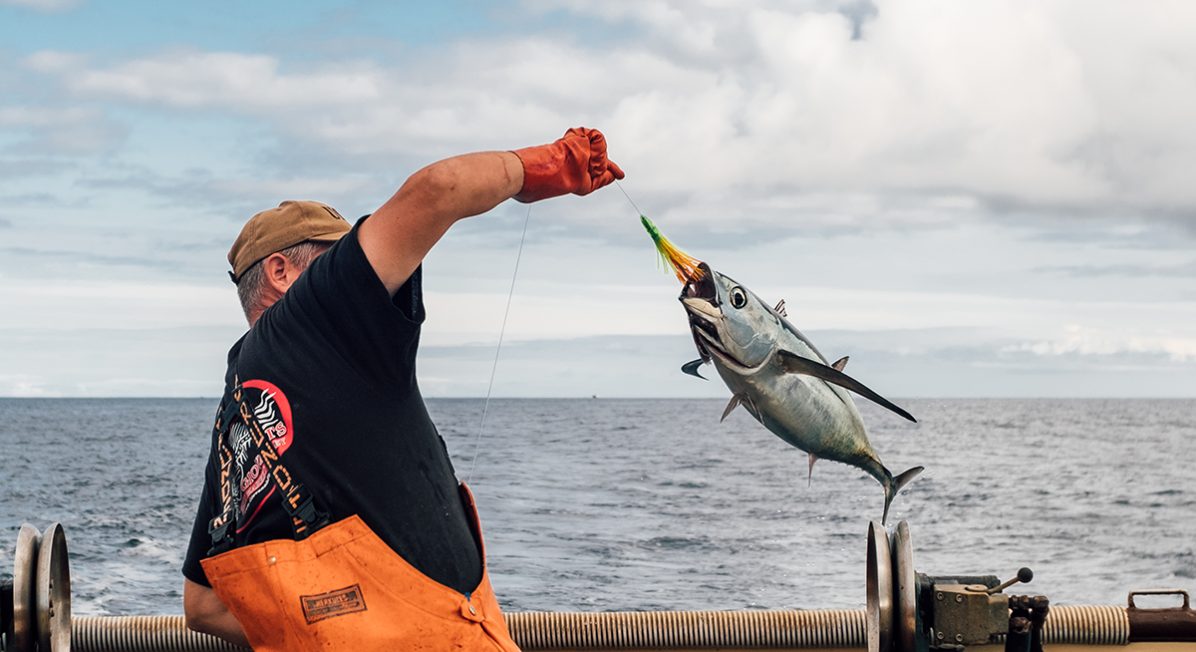 It's not just the oceans that are damaged by large-scale fishing practices; the industry is notoriously exploitative. Thanks to large, distant-water fisheries buying up the rights to the fish in exclusive economic zones, or EEZs, many small fishing communities can no longer survive on their own labor, Carvalho says. "So many island nations around the world have been suffering the deprivation of their historic natural catches," he explains. "It's a quiet crisis right in front of our eyes."
Pole-and-line fishing, on the other hand, has the power to nourish and uplift fishing communities. "Studies have shown that per ton of capture, pole-and-line tuna catching employs 10 times the people compared to the big purse seine vessels," Carvalho reports. "When [fishermen] bring the fish back to their home port, they're supporting local communities, and food security is enhanced there."
There are also environmental benefits to supporting small-scale fishing enterprises, as Wild Planet does in Japan, Africa's Cape Verde Islands, Indonesia, and the Maldives. "When you traverse oceans, you're burning all kinds of fuel, "Carvalho explains. "Small-scale enterprises that fish near shore and bring their fish back to port have a much lower carbon footprint because they wait for the fish to come to them instead of chasing them all over the seven seas." Supporting the small enterprises also reduces waste, because any bycatch the fishermen bring back to port can feed the community, whereas large tuna operations simply dispose of bycatch.
Wild Food to Feed the World
"The planet is a food production ecosystem," Carvalho explains. "It is best at it in its wild state" — hence the name Wild Planet. "The planet and its wildness are fine-tuned for prolific life. We cannot afford to domesticate it, tame it, and industrialize its treatment with impunity. We are going to get the tuning out of alignment and it's going to malfunction."
For anyone concerned about where their food comes from and how it impacts the planet and its people, the best thing you can do is choose to buy from brands and companies who care as much as you do. And if tuna is on the menu, Wild Planet is a conscious choice.