At Thrive Market, we know that responsible packaging is critical to the future of sustainable consumer products. For every product we develop as part of the Thrive Market Goods line—and as we collaborate with the third-party brands we sell—we work to improve recyclability, post-consumer recycled content, and sustainability, with the end goal being compostability or biodegradability.
That said, the challenges to eliminating plastic packaging in the consumer product industry are deep and complicated. In this post, Jeremiah McElwee, Thrive Market's Senior Vice President of Private Label and Merchandising, dives into some of the biggest challenges we face, and offers a transparent look at how we're reducing our impact—and driving positive change in our industry.
Availability of viable, food-safe packaging options
We prioritize food safety above all else, and we provide consumer products to large numbers of people across expansive geographic regions. This means that we need to ensure that those products are safe and shelf-stable, and that the packaging maintains a viable oxygen-moisture barrier to protect the food. Given that we don't allow artificial preservatives and stabilizers in our products, high-integrity packaging is even more crucial. The reality is that packaging technology hasn't yet caught up with the need for many shelf-stable food products. We are working on several concurrent R&D projects behind the scenes with fellow brands, packaging producers, and manufacturers, while testing new, more responsible materials and mediums to solve this long-term.
Verifying claims on compostability & biodegradability
Another reality of this process is that most of the packaging being billed as "compostable" is not, in fact, backyard compostable. In fact, there are fewer than 5,000 industrial composting facilities in 38 U.S. states, and they specialize in processing organic matter—not consumer packaging. That, coupled with the challenges of basic curbside recycling compliance for U.S. consumers, means we have to ask the question: How many people will take the time to save their "compostable" packaging and then drive it to a facility that might be hundreds of miles from their homes? Probably not many. So, we're focusing on getting ahead of the curve and creating truly backyard compostable, biodegradable, or reusable/exchangeable packaging options.
"There are fewer than 5,000 industrial composting facilities in 38 U.S. states, and they specialize in processing organic matter—not consumer packaging."
Staying true to our mission
We often hear that "Brand X online is doing all-paper bottles or has compostable boxes—why doesn't Thrive Market do this?" The short answer is: We are trying. However, in most cases where we've researched and tested these packaging formats, they either a) don't meet the food safety requirements we have for our members, or b) are 50 to 100 percent more expensive than the standard options available. Given that our mission is to broaden access to healthy, natural, organic, and now regenerative products—and make them affordable—we can't allow the perfect to get in the way of the very good. So, we must balance the nutritional and health needs of our members short- and long-term to bridge the present and the future in the best possible way. It's a balancing act, to say the least.
These challenges aren't presented as reasons for not taking action; instead, we're presenting them in an effort to create transparency around the issues that Thrive Market Product Innovators tackle every day as we try to solve this critical challenge. We're lucky enough to work with industry trade alliances that specifically focus on the evolution of "greener" packaging, which means we're on the forefront of any new developments. You can trust that we'll bring them to Thrive Market members as soon as they're proven legitimate and safe for the entire shelf life of the product.
In the meantime, for every Thrive Market Goods item we launch, we ask our packaging suppliers to provide us with the most ecologically-friendly and sustainable option. We start with biodegradable and compostable packaging, then we move to recycled-content and recyclable options. From there, we move to landfill reduction as a primary goal. We view each step of the process through the lens of total carbon footprint reduction.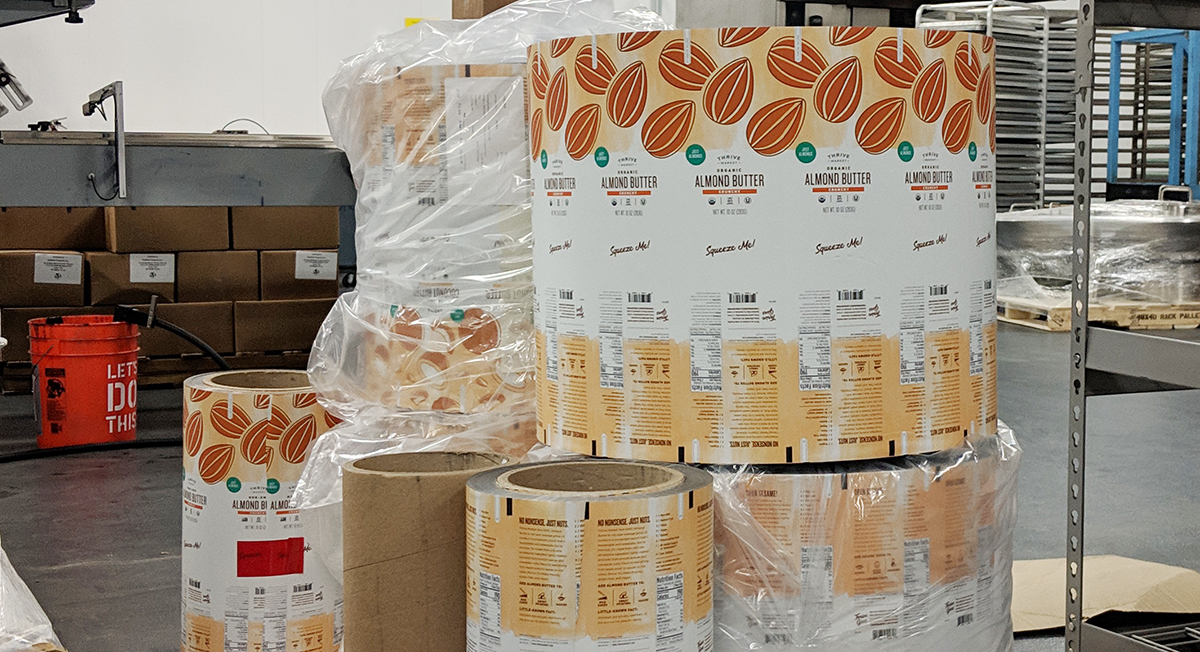 In the case of the film pouches we use for our Thrive Market Goods nut butters and coconut oil mayonnaise products, we're currently working with suppliers on testing and developing pouches that are recyclable, and even exploring biodegradable options. Overall, soft film packaging formats reduce carbon footprint by up to 40 percent over rigid formats like glass jars and plastic bottles. This is due to the weight of shipping these products around the world—both before and after they've been filled with product—but also due to energy usage during production. The reality is that it takes a lot less energy to create large roles of film than to blow mold bottles and jars, which requires use of heat-process fossil fuels. (And here's a tip to help squeeze every last ounce of product out of the pouches: Run the pouch under warm water before kneading the package thoroughly to mix.)
"Overall, soft film packaging formats reduce carbon footprint by up to 40 percent over rigid formats like glass jars and plastic bottles."
The other stark reality is that compliance with recycling programs is still very low in the U.S. The most optimistic estimates state that about 34% of American waste is being recycled—so, even if products are produced in recyclable formats, they're not making it into municipal recycling programs—a heartbreaking fact, especially for those who are passionate about protecting our planet. The other side of that coin? If soft film packaging formats should end up in a landfill, they take up 70 percent less space than their rigid packaging equivalents. Of course, this is not a long-term answer—but given the current realities of American consumption, it is a positive story.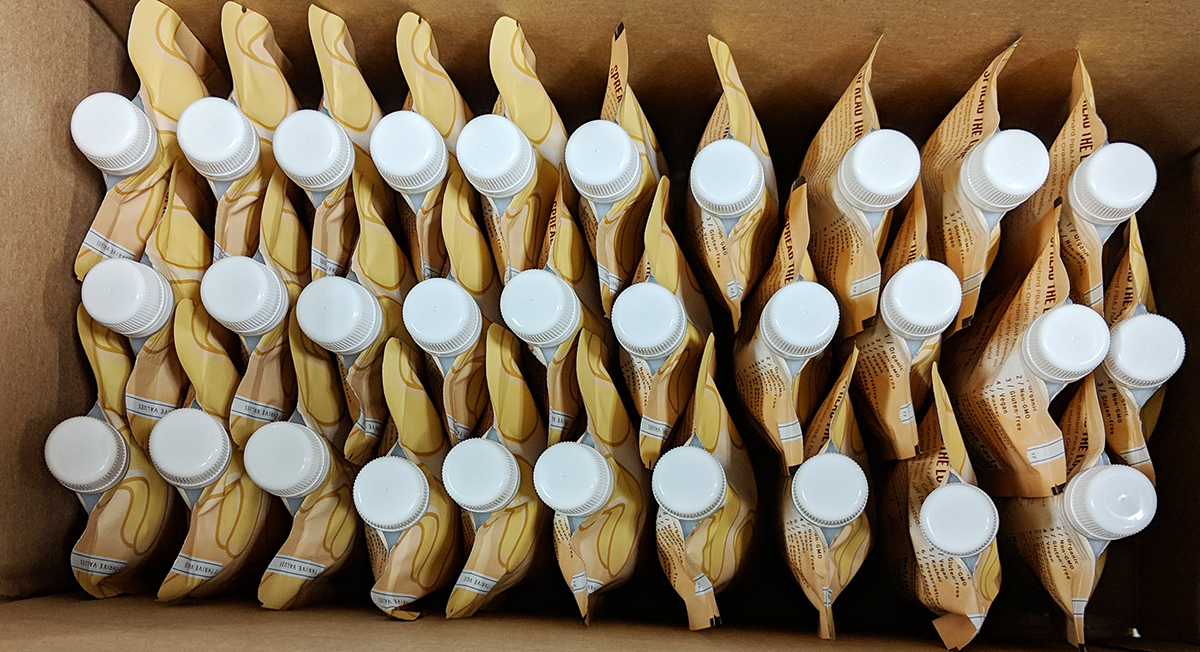 We understand that our members care deeply about reducing their environmental footprint as much as we do, and we are grateful for your passion around this subject. Right now, one of the best ways we can all make an impact is to help educate our friends, family, and community—and to contact bigger companies and ask that they do more to address this critical issue.
The truth is, even when we're doing our best, we can always do better. We're working diligently to improve every day, and we're committed to doing right by our members and our planet with every product we launch. In just four years, we've become a zero-waste, 100-percent carbon-neutral business, and are powering our two fulfillment centers with renewable energy. We're also the first e-commerce company to have fulfillment centers that contribute zero waste to landfills. As we continue to improve, we'll look to you, our members, to help keep us accountable and encourage even more innovation.