Even if you're not an Ayurveda devotee, it's likely you've come across some of its holistic treatments like oil pulling, dosha-directed eating guidelines, or meditation. But when Banyan Botanicals launched out of co-founder Kevin Casey's Albuquerque home in 1996, the benefits of this ancient healing system hadn't yet spread beyond a small group of enthusiasts and practitioners. "Today, Ayurveda is in grocery stores, in yoga studios, in personal care practices, and even making cameos on 'Saturday Night Live' (thanks to Gwyneth Paltrow's skit on ashwagandha)," says editorial manager Breanna Potts. So, what's Ayurveda all about? We spoke with Potts to learn more about incorporating Ayurveda into your life. Plus, learn some simple ways to use Ayurveda to upgrade your oral care routine.
What is Ayurveda?
Ayurveda offers insight and guidance on how to live a well-balanced, healthy, and happy life—body, mind, and soul—and has something to offer at every stage of the journey. How deeply you want to embrace Ayurveda is an individual choice. We've seen people incorporate one or two supplements, but aren't interested in anything else. Others go as deep as possible, ditching depleting habits for deeply nourishing daily routines that totally transform the way they approach their lives.
Ayurveda is not an all-or-nothing endeavor. There's no wrong answer to how each individual chooses to embrace Ayurveda! Here at Banyan, we like to say that Ayurveda will meet you where you are in your own journey toward better health and well-being. We're so inspired by the growing cultural movement to better care for ourselves, and we see many of Ayurveda's timeless principles as the essence of this movement.
"Here at Banyan, we like to say that Ayurveda will meet you where you are in your own journey toward better health and well-being."
Are there any common misconceptions about Ayurveda?
Yes! We recently launched #AskBanyan, a video series that answers our customers' most commonly asked questions. We discovered that a common misconception is about what Ayurveda is not—it's not a religion, and it's not synonymous with India and Indian culture and Indian cuisine (although they do overlap in some areas). It's not a rigid set of rules. It's not one-size-fits-all. As the science of life, Ayurveda is bigger than a place on the map, a certain diet, or a culture. Its principles can be applied to any place, plant, practice, and person on this planet!
What are doshas, and why is it important to understand our unique imprint?
The three doshas of vata, pitta, and kapha are made of unique combinations of the elements (earth, water, fire, air, and ether), which create the world and universe. The doshas, or some combination of them, can be seen in the world around us—in the seasons, climates, landscapes, activities, plants, and animals. Each dosha embodies a combination of elements and qualities to create a functional entity, or an energetic force of nature. Vata, for example, is air and ether, pitta is fire and water, and kapha is water and earth. All three doshas are present in everyone, but the ratio between them varies a great deal from one person to the next.
Each of us has a combination of these three doshas in our bodies at any given time, and we carry our own unique combination of doshas throughout our lives called our "Ayurvedic body type" or constitution (known as prakriti in Sanskrit). We also have a state of balance or imbalance that fluctuates (called vikriti), which reflects any elevated doshas within our physiology. When we accumulate excess doshas beyond our healthy limits (as determined by our prakriti), the doshas may damage our health.
"Understanding our own relationship with the doshas is like receiving a blueprint for health and balance."
Understanding our own relationship with the doshas is like receiving a blueprint for health and balance. It creates the opportunity for a deeper connection to our own health and helps define what balance means on an individual level—and how to keep that balance, regardless of what life brings our way.
What are some of your favorite practices for incorporating Ayurvedic principles into daily life?
Every person at Banyan could answer this differently! Some of our top favorites include yoga and meditation, abhyanga (self-massage with oil), herbs (surprise!), and Ayurveda's oral hygiene practice, which includes using a tongue cleaner and oil pulling on top of the usual brushing and flossing.
How do Ayurvedic principles inform the products you create?
Ayurvedic principles are the essence and backbone of our products! For example, we always look to balance the energetics of all herbal supplements, which includes the tastes (there are six in Ayurveda), the virya (or temperature), and the vipaka (or how it will continue to affect the tissue layers after it has been digested), among other energetics.
We also embody Ayurvedic principles in our big-picture approach to our products and how we operate every day. Ayurveda teaches that we're deeply interconnected to the planet, so caring for nature is as important as caring for ourselves. This is a big part of why we're committed to providing products that are organic, sustainably grown and harvested, and fairly traded, and why we're a Certified B Corporation®.
---
What Is Oil Pulling?
Oil pulling is a popular Ayurvedic practice that supports oral health and involves swishing oil (like coconut oil) in your mouth for up to 20 minutes. Benefits of oil pulling include eliminating impurities and encouraging healthy gums, especially when used in tandem with regular brushing and flossing. "There's a link between oral health and our overall health that's acknowledged in both Ayurveda and modern science," says Potts. "Doing what we can to prioritize oral health not only supports our teeth and gums but also supports more robust overall health and well-being."
A Step-by-Step Guide to Oil Pulling
Because it takes practice to make oil pulling a habit, Potts suggests trying it while you're doing something else. "For example, when getting ready in the morning, oil pull while you take a shower, dry your hair, or make your lunch for the day. If you can incorporate oil pulling into a habit that's already well established, you're more likely to succeed," she shares. Follow these easy oil pulling instructions to get started:
Put 1 tablespoon of oil in your mouth. (Keep reading for our oil recommendations!)
Swish and pull the oil around the inside of your mouth, moving it around both sides, and in front of, behind, and through the teeth.
Continue the process for 15 to 20 minutes, until the oil has become thin and whitish in color. (Start with 5 minutes, then work your way up for best results.)
To avoid clogging the drain, spit oil into the trash or toilet. Do not swallow it.
Rinse your mouth with warm water.
Best Oil for Oil Pulling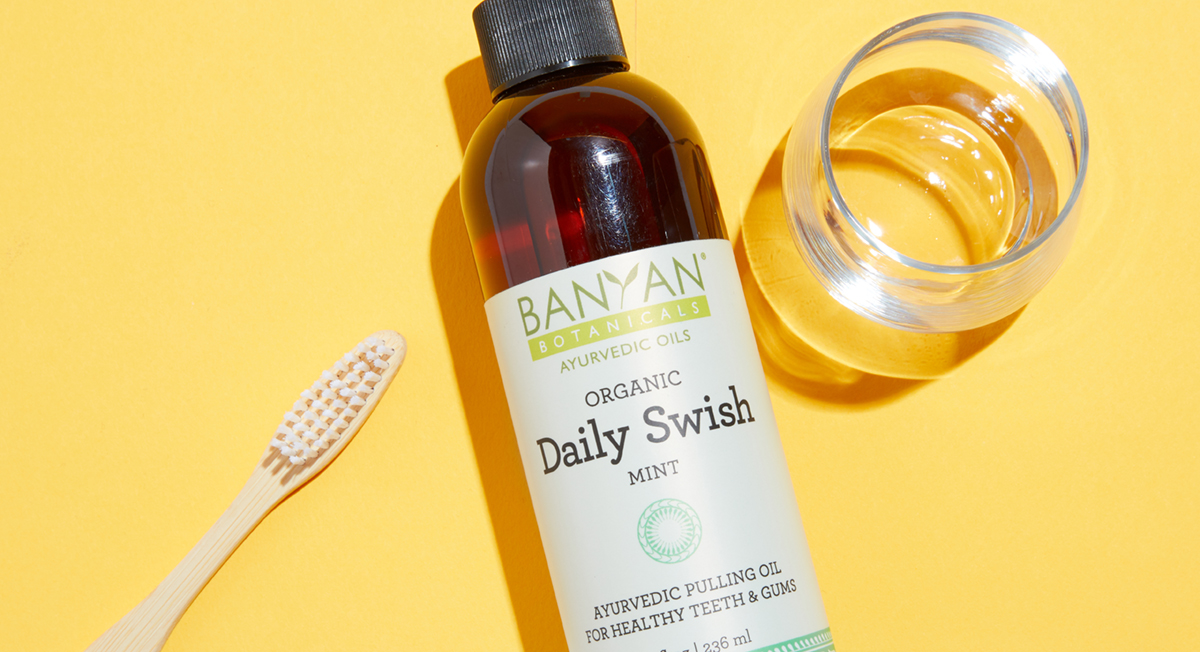 To support your new oil pulling habit, pick up a bottle of Daily Swish, which has been a customer favorite since Banyan launched it a few years ago. "Daily Swish harnesses the power of botanicals to create a truly one-of-a-kind oil," Potts shares. Sesame and coconut oils—two oils commonly used on their own for oil pulling—are infused with Ayurvedic herbs, including the superfruit amalaki or amla, all of which have a long history of use in oral hygiene. This fusion creates a powerful pulling oil that helps remove natural toxins from the mouth and nourishes and moisturizes the mouth's tissues. It also supports overall health and hygiene and tastes great, leaving your mouth feeling refreshed and clean."
Jennifer from Minn., says it's a great addition to her morning routine. "I find this more pleasant than just using coconut oil, and the minty flavor is appealing."
Charity from Iowa reports the cinnamon flavor is just right and not too strong. "I also love how clean and moisturized my mouth feels after using this oil."