Want to learn to speak like a sommelier? Or maybe just master the lingo to help zero in on your next favorite bottle of wine? We're here to help break down the often complex language surrounding wine, from describing the flavor to decipheringpi the different types of wines that exist all over the world.
Here, we've created a handy guide to elusive wine terminology, from ABV to terroir and everything in between. Use this as your guide to shop natural and organic wines from Thrive Market—then check out these tips for choosing the perfect meat and seafood pairings to go along with them.
Want to try new wines every season? Join Thrive Market's Wine Club, a sommelier-curated box of six clean wines at 10% off, plus get access to virtual wine tastings with our in-house Master Sommelier, Josh Nadel.
Common Wine Terms
ABV
Abbreviation for "alcohol by volume"; the percentage denoted on most wine labels
Biodynamic
A type of farming that views the entire farm or vineyard as a unified ecosystem, utilizing practices that seek to improve the health of the soil without any chemical fertilizers or pesticides; biodynamic wines are made with grapes produced with this type of agriculture
Body
The heaviness or richness of a wine (for example, a "full-bodied red" refers to a wine like a bordeaux or petite sirah, while a "light-bodied red" refers to a wine like a pinot noir)
Brut
Not one specific type of wine, but rather a word referring to a particularly dry type of champagne, prosecco, or cava; can range from brut nature (the driest) to extra brut (mid-range) to brut (dry, but slightly sweeter)
Doux
The opposite of brut, doux refers to the sweetest types of champagne
Dry
A way to describe wines with less residual sugar, that therefore taste less sweet and syrupy than other wines
Fermentation
The process during which yeast converts grapes to alcohol in winemaking
Mouthfeel
A way of describing the taste of wine that refers to the physical sensations the wine creates, rather than its flavor or aroma
Natural wine
A loose term used to describe wines made using biodynamic, organic, or similar farming practices; most natural wines contain little or no sulfites or additives and are minimally processed, resulting in a cloudy appearance and often some yeast sediment in the bottle
Sulfites
Refers to sulfur dioxide, a preservative added to many wines
Tannins
A certain type of polyphenol, which are chemical compounds that occur naturally in plants; tannins result in a bitter, astringent taste that is often described by the mouthfeel rather than the flavor (for example, a wine that is very tannic may give you a dry mouthfeel)
Terroir
A French word that describes how an area's climate and soil affect the taste of the grapes produced there (and, later, the wine made from those grapes)
Vintage
The year a wine was made
Types of Wine
Many of the most common types of wines are referred to by the variety of grape used to make them (malbec or chardonnay, for example). In other instances, they're associated with the region where they're made (like Champagne or Bordeaux). It can get confusing, but this helpful glossary will show you the differences between the most common types of wines.
Bordeaux
Not a singular type of wine, but rather refers to all wines made in the Bordeaux region of France; typically red wines consisting of a blend of Cabernet Sauvignon, Cabernet Franc, Merlot, Petit Verdot, and Malbec grapes
What it tastes like: Concentrated, full-bodied; often like cherry, licorice, or coffee
Try it: EthicDrinks Cabernet-Merlot Bordeaux 2020
Cabernet Sauvignon
A type of red wine made with a blend of Cabernet Franc and Sauvignon Blanc grapes
What it tastes like: Bold, full-bodied, tannic; often like mint, jam, or black currant
Try it: Freehome Cabernet Sauvignon 2020
Gamay
A red wine made with purple-colored grapes typically grown in France's Loire Valley
What it tastes like: Acidic, light-bodied, fruity, mineral; often like sour cherries, stone, or lilac
Try it: Jean Boisselier Brouilly Gamay 2019
Malbec
A red wine made with purple grapes typically grown in Argentina
What it tastes like: Full-bodied, dry; often like blackberry, vanilla, or tobacco
Try it: Asado Cruz Malbec 2020
Merlot
A type of red wine made with blue-skinned grapes grown in the Bordeaux wine region; commonly used in red wine blends
What it tastes like: Full-bodied, lush; often like plum, blackberry, or tobacco
Try it: Mas Paillet Merlot-Cabernet 2020
Pinot Noir
A red wine made with a grape species called Vitis vinifera, which has a thin skin that grows in tightly packed clusters, native to Burgundy, France
What it tastes like: light-bodied, complex; often like red fruit, spices, or mushrooms
Try it: Scott Paul Pinot Noir 2020
Syrah or Shiraz
A type of red wine made with a dark-skinned grape grown all over the world
What it tastes like: Full-bodied, soft tannins; often like leather, jam, or licorice
Try it: Freehome Shiraz 2020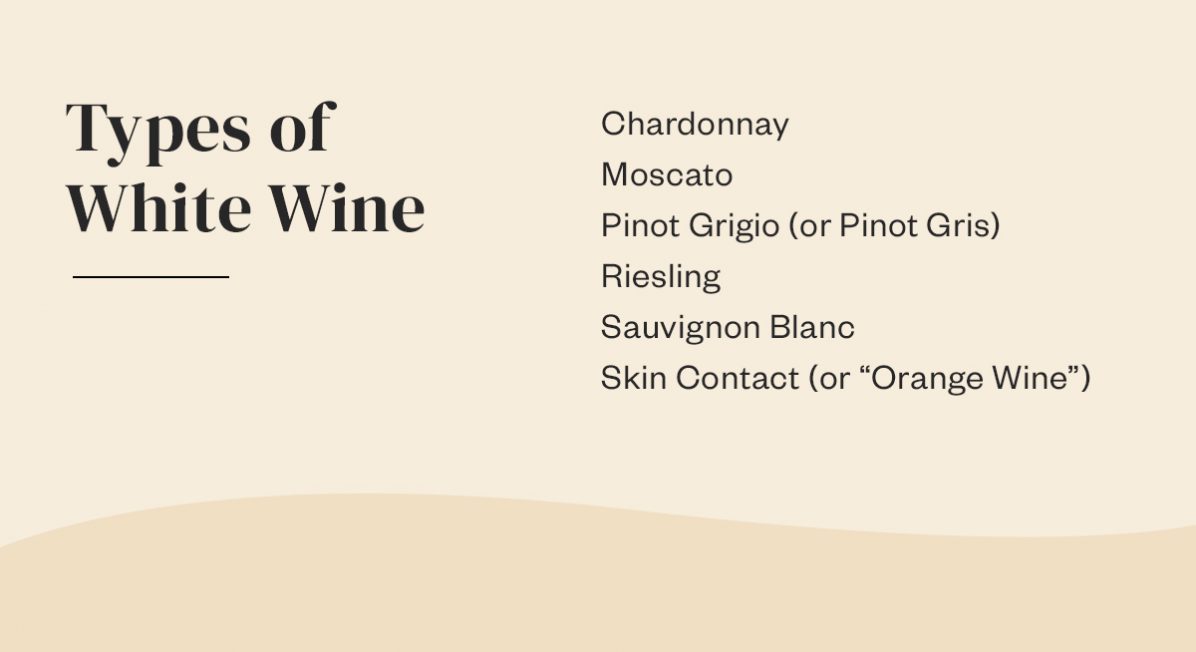 Chardonnay
The most popular white wine on earth, made with green grapes originating in the Burgundy region of France (though now they are grown all over the world)
What it tastes like: Medium to full-bodied, dry, crisp, bright; often like apple, pear, butter, or oak 
Try it: Mas Paillet Chardonnay-Viognier 2020
Moscato
A dessert wine made with Muscat Blanc grapes from Italy
What it tastes like: Very sweet, highly aromatic, and mildly effervescent; often like mandarin orange, honeysuckle, or meyer lemon
Pinot Grigio (or Pinot Gris)
A type of white wine made with a gray-blue grape species called Vitis vinifera, a mutation of the grape used to make pinot noir
What it tastes like: Light-bodied, acidic, zesty, dry to slightly sweet; often like lemons, green apples, honey, or grass
Try it: Plonzer Pinot Grigio 2019
Riesling
A type of white wine made with grapes native to Germany, though now grown all over the world (particularly Australia and Washington State)
What it tastes like: Light-bodied, acidic, typically quite sweet; often like apples or pears (perhaps most uniquely, riesling is commonly known for having a gasoline-like aroma that's strangely pleasant!)
Sauvignon Blanc
A type of white wine made with green-skinned grapes originally from the Bordeaux region of France (though today, Sauvignon Blanc is produced all over the world)
What it tastes like: Very dry, crisp, tannic; often like grass, citrus, or bell peppers
Try it: Haast Sauvignon Blanc 2020
Skin Contact (or "Orange Wine")
A type of white wine fermented with the skins still on the grapes (in other words, white wines made similarly to red wines); while some think orange wine is different from white wine, the same grapes are used in both
What it tastes like: Fuller body and more tannins than white wine (similar to red wines), with the acidity of traditional white wines
Sparkling and Other Types of Wine
Rosé
Not a singular type of wine, but rather a genre (like red or white); made by processing the grapes with their skins for a short period of time, which gives it its rosy pink color
What it tastes like: Light-bodied, dry to sweet, crisp; often like melon, florals, or berries
Try it: Château de Miniere Rosé 2020
Champagne
A sparkling white wine produced in the Champagne region of France
What it tastes like: Effervescent, crisp, varying levels of sweetness; often like lemon or almonds
Cava
A type of sparkling white wine similar to champagne, but produced primarily with Macabeu grapes from Spain
What it tastes like: Effervescent, often slightly floral, citric, and slightly bitter
Try it: El Gran Amigo Cava Brut
Lambrusco
A type of red or white sparkling wine similar to champagne, but made with eight specific Italian grape varieties
What it tastes like: Sweet, effervescent; often like red fruits, earth, or rhubarb
Pétillant Naturel (or "Pet Nat")
A French term that roughly translates to "naturally sparkling"; a bubbly wine bottled during initial fermentation, which gives it its natural effervescence
What it tastes like: Similar to champagne, though the single fermentation makes it sweeter and cloudier in appearance from unfiltered yeast
Prosecco
A type of sparkling white wine similar to champagne, but produced with grapes from northwestern Italy
What it tastes like: Effervescent, floral, slightly sweeter than champagne; often like peaches