Sales of non-dairy milk have spiked 61 percent since 2012, so it doesn't appear that America's obsession with milk alternatives will slow down anytime soon. That means whether you're looking for a new favorite brand or prefer a DIY approach, you'll have no trouble finding the healthiest milk alternative for you and your family. Today, we're breaking down the difference between soy milk and almond milk, arguably two of the most popular dairy-free milk varieties on the market.
What Is Soy Milk?
Soy milk is made from soybeans that have been soaked, blended with water, and strained. Although soy milk has surged in popularity in the last decade, this milk alternative is nothing new. Soy has been a diet staple in China for centuries. In the 1920s, inventor Henry Ford temporarily transferred his love of efficiency from the automotive industry to the food industry. Ford opened a demonstration soy milk plant at his Dearborn, Mich., research center where he worked with chemists to develop "a soy milk having similar appearance and composition to cow's milk which can be produced by mass production methods at a cost equal to, or less, than cow's milk." Although the soy milk wasn't much of a success commercially at the time, both world wars relied on soy milk and other soy-based products to stand in for meat and dairy when these commodities were rationed. Fast forward half a century and soy milk's popularity began to surge. The climb started in the 1990s after The New England Journal of Medicine published research linking soy protein consumption with lower levels of LDL cholesterol (the "bad" kind) and higher levels of HDL cholesterol (the "good" kind). A few years later, the FDA began allowing soy milk manufacturers to tout this benefit right on the carton.
Soy Milk Benefits
Soy milk nutrition is one of the reasons to enjoy this beverage. In every 1-cup serving of Thrive Market Organic Soy Beverage you'll enjoy the following:
90 calories
9 grams of protein
8 percent recommended daily value of iron
Best Soy Milk Brands
Get your soy milk fix with this popular carton from Thrive Market Goods.
Thrive Market Organic Soy Beverage
This four-pack of organic soy milk is made with only three simple ingredients: organic soybeans, sea salt, and fresh spring water. This beverage is deliciously gluten-free, dairy-free, and naturally sweet for drinking on its own or using in your favorite recipes.
How to Make Soy Milk
If you'd like to try making a batch of soy milk at home, just know one of the main disadvantages of soy milk is that it's a bit more involved than other non-dairy milks—you need to blend the mixture and then heat it on the stove to achieve the right consistency. Here's a basic recipe to get you started, and you can include favorite flavors like vanilla, cinnamon, dates, or honey to make it your own. Use it to make a soy milk smoothie, soy milk ice cream, or even chocolate soy milk.
Simple Homemade Soy Milk Recipe
Soy Milk Ingredients:
½ cup yellow soybeans
4 cups water, plus more for soaking
Instructions:
Add soybeans to a large bowl and cover with at least 1-inch of water; soak overnight, or at least 12 hours. (When ready, soybeans should split easily when squeezed.) Drain soybeans and remove the outer skins; add to a high-speed blender along with 3 cups of water until almost smooth; strain into a large bowl using a cheesecloth or nut milk bag.
Pour soy milk mixture into a saucepan and add additional 1 cup water; bring to a boil. Reduce heat and simmer, stirring occasionally, for 20 minutes, skimming foam as necessary. Let cool, then transfer to glass jars and refrigerate for up to 5 days.
Recipes with Soy Milk
Put your soy milk to good use with these nutritious recipes.
Easy Vegan Pancakes
Armed with a few basic pointers, it's simple to whip up a short stack of vegan pancakes for breakfast. Ingredients like soy milk, bananas, and neutral oils will give you the texture and flavor you're after every time.
Vegan Maple Donuts
Bite into this vegan donut made with applesauce, soy milk, nutmeg, and other pantry staples. It's a tasty plant-based way to enjoy this treat any time.
Dessert Hummus With Vanilla Bean
Here's a real trick for your next dessert course. This vanilla-infused hummus tastes like an indulgence, but it's actually made from a base of white beans and dairy-free milk. Use soy milk or almond milk.
---
What Is Almond Milk?
Almond milk is made by blending raw almonds with water and straining the liquid into a creamy beverage. It's one of the most popular dairy milk alternatives because it works for a variety of diets like vegan, paleo, and vegetarian.
Benefits of Almond Milk
Is almond milk good for you? If you're looking for a low-calorie way to maintain your dairy-free diet, then yes. (Every 1-cup serving of Thrive Market Organic Almond Beverage has only 30 calories.) In addition to the nutritional benefits of almond milk, research shows almond milk may be helpful for weight loss due to the high content of monounsaturated fatty acids in almonds.
Almond Milk Brands
Looking for the best almond milk on the market? Here are our top picks from ThriveMarket.com.
Thrive Market Organic Almond Beverage
Whether you're lactose intolerant, vegan, dairy-free, or just want a cow's milk alternative occasionally, try this organic almond milk made with only four simple ingredients.
Almond Breeze Unsweetened Original Almond Milk
This almond milk is gluten-free and lends a mild, nutty flavor to recipes like waffles, muffins, or sauces.
Califia Farms Vanilla Almond Milk Creamer
You'll look forward to your next cuppa when Califia's vanilla almond milk creamer is within reach. It's a luscious, dairy-free option made with a mix of almond milk and coconut cream.
Orgain Organic Unsweetened Vanilla Protein Almond Milk
Pour some of this unsweetened almond milk into smoothies for the perfect plant-based breakfast. One serving delivers 10g of protein, too.
How to Make Homemade Almond Milk
Homemade almond milk is a popular DIY recipe that's easy to make if you have the right equipment—namely a sturdy blender and a nut milk bag. A base recipe only needs almonds and water, but, as always, you're free to switch things up with the spices, sweeteners, or extracts of choice.
Easy Homemade Almond Milk Recipe
Almond Milk Ingredients:
1 cup almonds
4 cups water, plus more for soaking
Pinch of sea salt
Instructions:
Place almonds in a bowl and cover with water; soak overnight (or at least 8 hours). Drain and rinse nuts; add to a blender along with 4 cups water. Blend for 1 to 2 minutes, or until frothy. Place a nut milk bag over a large bowl; pour milk into bag and squeeze gently from the top down, extracting as much milk as possible from the pulp. Refrigerate in glass jars for 3 to 5 days.
Recipes With Almond Milk
Almond milk is versatile enough to work in both sweet and savory dishes, and makes it easy to offer paleo, dairy-free, and vegan options to the whole family.
Vegan Salted Caramel Matcha Latte
The trio of matcha tea, almond milk, and a vegan salted caramel sauce combine for a refreshing, dairy-free sip to start your day.
Paleo Biscuits and Gravy
Yes, it's possible to enjoy a paleo-friendly Southern breakfast! Just bake our almond flour biscuits and serve them atop sausage gravy made with arrowroot starch and almond milk.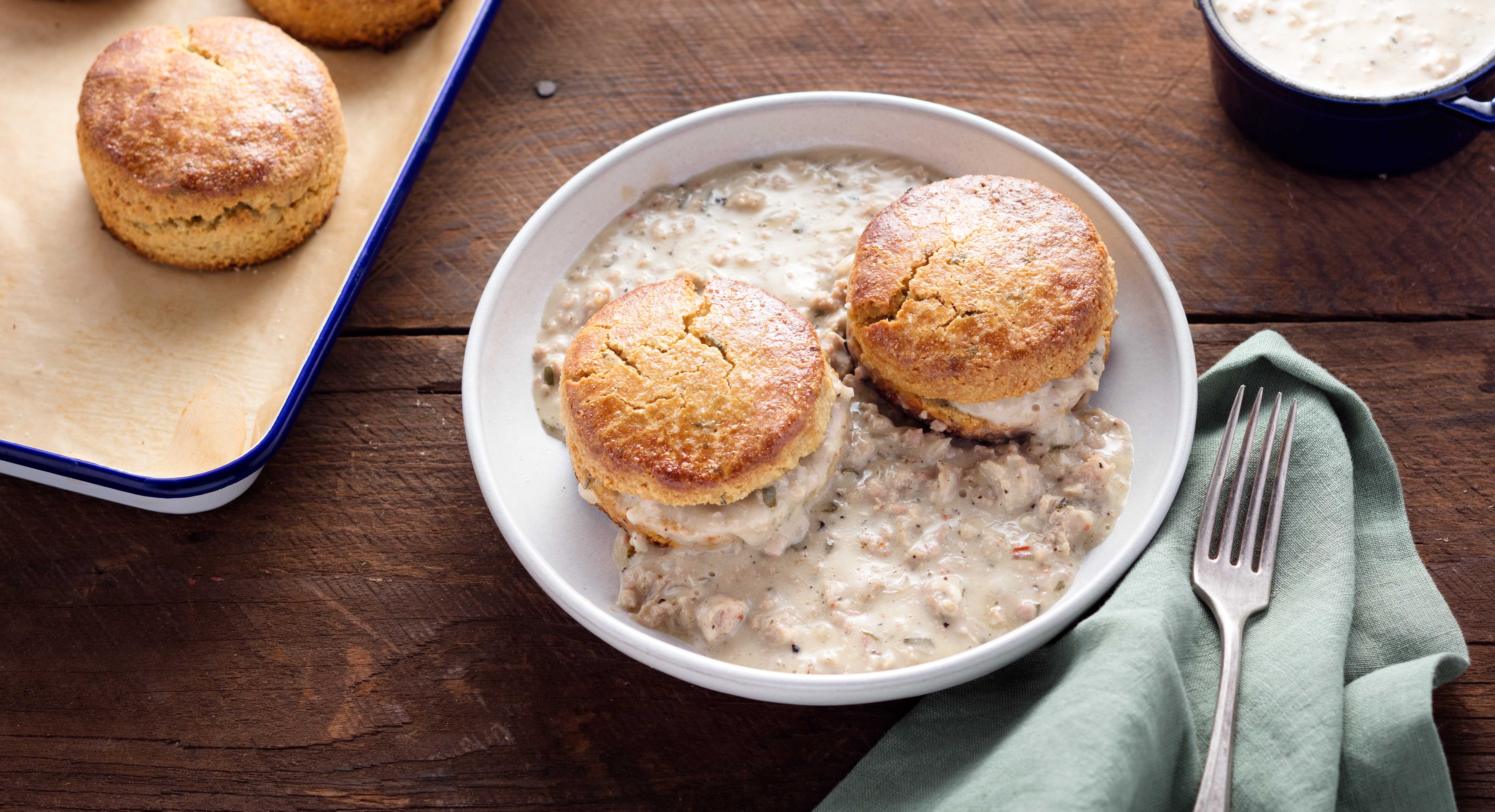 Vegan Shells and Cheese
This mac and cheese is totally vegan thanks to a "cheesy" sauce made with two kinds of nuts—almonds and cashews—and chopped broccoli adds extra nutrition to every bite.
Chia Seed Pudding With Almond Milk
Almond milk gets to work in this overnight dessert that can be made in advance. The pudding tastes like pumpkin pie, and a spoonful of MCT oil gives this dessert a keto-friendly spin.
Chicken Curry With Almond Milk
Instead of ordering in, make your own Indian takeout. This filling chicken curry simmers with almond milk, peanut butter, and a small army of spices for a rich flavor that's extra comforting.