Once upon a time, soy milk wafs the only dairy-free milk around. But times have changed. From cashew milk to hemp, oat, and rice milks, there's now a variety of milk alternatives to choose from depending on your dietary needs. But despite the growing selection, one dairy-free milk seems to dominate the pack: almond milk. Maybe it has to do with its subtle nutty flavor or its ability to adapt to most any recipe that calls for cow's milk. Maybe it's because almond milk delivers a healthy dose of vitamins and nutrients without a ton of calories. Whatever the reason, this plant-based beverage tends to top our shopping list as a basic must-have to keep on hand. Here's a closer look at one of our favorite pantry staples.
What Is Almond Milk?
A plant-based, dairy-free alternative to animal-based milk, almond milk is made by blending raw almonds with water and straining out the solids to create a creamy, milk-like beverage. Almond milk is a staple in vegan and Paleo-friendly recipes, and can often be used as a milk replacement in most dishes or enjoyed all on its own.
Is Almond Milk Good For You?
While it may not have as much protein as cow's milk, almond milk delivers vitamins and minerals. Here are some of the nutritional benefits:
Contains fewer calories than cow's milk (a serving is typically about 30 calories)
Delivers about 45% of the daily recommended calcium intake
No trans or saturated fats
Unsweetened varieties have no sugar
Many varieties are fortified with vitamin A and vitamin D
How Do You Make Almond Milk?
Making your own almond milk is easier than you think (not to mention delicious).
Things You Need
Raw almonds
Water
Sea salt
Agave nectar or honey (optional)
Bowl
Blender
Cheesecloth or nut bag
Instructions
Soak raw almonds in a bowl with enough water to cover for at least 12 hours.
Drain and blend almonds in blender with fresh water.
Strain mixture through cheesecloth or nut bag and return to blender.
Add a pinch of sea salt and agave nectar or honey to taste. Blend until smooth.
Is Almond Milk Dairy?
No. Unless combined with animal milk, almond milk is dairy-free, plant-based, vegan, and Paleo-friendly.
Does Almond Milk Go Bad?
While it tends to last longer than dairy milk, almond milk does in fact go bad. Unopened containers, some of which can be stored in a cool pantry if the item is marked "shelf stable," are good for roughly three months. Opened containers, which should be refrigerated, will last about three weeks.
How to Use Almond Milk
Whether you're adding a splash to your cereal or swapping it in for a vegan spin on a classic dish, there are a variety of ways to enjoy this plant-based milk.
Add it to your coffee or tea
Blend it in a smoothie
Make vegan mashed potatoes
Try it in baked goods
Use it for making chia pudding
Make a creamy curry sauce
Make creamy vegan soups
Almond Milk Products
If making homemade almond milk isn't for you, try one of these member favorites.
Gluten-free, non-GMO, and free of added sugar, sweeteners, and artificial ingredients, this mild, nutty beverage is a pantry must-have.
Swirl rich vanilla flavor into your next cup of coffee with this dairy-free creamer, made with almond milk and coconut cream.
Perfect for smoothies or enjoyed on its own, this plant-based, certified organic beverage delivers 10g of protein per serving without added sugar.
10 Recipes With Almond Milk
From breakfast recipes to dinner and dessert, this versatile ingredient adds a creamy richness to just about any dish.
Dragon Fruit Smoothie Bowl
Think outside the bowl with this unique blend of luscious dragon fruit whipped together with coconut collagen powder, almond milk, banana, and grapes. Top with pumpkin seeds, shredded coconut, and frozen berries.
This surprisingly Paleo-friendly take on the comfort-food classic pairs flaky almond flour biscuits with a sausage gravy, which comes together with almond milk and arrowroot starch.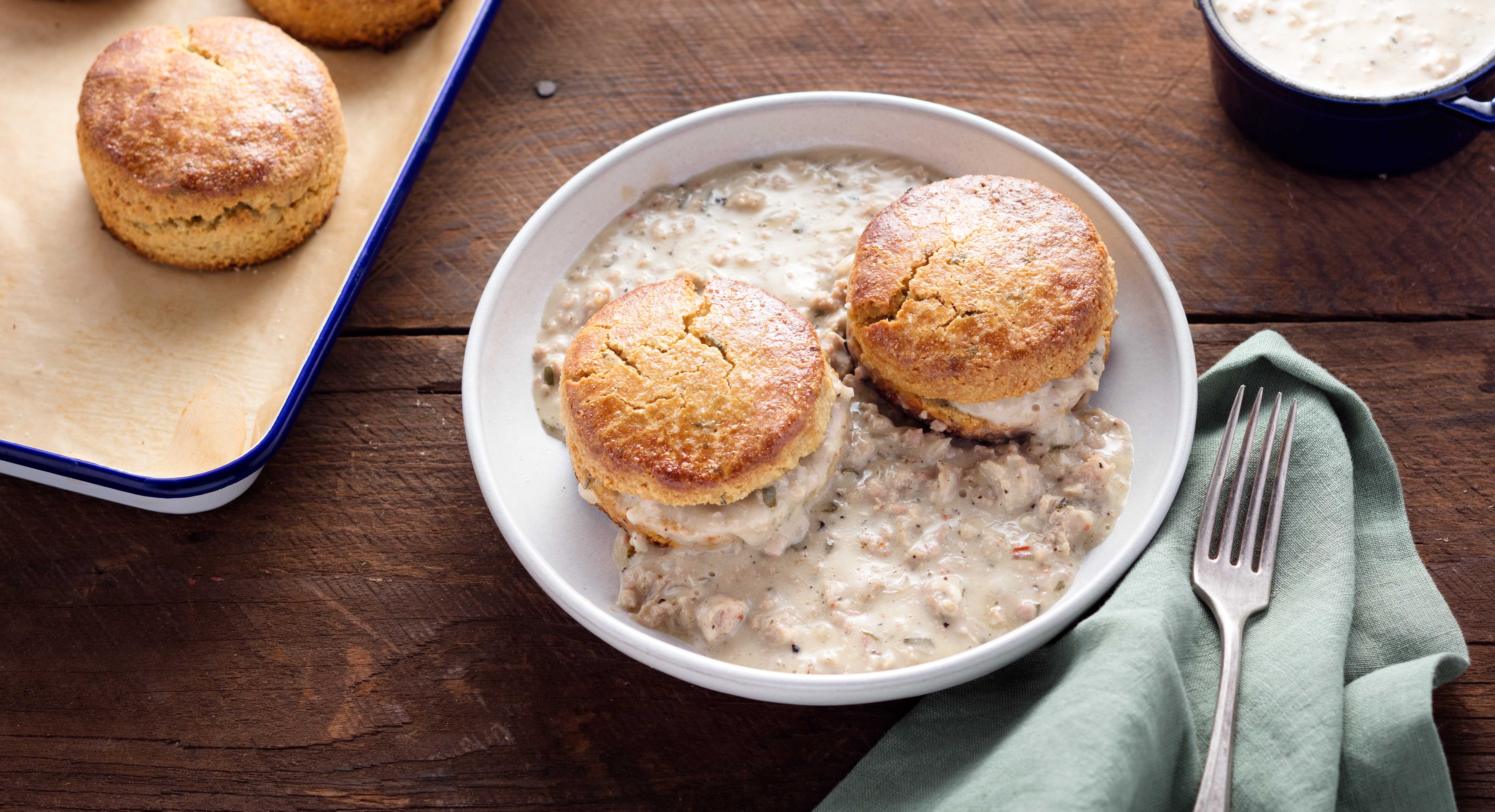 Good things come in threes—like this genius combo of vegan salted caramel sauce, matcha, and almond milk served over ice for a refreshing sip.
Start the day by supporting your gut health with an iced latte made with almond milk, fermented turmeric, coconut nectar, and cinnamon.
Didn't know you could enjoy mac and cheese on a vegan diet? Think again! This recipe tops chickpea shells with cashew-based cheese sauce and chopped broccoli.
Turn up the heat with Nashville-style fried chicken coated in almond milk, paprika, cayenne, hot sauce, tapioca flour, and crushed tortilla strips for a spicy, crispy bite that's also Paleo-friendly.
No gluten? No problem! This red lentil penne has no shortage of flavor thanks to a rich sauce of almond milk, crushed tomatoes, puréed cashews, and (of course) vodka.
Love pumpkin pie but want to offset the guilt factor? Try it as a chia seed pudding for a creamy dessert that has all the flavors of the fall classic.
Made with cinnamon, spice, and everything nice (including nourishing collagen powder), this sweet treat delivers a powerful boost.
This crowd-pleasing recipe is almost too cute to eat—almost. Crisp, golden, Paleo-friendly cookies are lined with dark chocolate and filled with ice-cold almond milk for a modern take on a childhood favorite.