For all the excuses you could come up with for not going to the gym, lack of time shouldn't be one of them.
In fact, in recent months, researchers have theorized that just one minute of intense exercise could be as effective as a slower-paced, 45-minute workout. And really, who can't spare a "Walking Dead" commercial break for health?
With that idea in mind, certified health coach and nutritionist Michelle Pellizzon put together these four moves that work in tandem to tone the entire body (triceps, biceps, core, glutes, thighs, and quads). Included are strength building exercises, yoga-inspired reps, and a good dose of cardio.
The idea is to do them in succession, without much resting time in between, to get the full effect. It's also recommended to repeat the series three times a week in addition to regular cardio. From start to finish, the entire routine should take less than 15 minutes—but it'll feel like you put in a solid hour. We won't tell! Just press play and follow along.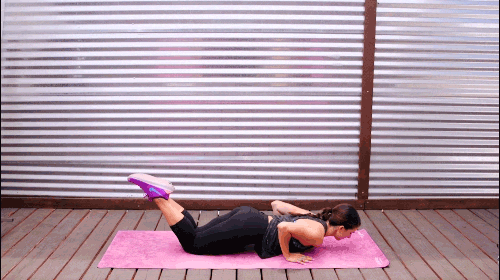 Push-up to donkey kick
This 2-for-1 combo works both your triceps and quads/glutes at the same time. Start on the floor, or mat, in a plank position on your knees with hands directly below your shoulders. Slowly lower into a full push-up. As you press back up to the start position, hold your core firm and kick one leg up and back (imagine you're kicking the wall behind you).
Do: 20 reps on the same leg—then switch and repeat; 1 rep is a full push-up and leg kick
Plyo skip
Ready for some cardio? This sequence will really get your heart pumping. Begin by stepping back into a deep lunge with your right leg. Then, using your lower body strength, propel your right knee upward, bringing it in front of your body. At the same time, jump and spring upward from your opposite (left) foot planted on the ground. Return to the deep lunge position and repeat on the right leg with no rest between reps. Make sure to keep your torso locked in a straight line while you work—so that only your arms and legs are mobile. (Swinging your arms as you move will boost your heart rate even more, making the move more efficient.)
Do: 15 reps on the same leg—then switch and repeat; 1 rep is a full lunge and jump

Plank row
Now comes more strength-building. This multi-part move will work to tighten your core while also engaging your glutes, thighs, and upper arms. First, grab two 10-pound dumbbells and place them on the mat or floor in front of you. Lower your body into a plank position, gripping the weights with each hand. Keep your body locked in a straight line with your shoulders higher than your knees so there's a slight slope down toward your feet. While keeping one arm in place, lift the other off the ground (holding the weight) and pull it back in a row, squeezing through the upper back, as if you were starting a lawnmower. Return to the plank position and then row with the other arm.
Do: 30 reps, alternating between arms
Downward dog to knee pull
You're almost done! But first, some power yoga. Start in downward dog position (both your feet and hands are on the ground with your hips lifted, so that your body is in an upside-down "V" shape). Push your weight into your heels as your tailbone reaches to the sky. Inhale, and lift your right leg up straight behind you, keeping the hips square, squeezing the right glute, and flexing the foot. Then exhale, and rock your weight forward over your hands, pulling the right knee toward your nose, and scooping the belly up and in (the back should round). Then sweep the right bag up behind you again in one fluid motion and repeat.
Do: 10 reps on the same leg—then switch and repeat