Green smoothies, vanilla matcha lattes, and mugs of hot chocolate aren't just Instagram-worthy beverages, they're all popular vessels for two ingredients getting plenty of buzz: collagen and gelatin. If finding ways to sneak some extra nutrients to your diet is high on your list of priorities, then it's worth learning about the differences between collagen and gelatin. Per serving, collagen and plain gelatin deliver similar amounts of protein, a macronutrient that's one of the building blocks of body tissue. Both ingredients are available in a convenient powder form, but we have some advice for the best ways to use them in recipes like Collagen Compound Butter, Kombucha Gummy Bears, or Coconut Lime Panna Cotta.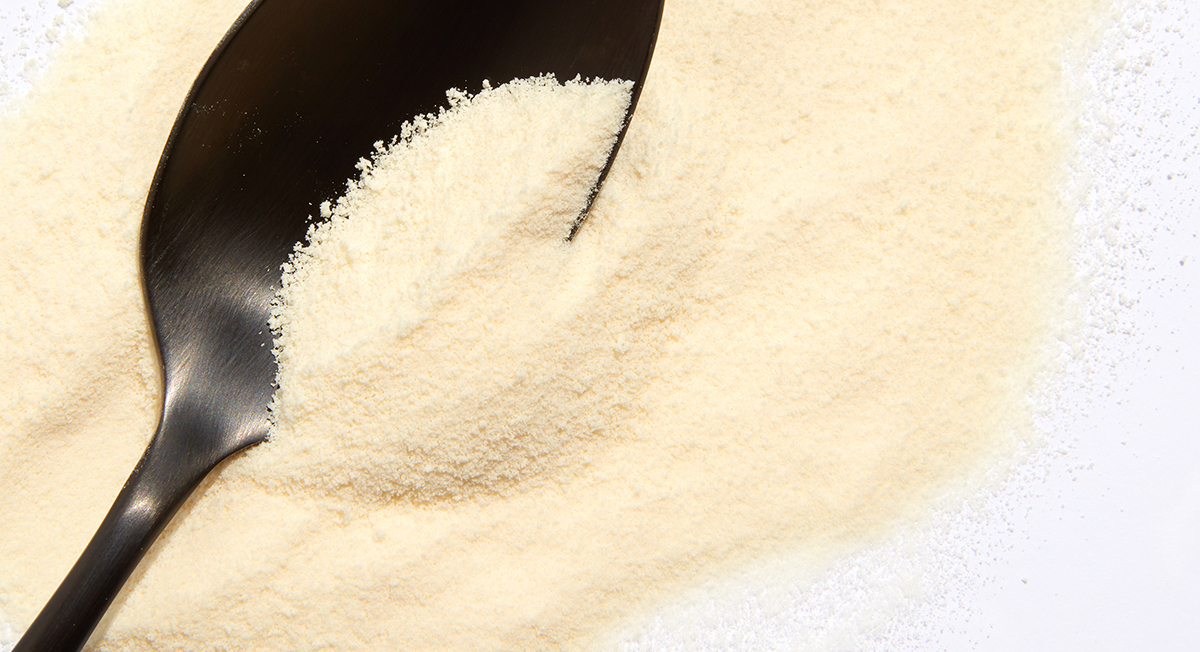 Collagen is a long-chain amino acid, and also happens to be the main protein found in hair, nails, bones, skin, and connective tissue. There are 16 different types of collagen throughout the body, but the most common is Type I, which is stored in our muscles, tendons, digestive tract, and bones. Unfortunately, collagen is one of those nutrients that naturally declines with age—a fact that's largely responsible for why it's such a popular supplement. Collagen is naturally produced in animals—especially mammals—and bovine collagen (from cows) is one of the most commonly used versions in supplements. Most skin care products, however, use marine collagen, which is extracted from coldwater fish like salmon.
What are collagen peptides?
Collagen peptides (aka hydrolyzed collagen) are made from the same amino acids as collagen, but their amino acid chains are much shorter, which makes them easier to absorb into the bloodstream, and easier to digest as well.
How to Use Collagen
Collagen supplements are an easy way to get your daily dose. Many supplements come in a flavorless powder form that can easily be added to drinks and soups. But it's not only for liquids—collagen powder can also be included in recipes for baked goods, or taken as a pill, if you prefer.
Foods that are high in collagen
In addition to collagen supplements, you can also enjoy a variety of foods that may help boost your body's collagen production, including:
Salmon
Red bell peppers
Tomatoes
Dark berries
Citrus
Grass-fed beef
Eggs
Dark leafy greens
Chicken
Legumes
Oysters
Collagen Benefits
Collagen is known for improving skin elasticity and one study found that after eight weeks of supplementation, participants noticed a significant increase in skin hydration. Research also suggests that collagen's most abundant amino acid, glycine, may impact the brain's neurotransmitters and potentially help improve sleep quality. Over on the Thrive Market blog, Dr. Axe shares how collagen may be beneficial to our gut. "Our body needs collagen's building blocks—proline, glycine, and hydroxyproline. If we're not getting those amino acids, our body is missing the opportunity to regenerate and create new healthy cells and tissue."
Best Collagen Supplements
Take the plunge with the best collagen powder that'll help make it easy to start your supplement plan.
Thrive Market Grass-Fed Collagen Peptides
This batch of grass-fed collagen is crafted from the hides of non-GMO, pasture-raised bovines and deliver 10g of protein per serving.
Ancient Nutrition
Get your collagen fix on the go with Ancient Nutrition's collagen powder sticks. This 40-pack features both grass-fed beef and chicken bone broth collagen, and delivers 9g of protein per serving.
Primal Kitchen Dark Chocolate Almond Bar With Grass-Fed Collagen
Chocolate lovers will enjoy these treats that also deliver 15g of protein in every bar. Each bite features fair trade cocoa powder, cashews, hazelnuts, and coconut flakes for crunch.
Great Lakes Collagen Hydrolysate
This supplement will boost your drinks or meals with grass-fed collagen that's Certified Kosher, paleo, and gluten-free.
Anima Mundi Plant-Based Collagen
Add this plant-based collagen powder to juice, tea, or water for an instant boost that helps support your body's natural production of collagen.
Neocell Super Collagen C
Neocell's formula features bioactive concentrations of two different amino acids that mimic collagen that's already found in the body.
Recipes With Collagen
Once you've picked out your supplement, get busy adding it to these easy recipes—all featuring collagen.
Cinnamon Collagen Compound Butter
This creamy spread comes together with ghee, cinnamon, and collagen peptides—try it in a paleo-friendly latte.
Collagen Mug Muffin
Need dessert, pronto? This collagen mug muffin can be whipped up in less than 10 minutes. Just microwave collagen peptides, almond flour, banana, and a few other simple ingredients for an easy breakfast or afternoon snack.
Gluten-Free Edible Cookie Dough
If cookie dough is one of your guilty pleasures, you need this guilt-free, gluten-free recipe in your life. It's made with garbanzo beans, maple syrup, and collagen powder for a protein boost.
Pomegranate-Collagen Drink
Pomegranate collagen liquid is the secret ingredient in this ruby-red sip mixed with OJ and sparkling water.
Coconut Chai Latte With Collagen
Enjoy this frothy sip boosted with collagen powder. Coconut milk makes a creamy base, while cinnamon, cardamom, and black peppercorns add just the right amount of spice.
Blueberry Watermelon Collagen Smoothie
It's bound to be a good morning when you start the day blending blueberries and watermelon with coconut water and collagen.
Activated Charcoal Lemonade With Collagen
Cool down with this activated charcoal lemonade that adds collagen for extra nutrition. Serve it at a party, or enjoy it solo.
---
What Is Gelatin?
Where does gelatin come from? Well, first comes collagen, then comes gelatin. Put simply, gelatin is a form of collagen that comes in several varieties like beef, porcine (from pig skin), and collagen hydrolysate, which dissolves easily in cold water without congealing. Many of us know of gelatin only as the key ingredient in a certain jiggly dessert, but you can also find it in certain meat-based braises, broths, or soups. When your leftovers get a bit wiggly after refrigerating, that's because gelatin has melted into the cooking liquid.
Gelatin Nutrition
According to Dr. Amy Myers (you might recognize her best AIP diet tips), the health benefits of gelatin and collagen are identical. "Gelatin is the cooked form of collagen. The cooking gives it a very different texture, and that's what gives them different uses," she says. Like collagen, gelatin is known for being a source of protein—a 1-tablespoon serving of Great Lakes Beef Gelatin delivers 11 grams.
Gelatin Uses
The first thing to know about gelatin is it's flavorless, which means it can be added to a variety of recipes nearly undetected. It can function as a binder and is great for thickening sauces and soups. You can also make candy with gelatin like gummies or homemade marshmallows. If you're not feeling particularly inspired in the kitchen, organic gelatin can also be taken as a pill supplement.
Gelatin Products
Get your gelatin fix with these top gelatin products.
Great Lakes Gelatin Collagen Hydrolysate
With 11g of protein per serving, this dietary supplement will fuel your day. It's an unflavored gelatin powder that's formulated with collagen hydrolysate so it easily dissolves into most dishes.
Thrive Market Grass-Fed Beef Gelatin
Our very own grass-fed gelatin comes from the bones of grass-fed cows and offers protein, calcium, and a host of essential amino acids like alanine and glycine.
Foods With Gelatin
It's easy to add some jiggle (and extra nutrients) to your recipes with unflavored gelatin.
MCT Oil Coffee Gummies
Coffee-spiked gummies give you a caffeine fix on the go. Each square has MCT oil, your favorite brew, honey, and grass-fed gelatin for the perfect wiggle.
Kombucha Gummy Bears
This is definitely not your average gummy bear! This childhood treat gets a makeover with kombucha and grass-fed gelatin. The recipe makes about 150, so there's more than enough to share.
Coconut Lime Panna Cotta
Panna cotta is a cold Italian custard that's the perfect vehicle for just about any favorite flavor combination you have. Our version has a twist—a scoop of vanilla-flavored bone broth powder adds nutrition, and powdered gelatin lends that signature wiggle.
Coffee Jelly With Creamer
It's up to you—change-up your morning coffee routine or serve these caffeinated jellies after dessert for a knockout ending to your next dinner party.