Most people know Giada De Laurentiis for her indulgent Italian dishes—which she's been preparing on TV screens for decades—and maybe also the charming way she has of peppering her speech with Italian pronunciations. (Mozzarella has a particularly delightful way of rolling off her tongue.)
Whether she's tossing fresh fettuccine in a buttery alfredo sauce or layering three types of cheese with noodles and ground beef for a classic lasagna, her passion for rich, delicious food is palpable. So it may come as a surprise to some that De Laurentiis' latest book—already a New York Times #1 bestseller—is called Eat Better, Feel Better: My Recipes for Wellness and Healing, Inside and Out, and delves into hot health topics like detoxing, inflammation, and gut health.
De Laurentiis, 50, shares that the lifestyle of a celebrity chef, Emmy Award-winning TV personality, restaurateur, bestselling cookbook author, and mom started catching up with her over the last decade. A packed schedule, frequent traveling, and the sugar and caffeine she relied on to keep up were taking their toll. "I was spread way too thin and my body was paying the price for it," in the form of sinus infections and other health issues, she told us. "I came to understand that what made everything worse was the food I was putting in my body…A lot of these foods were inflammatory and in turn, my immune system was inflamed as well. I decided that I had to change."
Rather than taking the path of extreme restriction, De Laurentiis came up with a balanced plan that worked for her. Eat Better, Feel Better is a reflection of this, offering dozens of wholesome recipes suitable for an anti-inflammatory diet, but that don't skimp on flavor. "Many people think there needs to be a drastic change in order to eat healthy, but that's not true," she says, adding that her signature passion for food hasn't changed. "My cooking stays true to my Italian roots, with lots of delicious, fresh ingredients." She adds that life is stressful enough without worrying about hard-to-follow dietary rules; her book includes handy meal prep tips and creative ideas for using up leftovers. (Keep reading for the recipe for her vibrant and wholesome Green Fried Rice.)
Eat Better, Feel Better also explores habits like fasting, meditation, and movement that complement a healthy lifestyle. Below, De Laurentiis shares five rules she lives by to maintain balance and feel her best, no matter what life throws at her—and you don't have to be a multi-hyphenate media icon to make them work for you.
Giada De Laurentiis' 5 Daily Habits for Wellness
1. Choose healthy…most of the time.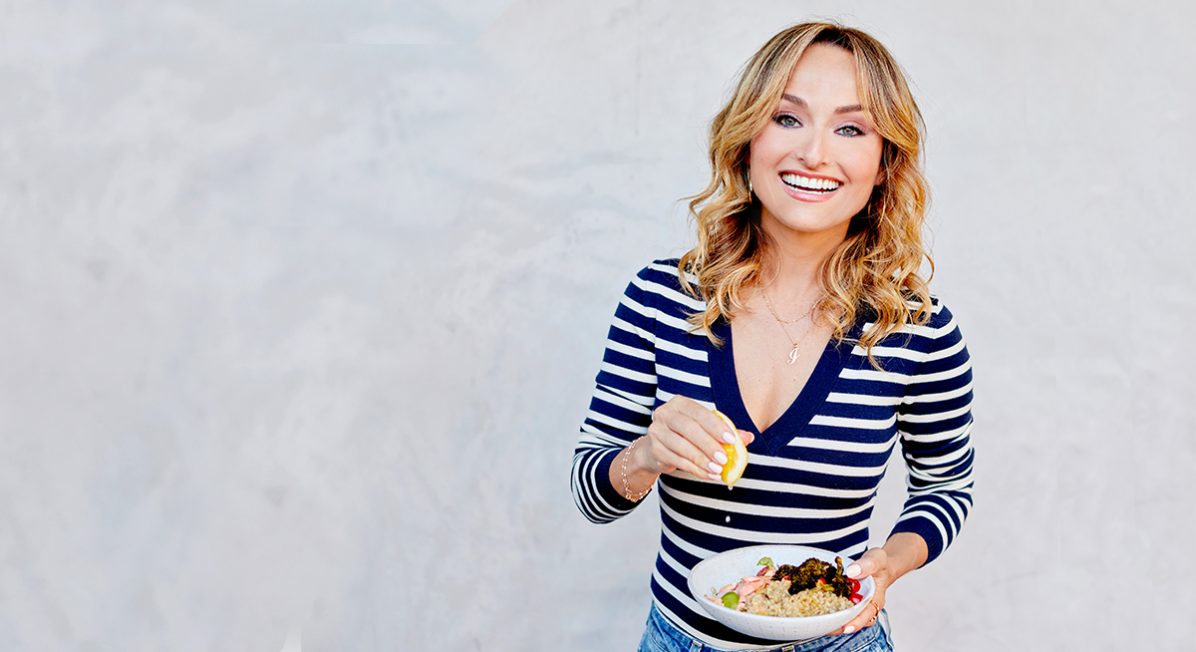 "Eating to feel better shouldn't be stressful," De Laurentiis says, adding that she "didn't give up everything" when she decided to change her diet and lifestyle. "The goal is to rethink the food we're putting into our bodies and reduce the amount of inflammatory foods, but not eliminate things entirely."
De Laurentiis says she aims to eat healthily 70 to 80% of the time, which allows some wiggle room to find the right balance. To make sure all her nutritional bases are covered, she takes supplements daily (along with a monthly IV vitamin push, which delivers a concentrated dose of nutrients directly and quickly into the bloodstream). Note that everyone's needs are different; you should consult a healthcare professional before beginning any supplement routine.
2. Eat the foods that love you back.
In her new book, De Laurentiis offers a strategy for identifying foods that might not quite "love you back," i.e. that make you feel less than your best. Called the three-day reboot, it mirrors a traditional elimination diet in some respects, but with a bit more flexibility and forgiveness.
De Laurentiis advises limiting processed foods, alcohol, sugar, dairy, caffeine, and gluten for three days, focusing on vegetables and proteins. After the three days are up, De Laurentiis says you can slowly incorporate the limited ingredients back into your diet, "but in a mindful way." She offers an example fitting of an Italian chef: "If you discover you can't eat parmesan, which is made from cow's milk, try pecorino, from sheep or goat cheese. It's all about the small adjustments." [Ed. note: sheep's and goat's milk have less lactose and smaller fat globules than cow's milk, which may make them easier to digest.].
3. Create space for enjoyment.
If you're wondering where dessert (or the aforementioned fettuccine alfredo) fit into the equation, De Laurentiis has you covered. "Eating well is about finding the right balance for you," she says, adding that you can still enjoy foods like chocolate and pasta, provided you do it mindfully. "I wish I could say I'm the kind of person who can eat a spoonful of frozen berries when I'm dying for chocolate, but that's simply not true. Instead, a square of the real thing fixes that craving better than a less-satisfying replacement, and I'm happier for it."
4. Keep your body and mind in sync.
While food is central to De Laurentiis' wellness philosophy, her book also delves into the non-food rituals and routines that help her maintain balance and well-being. One of them is yoga, which she says she practices daily. Another is weekly acupuncture sessions. She credits acupuncturist-herbalist-nutritionist Debbie Kim with helping her stay in the flow.
5. Get comfortable saying "no."
In some ways, De Laurentiis' over-scheduled, stressful lifestyle was a blessing in disguise: though it wore her out, it also taught her a valuable lesson about setting boundaries.
While adjusting her diet to reduce inflammatory foods made a world of difference in her health, De Laurentiis credits learning to appreciate and respect her own limits for helping her heal as well. "I've learned to say 'no' more," she says, "so I have more time to focus on the things that matter and to take care of myself."
Giada De Laurentiis' Green Fried Rice Recipe
This colorful recipe offers up plenty of plant-based goodness, while making clever use of last night's leftover brown rice—which saves you time at the stove.
Yield: 4 servings
Total time: 25 minutes
Ingredients
2 tablespoons Thrive Market Organic Extra Virgin Olive Oil
2 tablespoons dark sesame oil
1 bunch scallions, chopped
2-inch piece of ginger root, peeled and finely chopped
1 garlic clove, coarsely chopped
2 teaspoons kosher salt
2 cups cooked brown rice (preferably leftover)
1 bunch Swiss chard, stems chopped fine and leaves cut into 1-inch pieces
1 bunch escarole, chopped into 1-inch pieces
3 cups baby kale, chopped
1 avocado, peeled, pitted, and sliced
Toasted sesame seeds, for garnish (optional)
Instructions
Heat a large skillet over medium-high heat. Add the olive oil and 1 tablespoon of the sesame oil and heat for an additional minute. Add the scallions, ginger, garlic, and ½ teaspoon of the salt. Cook, stirring often, for about 2 minutes, until fragrant.
Add the rice and ½ teaspoon of the salt and toss to coat with the seasonings, then spread the mixture evenly over the bottom of the pan. Cook without stirring for 2 minutes. Using a wooden spoon, scrape the crispy rice from the bottom of the pan and stir well to distribute, then cook again without stirring for 2 minutes. Repeat these steps two more times to create layers of crispy, golden brown rice.
Add the Swiss chard stems and again cook without stirring for 2 minutes. Last, add the chard leaves, escarole, and kale along with the remaining tablespoon of sesame oil and 1 teaspoon salt. Stir in the greens a bit at a time; they will fit more easily as they wilt.
Cook until the greens are fully wilted and incorporated into the rice, 5 to 8 minutes. Serve topped with sliced avocado and, if desired, a sprinkling of toasted sesame seeds.
Find this and more wholesome, anti-inflammatory dishes in Giada De Laurentiis' new cookbook, Eat Better, Feel Better: My Recipes for Wellness and Healing, Inside and Out.
Photo credit: Kristin Teig