No matter what your plans are for this unique back-to-school season, one thing's certain: kids will ask for snacks. When you're fielding requests for crackers, bars, dippers, or other favorite items, injecting a little variety might just make the school year a bit more bearable. That's why we've combed our shelves to recommend the best healthy snack ideas for every diet and every craving.
Back to School Snack Tips
Before we get into the best snack options, let's talk tips. With a few tweaks to your setup, it's easy to keep everyone under your roof happy until dinner.
Get low: Feeling like you're constantly setting your kids up with their next nibble? Stock a low shelf or kitchen drawer with parent-approved snacks little ones can reach for themselves.
Grab bag: If you don't want to let your littles have free reign in the pantry, create a snack station filled with enough options to last for the day. Each kid can have their own box, and when they're gone, they're gone!
Mix it up: The pantry is a lifesaver for stocking family snacks, but don't miss the opportunity to mix packaged and fresh options. Fresh fruit, nut butters, and string cheese will add variety to your week.
Prep work: Just like mise en place for your dinner prep, save time by slicing carrots, organizing mini bags of pretzels, or scooping hummus into containers on Sunday night so you're ready for the week ahead.
Healthy Snacks for Kids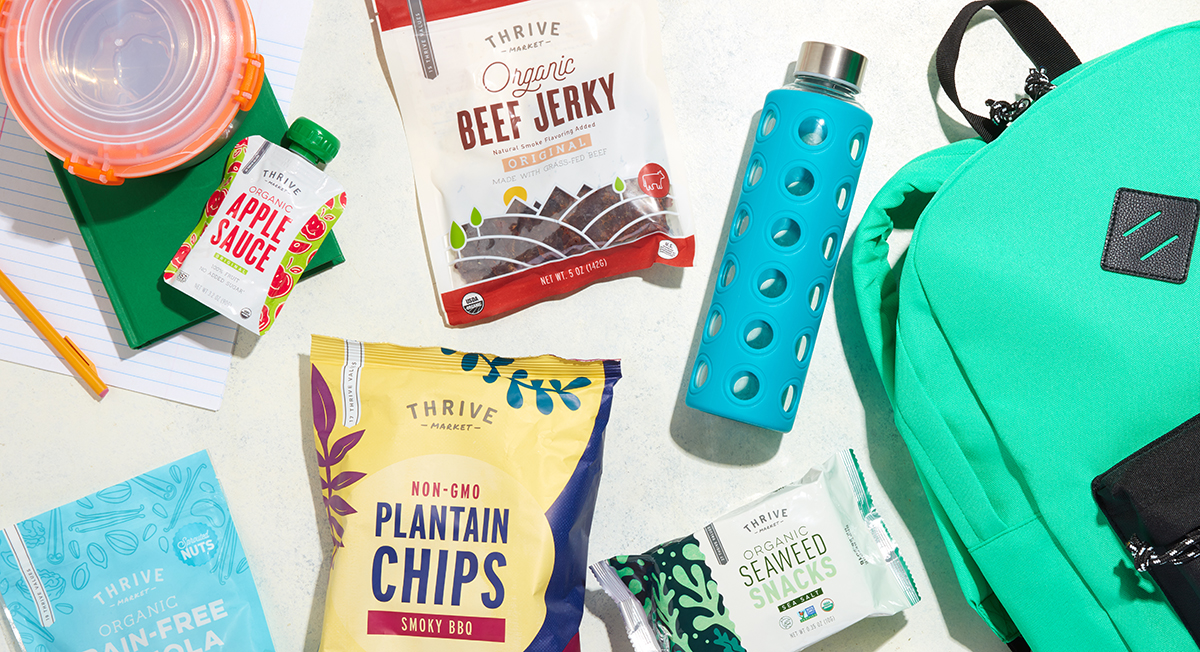 Ask 10 people to name their favorite snack and you'll likely get a handful of different answers. Healthy snack food preferences are personal, but a few nutrients stand out.
Protein. As a macronutrient that's a building block of tissue (and a source of fuel for our body), protein is a must-have ingredient throughout the day. High-protein snacks include: power bars, jerky, Greek-style yogurt, and kid-favorite celery with peanut butter.
Fiber. Dietary fiber is a type of plant-based carbohydrate found in fruits, vegetables, legumes, and whole grains. Since fiber helps keep things moving through the intestines, it's an important nutrient to help our bodies work their best. Find natural sources in bananas, apples, carrots, and chickpeas.
Calcium. Calcium is good for your bones, and you don't have to drink milk to find it. Plant-based sources of calcium include tahini, edamame, figs, and seaweed.
Certified Vegan Snacks
Skip out on dairy, but not on flavor. Our Certified Vegan snack ideas will cater to every member of the family, even those that don't follow a plant-based diet.
Lesser Evil Paleo Puffs "No Cheese" Cheesiness
Here's a snack that's all about the crunch—no fake orange dust required. As a non-dairy riff on cheese puffs, Lesser Evil's recipe features cassava, coconut, and sweet potato flours, plus a dusting of Himalayan salt.
Lundberg Family Farms Thin Stackers Brown Rice
Ah, the versatility of a rice cake. Enjoy plain, or top with your favorite combos like smashed avocado and chili flakes or PB&J. This gluten-free option offers fiber, protein, and only 100 calories per serving. Thrive Market member Hannah from Florida tops hers with avocado and shredded carrots.
Enjoy Life Soft Baked Chocolate Chip Mini Cookies
Can't say no to a chocolate chip cookie? Neither can we. That's why we adore Enjoy Life's vegan mini cookies. They're the perfect size for a sweet afternoon bite, and are made with gluten-free buckwheat flour, unsweetened chocolate, and cocoa butter.
From the Ground UP Cauliflower Tortilla Chips
This isn't your average tortilla chip. From the Ground UP makes its bag with cassava flour and cauliflower and dusts them with a nacho-inspired spice mix featuring garlic, onion, and paprika.
Go Raw Mixed Seeds
Go Raw blends sprouted pumpkin, watermelon, and sunflower seeds in this keto-friendly, plant-based, and organic bag. Each serving offers 7g of protein, plus iron, vitamin E, and zinc.
Best Paleo Snacks
If you're following a paleo diet and want to keep things simple when snacktime rolls around, these paleo snack ideas will please the whole family. They're filled with protein to fuel study sessions, backyard "recess," and more.
Thrive Market Grass-Fed Beef Sticks
Grab and go. That's the idea behind our hunger-satisfying tasty beef sticks. Each serving has 9g of protein, and is made from 100 percent grass-fed Tasmanian beef. Member Jaime from Virginia shares "I throw them in my bag to snack on when I'm out so I don't stop for fast food."
Simple Mills Fine Ground Sea Salt Almond Flour Crackers
With more than 900 five-star reviews, Thrive Market members are officially in love with Simple Mills' crackers. Made with almond flour, sunflower seeds, and flax seeds, these crackers are delicious as-is, or you can top them with cheese slices.
Mavuno Harvest Organic Dried Mango
Sourced from rural African Farms, Mavuno Harvest's dried mango is paleo, gluten-free, organic, and non-GMO. This is a naturally sweet and healthy vegan snack you can feel good about.
Thrive Market Paleo Snacks Variety Pack
There's something for everyone in this variety pack of our popular paleo snacks. Each bag lets you sample our savory, chipotle, and ranch flavors dusted on banana chips, cashews, and pecans.
Thrive Market Organic Apple Sauce Pouches
Kids can take snack time into their own hands with apple sauce pouches. They're squeezable, resealable, and made with a blend of organic apples (and no added preservatives or sugar).
Gluten-Free Snacks for Kids
Here are the best gluten-free snacks to keep on hand.
Hippeas Organic Vegan White Cheddar Chickpea Puffs
Light and airy, these crunchy puffs are made with non-GMO chickpea flour and deliver 4g of protein per serving. Member Allyssa from New York admits she "can't stop eating these!"
Thrive Market Organic Veggie Sticks
This six-pack is an ideal snack-size portion of our popular veggie sticks. Every batch is made with organic ingredients like tomatoes, spinach, and beets. Plus, they're fried in coconut oil for a satisfying crunch.
Quinn Snacks Classic Sea Salt Pretzels
This brand is named after the founder's son, who inspired her to seek out more nutritious snacks. Made with sorghum and brown rice flours, these whole-grain, gluten-free pretzels will become a fast family favorite.
Schar Table Crackers
When you're setting up a gluten-free cheese platter to get through the afternoon, don't forget Schar table crackers. Made with non-GMO ingredients and no lactose or preservatives, this nibble also offers some iron and calcium.
Nature's Baker Gluten-Free Fig Bars
Inspired by a favorite childhood treat, Nature's Baker recreated a fig bar with gluten-free ingredients. Member Jenna from Texas says, "It's so hard to find gluten-free fig bars, but these were amazing and hit the spot!"
KIND Kids Chewy Chocolate Chip Bars
It's not always easy to find gluten-free snack bars, but these sweet and healthy favorites certainly fit the bill. The sweet chocolate chips and healthy whole grains are great, but it's the ingredients these bars don't have — preservatives, dyes, and artificial flavors — that make them even better.
---
Healthy Snack Recipes
It's easy to reach for a bag of paleo snacks, but you can also mix it up with healthy snacks to make at home that'll appease hungry kids for days.
Gluten-Free Zucchini Chocolate Chip Muffins
Kids can help make this batch of gluten-free muffins, and we're betting they'll love the addition of chocolate chips! Grated zucchini keeps it wholesome, and you can freeze any extras for another day.
Cacao Coconut Granola
Having a batch of granola on the counter means snack time can be handled in an instant. Just pour cacao coconut granola into a bowl and top with your favorite milk.
Chocolate Peanut Butter Protein Balls
Make this recipe on Sunday and you'll have easy vegan snacks for the week. Each ball is sweetened with dates and rolled with creamy peanut butter, chocolate protein powder, and ground cinnamon.
Creamy Pumpkin Hummus
Move over, lattes. Pumpkin can do even more than transform into your favorite fall beverage. This nutritious hummus is seasoned with several spices like cumin and coriander, and works as a snack or an addition to your favorite grain bowl.