Dieting and snacking—the two can seem mutually exclusive. Pausing mid-afternoon to nosh on whatever you can find in the office kitchen certainly isn't conducive to weight loss, for one thing—especially if what you do find is donuts leftover from the morning meeting.
But snacking isn't necessarily a bad habit—especially if you're following the Paleo diet. Eating between meals can help you avoid getting too desperately hangry to care if a Frappuccino is healthy or not.
Next time you feel the munchies coming on, give this guide to Paleo-approved snacks a glance. We promise the options will stop your stomach from rumbling.
How to pick healthy, Paleo-friendly snacks
It's not as simple as grabbing the cheapest granola bar at the grocery store anymore—most of the snacks found in the middle aisles are full of added sugars, funky chemical colorings, and fillers you just don't need to put in your body. But snacking on the Paleo diet—or just trying to make healthier choices—doesn't necessarily mean chowing down on a chicken drumstick every time your tummy rumbles. Just follow these three simple guidelines to pick the perfect primal snack.
Avoid anything containing grains, sugar, or dairy
First, take a look at the ingredient list. If it's full of mysterious chemicals you can't pronounce, skip it. The Paleo diet advocates getting back to our dietary roots and eating only foods our ancestors could have hunted or gathered—that definitely doesn't include high-fructose corn syrup.
If you see any grains (gluten-free or otherwise), sugar, or dairy products included, you'll also want to pass. Primal eaters believe the heavily processed Standard American Diet—which relies on all three of these foods—is responsible for the obesity epidemic.
Get some protein, whenever possible
Paleo dieters get between 19 and 35 percent of their daily calories from protein. Our bodies rely on this macronutrient for everything from cell growth to tissue repair to hormone regulation—to call it crucial would be an understatement. Opt for snacks with at least a 7:1 ratio of calories to grams of protein, or choose whole foods like meats, nuts, and seeds that are naturally high in protein.
Eat low-glycemic fruits and vegetables
Though a side salad might not be a typical snack choice, it's a super nutritious one, and an easy way to squeeze more veggies into your diet. Though you'll want to avoid starchy tubers and legumes (think potatoes and beans), everything from carrots to leafy greens to Brussels sprouts is fair game. After all, there's no such thing as too many vegetables!
The same is true for fruit, although you need to be careful to limit fruits with a high glycemic index. While fruits can be incredibly rich in antioxidants, vitamins, and minerals, they still contain fructose—and can cause your blood sugar to skyrocket if you eat a ton at once. Consult this list of Paleo-approved fruits, and if you do want something higher on the glycemic index, limit how much you eat.
Paleo snacks to buy
Stock up on your favorite grain-free, Paleo-friendly snacks and keep a few nearby all the time. That way, when your stomach starts rumbling around 3 p.m., you don't have to reach any further than your desk drawer for a healthy option.
Even better, you can order all of the following snacks from Thrive Market for 25 to 50 percent off retail!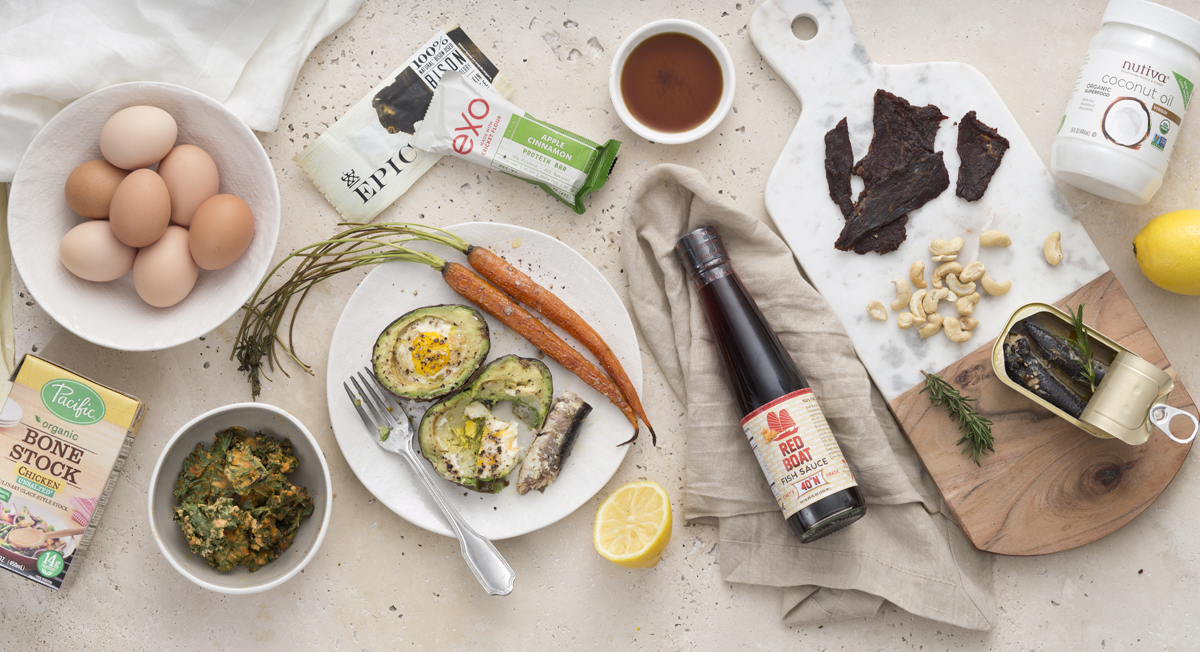 Jerky and meaty snacks
The best way to get more protein? By eating more meat, of course! We're not talking gas station jerky and Slim Jims, though—on the Paleo diet, you need to opt for higher quality options, whether that's grass-fed beef, free-range poultry, or pasture-raised pork. Jerky, meat sticks, and meat bars all taste great and can be easily enjoyed on the go.
Try:
The New Primal Spicy Grass-Fed Beef Jerky
Epic Currant and Chicken Bites
Epic Pulled Pork Pineapple Bars
Bricks Bars—Turkey
Tanka Buffalo and Cranberry Bars
Mission Meats Beef Graze Sticks
Roam Sticks Hickory Smoked Pork Sticks
Trail mix and nuts
It's not just for the hiking trail: Trail mix hits the spot anytime you feel those hunger pangs, thanks to satiating protein and healthy fats. One thing to be aware of, however, is that along with the beneficial fatty acids, nuts also contain omega-6 fatty acids, which can actually promote inflammation. Try to balance your consumption of omega-3s and omega-6s to minimize this risk, and enjoy nuts in moderation.
Throw together a custom mix by combining your favorite nuts, seeds, and dried fruit, or select from one of the options below.
Try:
Essential Living Foods Superfood Trail Mix and Enlighten Mix
Imla'kesh Organics Chargeboss Clusters
Dried fruit
Sure, it would be nice to have access to fresh blueberries or a juicy peach anytime you like, but it's just not realistic to try to tote a farmers market around in your bag. For one thing, it can get seriously messy. Enter dried fruit—a completely portable alternative.
One caveat: Dried fruit can often be significantly higher in sugar and carbs than fresh, so be careful not to go overboard. It's best to enjoy it sparingly, or save it for times you need a burst of energy on the go, like hiking or a particularly hectic day.
Try:
Mavuno Harvest Organic Dried Papaya
Organic Traditions Dried Apricots
Grain-free energy bars
Nutrition bars might seem healthy, but most brands contain grains like rice or oats, artificial additives, and tons of sugar. Definitely not Paleo-approved. The convenience factor just can't be beat, though—so thankfully, we've found a few with real food ingredients that even cavemen could get behind.
Try:
Exo Cricket Protein Bars
Primal Kitchen Dark Chocolate Almond Bars
Larabar Cashew Cookie Bar
Evo Hemp Cashew Chocolate Antioxidant Bar
Seaweed
Light and salty, roasted seaweed provides the same crunch as a potato chip—with a much better nutritional profile. Most sea vegetables include both antioxidants and omega-3s, two compounds we just can't get enough of!
Try:
Sea Bakin' Maple Seaweed Snacks
Nut butter
Oh almond butter, how we love you. Spread on apple slices, blended into a green smoothie, or eaten by the spoonful, nut butter makes a delightful pick-me-up anytime you need it.
Try:
Veggie chips
Still missing the trademark crunch of Lay's? Well, potato chips might be off limits, but chips made from other veggies—Kale! Brussels sprouts! Parsnips?—are fair game. They're much more nutritious, lower in carbohydrates, and, frankly, just have more flavor.
Try:
Go Raw Spirulina Super Chips
Go Raw Tangy Lime Coconut Chips
Paleo granola
Made from nuts, dried fruit, and plenty of spices, grain-free granola can be just as delicious—if not more so—than the original. Try it with some almond milk and fresh fruit, or simply crunch on a few clusters by themselves.
Try:
Snack recipes
Of course, once you get into the kitchen, a whole new world of options opens up. Any of these recipes would make a tasty, healthy snack on the Paleo diet. Whether you're craving sweet or savory, we've got you covered!
Savory snacks
Brussels sprouts chips
Four ingredients, 15 minutes, and you have a fresh batch of salt and vinegar Brussels sprouts chips. This recipe is totally easy to make, which is a good thing, since it's also seriously addictive.
Sriracha kale chips
Speaking of chips, these kale chips get heat from garlic-chile sauce and sweetness from coconut. The end result? Just the right amount of umami flavor to keep you coming back for seconds.
Chicken nuggets
Throw it back to the elementary school days with golden-brown chicken nuggets. Unlike the Happy Meal variety, however, these nuggs call for only real food ingredients.
Baked eggs in tomato cups
Normally, we wouldn't immediately think of eggs as an afternoon food, but when they're baked into tomato cups, they become the perfect single-serving snack.
Cauliflower buffalo wings
Take some cauliflower florets, dip them in a grain-free batter, slather them with hot sauce, and bake them. The result? Spicy hot "wings" you won't believe are vegetarian.
Coconut flour-fried chicken wings
For a protein-packed alternative, fry up chicken wings in coconut oil. It's way healthier than the fast food variety, while still satisfying that crispy chicken craving.
Vegan and Paleo cheese
A recipe both vegans and Paleo people will go crazy for? Yep, we've found it. This nut-based "cheese" flavored with fresh herbs couldn't be tastier.
Deviled eggs
Classic deviled eggs are almost primal diet–friendly already—just substitute an avocado oil–based mayonnaise to be sure.
Spiced green olives
Got a few minutes to heat up some oil in a pan? Then you have enough time make delectable marinated green olives.
Parsnip fries
Who needs potatoes when you can make crisp parsnip fries? If you ask us, this root vegetable gets overlooked too often. When fried in lard and dunked in special sauce, parsnip fries taste just like the real thing.
Cauliflower hummus
Swapping in cauliflower for garbanzo beans lightens up this hummus recipe, and keeps it perfectly Paleo-friendly. Dip crudites in it for a veggie-heavy snack!
Sweet snacks
Carrot creamsicle smoothie
Smoothies aren't just for breakfast—and the combination of carrots, coconut, and orange makes this one taste like dessert. Slurp away when you're craving something sweet, but know you're getting a hearty dose of vitamins A and C.
Cucumber-mint smoothie
A little lighter and brighter, a cucumber-mint smoothie cleanses the palate and resets the digestive system after one too many big meals.
Coconut-pineapple smoothie
If you like pina coladas and getting caught in the rain, then the coconut, pineapple, and chia smoothie we concocted has your name written all over it. Coconut milk gives it a dose of healthy fats, while chia seeds bring much needed omega-3s to the party.
Green smoothie bowl
It's easy being green when you're spooning up a smoothie bowl packed with kale, spinach, pear and cucumber. Drizzling in some coconut water makes it the perfect way to recover post-workout.
Beet-ginger smoothie bowl
Wait a minute—beets, in a smoothie? Yep, and trust us, it really works. They help cleanse the liver, add tons of antioxidants, and of course, make the bowl a gorgeous crimson color.
Passion fruit raspados
Raspados—Mexican snow cones flavored with fresh fruit—become a refreshing Paleo treat in this recipe sweetened only with honey. Here, passion fruit and mango bring tropical flavors perfect for a summer afternoon snack.
Tropical green popsicles
Genius idea alert: Blend up your favorite green smoothie, then freeze it in small paper cups with a straw stuck in the middle for instant healthy popsicles.
Purple power detox popsicles
Watermelon, beets, and hibiscus tea combine in these violet popsicles. Make a big batch, and keep them in the freezer for anytime you feel a craving for sweets.
Coconut water popsicles
For another easy popsicle variation, chop up some fresh fruit, add it to the molds, and pour in coconut water. The result? A beautiful clear pop studded with colorful blueberries, mango, strawberry, or melon.
Balsamic-roasted blueberry chia popsicles
Once you've mastered simple popsicles, graduate to these dual-layered ones made from coconut chia pudding and roasted blueberries. The recipe includes a few more steps, but yields a complexity of flavor you just can't beat.
Superfood granola cookies
Packed with nuts, seeds, dried fruit, and coconut, superfood granola cookies have tons of healthy fats and fiber to satisfy your cravings and keep you full. Plus, they're incredibly easy to stick in your purse and eat on the run!
Chocolate-covered frozen bananas
Freeze halved bananas, then dip them in a Paleo-friendly chocolate coating for a healthified version of the classic county fair treat.
Matcha chia pudding
Green tea powder adds a caffeinated kick—and lovely color—to this chia pudding recipe. Because it's full of powerful antioxidants and omega-3s, this is one sweet treat you can feel good about indulging in.
Apricot chia pudding
Think of apricot chia pudding as the healthified, grown-up version of the tapioca pudding cups your mom used to throw into your school lunches. Each spoonful gives you some of the creamy coconut pudding, and some of the fruity apricot bottom.
Suddenly, sticking to Paleo snacks doesn't seem like such a boring proposition after all. Bon appetit!
Photo credit: Alicia Cho, Paul Delmont