Maya Krampf is the founder of Wholesome Yum, mom to two little girls, and a former senior software engineer. Needless to say, she knows a thing or two about balancing work, life, and kitchen creativity. On October 22, you can purchase a copy of Krampf's new cookbook, "The Wholesome Yum Easy Keto Cookbook," in which she shares 100 delectable keto recipes that all incorporate 10 ingredients or less.
Italian Garlic Bread Sticks
Have you ever been to a restaurant that serves endless breadsticks? They're so buttery, salty, and utterly delicious. But health-wise? Well, there may be some room for improvement. That's where these easy Italian Garlic Bread Sticks come in. They're low carb and make the perfect addition to soups, salads, or pasta alternatives like zucchini noodles or spaghetti squash. These have all the flavor and texture that you're used to, but are much more satisfying.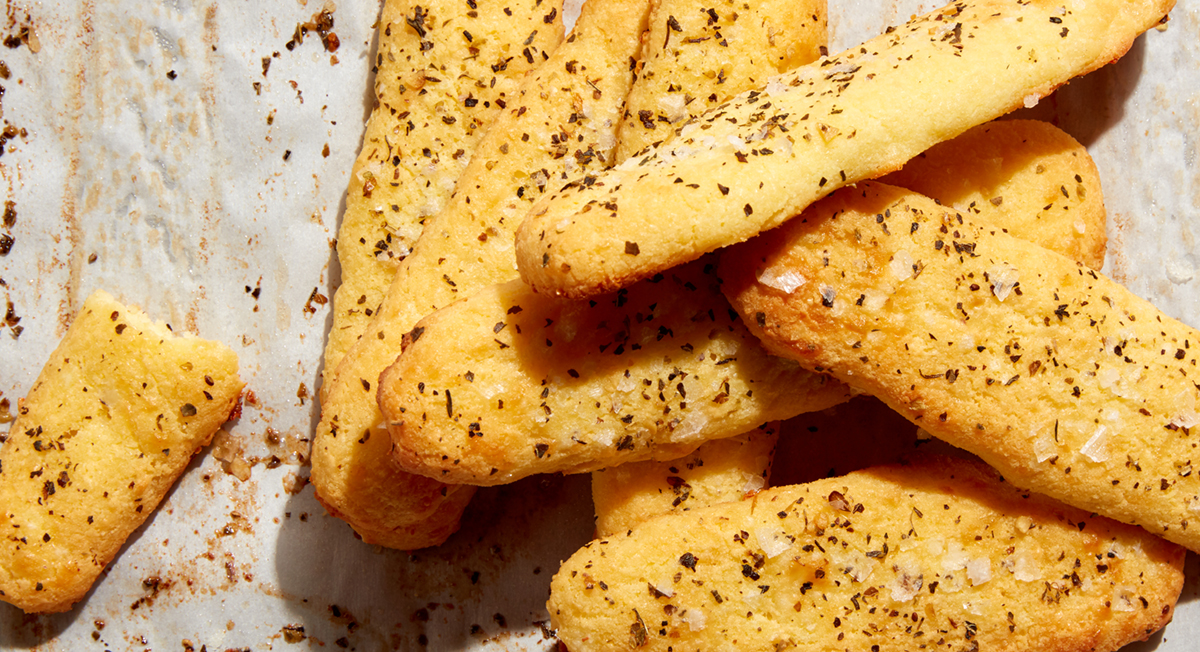 Yield: 8 servings
Ingredients
3 cups shredded mozzarella cheese
2 oz cream cheese, cut into cubes
1 1/2 cups finely ground blanched almond flour
1 tablespoon baking powder
1 teaspoon garlic powder
2 large eggs, whisked
1 tablespoon butter, melted
1 teaspoon Italian seasoning
1 teaspoon sea salt flakes or 1/2 teaspoon table salt
Instructions
To melt the cheese, combine the shredded mozzarella and cubed cream cheese in a large bowl. Microwave for about 90 seconds, stirring halfway through, until smooth and easy to stir. Stir again at the end to make it uniform. Next add the flour, baking powder, and garlic powder to a food processor or stand mixer and mix together. Add the eggs and mix again. Then add the melted cheese mixture. Run food processor/mixer until uniform dough forms. Chill the dough for 30 minutes, until it's not too sticky to work with.
Preheat the oven to 350. Line a baking sheet with parchment paper. Divide the dough into 8 portions. Using oiled hands, shape or roll each into a log about 1-inch thick and 6- to 7-inches long. Place bread sticks 2 inches apart on lined pan and flatten slightly. Brush the tops of the logs with melted butter. Sprinkle with Italian seasoning and sea salt flakes. Bake the breadsticks for 18-22 minutes, until golden.
---
Salted Pecan Fat Bombs
Get ready for a dessert with no sugar. Yes, you read that correctly. These fat bombs are a great way to treat yourself—they're sweet, decadent, but also have no sugar and can help you get enough fat into your keto routine. We recommend making a big batch and storing in the fridge to keep cravings at bay.
Yield: 24 servings
Ingredients
1 cup (2 sticks) butter
3/4 cup powdered monk fruit sweetener blend (1:1 powdered sugar replacement)
1 cup of heavy cream
1 teaspoon of sea salt
1 teaspoon of vanilla extract
2 cups pecans, coarsely chopped
1 teaspoon sea salt flakes
24 whole pecans
Instructions
Line 24 cups of a mini muffin tin with paper liners. In a large saute pan (not a saucepan!), heat butter and sweetener over medium heat for 5 to 8 minutes, stirring frequently, until dark golden brown. Add the cream and sea salt. Bring to a gentle simmer, then simmer for 15 to 20 minutes, until dark golden and thick. Remove from heat and allow the caramel to cool for a few minutes. Stir in vanilla and chopped pecans. Scoop the mixture into the lined mini muffin cups, about 1 tablespoon in each. If desired, sprinkle with sea salt flakes. Gently press 1 whole pecan into the top of each. Let the fat bombs cool to room temperature first, then refrigerate at least 1 hour, or overnight, until set. Store fat bombs in the fridge for 1 week or in the freezes for several months.
Adapted from THE WHOLESOME YUM EASY KETO COOKBOOK by Maya Krampf. Copyright © 2019 by Maya Krampf. Excerpted by permission of Harmony Books, an imprint of Penguin Random House LLC. All rights reserved. No part of this excerpt may be reproduced or reprinted without permission in writing from the publisher.
For more, check out our ultimate guide to the keto diet!