All it takes is one crisp, cool fall morning to kick those cozy autumnal cravings into high gear. If you've found yourself daydreaming about all things warm, sweet, and spiced, then you're going to swoon over this roundup of fall-flavored treats and autumnal recipes.
If you're craving…Pumpkin Spice
LesserEvil Organic Pumpkin Spice Popcorn
Equal parts sweet, salty, and spicy, this popcorn is the ideal crunchy companion to a spooky movie marathon.
Wandering Bear Coffee Pumpkin Spice Cold Brew on Tap
Temperatures staying stubbornly high where you live? Indulge your pumpkin spice fantasies with Wandering Bear's extra-strong cold brew over ice and avoid fall FOMO.
Blake's Seed Based Pumpkin Spice Crispy Treats
These chewy treats are perfectly lunchbox-sized and studded with nutritious seeds.
Partake Foods Soft Baked Pumpkin Spice Cookies
Food allergies are no match for these soft and chewy pumpkin spice cookies, free from common no-nos like dairy, gluten, and peanuts.
Lily's Sweets Pumpkin Spice White Chocolate Style Baking Chips
These stevia-sweetened chips will add fall flavor to scones, cookies, muffins, quick breads…the list goes on and on.
Nature's Path Organic Pumpkin Spice Waffles
An autumnal breakfast is minutes away with these toaster waffles. Just add maple syrup and a handful of pecans for a restaurant-worthy plate.
Califia Farms Pumpkin Spice Oat Barista Blend
Made with creamy oat milk and real pumpkin puree, this dairy-free blend is foam friendly (so you can skip the coffee shop and make your PSL at home).
Thrive Market Organic Pumpkin Spice Ground Coffee
We took our ethically sourced Peruvian coffee and added toasty spices for a cozy morning cup.
Copper Cow Coffee Pumpkin Spice Latte Pour-Over Kit
Copper Cow Coffee makes Vietnamese pour-over easy as one, two, three—and now, the rich and smooth sip comes in fall's favorite flavor.
Nuttzo Pumpkin Spice
Spread on autumnal goodness with Nuttzo's sweet and spiced nut-and-seed blend.
Thrive Market Organic Infused Maple Syrup, Warm Pumpkin Spice
Make your morning oats something to really look forward to with our new pumpkin spice-infused maple syrup.
Oat Haus Pumpkin Spice Granola Butter
Oat Haus changed the game with their granola butter (made from oats and seeds, instead of traditional nuts), and now the beloved spread comes in—you guessed it—pumpkin spice.
Nutpods Pumpkin Spice Coffee Creamer
You get extra autumnal points if you use this unsweetened, dairy-free creamer in a cup of pumpkin spice coffee.
Primal Palate Pumpkin Pie Spice
Just can't get enough pumpkin spice? Add a dash of Primal Palate's spice blend to oatmeal and smoothies, or just use it as a convenient spice shortcut in your fall bakes.
Thrive Market Organic Grain-Free Spiced Pumpkin Granola
With sprouted nuts, chewy figs, real pumpkin, and a sprinkling of spices, our grain-free granola is the best way to top your yogurt this fall (or just enjoy by the handful).
Thrive Market Pumpkin Muffin and Bread Mix
Keep a box of this almond flour baking mix in the pantry at all times so you're prepared whenever a pumpkin spice craving strikes.
Simple Mills Almond Flour Pumpkin Pancake and Waffle Mix
Not saying you have to use this adorable pumpkin-shaped waffle iron with this gluten-free waffle mix…but just imagine how cute it would be if you did.
If you're craving…Maple
Thrive Market Organic Infused Maple Syrup Sampler
This sampler of our infused maple syrups includes four delectable drizzles: classic, bourbon barrel-aged, cinnamon and vanilla bean, and tangy blueberry.
Thrive Market Organic Maple Sugar
You can use this single-ingredient sweetener wherever you'd use refined sugar.
Fix & Fogg Cashew Maple Almond Butter
This New Zealand-based brand's nut butters have developed a cult following, and this variety has that unmistakable maple sweetness.
Sahale Snacks Maple Pecans Glazed Mix
A glass of red wine and a handful of these sweet and salty glazed nuts sounds like a dreamy fall evening, doesn't it?
Quinn Snacks Maple Almond Butter Filled Pretzel Nuggets
Just when you thought almond butter-filled pretzels couldn't get better, Quinn went and added a touch of sweet maple syrup.
Raaka Chocolate Maple and Nibs Chocolate Bar, 75% Cacao
This decidedly grown-up dark chocolate bar is free of cane sugar and gets a satisfying crunch from cacao nibs.
Thrive Market Organic Maple Pecan Ground Coffee
What do you get when you cross our organic Peruvian coffee with a sticky-sweet pecan pie? This delightful blend.
If you're craving…Apple Cinnamon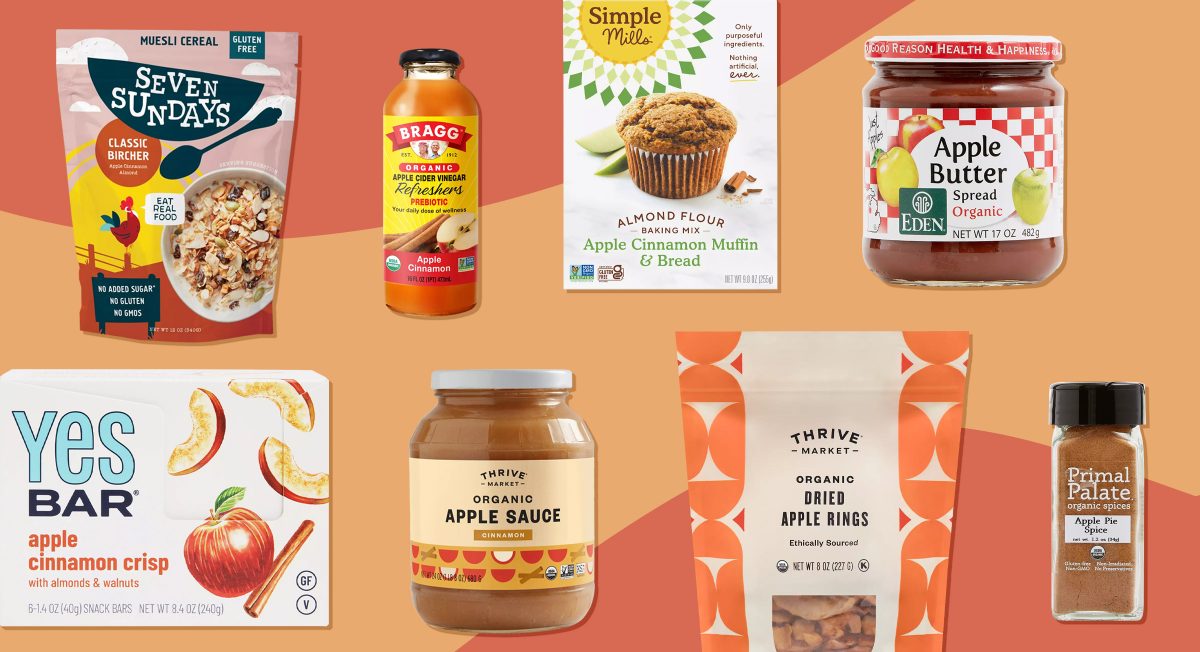 Seven Sundays Classic Bircher Apple Cinnamon Muesli
Oats, nuts, and seeds mingle with dried dates, apples, and currants in this classic breakfast cereal—just add milk, yogurt, or grated apple.
Simple Mills Almond Flour Baking Mix, Apple Cinnamon
A batch of Paleo apple cinnamon muffins would be welcome at any fall gathering.
Thrive Market Organic Apple Sauce, Cinnamon
Give your overnight oats or morning yogurt the autumnal treatment with a scoop of our wholesome cinnamon applesauce.
Pumpkin spice, but make it apple. This spice blend is reminiscent of a favorite fall fruit dessert.
Eden Foods Organic Apple Butter
Turn a regular PB&J into a fall treat by swapping this organic apple spread in for jam.
Thrive Market Organic Dried Apple Rings
Make your DIY granola or trail mix extra cozy with a handful of these chewy dried apple rings.
Is it a vegan, paleo, low-sugar snack bar, or a real apple dessert? Who knows, who cares; it's delicious.
Bragg Organic Apple Cider Vinegar Refresher, Apple Cinnamon
OK, it can't be all fun and games. This apple cider vinegar tonic from heritage brand Bragg is a healthy addition to your gut health routine.
If you're craving…Chai
Thrive Market Fair Trade Organic Chai Tea
With the classic flavors of cardamom and clove, this black tea is spicy and comforting.
f.a.e. By Thrive Market Beauty Collagen Latte, Spiced Chai
It's sippable skincare! Warming spices blend with marine collagen, probiotics, and hyaluronic acid in this f.a.e. latte mix.
Four Sigmatic Chai Latte with Turkey Tail and Reishi
No one knows functional mushrooms quite as well as Four Sigmatic. Their chai latte blend includes turkey tail and reishi for digestive wellbeing.
Primal Kitchen Collagen Keto Chai Latte
Mix up a keto-friendly chai drink with beauty benefits using Primal Kitchen's dairy-free mix.
Enviroscent Stix, Vanilla Bean & Pumpkin Chai
If you're sensitive to most chemical-laden air fresheners, give this one a try. Natural and biodegradable ingredients make it a better bet.
Burt's Bees Lip Balm Holiday Pack
If you're one of those people who likes to keep a lip balm in every bag, coat pocket, and drawer, then grab this pack of four fan-favorite Burt's Bees tubes in four seasonal flavors, including chai tea.
Best Fall Recipes for Cozy Cooking
Apple Cinnamon Overnight Oats Recipe
Prepare a few servings of these overnight oats (featuring an ingenious use of apple sauce) and enjoy fall flavor all week.
You can enjoy your favorite fall dessert any time with this smoothie recipe.
Harvest Apple Pie Grain-Free Granola Recipe
Whether you're Paleo or not, this comfortingly spiced apple granola is a treat any time of day.
Rosemary Apple Cheddar Picnic Pies Recipe
In some parts of the U.S., apple pie is always served with a hunk of sharp cheddar. Rosemary completes the cozy, autumnal flavor profile in these whimsical hand pies.
GrossyPelosi's Olive Oil Pumpkin Bread Recipe
It wouldn't be fall without pumpkin bread, and Dan Pelosi (aka @grossypelosi) created this olive oil loaf just for us.
Vegan Pumpkin Toaster Pastries with Maple Glaze Recipe
These plant-based toaster tarts bring all the nostalgia, with a wholesome twist.
Carving a jack-o-lantern? Don't toss the seeds! Instead, roast them with sweet or savory spices and toss into snack mixes and salads.
Dairy-Free Caramel Apples Recipe
Bet you won't find vegan caramel apples at the state fair. Coconut milk caramels make this classic fall recipe dairy-free.
It's the Nutella-esque filling that really takes these pumpkin sandwich cookies to the next level.
Skip the trip to the coffee shop and make your own seasonal coffee beverages.
Vegan and Gluten-Free Pumpkin Pie Bars Recipe
It's everything you love about pumpkin pie, but in bar form (plus, they're vegan and gluten-free!).
5-Ingredient Paleo Pumpkin Truffles Recipe
If you've got five minutes and five basic ingredients, you can make these one-bite Paleo truffles.