Ready to try our take on this classic Japanese treat? For Day 4 of our 12 days of Christmas cookies, we've taken classic chocolate-dipped sweet treats to the next level by adding in matcha green tea and white chocolate. 
Chocolate-Matcha Snack Sticks
Yield: 20 cookies
Active Time: 15 minutes
Total Time: 25 minutes
Ingredients
11 ounces white chocolate, broken into pieces
1 tablespoon matcha powder
1 teaspoon coconut oil
20 grissini or stick pretzels, cut into 5 inch long pieces
3 ounces dark chocolate, broken into pieces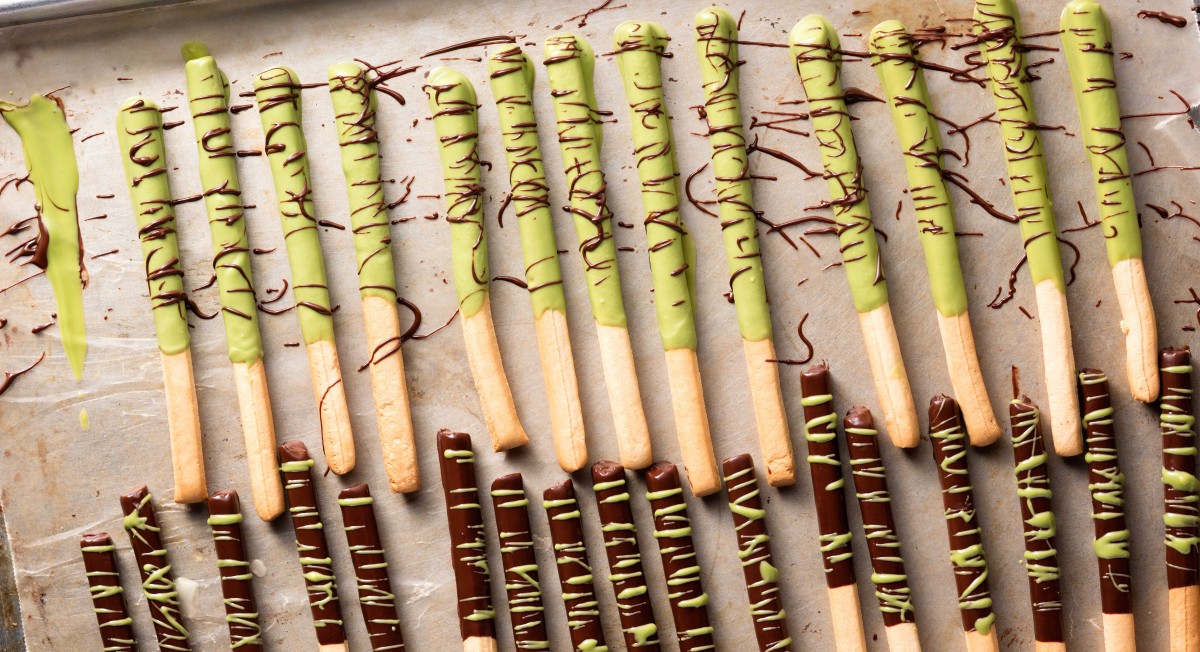 Instructions
Line a baking sheet with
parchment paper
and set aside.
Place white chocolate in a heatproof bowl or double boiler over a simmering pot of water on medium heat. Stir occasionally.
In a small bowl, whisk together matcha powder and coconut oil. Remove white chocolate from heat and stir in matcha mixture.
Hold the grissini or pretzels on one end and dip into the melted chocolate, leaving the bottom inch clean. Let excess chocolate drip off and place to cool and harden on lined baking sheet. Repeat with the rest of the sticks.
Over the double boiler, melt the dark chocolate. Drizzle chocolate over the cooled pocky. Let chocolate harden before removing from baking sheet.
Photo credit: Paul Delmont