"The King of Fruits" is a pretty bold title, but anyone that's enjoyed a handful of sweet, firm Medjool dates would likely agree.
Also known as the "Cadillac of dates," and referred to biblically as a "fruit of paradise," these sweet palm fruits are some of the oldest in the world. Their origins date back to to Iraq, circa 4,000 B.C., when they were grown specifically for royalty.
It was only around the turn of the 20th century that Medjool dates were introduced to the United States when the USDA hired "Agriculture Explorers" to search the world for new foods that could be brought back and grown in the U.S. One pair of scavengers, David Fairchild and Walter Swingle, traveled to Baghdad and Algeria and found that the desert environment that encouraged the growth of dates was very similar to the "American Sahara" of California's Coachella Valley.
Further cultivators, including the Popenoe family, were integral to helping dates find a following. Today, they have had an even bigger revival, gaining more and more traction in health and nutrition circles, both of which tout the fruit's potent benefits and various uses as a natural sweetener.
Similarities and differences between Medjool dates and other varieties
Like other varieties of dates, the Medjool variety grows on palm trees and thrives in arid or semi-arid environments. However, what sets them apart is that Medjool dates are the largest and firmest of the bunch. They are also chewy and have a honey or caramel-like flavor, and therefore have the highest concentration of calories (about 66 calories in each date)—this takes into account the combined carbohydrate, fat, and protein content in the fruit. Another difference is the type of preservation: Medjool dates can be dried and preserved to last longer.
Other kinds of dates
Though Medjool dates are considered among some of the best dates in the world, they are not the only kind. Here are a few other examples:
Khadrawy: These dates are very sweet and have an amber or yellow appearance.
Halawy: Sweet with a thick and wrinkled flesh.
Barhi: With a much thinner skin that most other varieties, Bahri dates are more tender.
Zahidi: A crunchy date often used in date sugar.
Deglet Noor: The most common type of dates that are predominantly grown and sold in the United States.
Health benefits of Medjool dates
It's not just the taste that sets Medjool dates apart; they also provide incredible rewards for the body when eaten regularly.
Heart health: Research has shown that foods like Medjool dates can be beneficial to heart health. A particular study showed that consumption of Medjool dates led to a significant drop in levels of triglycerides, a type of lipid that is found in the blood. The normal triglyceride level is 150 milligrams per deciliter; any excess amounts could have adverse effects on heart function.
Lower cholesterol levels: Medjool dates are high in both soluble and insoluble fiber, which are efficient tools to keep levels of "bad" LDL cholesterol in check. Recent research has shown that Medjool dates also have antioxidant properties, which further helps to inhibit the oxidation action of LDL and encourages the body to remove it from the blood. By reducing concentrations of LDL, you are also reducing the risk of all kinds of illnesses and complications since its presence contributes to the buildup of plaque in the arteries. If this situation is not checked in time, it can compromise blood circulation to the heart and other vital organs, leading to strokes, heart attacks, and other issues.
Digestive system support: With strong amounts of dietary fiber, particularly beta D-glucan, Medjool dates also aid in digestive health. Beta D-glucan is a soluble fiber that has the high ability to absorb water, which softens stool and helps to provide regular bowel movements. This makes the fruit a good way to ease issues with diarrhea and constipation. However, when using dates to ease digestive issues, it's important to soak them at least overnight so they can be more syrupy and easier to process, and allow your body to feel the affects almost immediately.
Weight management: Dates are not only a nutritious snack, but since they're so naturally sweet, they can reduce cravings for sugary, processed snacks that have more unhealthy amounts of empty calories. The inherent fiber also works to suppress hunger, which can lead to less snacking and and consumption of proper portion sizes in meals since you will feel fuller. However, since Medjool dates do have a high calorie count, be sure to enjoy in moderation.
Natural energizer: Medjool dates contain high levels of sugars (including fructose, sucrose, and glucose), which are easily processed by the body and converted into usable energy. Additionally, the copper and potassium in dates helps to catalyze the production of energy from glucose. So, if you are feeling fatigued and need a quick pick-me-up, eat just a few dates for immediate impact. Try them as a midday snack to stay alert past the post-lunch slump, or eat a few before any rigorous workout to give you the energy required to maintain activity levels.
Blood sugar control: If you have diabetes or any kind of blood sugar issue, dates are a good option to satisfy a sweet tooth or use as a natural sweetener for baking and cooking. Unlike processed sugary foods, Medjool dates are low-glycemic. This means that eating them does not trigger a spike in blood sugar (or lead to the inevitable crash).
The high amounts of potassium in Medjool dates can also be beneficial for maintaining blood sugar levels. In many cases, high blood sugar levels can be attributed to a deficiency of potassium in the body. However Medjool dates can help you increase stores of potassium and reduce any potential risk.
Bone strength: As we get older, so do our bones, and bone degradation is inevitable with advanced age. However, you can reduce the rate at which your bones wear down by taking in a high amount of calcium and phosphorous, such as mineral-rich foods like Medjool dates. By incorporating them into your diet, you'll always be a step ahead in strengthening and improving the health of teeth and bones.
Pregnancy health: Medjool dates are said to be great for both mom and baby during pregnancy. These fruits contain folate, which women are encouraged to take since the compound assists in the healthy development of the fetus. Folate supports new cell growth and decreases the risk of birth defects.
Immunity boost: Because of a strong concentration of phytonutrients, Medjool dates can be considered a natural supplement for immunity. They contain vitamins, which are beneficial in maintaining overall health, as well as copper, a mineral known to be a very powerful antioxidant that helps to combat free radicals. In fact, it's classified in the superoxide dismutase category, which is an enzyme that helps break down potentially harmful oxygen molecules and prevents damage to cells.
The potassium in Medjool dates helps the body to absorb copper, which can also lead to richer iron stores that encourage the production of healthy blood cells. Potassium is also beneficial because it helps to maintain blood pH and nerve health.
Magnesium, too, contributes to better blood flow with properties that reduce the risk of unnecessary clotting and coagulation. Magnesium also has anti-inflammatory effects and helps to promote muscle, tissue, and joint health, even helping ease the severity of arthritis symptoms.
Snacks, desserts, and drinks made with Medjool dates
True to their name, Medjool dates are a superior fruit that are both nutritious and very healthy. They can be enjoyed solo as a sweet snack and are also easy to pair with different foods, such as blended in shakes and smoothies or swapping as a sugar replacement in baked goods. And, who doesn't like bacon-wrapped dates? Here are just a few of Thrive Market's favorite ways to use the fruit.
Forget boxed candy. These super decadent morsels will rival even store-bought sweets—and will be a lot healthier for you, too. The caramel flavoring of dates is a great accompaniment to rich chocolate. And with a coating of walnuts, almonds, and pecans spiced with ginger and cinnamon, they're a surefire way to spice things up.
Think of these as a more sophisticated (and more nutritious) update to the traditional peanut butter cookie. Chewy, sweet, and salty, they are made from a combo of tahini, honey, vanilla extract, rolled oats, cinnamon, sea salt, and Medjool dates.
Sugar-free doesn't have to mean unsweet. This creamy mousse gets its flavor naturally from Medjool dates, which are combined with almond milk, chia seeds, cacao powder, cashew butter, sea salt, and vanilla extract for the perfect sweet treat.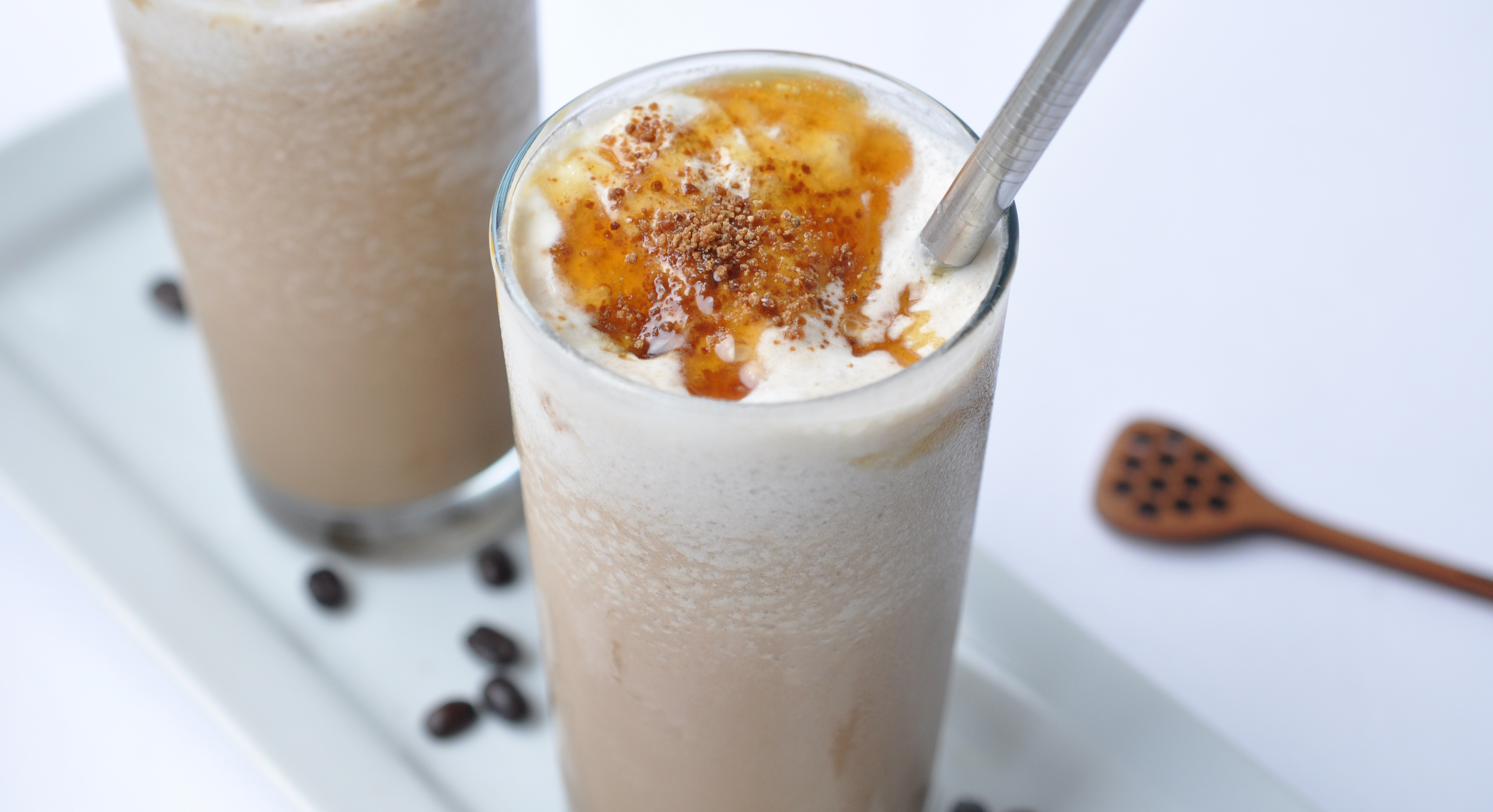 The popular Starbucks beverage is healthified using all-natural ingredients including almond milk, instant coffee, vanilla extract, honey, and pitted dates for the recognizable caramel finish.