Many of us rely on chicken as a weekday meal go-to, but how often do you really celebrate the versatility of this poultry powerhouse? From comfort food favorites to fresh, lean protein-focused dishes, chicken lends itself well to just about any recipe or cuisine. You might say it's the Meryl Streep of meats. And while we may have highlighted a few of our favorite dishes here and here, we've officially narrowed down our ultimate must-try chicken recipes for your cooking pleasure.
5 Ways to Use a Chicken
Before heading to the kitchen, we can't help but share some of our favorite hacks for making the most of your bird (with the least amount of work).
Meal Prep: Get a rotisserie chicken, shred it up, and have it on-hand for topping salads, nachos, and filling lettuce cups all week long.
Stock Up: Roasting a whole chicken? Save the bones to make stock!
Go With the Grind: Ask your butcher to grind chicken thigh meat for flavorful meatballs, tacos, and sauces throughout the week.
Bag It: Fill freezer bags with marinated chicken, store in the freezer on a sheet tray, and enjoy a batch of prepped dinners for weeks to come.
Slow Things Up: Break out your slow-cooker and slow-cook your chicken for a tender, poached dish. Bonus: The excess juices can be used as chicken stock.
Top 15 Best Chicken Recipes
Stop playing chicken and upgrade your weekly menu with these mind-blowing recipes.
Who needs noodles when you can top a zucchini, arugula, and carrot slaw with juicy slices of chicken and a cashew butter dressing? This recipe is a winning lunch dish.
You can do Indian at home with this comforting classic of simmered tomato sauce, warming spices, tender chunks of chicken, and hearty cauliflower.
Part sushi roll, part burrito, this recipe pairs a toasted nori seaweed wrapper, sushi rice, and shredded rotisserie chicken.
Fresh and fiery, this Mexican-inspired dish calls for a marinade of fajita seasoning and olive oil before hitting the skillet with diced peppers and onions.
Tired of bland chicken breasts? Turn up the flavor with a stuffed mac and cheese center for a surefire crowd pleaser.
Turn up the heat on roasted chicken with spicy, garlicky hot chile paste combined with honey and lemon, then cool down with a soothing dollop of yogurt-mint sauce.
This no-stress, one-pan recipe pairs tender chicken thighs with seasonal veggies for an all-in-one meal that's both simple and satisfying.
You might be surprised to learn you can whip up a flavorful and juicy bird with items you already have in your pantry like lemon, garlic, sea salt, and chicken stock.
This no-fuss marinade not only delivers tasty, tangy flavor with whole-grain mustard, apple cider vinegar, and garlic, but the total cooking time is just 30 minutes, making it a perfect weeknight meal.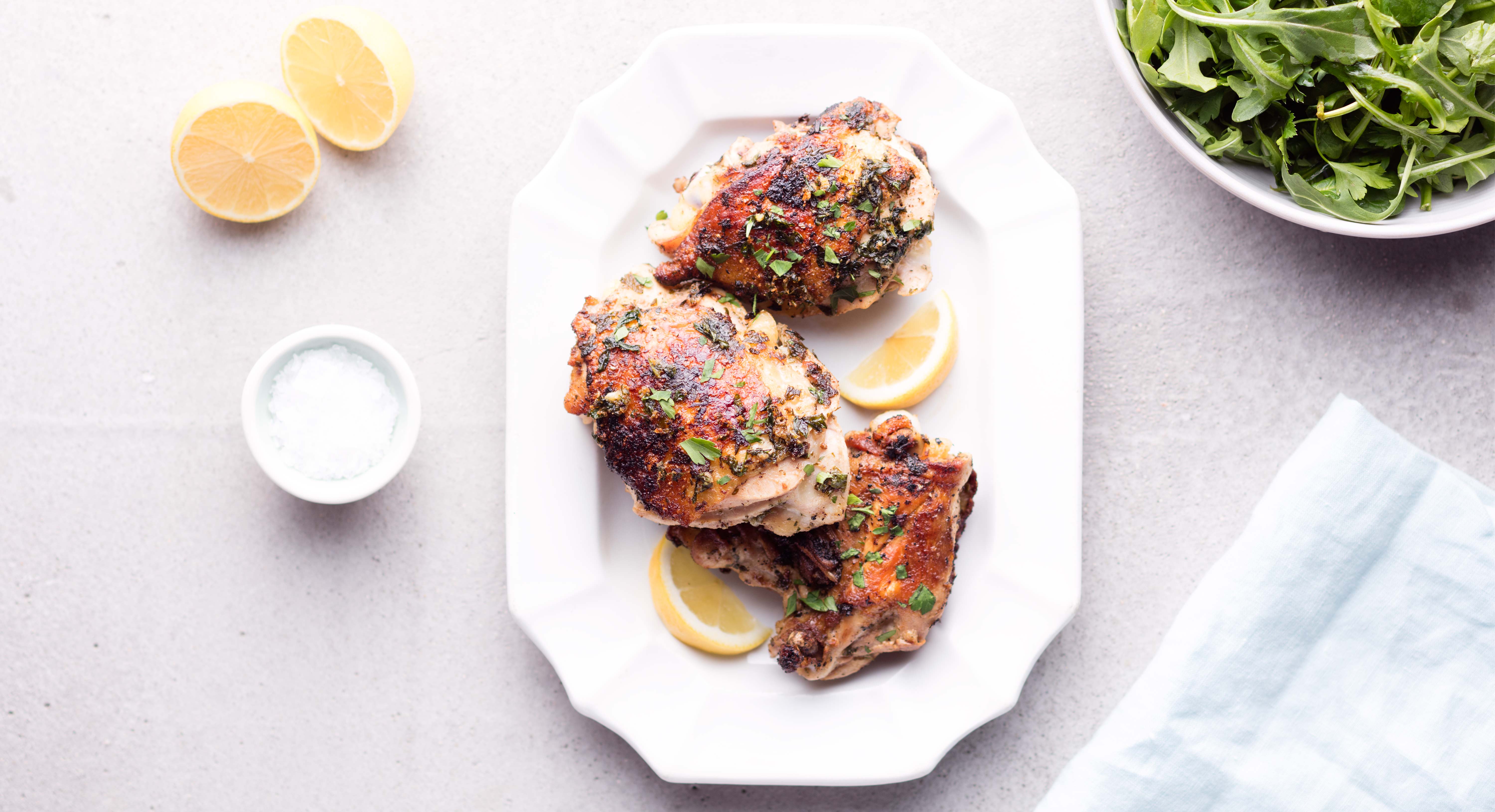 You don't need to add much to this gluten-free soup mix for it to taste like Grandma's. Simply mix with chicken broth, water, and shredded chicken breasts and enjoy this comfort food classic.
Perfect for a big family gathering, this upgrade on roast chicken tastes as good as it looks. The meat practically falls off the bone thanks to a zesty citrus marinade while the orange-anise glaze seals in the juices.
Just when you thought this Sunday supper go-to couldn't get any better, we turn up the wow factor with bacon, white wine, and herb-rich pesto.
These flavorful wings are about to take flight with flavor thanks to a dusting of coconut flour for texture and an aromatic blend of spices for richness.
Looking for a nuggets for both kiddos and adults? This Paleo version swaps in coconut flour for a wholesome take on a crispy coating.
Our love for one-pot meals runs deep, and this dish is no exception thanks to succulent chicken chunks in fresh ginger, garlic, and green chiles served over jasmine rice.