"I feel like chicken tonight, like chicken tonight!" If you grew up in the '90s, you know that jingle. And it's memorable because it's relatable—chicken for dinner sounds easy and tasty!
Because it's so budget-friendly and chock full of lean protein, chicken remains one of our go-to dinners. But there's always a risk that whatever recipe you attempt could fall flat. Chicken breasts, for example, are not always the most foolproof thing to make. If you manage to keep 'em from overcooking, they can still come out bland and unappetizing without the right ingredients.
Whether you're cooking breasts, wings, thighs, or drumsticks, we've got a flavorful recipe for you. Try one of our best, or take inspiration from our friends over at SkinnyMom and Nom Nom Paleo.
Quick recipes that take 30 minutes or less
One of the best things about chicken is that it doesn't have to take a lot of time to make. Here are some super simple yet interesting ways to get it on the dinner table in under half an hour.
For busy cooks, a good one-pot meal recipe is a life-saver. The great thing about this one is it's just as quick as it is easy. Here, ginger, chile, scallions, and cilantro give the meat and rice so much dimension. Adding subtly sweet coconut aminos—a healthier alternative to soy sauce that happens to be raw, vegan, organic, Paleo, gluten-free, soy-free, non-GMO, non-MSG, and kosher—gives it a craveworthy umami flavor.
Perfect for weeknights, this easy recipe uses juicy, bone-in, skin-on thighs—but it gets even better. Whole-grain mustard and apple cider vinegar give them a tangy kick, and parsley and thyme add freshness. Don't forget the garlic! The leftovers can even be stretched in creative ways like atop a fresh salad or in a sandwich with lettuce and tomato for an instant classic.
No need to hit the drive-through anymore when you need a quick dinner fix. These nuggets taste just like the real thing—only you will know for sure exactly what's inside (no mystery meat here!). Coconut flour and omega-3–rich flaxseeds create a better-for-you breading that's just as crispy and satisfying. Kids won't even be on to your secret—that is, if you don't eat them all yourself first!
Skinless breasts don't have to be boring. Chile, lime, and sesame oil combine for a light dish with just enough spice. Plus, stir-frying is a super quick cooking method—this dish only takes 10 minutes to make.
Broccoli chicken is old news—try kale to give this Chinese-inspired dish a superfood boost. But the real star here is coconut—this recipe calls for the tasty trifecta of coconut oil, aminos, and flakes. Throw in sriracha, and you've got a palate-pleaser with less than 10 ingredients.
We've figured out a couple of tricks to healthify fried chicken. Coconut flour and coconut oil turn this favorite comfort food into a gluten-free and Paleo-friendly dish that's also rich in healthy fat. Just because the recipe is good for you, doesn't mean it skimps on flavor though—six savory spices (oregano, cayenne, paprika, onion powder, and garlic powder) bring out the best in these easy-to-make drumsticks.
The Southeast Asian cuisine of Laos can be yours at home—in just 15 minutes. This easy ground chicken recipe combines the freshness of lemongrass and lime juice to complement the boldness of garlic and chiles. And fish sauce gives it that subtle umami touch. You'll have everyone fooled into thinking you're a worldly chef, all while barely lifting a finger.
Curry is a lot easier to pull off than most people think. Coconut milk and spices (turmeric, cardamom, cinnamon, ground ginger, and nutmeg) really do all the work to make a savory, warming bowl. Kaffir lime and lemongrass add just enough tart citrus. Don't forget spinach for a hearty and healthy dinner you'll crave over and over again.
Skinny BBQ Chicken Flatbread
Keep your pizza dreams alive by using lighter flatbread instead of a traditional high-carb crust. Barbecue chicken, black beans, and corn salsa also up the health factor and makes it a tasty meal for kids and grown-ups alike. You can even customize this recipe with different sauces and salsas to create something new every time.
Delicious chicken breast recipes
Like we said, chicken breasts don't have to be boring. These recipes take white meat to a whole new level.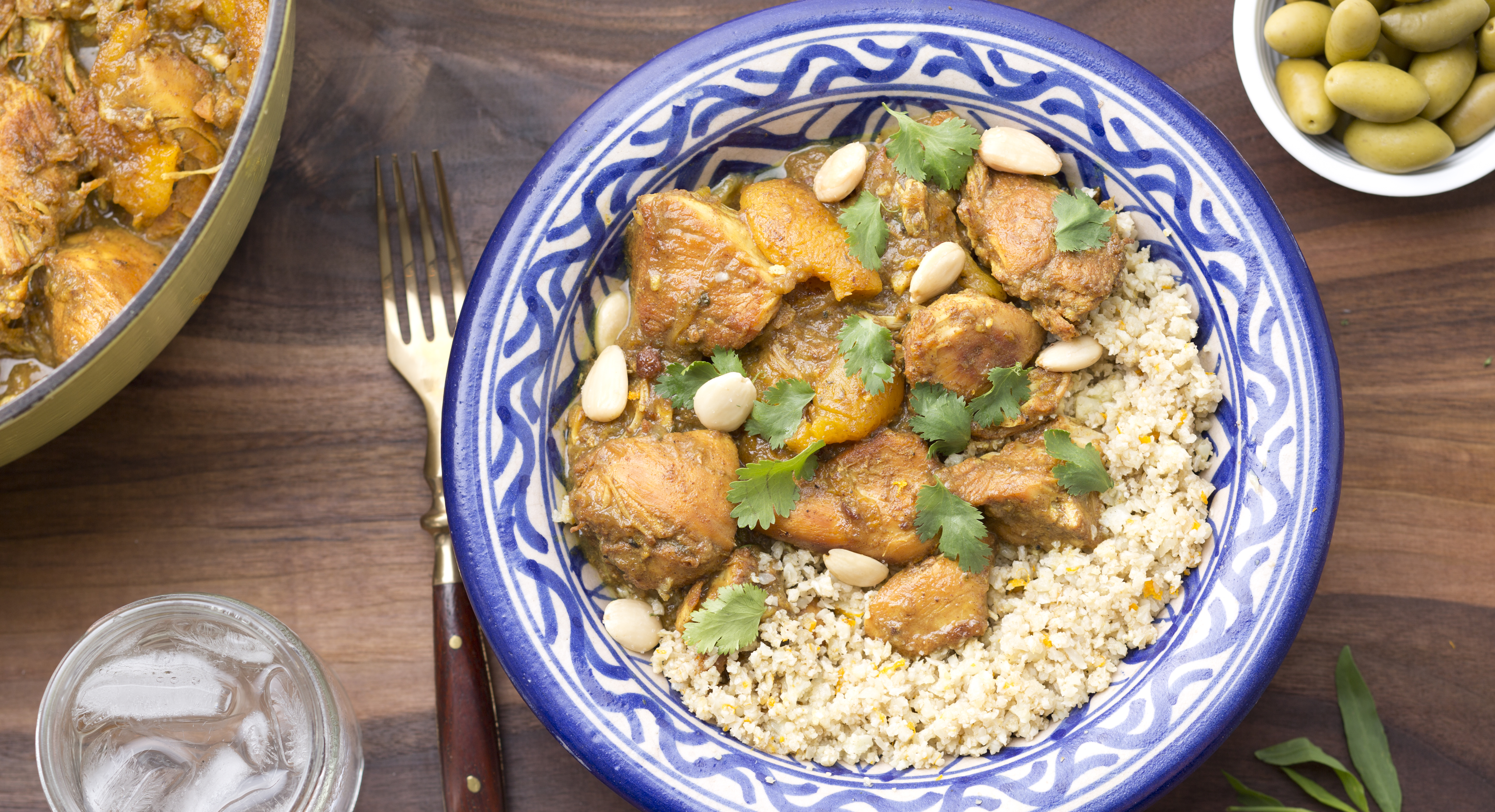 We know what you're thinking: WTF is tagine? It's just a fancy name for this slow-cooked North African stew of spiced meat and vegetables that everyone will love. Make the stew ahead of time and then cook the bed of six-minute cauliflower right before meal time. The result is a satisfying low-carb dinner with tons of flavor and nutrients.
Chicken breasts will never be dry again with this genius trick: Bake them right along with vegetables to keep everything moist and tender. And just like that, you've got an effortless main dish with a side of garlicky roasted tomatoes. Buon appetito!
Here's a recipe that marries comfort food and clean eating. Traditional chicken soup undergoes a major update thanks to a crisp lemon-ginger broth, and zucchini subs in as a low-carb alternative to noodles. Does it get any better than this?
Take a trip to Morocco without ever leaving the kitchen. Cumin, cinnamon, currants, and mint comprise an adventurous yet simple roasted breast recipe that delights the taste buds. Try it on top of couscous or green salad.
You can do even better than grandma's classic pot pie. Instead of sticking with the old standby vegetables like corn and carrots, add leeks, sundried tomatoes, pesto, and white wine for sophisticated Italian flair. Top with crispy, salty bacon for the perfect finishing touch. It may not be quick, but this recipe is definitely worth the wait.
What's better than roast chicken? One infused with Mediterranean flavors. Tahini steals the show here, but cumin, cinnamon, cayenne, parsley, and mint are just as transformational. Serve atop a green salad, couscous, orzo, or rice pilaf—you can even slice it and stuff into pita bread for an amazing gyro.
This recipe doesn't use just the breasts—here's how you can master cooking the whole bird. Start with this super simple recipe using just onion, lemon, garlic, butter, thyme, rosemary, salt, and pepper. Whip it up for Sunday dinner and incorporate the leftovers in endless ways throughout the week: Chicken salad sandwich, chicken and rice, chicken enchiladas—you name it!
Juicy dark meat recipes
Let's be real, chicken thighs and drumsticks are everything. Try a few creative ways to cook them up, below.
Here's a fancy recipe to hold onto for Sunday supper. A tangy orange marinade with fennel seeds and sumac turns leg quarters into a real showstopper. Douse with a glaze of orange juice, red wine vinegar, raw honey, and star anise and it's literally golden.
Chicken pairs beautifully with the savory, sweet, tangy, and umami notes that are staples of Asian comfort food. Just combine all the marinade ingredients in a blender, pour it on, and let sit for at least 12 hours. Once you're ready to cook, bake the thighs in the oven for 40 minutes, and you've got the perfect browned, tender dish. Yum.
With a slow-cooker, making melt-in-your-mouth meats couldn't be easier. Here, lemongrass and coconut create a Thai-inspired taste, and five-spice powder adds an element of Chinese cuisine, making this a tantalizing all-star Asian dish.
So simple yet insanely flavorful. Sage, garlic, and chile really amp up drumsticks for a fail-safe main dish. To keep it light and low-carb, serve with steamed green beans or wilted spinach.
Bacon and chicken thighs together? Talk about juicy, fatty goodness. And, there's fruit too! Bartlett pears, to be exact. Cheese lovers can even add brie for more decadence. With just two spices—nutmeg and cinnamon (plus some sea salt)—the recipe is as simple as could be. See the video above for how to get started.
So, what's for dinner? Not beef—chicken is where it's at! With these 25 recipes, your family will never get sick of it.