In search of a wholesome way to sweeten their beloved baking mixes and granolas, natural food company Purely Elizabeth traveled to Indonesia, a collection of more than 17,000 islands between the Pacific and Indian Oceans. Not only is the world's largest archipelago home to lush rainforests, volcanic beaches, and vivid turquoise waters; it also produces nearly 3 million tons of coconuts a year.
The brand discovered a woman-owned enterprise in Indonesia's Kulon Progo regency that's supporting the local community and preserving the earth. Read on to learn more about how Purely Elizabeth's partnership with this female-owned organization is helping to sweeten the deal for Indonesian women.
What is Coconut Sugar?
First, let's get one thing straight: Coconut sugar doesn't actually come from the coconut itself; it comes from the coconut palm. The sap of the tree is harvested, boiled, dried, and crystallized. Due to its minimally processed nature, coconut sugar is popular among the health conscious, including those who follow plant-based and paleo diets. Though its calorie count is similar to that of cane sugar, coconut sugar retains small amounts of the nutrients found in the coconut tree like iron, zinc, and potassium. Another reason for coconut sugar's popularity with the wellness crowd is its relatively low glycemic index, which may help prevent blood sugar spikes.
A Vision Becomes Reality
In 2009, 23-year-old Lastiana Yuliandari was studying to be a teacher when she had what would turn out to be a life-defining realization: coconut sugar was gaining popularity as a healthy alternative sweetener, and her home country of Indonesia (already a top producer of coconuts) was uniquely poised to take advantage. At the time, no other country was producing organic coconut sugar. This was a clear opportunity—not just for business, but to make a genuine difference in the local community.
In the Kolap district of Indonesia's Yogyakarta Special Region, many residents are dependent on agriculture for their livelihoods, yet the typical farmer has less than one acre on which to farm and support his or her family. Women (and especially single, female heads of household) face a particularly difficult situation; while they make up a disproportionately large segment of the region's most economically vulnerable population, they aren't well represented in the male-dominated agriculture sector. They are also subject to gender-based discrimination that effectively blocks them from opportunities for economic development. The result is that one of the most viable means for generating a livelihood in the area, agriculture, is out of reach for many local women who need it most.
Yuliandari had a vision for a social enterprise that would take advantage of one of Indonesia's prized natural resources while uplifting local farmers—especially women, but also other marginalized groups, such as people with disabilities—by promoting sustainable and inclusive economic growth, and doing it all in an environmentally conscious way. She initially established her company, Aliet Green, in a trading capacity, purchasing organic coconut sugar from local smallholder farmers through fair-trade agreements. Within a few years, Aliet Green had reached a significant milestone as the first operation in the world to pioneer organic and Fair Trade Certified coconut sugar. In 2013, the organization shifted from trading into production, purchasing over 11,000 square meters of land (about three acres) and beginning to develop a world-class processing facility.
Over the last decade, Aliet Green has grown into an award-winning woman-owned business lauded for its superior products and ethical labor practices, and continues to generate a positive impact all along the supply chain. Today, the processing facility employs 120 people—80 of whom are women—providing them with well-paying jobs that allow them to support their families and investing in their careers and personal development. Aliet Green also trains local women to be "Green Warriors," or members of the organization's extension staff, who work with farmers in the region to ensure they are complying with necessary standards for organic agriculture. The operation's growth has sustainably increased smallholder farmers' productivity and incomes, offering them market access they otherwise would have lacked.
Coconut Farming Done Right
As the coconut's superfood status has grown throughout the western world, many farmers in coconut-producing countries have come to rely on monoculture farming to keep up with the increasing demand. This practice of planting a single crop in large quantities degrades soil health over time, forcing farmers to use chemical fertilizers to boost output at the expense of existing ecosystems.
Promoting sustainable agriculture has been part of Aliet Green's mission since the beginning. The organization uses methods that prioritize soil heath, clean water, and biodiversity. Thanks to Aliet Green's extensive experience in providing finance, training, and other essential services to farmers, as well as its relationships with local authorities, it's able to have a widespread positive effect on the environment by promoting organic farming principles.
How Purely Elizabeth Found the Perfect Alternative Sweetener
Purely Elizabeth believes in the healing power of food. That philosophy is evident in its wholesome granolas, pancake mixes, and other healthy products, which are all made with organic, non-GMO ingredients and nutrient-rich superfoods. Founder Elizabeth Stein says the brand sweetens its products with coconut sugar because it's unrefined, low on the glycemic index, and offers vitamins and minerals that refined white sugar doesn't.
In the case of coconut sugar from Aliet Green, the benefits extend beyond its nutritional profile. Purely Elizabeth's partnership with the organization enables them to support sustainable farming and ethical labor practices, while having a direct, positive impact on the livelihoods of Indonesian women. "Supporting female-owned businesses is incredibly important to me," Stein says. "When we are able to lift each other up, everyone benefits." As a female founder herself, Stein shares that finding a female-owned and -operated business from which to source one of Purely Elizabeth's key ingredients felt significant.
"By supporting women-owned businesses, I feel we are encouraging other women to follow their passion," Stein adds. "We're helping to increase the economic stability of families and communities, and paving the path forward for opportunities for women."
Get a Taste of Sustainable Sweetness
Make mornings healthier and tastier with these nutritious breakfast options from Purely Elizabeth—all sweetened with organic and Fair Trade Certified coconut sugar from Aliet Green in Indonesia.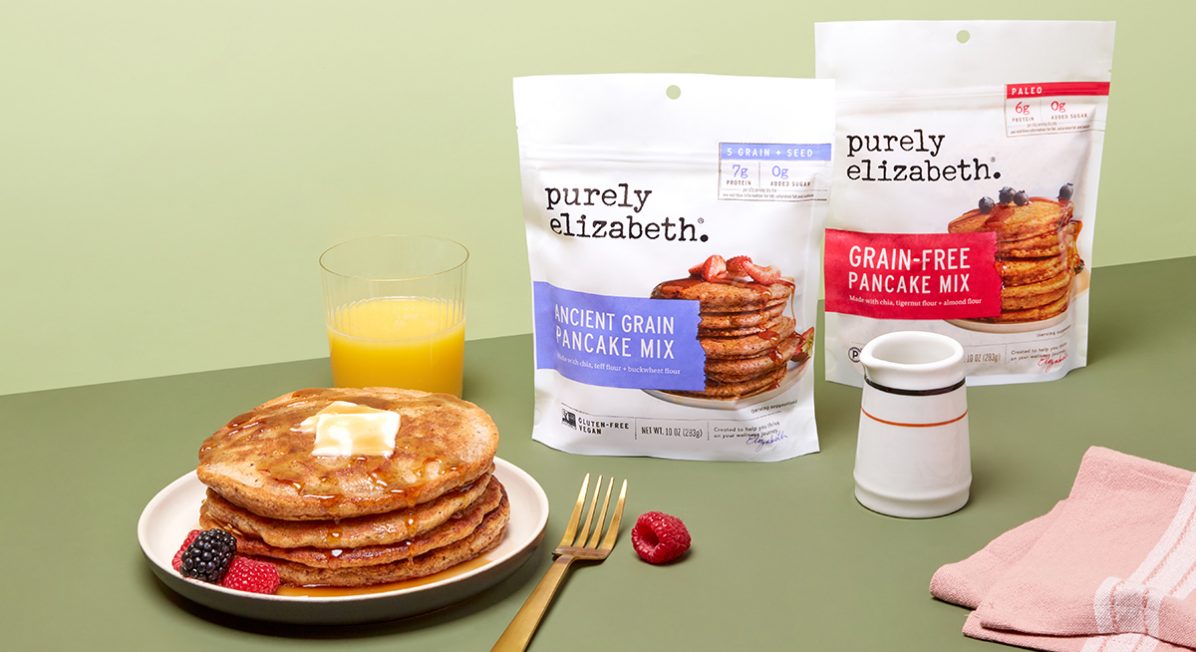 Purely Elizabeth Grain-Free Pancake Mix
Whip up a diner-worthy paleo stack with this grain-free pancake mix. Chia seeds, tigernut flour, and almond flour lend fluffy texture and extra nutrients.
Purely Elizabeth Ancient Grain Pancake Mix
For an even heartier pancake, try this vegan and gluten-free pancake mix powered by buckwheat and teff flours, which provide a dose of fiber to support digestion.
Purely Elizabeth Superfood Oats Cup
For breakfast in a hurry, just add water or milk to one of these Superfood Oats Cups, made with quinoa, hemp, and chia seeds for 9g of plant protein and only 2g of sugar.
Purely Elizabeth Grain-Free Collagen Protein Bread and Muffin Mix
Turn your next loaf of banana bread or batch of blueberry muffins into a superfood snack with this nutritious shortcut. Premium grass-fed collagen provides protein to support and nourish hair, skin, and nails.