With cooler temps in the forecast it's time to get cozy—especially in the kitchen. We're putting warming foods, from soups to salads, and yes, even gingerbread pancakes, on the menu this season. Brew yourself a cup of tea and get ready to bookmark some new favorite recipes to enjoy all winter long.
Which Fruits and Vegetables Are in Season in Winter?
Before planning your menu, let's go over which fruits and vegetables are making an appearance.
Potatoes: Typically available year-round, potatoes peak in winter, especially in December and January. When choosing your spuds, look for varieties without any bruises or sprouts growing out of them.
Cauliflower: Cauliflower is extra versatile. From simply roasting florets to turning them into a mash or a silky soup, there's a lot you can do with this sturdy winter veg.
Broccoli: Another cruciferous vegetable, broccoli can grow year-round but it tastes best (aka more sweet and less bitter) when harvested in the fall and winter.
Kale: The healthiest leaves are large, perky, and a rich, dark green. To enjoy kale raw, tear the leaves, then massage them in a large bowl with olive oil to tenderize. It's the easiest salad ever!
Fennel: Fennel is part of the carrot family and native to the Mediterranean (it's quite popular in Italy). Similar to celery, the entire plant is edible, from the bulb to the frilly stems that resemble Queen Anne's lace. Thinly slice it and enjoy raw or braise it—the sky's the limit.
Beets: Whether you prefer golden or red, beets are ready for cooking this season. They have an unmistakable earthy flavor that pairs beautifully with acid like lemon or apple cider vinegar. Roasted, grated into a slaw, or steamed for creamy soup, there are plenty of ways to enjoy this winter veg.
Tangerines: Oranges and lemons aren't the only citrus fruits offered this time of year. Tangerines were first grown in Florida in the 1800s, and were given their moniker because they were originally imported from the Moroccan city of Tangier. You can snack on them, add segments to salads, and even use the juice in salad dressings.
29 Winter Recipes
With almost 30 recipes to choose from, where do you start? We recommend beginning with the first meal of the day and working your way to dessert. From gingerbread pancakes to one-pot pastas, this list has your winter meals covered.
Delicious Winter Breakfast Ideas
On a cold morning, hot breakfasts are just the ticket to starting the day off right. Here are some of our favorite recipes for the occasion.
This gluten-free shortstack is winter ready thanks to gingerbread flavors like ginger, clove, and nutmeg. To make breakfast extra easy, whisk the dry ingredients the night before so there's less to do once you head to the kitchen.
With simple ingredients and aromatic spices (ginger, nutmeg, and cinnamon), your breakfast is transformed from boring to down right transcendent. A boost of collagen powder will help nourish your body while you nosh.
Rice, meet spice. Turmeric makes this bowl extra vibrant, while tender kale and a sunny-side-up egg add the wholesome factor you need in the morning.
Get your cast-iron skillet ready for these eggs gently poached in tomato sauce. With notes of cumin, red pepper, and coriander seed, it's a very Moroccan way to begin the day. Don't forget the salty feta crumbled on top!
Easy Winter Lunch Recipes
Plan your midday fuel with the season in mind. We're talking soups, slaw, noodle bowls, polenta, and more.
The camu berry comes from the Amazon and is a rich source of vitamin C, so it's a great addition to any superfood cupboard. We sprinkled it into a pot with beets, ginger, garlic, and silky coconut milk for a comforting bowl of soup.
This might be the ultimate winter salad. Crunchy Brussels sprouts and gorgeous purple radicchio are tossed with a tangy apple dressing. Add cooked quinoa or a fried egg to make it even more hearty.
Tofu rides the cozy train with this steamy bowl of savory soba noodles topped with citrus-infused, cayenne-spiked tofu that'll keep you satisfied through the afternoon slump.
All hail the kale salad. This colorful bowl will brighten your day with golden sweet potatoes, ruby cranberries, crunchy pumpkin seeds, and a creamy tahini dressing to finish it off.
Here's a creamy tomato soup, no dairy required! It swaps in chickpeas instead of heavy cream, and we bet you already have most of the ingredients in the pantry.
Tagliatelle, oven-roasted cauliflower, and garlicky, pine nut sauce—what's not to love? We can't help but warm up to this meatless main.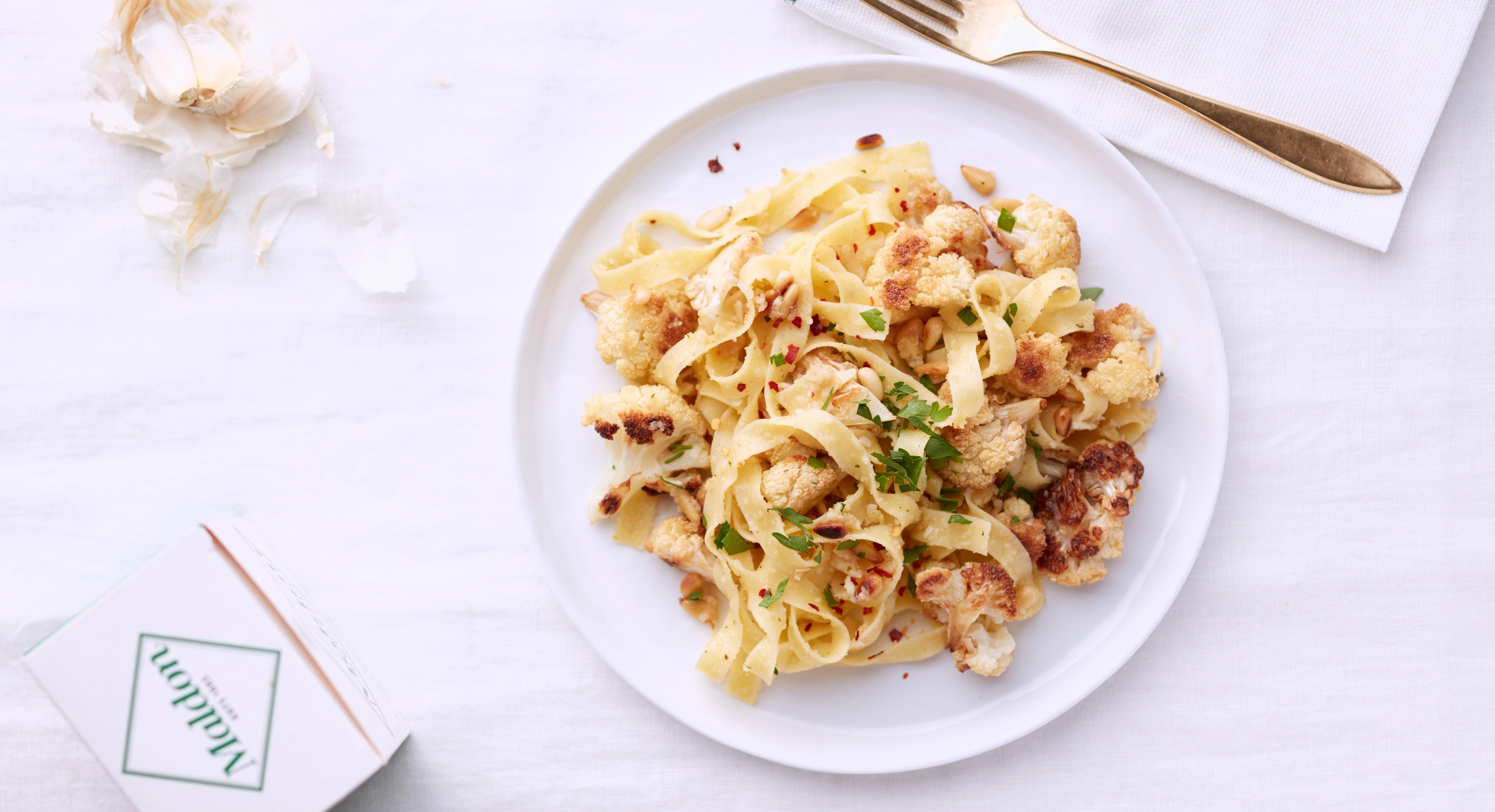 Polenta—also known as Italian corn porridge—tastes extra special when you stir in salty Parmesan and top it with stewed tomatoes and kale. You're welcome.
Healthy Winter Dinners
Here's our go-to list of winter dinners the whole family will love.
In our quest to modernize classic recipes, we've turned to meatloaf. This Whole30 dinner mixes ground beef with mushrooms, parsley, and chili flakes for an added kick. Serve it with cauliflower rice for the ultimate comfort food.
When you're feeling the chill, warm up with a big pot of white chicken chili. The best part? It's Whole30-approved so you can keep your month on track!
Make room in your Instant Pot for these keto-friendly ribs that nix brown sugar in the dry rub and use garlic powder, onion powder, paprika, and a Swerve sugar replacement instead.
Wild about soup season? You'll love this recipe with pumpkin, curry powder, and rich coconut milk. Plus, a scoop of reishi mushroom powder makes this a plant-powered feast.
Sage butter? Yes, please! Pork takes center stage in this perfect winter dinner that bastes a sage and garlic sauce over the top of your chop. Serve it with green veggies, mashed potatoes, or a grain salad alongside.
Sunday supper called, and it wants a big bowl of spaghetti and meatballs. We use a combo of beef and pork, then mix it up with garlic, Parmesan, and parsley for freshness.
Putting your sheet pan to work keeps weeknight cooking quick and easy. Chicken and potatoes get doused in olive oil and lemon before being roasted in the oven. Dinner's done!
This meal is slow-simmered to perfection with tender chicken thighs and a blend of spices like turmeric, cinnamon, and cumin. Lemon and green olives add a bright, acidic punch.
Change into your cozy pants and head to the kitchen for this kale and mushroom pasta that cooks up in one pot.
Upgrade eggplant to main dish status with a blend of warming spices, including smoky paprika, vibrant turmeric, cardamom, and coriander. Coconut milk makes every bite creamy and delicious. Serve over rice or quinoa.
Chicken dinner for the win! This spicy version heats things up with North African harissa and plenty of garlic cloves.
Pie for dinner? We're all about it, especially this chicken and pesto version. The filling is a little unexpected but it totally works.
Goodbye, winter blues. Hello, pot roast. This slow cooker recipes makes a melt-in-your mouth dish infused with grass-fed bone broth.
The Best Winter Dessert Recipes
Did you save room for dessert? We sure did. Indulge your sweet tooth with some of the best winter-inspired treats.
Skip the Christmas cookies and try orange-cardamom madeleines. They're shaped like seashells and doused in a sticky orange glaze for added flavor.
A donut sounds indulgent, but it's not as bad as you think, especially with a gluten-free and vegan batter that's stirred up with sweet applesauce and a scoop of protein powder.
A true crowd-pleaser, you'll adore these apples tossed in maple syrup and coconut sugar. This dessert is topped with a gluten-free cranberry granola to make it even easier to throw together, even on a busy weeknight.
An aromatic blend of ground ginger, cinnamon, allspice, cloves, and black pepper make this gluten-free cake truly delectable. And if you sneak a few bites for breakfast the next morning, we won't tell!
Whether it's for afternoon tea or a post-dinner slice, this light and airy cake blends the delicate sweetness of pear with savory tahini for a perfectly balanced bite.