Cathy Erway knows her chicken—so much so that the cookbook author and James Beard Award-winning food writer has an entire book and column dedicated to it. "It's such a universal protein…we can explore so many traditions around the world through a shared love of chicken," she explains. "It also carries the association of being soul-soothing in many cultures."
Erway's food writing and recipes (which fill three books, including the memoir "The Art of Eating In" and the cookbooks "Sheet Pan Chicken" and "The Food of Taiwan") often explore the cultural traditions and context associated with different ingredients and dishes. She credits her culinary curiosity to her family; her mother, who is Taiwanese, met her father, from upstate New York, when he was working in Taipei. "I think that gave me a strong background in Chinese and Taiwanese foodways from an early age," she says. "I've always been a pretty adventurous eater, too. I love cooking new cuisines and trying everything."
Food Media's Culture Clash
In 2020, a number of landmark food publications were grappling publicly with their racial biases. Erway took on the subject for "Grub Street," writing about the ways racism shows up in mainstream food media — and what is lost when culturally significant dishes are reduced and repackaged for a primarily white audience (such as so-called "weeknight" versions of traditional Asian dishes). "These types of insidious cues…marginalize foods that don't fit into a Western, white-centered worldview," she writes. "Taken together, they create the impression that non-European recipes need to be sanitized or policed if they are to be included at all."
Even in the short time since then, Erway says, there's been some evidence of improvement: more diverse staffing in food media, for one thing, and broader representation for international cuisines and ingredients. Erway herself wrote about fu ru (fermented tofu cubes that are a Chinese pantry staple) for "Food & Wine" in 2021. "I'm not sure I would have gotten to write [that story] before 2020," she reflects.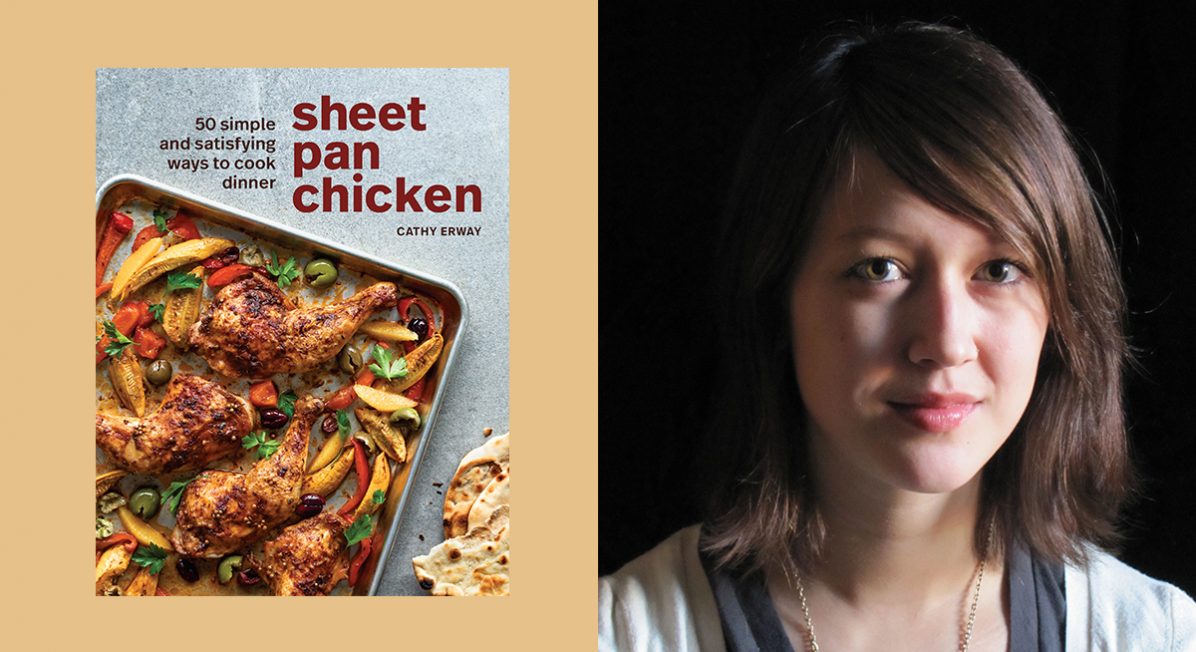 That improved inclusivity may be slowly extending to the grocery store shelf too, with brands like Fly By Jing, Mother In Law's, and Sanzo gaining popularity. "Remember, these are folks going against a hugely consolidated industry of giants like PepsiCo," Erway remarks. "Being an entrepreneur in the packaged food world is so hard that you have to be doing it with a passion and sense of purpose…a lot of the time, that passion is tied to a strong sense of identity and pride in their cultural offerings." She calls out achaars from Brooklyn Delhi, chutney from Maazah, and spices from Moji Masala as a few personal favorites.
So what else does a seasoned cookbook author and food writer stock in her pantry? For Erway, it's things like multiple kinds of rice ("jasmine rice for everyday purposes, sweet rice for making sticky rice or congee, and brown rice if I want to be extra healthy"), pasta, frozen peas, bacon, eggs, and of course, homemade chicken stock.
Chicken Satay Lettuce Wraps Recipe with Peanut Sauce and Quick Pickles
In her book "Sheet Pan Chicken," Erway describes this satay recipe as a dish with Indonesian roots that has since been adopted and riffed on across Southeast Asia. Crisp lettuce wraps and a simple swap of tamari for soy sauce keep it grain- and gluten-free, but Erway also suggests serving it with rice, noodles, or flatbread.
Yield: 4 servings
Ingredients
1 teaspoon coriander seeds
1⁄2 teaspoon cumin seeds
1 1⁄2 pounds boneless, skinless chicken thighs or breasts, cut into 1-inch cubes
1 small garlic clove, grated
1 tablespoon soy sauce or tamari
1 teaspoon sugar
1⁄2 teaspoon salt
1⁄2 teaspoon ground turmeric
2 tablespoons vegetable oil or coconut oil
For the peanut sauce:
1⁄4 cup finely chopped onion or shallots
1 garlic clove, minced
1⁄4 cup peanut butter
1⁄4 cup water
1 tablespoon fresh lime juice
1 teaspoon fish sauce
1 tablespoon sambal oelek (Indonesian chile paste) or sriracha (optional)
1 tablespoon sugar
1⁄4 teaspoon salt
1⁄4 cup roasted peanuts, chopped (optional)
1 small head Bibb, Boston, or Little Gem lettuce, or 1⁄2 head iceberg lettuce, leaves separated
1 recipe Quick-Pickled Carrot, Onion, and Radishes (recipe below)
1⁄4 cup fresh cilantro leaves (optional)
Instructions
Preheat the broiler.
Toast the coriander and cumin seeds in a small dry pan over high heat, shaking frequently, for 1 to 2 minutes, until fragrant. Immediately transfer them to a spice grinder and pulse for a few seconds, until the spices are well ground.
Combine the chicken, ground coriander and cumin, garlic, soy sauce, sugar, salt, turmeric, and vegetable oil in a large bowl and mix thoroughly. Thread the chicken onto four bamboo or metal skewers and place them in a single layer on a sheet pan.
Broil for about 5 minutes, until the edges are crisp and browning, then carefully flip the skewers using tongs and broil for another 5 minutes, until browned and crispy.
Meanwhile, make the sauce: Combine the onion, garlic, peanut butter, water, lime juice, fish sauce, sambal, sugar, salt, and peanuts (if using) in a medium bowl and mix well.
Serve the satay skewers with the lettuce, pickles, cilantro (if using) and peanut sauce on the side, so diners can make their own wraps.
Quick-Pickled Carrot, Onion, and Radishes
Yield: About 2 cups
Ingredients
1 medium red onion, thinly sliced
1 medium carrot, thinly sliced
2 or 3 radishes, thinly sliced
1 cup rice vinegar
1⁄2 cup water
1⁄2 cup sugar
1 teaspoon whole black peppercorns
1 bay leaf
1⁄2 to 1 teaspoon red chile flakes (optional)
Instructions
Place the onion, carrot, and radishes in a small heatproof bowl.
In a small saucepan, combine the vinegar, water, sugar, peppercorns, bay leaf, and chile flakes (if using) and bring just to a boil over medium high heat, stirring to dissolve the sugar.
Pour the brine over the sliced vegetables to submerge them. Let the vegetables cool completely before serving. They can be refrigerated for up to 1 month.
Reprinted from "Sheet Pan Chicken: 50 Simple and Satisfying Ways to Cook Dinner" Copyright © 2020 by Cathy Erway.
Photographs copyright © 2020 by Lizzie Munro.
Published by Ten Speed Press, an imprint of Random House.