It's pizza party time at Thrive HQ! Keto expert Thomas DeLauer stopped by the test kitchen to make keto cauliflower pizza with Prep School Host Megan Mitchell. Instead of a traditional crust, riced cauliflower stands in for flour, making a crisp base for all your favorite additions. Once you master the crust recipe, the sky's the limit when it comes to toppings. We share our favorite ideas below, but feel free to mix and match your keto-friendly favorites for the ultimate pizza night experience. If you'd like to plan ahead, you can also make the crust in advance and freeze it for later.
Keto Cauliflower Pizza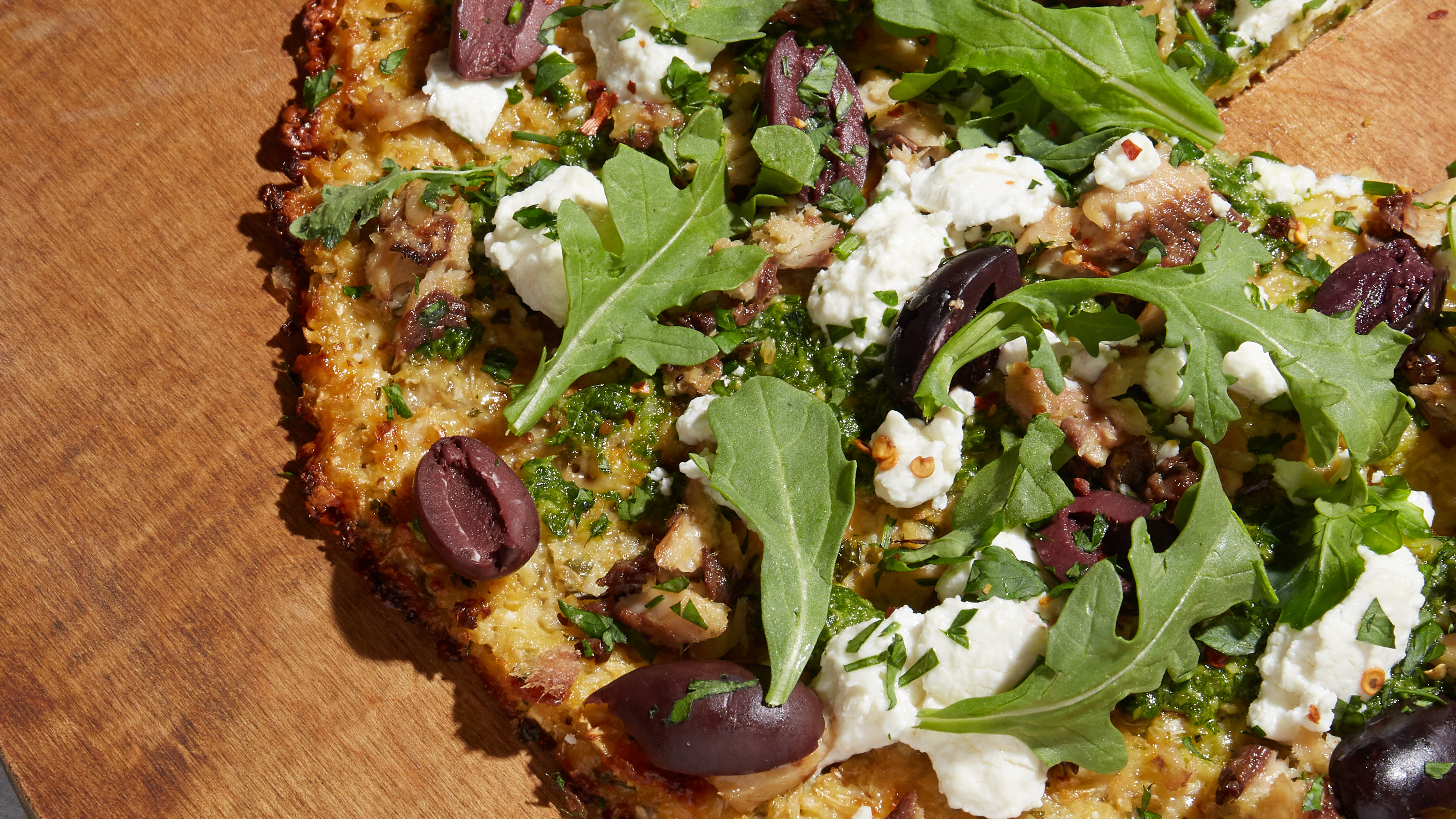 Yield: 1 pizza
Active time: 5 minutes
Total time:
Ingredients
For the crust:
4 cups riced cauliflower
Thrive Market Organic Extra Virgin Olive Oil, for drizzling
Sea salt
Thrive Market Organic Ground Pepper
1 egg
1 cup shredded mozzarella cheese
¼ cup grated Parmesan cheese
1 teaspoon Thrive Market Organic Oregano
1 teaspoon Thrive Market Organic Parsley
½ teaspoon Thrive Market Organic Garlic Powder
Topping ideas:
Thrive Market Non-GMO Sardines In Extra Virgin Olive Oil, drained
Anchovies, drained
Cooked turkey sausage, crumbled
Fresh herbs such as basil, thyme, oregano, or parsley
Thinly sliced red and yellow bell peppers
Baby spinach
Fresh peas
Heirloom carrots
Cherry tomatoes
Thrive Market Organic Kalamata Olives, Pitted
Pesto
Pizza sauce
Shredded mozzarella cheese
Goat cheese, crumbled
Feta, crumbled
Thrive Market Organic Crushed Red Pepper
Instructions
Preheat oven to 400°F. Place riced cauliflower on a large sheet tray; drizzle with olive oil and sprinkle with a large pinch each of salt and pepper; toss. Spread cauliflower in an even layer and roast for 10 minutes. Flip cauliflower with a spatula, then roast 10 minutes more; let cool.
Add cooled cauliflower to a medium bowl along with remaining crust ingredients, including a pinch each of salt and pepper; mix.
Line the same baking sheet you used for the cauliflower with a silicone baking mat. Pour cauliflower mixture onto mat and flatten to a 10-inch round. Bake 15 minutes, or until the top is golden and edges are crisp. Let cool several minutes, then use a flexible spatula to loosen the crust from the mat; carefully flip it over so the bottom is face up. Bake for 10 minutes more, or until crisp. Add your favorite toppings and bake 5 minutes more, or until cheese has melted.
Recipe by Megan Mitchell
For more, check out our ultimate guide to the keto diet!