Our free-range birds are raised on a network of family-owned farms in rural Virginia, where the take pride in raising healthy, happy animals. The chickens are no stranger to exercise and spend most of their lives outdoors to peck, climb, and flap freely the way nature intended. One of our favorite aspects of this collective is how farmers share best practices and standards, and support new farmers who are making the transition to organic and free-range models. It can be a daunting and economically risky change for farmers who've been working with "big chicken" for years—sometimes generations—and we're proud our Thrive Market Free-Range Chicken is helping support this change.

Here are some of the highlights of our poultry program:
Certified organic
Free-range
Certified gluten-free
Sourced from a collective of family farmers in rural Virginia
Program Standards
Supporting Family Farms to Go Organic
Transitioning to organic farming practices sounds like a good idea, right? Unfortunately, it's easier said than done. Factory farming is known for fostering unhealthy and abusive environments, and the poultry industry is one of the worst offenders.
Civil Eats reports that in contract farming, a chicken company owns the flocks, hatcheries, feed mills, and processing plants, and while farmers are paid to farm the birds, they're also required to take out loans to purchase equipment, upgrade buildings, or anything else the company requires. Today, 97 percent of the 160 million chickens Americans consume in a week are produced this way. Contract farming might drive down the price of chickens for the average shopper, but it leaves farmers powerless and constantly at risk of contracts being cancelled.
One of our favorite aspects of this collective is how farmers share best practices and standards, and support new farmers who are making the transition to organic and free-range models.
When we set out to bring poultry into the fold, it was important for us to be part of the solution and empower former contract farmers to transition to supporting themselves. Our partners buy feed collectively, so it's more affordable, and help each other through the process of converting to free-range and organic standards. Doing so allows them to receive a higher price per bird, but also raise the animals humanely and ethically.
We also joined the nationwide movement to improve the lives of chickens by committing to reach the requirements laid out in the Better Chicken Commitment. As such, by 2024, we aim to require 100% of our Thrive Market branded chicken to be GAP-certified and processed using multi-step CAS processing, which is widely considered more humane.*
---
Recipes
Say goodbye to bland chicken breasts, because these recipes really bring the flavor. From Tex-Mex spices to pungent mustard, these birds are ready for their closeup.
All it takes to spice up fajita night is a simple marinade using our organic blend of spices like chili powder, garlic powder, cumin, cayenne, and paprika. Grill your limes for a surprisingly smoky squeeze of acid that's the perfect finishing touch.
Toss your takeout menus and whip up a favorite Indian recipe at home! The deep, bold flavor of a tomato-based sauce stirred with garlic, ginger, and fenugreek seeds is the perfect pairing for tender chicken thighs and wholesome cauliflower. This is weeknight cooking at its best.
Whole-grain mustard is a popular sandwich condiment, but it'll take your roasted chicken to the next level. Slathered on chicken thighs with fresh herbs and olive oil, it's an easy meal that's ready in 30 minutes.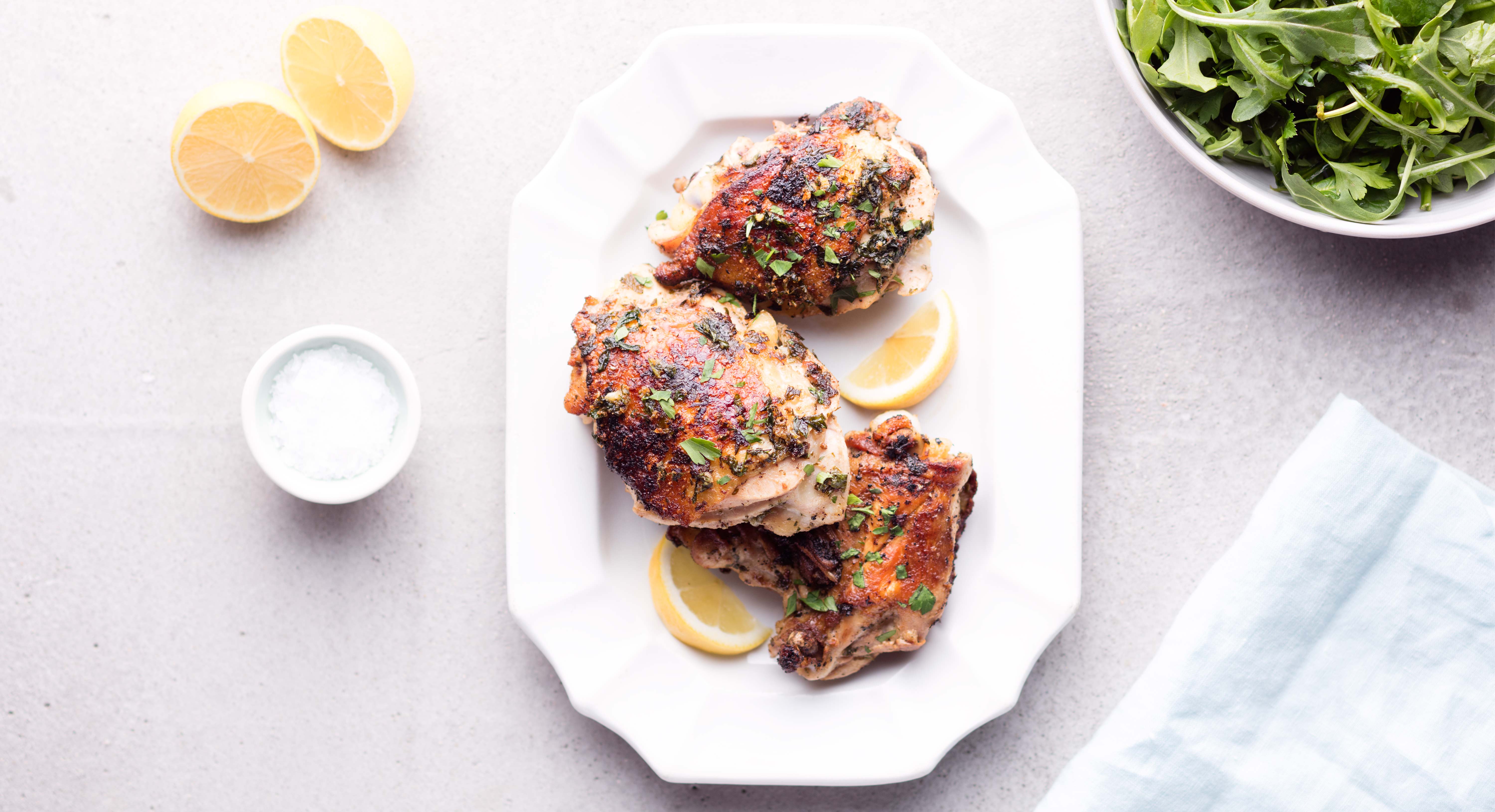 Need an idea for that cut-up chicken? Jazz up Sunday supper with a savory orange marinade that seals in juices for an extra-tender bite.
Flock on over to the kitchen! Our new Meat and Seafood program offers some of the most exceptional cuts around, and helps support the kind of sustainable and accessible food future we're constantly striving for. Read our blog for the rest of the stories: Pasture-Raised Pork, 100% Grass-Fed Beef, and Sustainable Seafood.
*This policy applies ­to Thrive Market branded frozen chicken items. This policy does not apply to packaged combination food products (such as soups, sandwiches, pizzas, burritos, and similar processed and prepared food products that are comprised of more than chicken meat with seasoning, curing agents, coloring, flavoring, preservatives, and/or similar meat additives).