Deep in rural Georgia, we found a family farm to help us set the Thrive Market quality standard for pork. White Oak Pastures, our primary partner, has an inspiring story that spans from the farm's founding in 1866 to today. During this time, the Harris family was temporarily convinced by industrial agriculture go along with conventional practices in order to maximize yield, but in 1995, the farm came full circle and returned to raising animals in the most natural way possible.
Our pork is part of a carefully planned grazing system where multiple species are rotated around the farm's land according to what's best for the animals and the soil.
Our pork is part of a carefully planned grazing system where multiple species are rotated around the farm's land according to what's best for the animals and the soil. The hogs are Step 4 in the Global Animal Partnership and Certified Humane, instead of living in mud or being confined to pens, the animals spend their days foraging the forest and pasture floor feasting on acorns, nuts, and grass.
Here are some of the highlights of our pork program:
Pasture raised from a family-owned farm in rural Georgia
Animals are outdoors 365 days a year, with plenty of room to forage
Part of a multi-species rotational grazing system
Program Standards
Rotational grazing
Journalist and author Michael Pollan wrote that "the single greatest lesson the garden teaches is that our relationship to the planet need not be zero-sum." Our pork producers take this to heart, incorporating practices that are better for both the pigs and the planet, like actively working to regenerate soil. Rotational grazing moves multiple species of livestock through pasture land on a regular basis, which encourages the overall health of the farmland, plus, animals naturally aerate, fertilize, and prep the soil for regrowth. Because this practice increases forage quality, it has a ripple effect on the land, increasing carbon sequestration in the soil and helping counter global warming by offsetting carbon emissions released through burning fossil fuels, land-clearing, and deforestation.
---
Recipes
Whether you choose bone-in chops marbled to perfection or lean ground pork, dinner is sure to satisfy. Here are some of the best recipes to elevate this flavorful protein.
The preparation might be simple, but there's nothing basic about a perfectly cooked pork chop dipped into Spanish-inspired walnut and red pepper sauce. This elegant dinner is ready in less than an hour, too.
If you haven't tried the magical combo of aromatic fennel seeds and sweet maple syrup, you're missing out! They're the key ingredients in this savory breakfast sausage you can make your own with ground pork, spices, and coconut oil for frying.
Grab the napkins! You'll need 'em with for this down-and-dirty dish, but it's totally worth it. After slathering on a spicy dry rub, the ribs are baked low and slow until tender. And don't forget to coat the meat in barbecue sauce along the way, it'll help make every bite extra tender.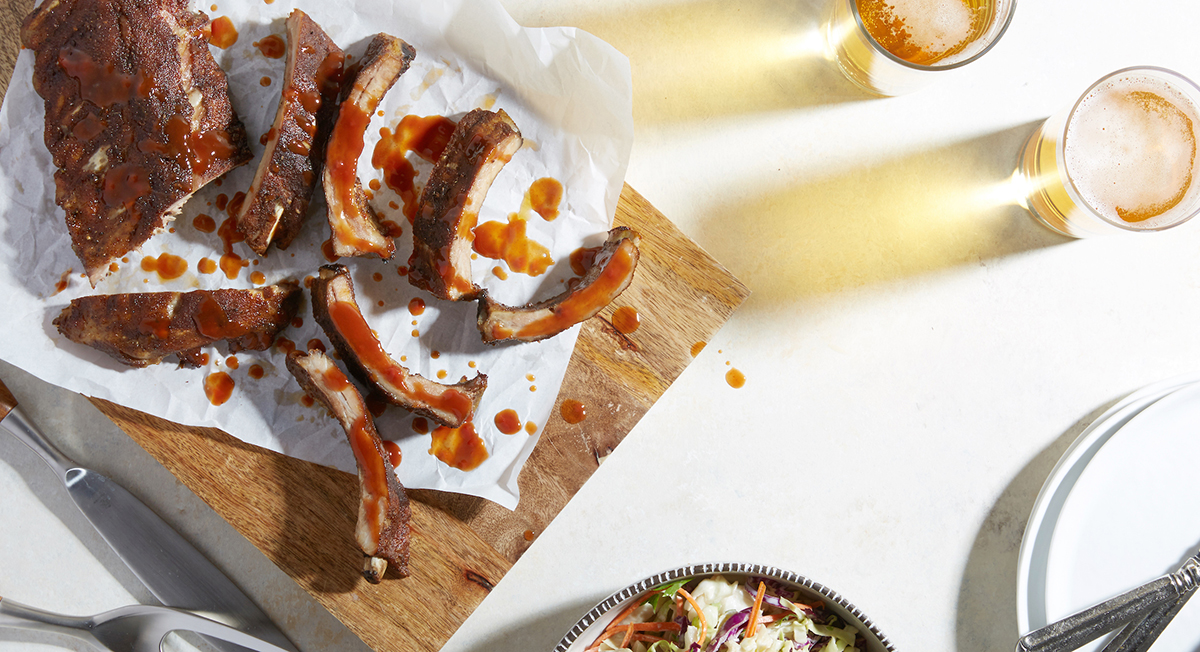 From the pasture to your plate, our new Meat and Seafood program offers some of the most exceptional cuts around, and helps support the kind of sustainable and accessible food future we're constantly striving for. Read our blog for the rest of the stories: 100% Grass-Fed Beef, Organic Chicken, and Sustainable Seafood.