Ever checked out the ingredients on a candy bar wrapper? Most of them look more typical of a science lab than a kitchen. Fortunately, there's a better way. In this episode of Prep School, Megan Mitchell simplifies a favorite Halloween treat, swapping in better quality ingredients like coconut butter, alternative sugars, coconut oil, and toasted almonds for a perfect crunch. Bonus: every bite is vegan, keto-friendly and gluten-free!
DIY Keto Almond Joy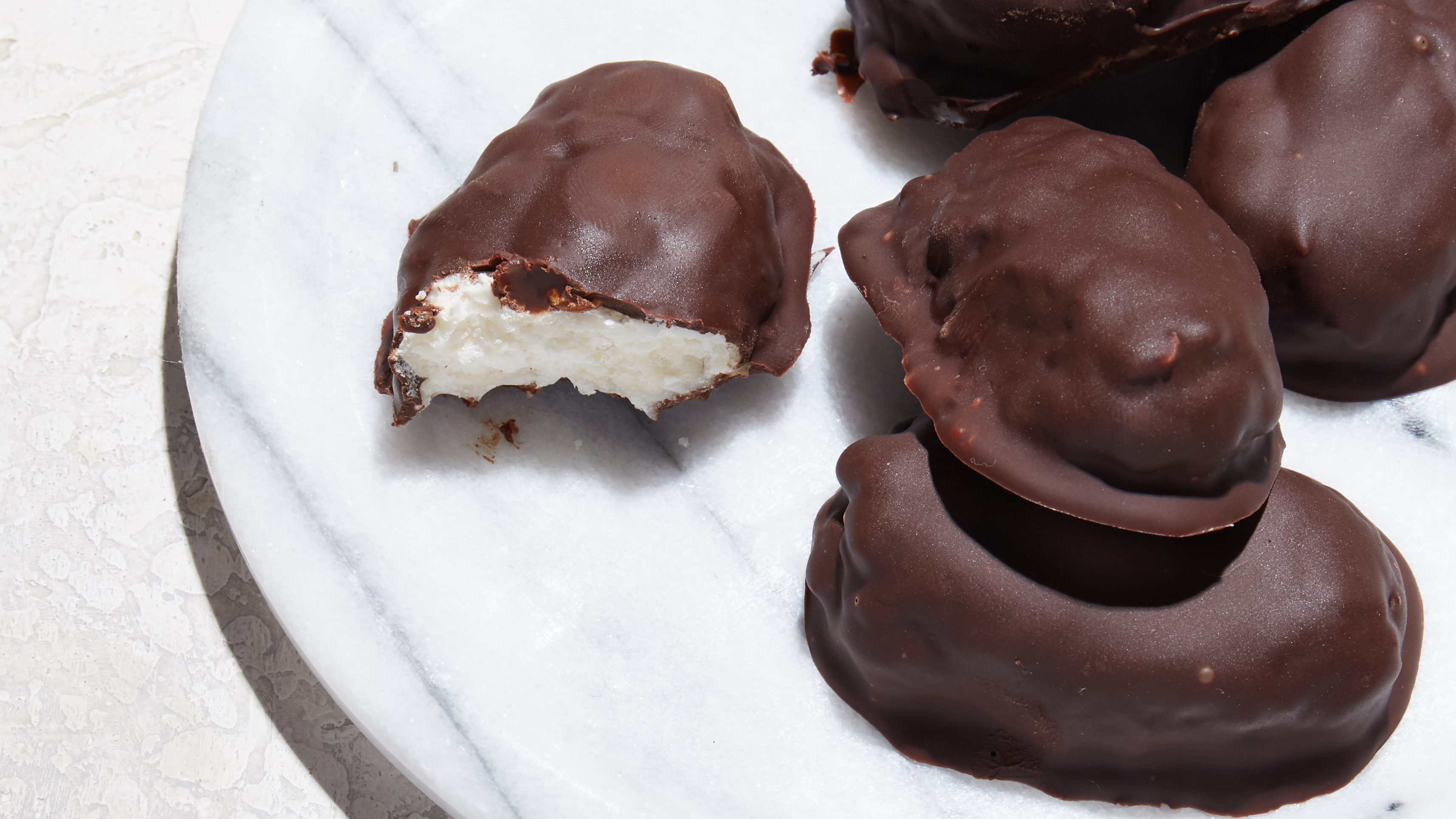 Yield: 9 bars
Active Time: 20 minutes
Total Time: 50 minutes
Ingredients
For the coconut base:
½ cup Thrive Market Organic Coconut Butter, softened
1 ½ cups Thrive Market Organic Coconut Chips
3 tablespoons Thrive Market Switch sugar replacement, plus more if needed
2 tablespoons Thrive Market Organic Virgin Coconut Oil, melted
½ teaspoon sea salt
9 Thrive Market Organic Raw Almonds, roasted
For the chocolate coating:
2 (4-ounce) Lily's Sweets Dark Chocolate Bar, Original, coarsely chopped
2 tablespoons Thrive Market Organic Virgin Coconut Oil
Instructions
Make the coconut base:
Add all ingredients except almonds to a food processor and pulse until combined, scraping down the sides as needed.
Line a sheet tray with parchment paper. Scoop 2 teaspoons of the coconut mixture next to each other onto prepared tray; form into a 2-inch log. Repeat with remaining mixture, until you have 9 logs. (If mixture it too loose, freeze sheet tray for a few minutes to cool; remove and reshape as needed.) Place 1 almond on top of each log, then refrigerate until firm, about 10 minutes.
Make the chocolate coating:
While the bars chill, warm chocolate and coconut oil in a small saucepan on low heat; stir until melted. Remove tray from refrigerator and spoon chocolate over each log to cover the tops. Refrigerate until chocolate has hardened, about 10 minutes. Gently remove bars from the tray and dip bottoms into remaining chocolate; place on the tray top-side down; refrigerate until hardened, about 10 minutes. Bring to room temperature before serving.
Recipe by Megan Mitchell
For more, check out our ultimate guide to the keto diet!