Ice cream cake, chocolate mousse, double-chocolate brownies—all things you can eat on a vegan diet.
The best thing about vegan sweets and treats is, with thoughtfully crafted recipes, they can actually be good for you. Omega-3s from flaxseed? Check. Antioxidants from cacao? Check. Healthy fat from avocado and coconut oil? Double-check.
We've rounded up some of the most decadent dessert recipes that are 100-percent vegan-friendly, and even bring some nutritional benefits to the table. They're so good, you won't even notice the dairy is missing.
Avocado Chocolate Mousse
In honor of National Chocolate Mousse Day, our good friend Nikki Sharp whipped up an amazing dairy-free version. The secret ingredient that creates the perfect creamy texture: avocado! Press play to see the recipe in action.
Ingredients
2 bananas
1 avocado
1 to 2 tablespoons cacao powder
1 tablespoon agave
1 teaspoon vanilla extract (optional)
Pinch of sea salt (optional)
For topping
Strawberries
Blueberries
Instructions
Process all ingredients in a food processor. Divide into four small bowls, top with berries, and serve.
For the sophisticated chocolate lover, here's a batch of truffles that highlight the richness of raw cacao and sweet spiciness of candied ginger. Orange zest, too! Trust us, they're way more stimulating to the palate than conventional candies made with refined sugar.
The flavor and texture resembles next-level cookie dough, except it's all toasted cashews and coconut—and totally gluten-free. Nutmeg and cardamom add a bit of warming spice that complements vanilla.
No need to miss out on ooey-gooey brownies just because you don't eat eggs or dairy. Here ground flaxseeds and water act as a binder, while sweetness comes from Medjool dates. And because they're chock full of cashews, walnuts, and pecans, they're much more nutritious than brownies made from a box.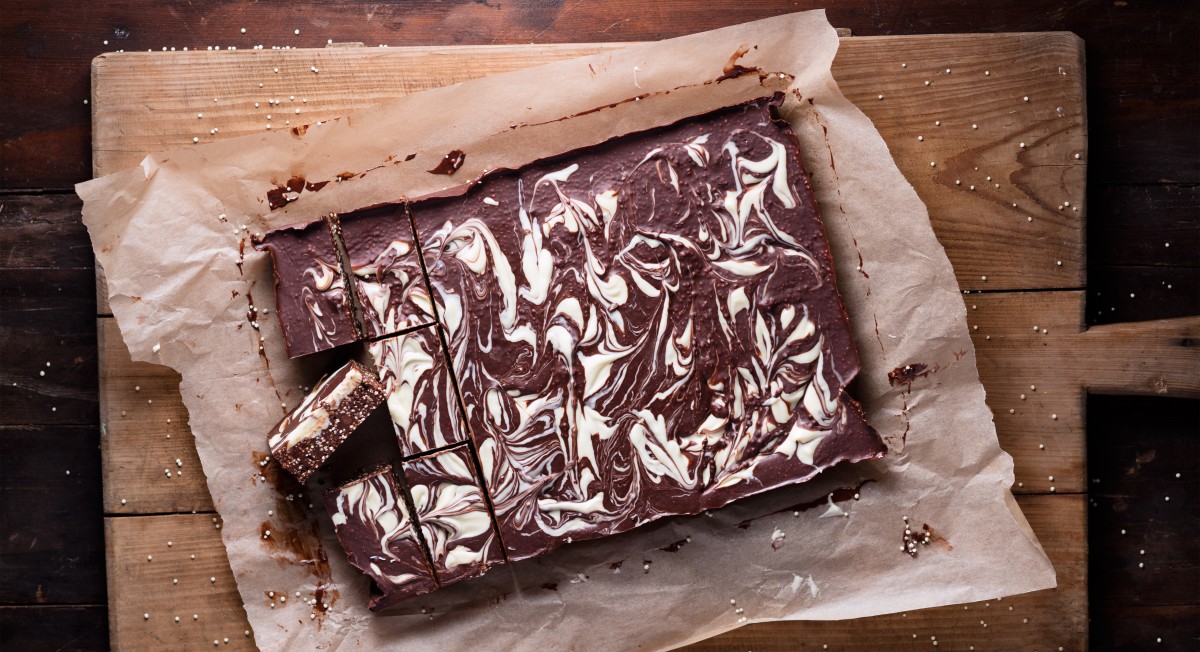 Craving crunch bars? Popped quinoa can take you there. The protein from quinoa plus antioxidants from dark chocolate makes this candy bar–like treat practically a health food—one that tastes really, really good. Look for vegan white chocolate to round out the three-ingredient recipe, or if you prefer, you can skip it.
Yup, ice cream cake can be totally vegan. The secret: coconut milk and coconut cream. Here matcha powder lends an earthy green-tea flavor which pairs perfectly with a nutrient-dense crust made of raw almonds, coconut oil, and raw honey.
You can eat all the cookies with this healthified recipe made with almond flour and gluten-free oats, sweetened with maple syrup, and infused with cardamom. They're made for grown-ups, but kids love them, too.
Peanut butter–jelly time? We've got something even more exciting: almond butter and raspberry jam sandwiched between gluten-free crackers—and coated in chocolate! So simple, yet so delectable.
We're tempted to call this more of a shake than a smoothie. Seriously—it's the closest thing to a satisfying vegan chocolate milkshake.
An upgrade on the classic chocolate chip cookie, with hazelnut and almond flours to keep it gluten-free. Maple syrup, vanilla, and dark chocolate bring the not-too-sugary sweetness.
If you're craving a raw vegan sundae, this recipe is for you. As crazy as it sounds, raw chocolate ice cream—Medjool dates, cacao powder, vanilla, and coconut milk—is the jam. And the caramel sauce needs no help from white sugar or corn syrup, when it's all about the cashews, almond milk, and maple syrup.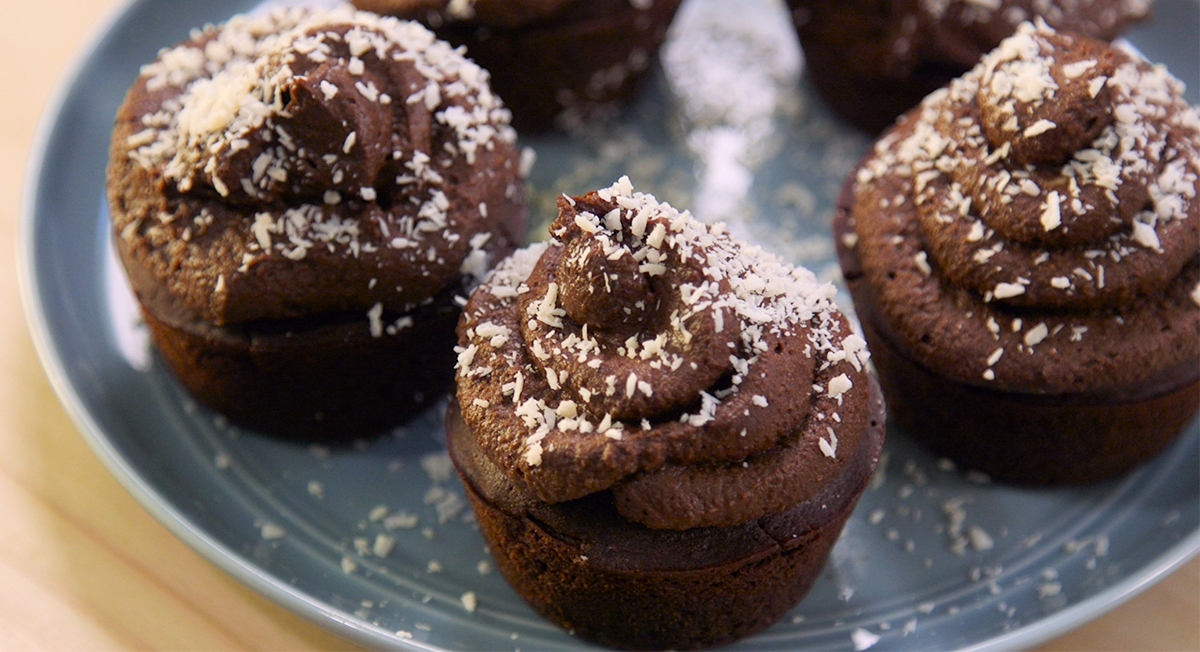 We promise you, these are the most transcendent chocolate cupcakes you'll ever taste. The icing on the cake? An innovative made-from-scratch frosting with cashew butter, sweet potato purée, and date sugar. The ingredients list isn't exactly short, but it'll be totally worth it.
Photo credit: Paul Delmont