Thinking about going green? No, we don't mean adopting more eco-friendly practices (but that's always a good idea). We're referring to your diet. Did you know that focusing your food around this healthful color can boost your overall nutritional intake and add tons of flavor to your cooking? Fresh green fruits, veggies, and herbs, deliver key vitamins and minerals, which make them ideal for clean eating (and drool-worthy Instagram posts). Here's how to go for the green in your kitchen.
Top Green Foods
With so many green foods to choose from, selecting the most super of the superfoods can be tough. Here are a few of our favorite green foods.
Arugula: Sometimes called "rocket," this leafy green contains folic acid, vitamin C, and vitamin K along with iron and calcium. Peak season is early spring and fall.
Avocado: Versatile with a decadently creamy texture, this superfood fruit is rich in healthy fats and primarily in season between February and September.
Collard Greens: Get ready to love this clean eating green. This cruciferous veggie offers protein, vitamin C, and detox-supporting amino acids. Peak season is January through April.
Fava Beans: Our favorite way to enjoy these green gems are with a nice glass of Chianti. They deliver zinc, copper, magnesium and protein. Stock up in the spring.
Green Beans: Our love affair with this versatile veggie goes way back. These satisfying beans contain antioxidants and key minerals. The best time to buy is May through September.
Kale: Yes, it's a superfood. Yes, there's a good reason why. Kale is low in calories but full of fiber, magnesium, and folate. A winter veggie, it's best to load up on kale during the coldest months of the year.
Zucchini: Use it as a spiralized carb substitute or dice it up in your next salad, this supercharged squash includes potassium, vitamin C, and B-complex vitamins. Peak season is June through late August.
Green Foods Q&A
Eating green can be a little confusing when so much fresh produce has at least a hint of this healthy hue. Here's a quick rundown on the dos and don'ts of green food.
Can you eat beet greens?
Yes! Beet greens (aka the leafy tops of beets) are a great alternative to spinach or swiss chard. They can be steamed, boiled, sautéed, or enjoyed raw.
Can you eat collard greens raw?
Yes! You might know them as a soul food staple, but like kale, collard greens can be enjoyed raw. Chop them up and add to a salad or use a leaf to roll a sandwich wrap.
Can you eat green tomatoes?
If you come from the south, you know the answer to this is a big yes (fried green tomatoes are a must-try dish). These less-than-ripe tomatoes are pleasantly firm and tangy and can be thrown in casseroles, cooked with meat, or even pickled.
What part of the green onion do you eat?
While you might be accustomed to only using the bulb or pale green portion of a green onion or scallion, you can also use the green leaves as a tasty garnish when thinly sliced.
Can you eat carrot greens?
The short answer is yes, you can eat carrot greens. Contrary to rumors, the top portions of carrots are not poisonous. However, the bitter taste might take some getting used to. If you're into bitter flavor, go ahead and toss them into a salad raw. Otherwise, try blanching them, adding them to a soup to lesson the bite, or combining the tops with other herbs like basil and mint.
Can you eat green beans raw?
Yes! Green beans are delightfully crunchy and slightly sweet when eaten raw. Plus, they contain good-for-you nutrients like magnesium, calcium, and antioxidants.
Green Food Recipe Ideas
Go lean, mean, and green with our favorite green food recipes.
This might sound nutty, but this genius pesto recipe uses pistachios and mint for a dairy-free spin on an Italian classic.
Start your day right, and dig into a bowl of nutrient-rich goodness with blended kale, spinach, cucumber, coconut water, and pear for just a hint of sweetness.
There's nothing bland about these green beans topped with a zesty vinaigrette, creamy ricotta, cherry tomatoes, and crunchy roasted hazelnuts.
Zucchini noodles or "zoodles" are a great way to enjoy a low-carb "pasta" dish, and this recipe keeps you full with hearty white beans and bright Mediterranean herbs.
Rich, green, and dairy-free, this soup uses almond flour to add creaminess to puréed green beans for a clean-but-filling bite.
Kale, Caesar! This version of the lunchtime staple uses nutritional yeast instead of parmesan for a Paleo-friendly dressing over massaged kale and savory bacon.
You can have pizza sans carbs and gluten by swapping the crust for sliced zucchini, brushing with olive oil, and finishing off with mozzarella and tomatoes.
Upgrade kale chips with the flavors the breakfast favorite by adding a sprinkle of everything bagel seasoning (sesame seeds, poppy seeds, large flake salt, garlic powder, and onion powder) to baked kale chips.
Take basic avocado toast to another level by adding a Japanese influence. Brush toast with coconut aminos and sprinkle avocado slices with toasted nori and sesame seeds.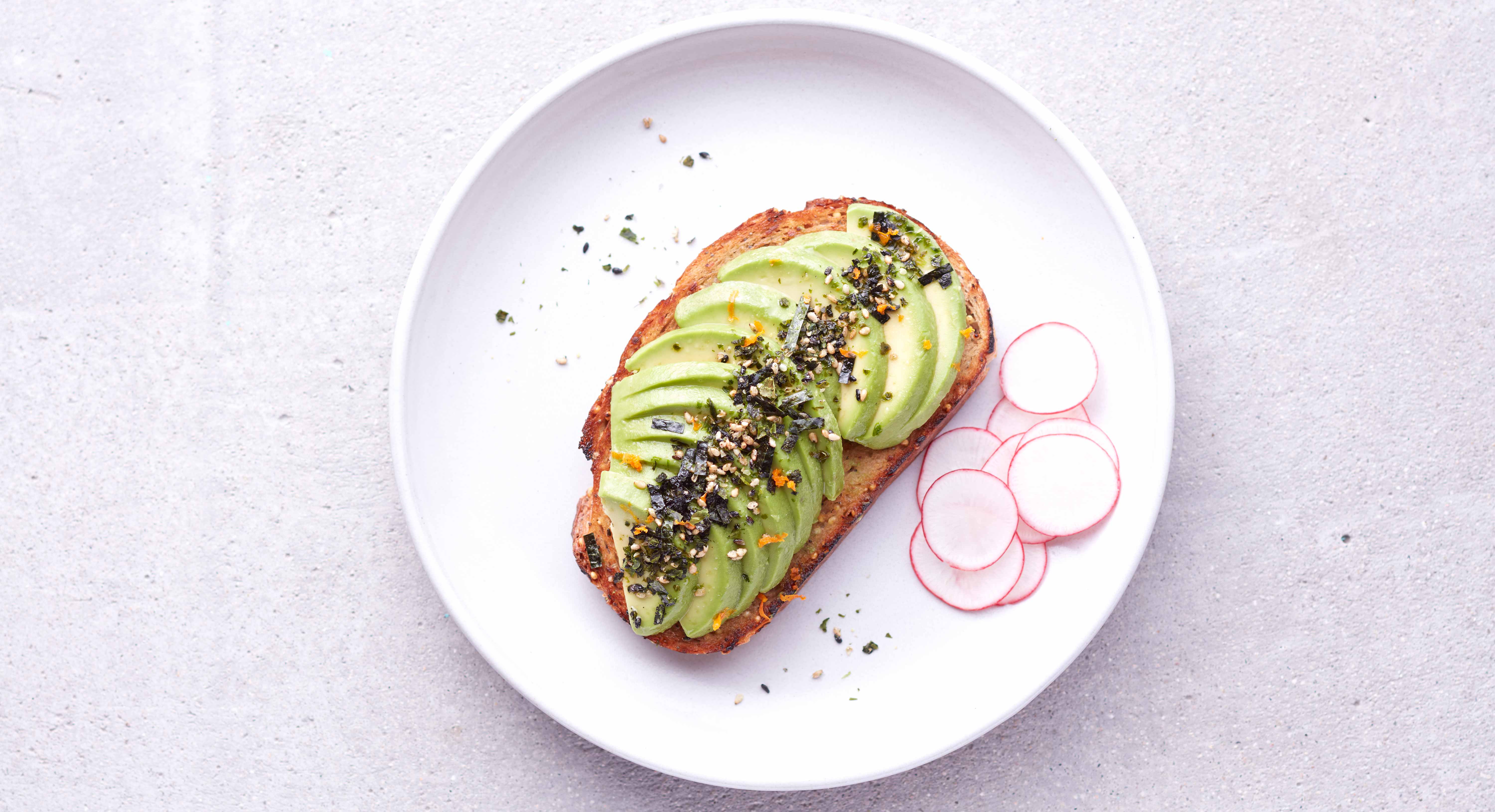 We're a little insane when it comes to romaine, and this recipe is no exception. Grilled romaine hearts are drizzled with a creamy dressing of avocado, lime juice, cayenne pepper, and olive oil and topped with sliced hard-boiled eggs.
Looking for a quick and easy salad that's fresh and vibrant? This recipe uses grated raw zucchini, mixes in bright herbs and lime, and tops it off with fresh mozzarella balls.
We have a feeling you would eat this Dr. Seuss-inspired dish just about anywhere. Eggs, aromatic herbs, savory pancetta, and a scoop of green superfood protein powder make for exceptional breakfast fuel.
Bet you didn't know you could enjoy your greens in popsicle form! Just blend together avocados, mangos, bananas, spinach, and coconut water and freeze for a cool treat that secretly delivers healthy nutrients.