What's all the buzz about? Well, honey is about to become your go-to sweetener (if it isn't already). From overnight oats to baked brie, this nectar is perfect for meals from breakfast to dinner, and we've got all the deets on swapping honey into baked goods and making it the star of your next dish.
All About Honey
The jar of honey in your pantry wouldn't exist without armies of honey bees buzzing around the world doing what they do best. Here's a quick look at how it's made, the mystery surrounding bee decline, and what you can do to help bees thrive.
How is honey made?
Making honey starts by collecting nectar (a sugary liquid) from flowers, and bees have a long, tube-shaped tongue that's the perfect tool for the job. Nectar is stored in a bee's stomach until it flies back to the hive, where the nectar makes its way to a honeycomb. Now it's time for the bees to get to work, fanning the honeycomb with their wings to help speed up the evaporation process (we're tired just thinking about that!). Finally, bees seal the honeycomb so that the nectar can thicken into the sweet substance you know and love.
What is Colony Collapse Disorder?
This term caught on around 2006, when beekeepers began reporting that 30 to 60 percent of their bee colonies went missing in a given year. Researchers have figured out this occurs when the majority of a colony's worker bees disappear, leaving behind only the queen, some extra food, and a small group of nurse bees. Some causes include pesticide poisoning, stress due to frequent transportation for pollination, and pests or disease.
How can we help the bees?
In June 2014, President Obama created the Pollinator Health Task Force to conduct research and implement programs to help reduce the death of honey bees, like creating more stable, low-growing plant communities for pollinators to thrive, and establishing tax benefits to private landowners who make their land available to beekeepers. President Obama also asked the Environmental Protection Agency (EPA) to look more closely at neonicotinoids, the insecticides believed to be largely responsible for the bees' decline. These pesticides are known for threatening queen bees in particular, which means colonies have lower reproductive rates.
On a consumer level, it's best to buy your honey from brands that put the honey bee first. (More on those below!), and here's why: A study by Food Safety News tested grocery store brands and found more than 76 percent weren't actually pure honey, and were made with high-fructose corn syrup and filtered to eliminate pollen. The moral of the story? Do your honey homework!
Stock a Sweet Pantry
Before you can sweeten up recipes, drinks, or just sneak a spoonful, you need a pantry filled with actual honey, not the artificial, processed stuff you might find on supermarket shelves.
Here are some of our top products!
Beekeeper's Naturals 100% Raw Wildflower Honey
This jar of honey hails from sustainable, local apiaries in Ontario, Canada. And when you bring it home, you'll be supporting a company with a cause, too. Founder Carly Stein says her goal is "providing people across the globe with healthier, more natural healing solutions to their health issues—and we want to save and support the bees while doing it!"
Not just raw, but super raw, this unfiltered honey is USDA certified organic, non-GMO, and gathered from the wild fields of Brazil. From face masks to cookies, it's always the perfect addition.
Bloom Honey Buckwheat Honey
When flowers are in bloom, you can count on a honey bee flying nearby! This company works to extract single floral varietal honey straight from the beehive so it reaches you in a raw, unadulterated state. Try this California buckwheat honey on a slice of bread with almond butter and bananas, or swirled into tea.
Every jar of Manuka honey is made by hardworking New Zealand honey bees. The complex flavor has earthy flavor notes with hints of pepper and ginger, and Wedderspoon's strict harvesting policies ensure 75% of the pollen grains come straight from manuka plants whose honey is prized for its naturally occurring live enzymes.
Baking With Honey
Honey is a tried-and-true stand-in when a recipe calls for something sweet, but it's not always a simple swap. Here are some tips!
Lower the sweet intake: Honey can be sweeter than cane sugar, so follow this ratio when subbing it in baking recipes: For every cup of sugar, use ½ to ⅔ cups of honey.
Reduce liquids: Honey isn't a 1:1 swap, so you'll want to reduce the overall amount of liquid in a recipe if you're adding honey in place of sugar. Start by subtracting about a quarter to a third of the wet ingredients. It might take some trial and error, but you'll feel like a pro once you get it right.
Include baking soda: Does your recipe call for baking soda? If yes, you're good to go. If not, add ¼ teaspoon baking soda for every cup of honey, which will help balance honey's acidity and encourage a proper rise.
Low and slow: Honey can caramelize faster, leading to burnt baked goods, so lower the oven heat by 25 degrees F and keep your eye on the pan, especially the first time you're trying something new.
Recipes With Honey
Now that you're armed with some honey baking tips, it's time to get cooking! Here are 10 recipes to put this golden liquid to good use.
Set it and forget it! That's the idea behind this make-ahead breakfast whipped up with nutritious oats, honey, chia seeds, and cacao. Trust us, in the morning, you'll be incredibly grateful you thought ahead.
Here's another recipe for overnight oats, but with a twist. Bulgur wheat is typically found in tabbouleh, but it works in the a.m., too, when mixed with honey, fresh OJ, and fruit, like apples and dates.
This one-pan recipe makes your next dinner easy and elegant. Earthy beets and fragrant fennel roast alongside honey mustard-glazed salmon for a restaurant-quality dish that's ready in 30 minutes.
Love the smell of freshly baked bread? Start your oven! This recipe uses the stand mixer to help with kneading, so the process is almost effortless and the loaf bakes up with a rich nutty flavor and light, airy texture.
When it's time for tea, be sure a batch of these lovely little cookies are on the table. Each gluten-free bite is sweetened with honey and scented with dried lavender and vanilla. A tart lemon icing makes them almost too pretty to eat.
Nix the store-bought bag and give these homemade marshmallows a try! The dense, fluffy texture is like biting into a cloud, and they're a touch healthier thanks to grass-fed gelatin and honey. Use them to top your next mug of hot cocoa and melt into your new favorite treat.
They'll be no need for a scoop of ice cream after giving this recipe a try! Soaking berries with honey, mint, ginger, and cardamom draws out their juices and creates a perfectly sweet sauce.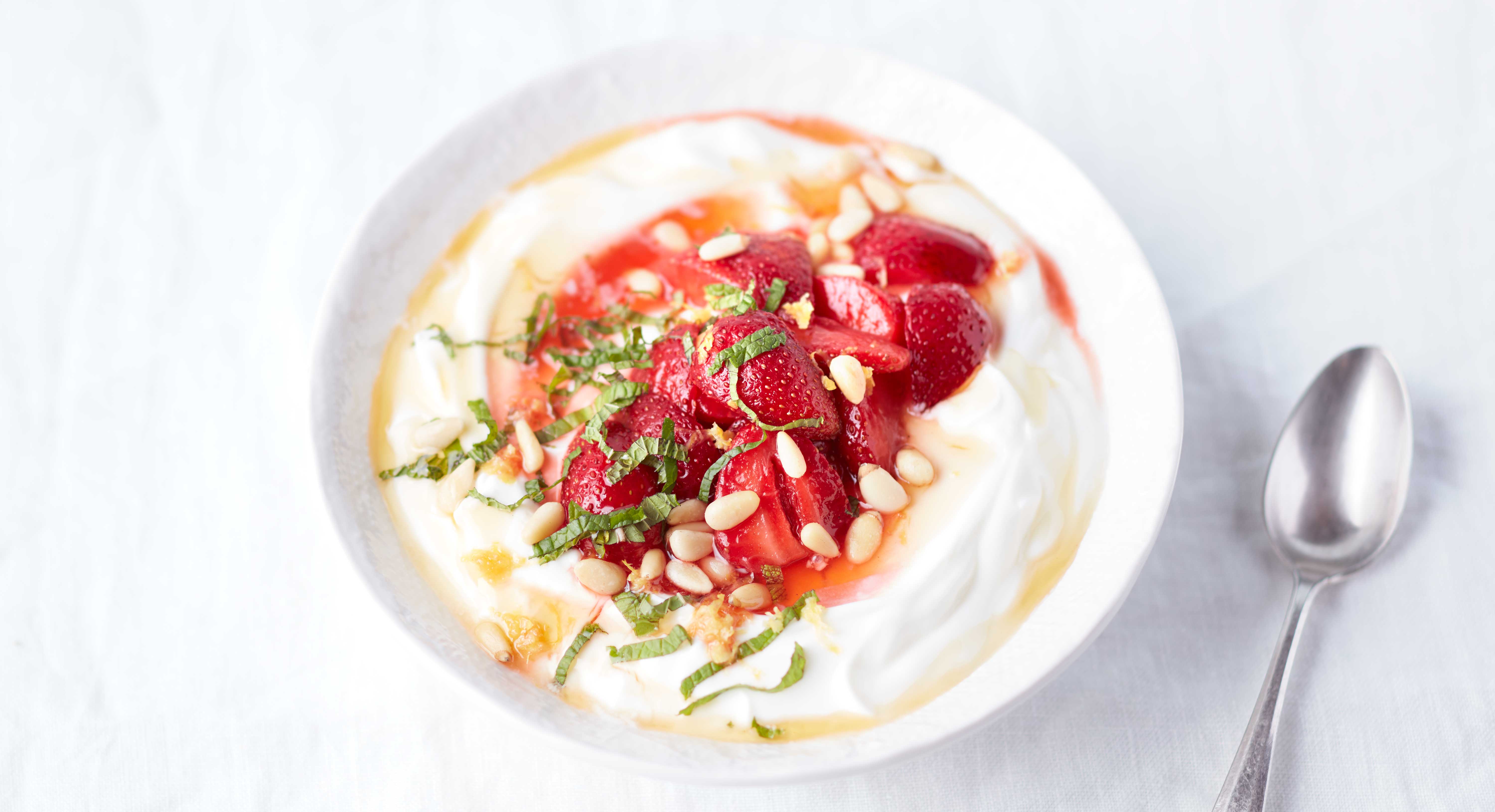 Cheese platter lovers, rejoice, because this baked brie is pure heaven. The warm, creamy, and gooey cheese tastes even better topped with a sweet fruit and nut compote using walnuts, dried figs, pistachios, and pine nuts.
This fun idea works for both kids and those who are kids at heart. These popcorn balls make for a lighter version of the traditional treat because creamy almond butter holds everything together while honey adds sweetness, instead of corn syrup.
Chamomile tea is comforting on its own, but take your brew to the next level with a drizzle of honey and a pour of frothy almond milk. It's the perfect way to relax before bed!