Remember cereal milk? That is, the brightly colored, sugar-infused milk left behind after the Froot Loops were long gone—that some consider even better than the cereal itself. These gluten-free doughnuts draw inspiration from that old nostalgic breakfast memory in the best way possible. Made with almond flour, sweetened with coconut sugar, and baked instead of fried, they're relatively healthy and ideal for livening up a brunch party! Pick up a doughnut pan and a box of your favorite cereal, and get cooking.
Cereal Milk Doughnuts
Yield: 6 doughnuts
Active Time: 12 minutes
Total Time: 52 minutes
Ingredients
For the cereal milk:
1/3 cup and 2 tablespoons almond milk, divided
1/3 cup cereal of choice (chocolate rice crisps, cinnamon crunch, corn puffs, or berry cereal)
For the doughnuts:
1 cup almond flour
1/2 teaspoon baking powder
1/8 teaspoon baking soda
1/3 cup refined coconut oil
1/3 cup coconut palm sugar
1 teaspoon vanilla extract
1 pasture-raised egg
For the glaze and toppings:
6 tablespoons dark chocolate chips
2 tablespoons cereal milk
1/2 cup cereal
Special equipment: doughnut pan
Instructions
Preheat oven to 350 degrees.
Make the cereal milk
In small bowl, mix 1/3 cup almond milk and cereal. Let sit for 5 minutes until cereal becomes soggy and milk takes on cereal's flavor. Remove cereal and set aside.
Make the doughnuts
In a large mixing bowl, combine almond flour, baking powder, and baking soda. In a separate bowl, whisk 1/3 cup cereal milk (leave the remaining 2 tablespoons in a bowl for to use for the glaze later on), coconut oil, coconut palm sugar, and vanilla together, then add egg and whisk. Add cereal milk mixture to almond flour mixture and whisk until smooth and thoroughly combined.
Lightly grease doughnut pan with coconut oil. Spoon batter evenly into pan, using approximately 3 tablespoons per doughnut. Bake for 20 minutes. Once doughnut are golden, remove from oven and place on a wire rack to cool. To speed up the cooling process, place in fridge for approximately 10 minutes. Allow doughnuts to cool completely before adding glaze and toppings.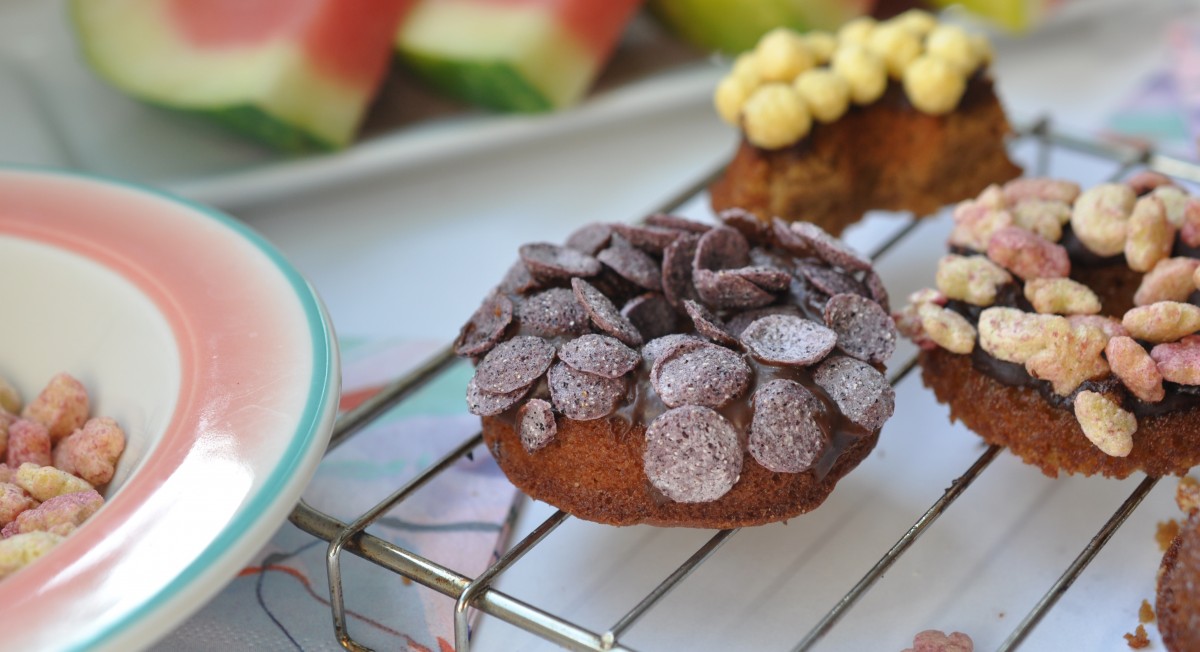 Make the glaze
In a small saucepan over low heat, heat dark chocolate and remaining 2 tablespoons cereal milk. Stir with spoon or spatula until just melted. Be careful not to cook too long, as it will start to harden in the pan.
Glaze the doughnuts and add toppings
Remove doughnuts from fridge and plate on plate or parchment paper. Using a spoon, butter knife or pastry brush, spread 1 tablespoon chocolate mixture on top of doughnut. Place cereal in a bowl. Dip the doughnut glazed-side down into cereal, making sure the entire top is covered. Set on a large plate or parchment paper and place in the refrigerator or freezer for 5 minutes to harden.
Check out Arielle Haspel's blog, Be Well With Arielle, and follow her on Facebook, Twitter, and Instagram. 
Photo credit: Arielle Haspel