Nothing against New York strip, ribeye, or chuck roast, but when it comes to quick-cooking beef cuts, grass-fed ground beef has an edge. We're always on the lookout for easy things to cook with ground beef because, like you, we have nights when we need dinner on the table ASAP. This post has all the ground beef ideas you need to round out your meal plan, impress family and friends with global flavors (we're heading to Korea, Italy, Hawaii, and Israel), plus easy ground beef recipes you can try tonight.
Ground Beef Nutrition
Before you get cooking, have a look at these ground beef nutrition facts to see how this ingredient might benefit you. Nutrition Data notes a 3-ounce serving of ground beef offers the following nutritional benefits:
Ground beef calories: 231
Protein in ground beef: 23g
Vitamin B12: 41% daily value
Niacin: 25% daily value
Zinc: 36% daily value
Omega-6 fatty acids: 341 mg
Washington Post reports grass-fed beef is known for having less fat overall than non-grass-fed beef, plus higher concentrations of some nutrients like antioxidants, a fat called conjugated linoleic acid (CLA), and the long-chain omega-3 fats mostly found in fish.
Ground Beef Q&A
Fire up the stove—but read this section first! Here are the answers to everything you've ever wondered about ground beef.
How to defrost ground beef
Need to know how to thaw ground beef? The USDA says refrigeration is the best method and says to keep meat cold while it's defrosting to help prevent the growth of bacteria. If you're in a hurry, defrost ground beef in the microwave or in cold water (just use a plastic bag and submerge the meat, changing water every 30 minutes).
What can I make with ground beef?
If you've ever asked yourself this question, know there are literally dozens of directions you can go. We have an entire recipe section below, but here are a few ground beef dinner ideas you can't go wrong with: chili, Sloppy Joe's, enchiladas, meatloaf, meatballs. Hungry yet? Keep reading.
How long can ground beef stay in the fridge?
The Food Safety & Inspection Service (FSIS) recommends that ground beef stay in the fridge for 1 to 2 days, and frozen for up to 4 months.
How to brown ground beef
To properly brown beef for a recipe, you'll need a large 10- to 12-inch skillet. After adding neutral oil to a hot pan (keep the temp high to brown—not steam—your beef), add the meat and break it into large pieces with a wooden spoon. Let the ground beef brown for a few minutes before breaking up the pieces even more. Cook until browned, stirring occasionally, until all the meat is browned.
---
Things to Make With Ground Beef
When it comes to the best things to cook with ground beef, we're pretty partial to this list of go-to recipes.
Easy Burger Recipe
Here it is—our best burger recipe! And because it might not be grilling weather where you are, we have instructions for the stove and the grill.
Yield: 4 servings
Active Time: 15 minutes
Total Time: 30 minutes
Ingredients
For the patties:
1 small yellow onion, grated
1 pound ground beef (85/15)
1 egg
2 teaspoons Annie's Organic Dijon Mustard
1 teaspoon Annie's Organic Worcestershire Sauce
1 teaspoon sea salt
½ teaspoon garlic powder
½ teaspoon ground black pepper
For the burgers:
1 tablespoon extra virgin olive oil
4 slices sharp cheddar cheese
4 pretzel buns
For the condiments:
Arugula
Tomato slices
Minced red onion
Annie's Organic Ketchup
Instructions
On the stove: Add oil to a large skillet set over medium heat. Add patties and cook 3 to 5 minutes per side. Place one cheese slice on top of each patty; cover and cook for 1 to 2 minutes more, until melted. Serve with buns and your favorite toppings!
On the grill: Heat a gas grill to high and brush burgers with the oil. Grill until golden brown and slightly charred on the first side, 3 to 5 minutes. Flip burgers and cook an additional 3 to 5 minutes. Place cheese on top and close grill; cook 1 minute more, until cheese is melted. Serve with buns and your favorite toppings!
---
Best Ground Beef Taco Recipe
File tacos in the quick things to cook with ground beef category. Visit Nom Nom Paleo to learn the basics of making surf and turf tacos—without a recipe. To keep this dish paleo-friendly, wrap up the fillings (like a spicy ground beef) in butter lettuce cups. You can also put your own signature on fillings with our expertly blended taco seasoning and fajita seasoning mixes.
---
How to Make Italian Meatballs
Who's excited for Sunday supper? This meatball recipe uses a combination of ground beef and pork, plus add-ins like garlic, Parmesan, and fresh parsley.
Yield: Makes about 24 meatballs
Active Time: 10 minutes
Total Time: 55 minutes
Ingredients
1 pound Thrive Market Pastured Ground Pork
1 pound Thrive Market 100% Grass-Fed Ground Beef
2 garlic cloves, minced
2 eggs, lightly beaten
1 cup grated Parmesan
2 tablespoons parsley, chopped
Sea salt
Thrive Market Organic Ground Pepper
1 cup fresh breadcrumbs
Thrive Market Organic Extra Virgin Olive Oil, for frying
Instructions
Combine beef and pork in a large bowl. Add garlic, eggs, cheese, parsley, salt, pepper, and breadcrumbs. Using your hands, gently mix ingredients until well combined—do not overmix. Shape into meatballs (about the size of a ping pong ball) and place on a sheet pan or platter. Cover and refrigerate 30 minutes.
To pan-fry, heat ¼-inch of oil in a 10-inch cast iron skillet. Fry meatballs in batches, being careful not to crowd the pan. Cook until they're brown on all sides and cooked through, about 10 to 12 minutes. Remove with a slotted spoon and drain on paper towels.
---
Meatloaf
Healthy ground beef recipes are easy to find on our blog, like this classic meatloaf recipe that's been reinvented to be Whole30®-compliant. Every bite features tender ground beef, mushrooms, parsley, and chili flakes.
Yield: 6 to 8 servings
Active Time: 15 minutes
Total Time: 2 hours
Ingredients
3 tablespoons Thrive Market Organic Ghee
1 medium onion, grated
1 cup mushrooms, coarsely chopped
2 ½ teaspoons sea salt, divided
2 pounds Thrive Market 100% Grass-Fed Ground Beef
2 eggs
⅓ cup Thrive Market Almond Flour
½ cup Whole30-compliant ketchup, divided
¼ cup parsley, chopped, plus more for garnish
1 teaspoon Thrive Market Organic Ground Pepper
½ teaspoon Thrive Market Organic Crushed Red Pepper Flakes
Instructions
Preheat oven to 375°F. Melt ghee in a large skillet over medium heat. Add onions and sauté for 5 minutes. Add mushrooms and 1 teaspoon salt, and cook for 5 to 7 minutes more, or until onions are soft and mushrooms have browned; let cool. Add ground beef, eggs, almond flour, ¼ cup ketchup, parsley, black pepper, red pepper flakes, 1 ½ teaspoons salt, and cooled vegetables. Gently mix with your hands until incorporated; don't overmix. Place the mixture into a 9 x 5-inch loaf pan and bake for 45 minutes. Remove and baste with remaining ¼ cup ketchup. Return to oven for another 15 to 20 minutes, or until center reaches 160°F. Let rest 10 minutes before slicing, and sprinkle with additional parsley before serving.
---
Ground Beef Chili Recipe
Paleo ground beef recipes are a great way to stick with your caveman lifestyle. In this ground beef chili recipe we're pulling out all the flavor stops with a medley of dried spices, plus rich beef bone broth.
Yield: 6 servings
Active Time: 15 minutes
Total Time: 2 hours
Ingredients
2 tablespoons olive oil
1 large yellow onion, chopped
6 cloves minced garlic
2 pounds ground beef
Sea salt
1 tablespoons plus 1 teaspoon ground cumin
1 teaspoon smoked paprika
2 teaspoon dried oregano
1 tablespoon chili powder
2 teaspoons red pepper flakes
1 teaspoon cayenne pepper
1 tablespoon raw honey
2 tablespoons tomato paste
1 (15-ounce) jar diced tomatoes
1 tablespoon red wine vinegar
3 ½ cups beef bone broth
Limes, to serve
Cilantro, to serve
Instructions
Heat olive oil in a large heavy-bottomed pot. Sauté onion until translucent, about 5 minutes. Stir in minced garlic and ground beef and brown over high heat. Season with a large pinch of salt. Stir in cumin, paprika, oregano, chili powder, red pepper flakes, and cayenne pepper. Cook 30 seconds. Stir in honey, tomato paste, tomatoes, vinegar, and bone broth. Bring to a boil, reduce to a simmer, and cook, uncovered, until meat is tender and broth is thickened, about 2 hours. Season to taste with more salt and serve with a squeeze of lime and cilantro.
---
Loco Moco
Hawaii's loco moco is a classic ground beef and rice recipe—except this version is keto, paleo, and Whole30® thanks to cauliflower rice.
Yield: 4 servings
Active time: 30 minutes
Total time: 50 minutes
Ingredients
For the hamburger patty:
2 tablespoons Thrive Market Organic Virgin Coconut Oil, divided
1 medium shallot, minced
1 pound Thrive Market 100% Grass-Fed Ground Beef
1 teaspoon Thrive Market Organic Paprika
1 teaspoon Thrive Market Organic Ground Cumin
1 teaspoon Thrive Market Organic Garlic Powder
1 teaspoon salt
1 teaspoon Thrive Market Organic Ground Pepper
For the gravy:
1 tablespoon Thrive Market Organic Virgin Coconut Oil
1 small shallot, minced
1 pound assorted mushrooms, chopped
1 tablespoon thyme leaves, chopped
3 cups Thrive Market Grass-Fed Beef Bone Broth
1 teaspoon salt
¼ cup water
2 tablespoons Thrive Market Organic Tapioca Flour
½ cup Thrive Market Organic Coconut Milk
For the cauliflower rice:
½ cup water
2 cups cauliflower rice
1 tablespoon salt
For the toppings:
4 eggs, fried
4 scallions, thinly sliced
Thrive Market Organic Crushed Red Pepper, to taste
Hot sauce
Instructions
Make the hamburger patty:
Add coconut oil and shallot to a large cast iron skillet set over medium heat. Sauté for 3 minutes, then add ground beef, breaking up the meat with a wooden spoon. Add paprika, cumin, garlic powder, salt, and pepper. Continue cooking until beef is no longer pink, about 5 minutes. Transfer meat to a plate using a slotted spoon.
Make the gravy:
Add coconut oil to the same skillet along with shallot, mushrooms, and thyme. Sauté for 4 to 6 minutes, or until mushrooms have browned and liquid has evaporated. Add bone broth and salt; bring to a simmer. Whisk tapioca flour and water in a small bowl until smooth; add to the gravy and stir until thickened, about 2 minutes. Stir in coconut milk and simmer for 2 minutes more, then reduce heat to keep the gravy warm.
Make the cauliflower rice:
Bring water to a boil in a small skillet, then add cauliflower rice and salt; stir until warmed through. Cover and cook until all the water has evaporated.
Assemble the dish:
Add a spoonful of cauliflower rice to a plate. Top with ground beef, a ladle of gravy, and one egg. Scatter scallions over the top and, if desired, a sprinkle of crushed red pepper. Finish with hot sauce for an extra kick.
---
Korean Ground Beef Recipe
Also known as a Bibimbap bowl, this healthy ground beef recipe is a Korean rice dish often topped with sautéed vegetables, chili paste, beef, or even a fried egg. Our recipe uses miracle noodles to keep things light (and keto-friendly).
Yields: 2 servings
Prep time: 25 minutes
Total Time: 40 minutes
Ingredients
For the noodles:
2 packages Miracle Noodle Shirataki Rice
2 teaspoons toasted sesame oil
For the vegetables:
1 teaspoon Organic Valley Farms Ghee
2 carrots, cut into matchsticks
1 large zucchini, cut into matchsticks
2 tablespoons gochujang
For the beef:
1 teaspoon Organic Valley Farms Ghee
½ pound ground beef
1 ripe pear, peeled and grated
2 tablespoons coconut aminos sauce
1 teaspoon chili garlic sauce
For the bok choy:
3 small baby bok choy, thinly sliced
1 tablespoon coconut amino sauce
1 teaspoon toasted sesame oil
1 teaspoon sesame seeds
For the eggs:
1 teaspoon Organic Valley Farms Ghee
2 large eggs
For garnish:
3 scallions, thinly sliced
Instructions
Make the noodles:
Open the packages of noodles and rinse well. Fill a small saucepan halfway with water and bring to a boil. Add miracle noodles and stir 1 to 2 minutes; strain and toss with toasted sesame oil.
Make the vegetables:
In the same saucepan, heat 1 teaspoon ghee, then add carrots and sauté for 1 minute. Add zucchini and gochujang, stirring until coated; scrape into a bowl.
Make the beef:
Wipe down the skillet and add 1 teaspoon ghee. Brown the ground beef, about 2 to 3 minutes, then add grated pear, 2 tablespoons coconut amino sauce, and chili garlic sauce. Simmer until the pear has broken down, about 5 to 7 minutes.
Make the bok choy:
Fill a large skillet halfway with water and bring to a boil. Add bok choy and blanch for 1 to 2 minutes; drain, squeezing any excess water. Toss bok choy with remaining 1 tablespoon coconut aminos, 1 teaspoon toasted sesame oil, and sesame seeds.
Make the eggs:
In a nonstick skillet, heat 1 teaspoon ghee over medium-low heat. Fry eggs until yolks are runny but whites are firm, 2 to 4 minutes each.
Assemble the bowl:
Place half the miracle noodles at the bottom of a bowl. Arrange a portion of vegetables, beef, and bok choy around the perimeter. Top with an egg, and scatter with scallions. Serve immediately.
---
Kofta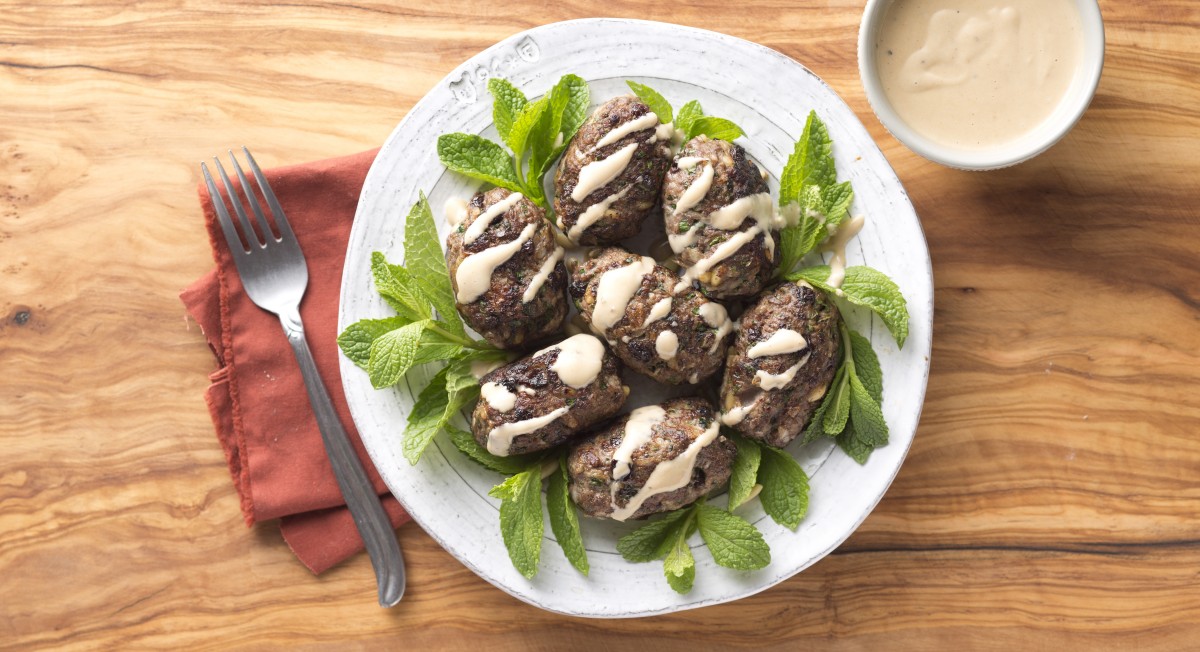 Kofta is the Middle Eastern version of meatballs or meatloaf—think ground beef, cinnamon, chili powder, and other spices. Our recipe drizzles everything in a slightly sweet tahini sauce.
Yield: 20 kofta
Active Time: 20 minutes
Total Time: 1 hour 30 minutes
Ingredients
For the kofta:
2 small onions
13 ounces ground beef (20% fat)
13 ounces ground lamb
1 ½ teaspoon cinnamon
1 ½ teaspoon allspice
½ teaspoon nutmeg
¼ teaspoon chili powder
1 ½ teaspoons salt
Medium bunch flat-leaf parsley, finely chopped
Medium bunch mint, leaves removed and finely chopped
⅓ cup pine nuts, toasted
⅓ cup dried currants
Olive oil, for browning
For the tahini sauce:
¾ cup tahini
Juice of 2 lemons
4 medium to large cloves of garlic, minced
2 tablespoons champagne vinegar
1 tablespoon pomegranate molasses
1 tablespoon olive oil
1 ½ teaspoons salt
½ teaspoon freshly ground black pepper
3 tablespoons raw honey
3 tablespoons water
Instructions
Preheat the oven to 350 degrees and line a baking sheet with aluminum foil.
For the kofta, grate the onions, then squeeze and drain juices. Transfer to a large bowl with the rest of the ingredients and combine with hands until all the ingredients are fully incorporated. Roll 20 equal-sized meatballs, shaping the mixture into oval fingers by rolling between your palms. Arrange kofta on on baking tray in a single layer. Cover and refrigerate for 1 hour.
Heat the olive oil in a large skillet over medium-high heat and sear the kofta on all sides until they're golden brown, about 4 minutes, working in batches so they are not crowded in the pan. Rearrange the kofta on the baking tray and bake in preheated oven for 8 to 10 minutes.
Meanwhile, whisk all of the ingredients for the tahini sauce together in a bowl. Season to taste with salt and if need be, thin with slightly more water.
Serve the kofta with either the sauce drizzled on top or served on the side for dipping.
Note: Cooked kofta can be frozen and reheated as desired for a wonderful snack or easy dinner.