Magic Balm, Arnica-Menthol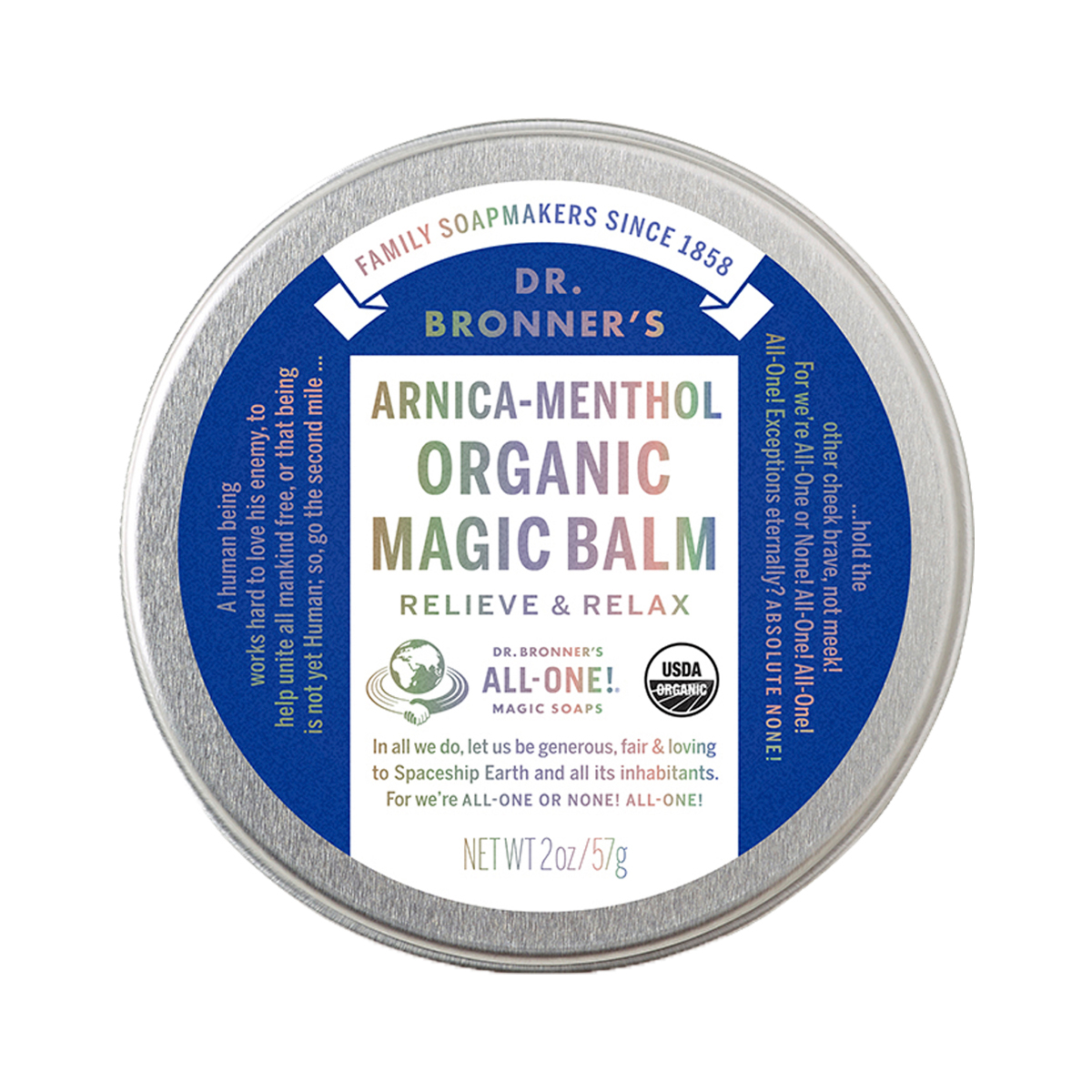 018787500927
It doesn't matter if you're a gym-loving fitness enthusiast, or have sore muscles and aching joints from a physically-demanding job—either way, it can ruin the day. Dr. Bronner's Magic Balm, Arnica-Menthol is the salve for aches and pains. It starts with an all-natural base of organic beeswax and organic oils like coconut, jojoba, avocado, hemp, and olive, which is mixed with a soothing blend of menthol, arnica, camphor, and peppermint oils. Massage this cooling balm onto sore spots—as founder Dr. E.H. Bronner says, in the direction "always toward the heart"—and you'll be feeling better in no time. Suggested uses: Massage gently into sore muscles – arms, legs, chest and back – always towards the heart! Health is wealth! Avoid rubbing the balm too close to your eyes, as the vapors from the balm can cause you to tear up. Keep out of cuts or burns, do not rub the balm internally—it is meant for external use only. OK!
2 oz jar
My lips say thank you!
- by
Diane Vigne
My lips get so chapped in the winter and this balm saved them this year. It's also great on my cracked fingers.
Sorry to say it did not do much for me.
- by
Donald Barrett
I bought this as a chance buy because I have multiple chemical sensitivity and worried the smell would be too strong, it was not which was a relief. I bought this with the hopes that it would work and provide some relief but it was just greasy and did nothing, absolutely nothing. I do nothing this this is product that will work for me or that I would repurchase. It does not work for me at all.
Good for sore muscles
- by
Sharon
Smells amazing and really helps relieve sore muscles. Has a slight cooling effect.
dr bronners magic balm arnica
- by
Kiara
love this product. always have in my bag for use on me and my little ones. always helps them to feel better.
Dr. Bronners Anica-Menthol Balm
- by
Cathy Bouldry
This is an AMAZING AMAZING pain and respiratory balm. We are using it for relaxing muscles, upper respiratory issues, muscle spasms, bone pain, and more... rub on legs and neck before sleeping if have arthritis issues as well. It is strong so use sparing!
0018787500927
018787500927