Reusable Silicone Bag, Clear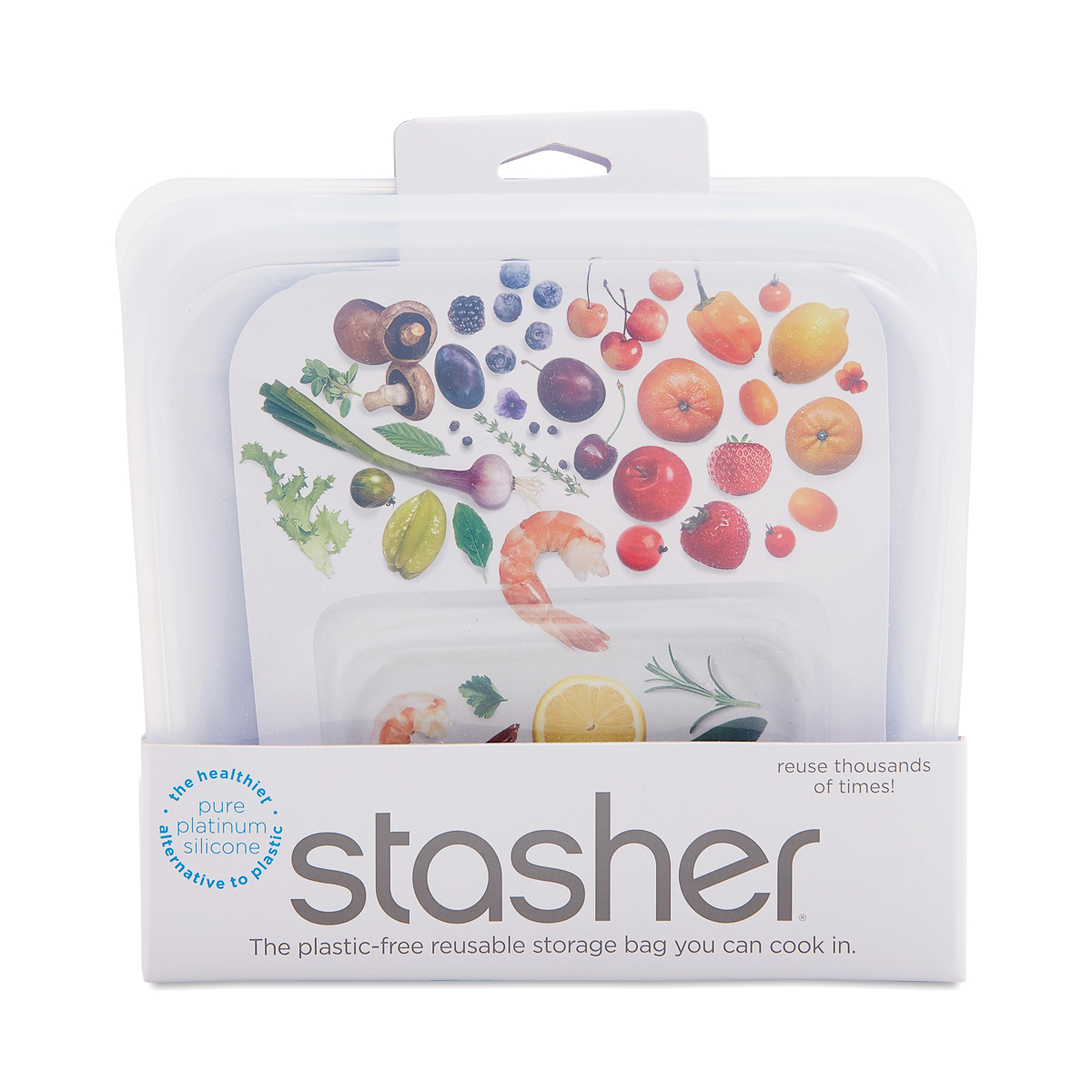 816990012592
Stasher is the plastic-free reusable storage bag that you can cook in! The healthier alternative to plastic bags and containers - stasher is free of toxic petroleum by-products (such as BPA) and hypoallergenic. Stasher's silicone is as pure and durable as glass so you can safely store, freeze and cook your food! Use stasher to sous-vide, bake, steam, boil, and microwave. The patented pinch-press, air-tight seal locks in nutrients and flavors while cooking and keeps your food fresher longer when storing. Stasher is dishwasher-safe and endlessly reusable. Use stasher for traveling, school lunches, baby snacks, cell phones, makeup and more! What will you stash in your stasher? Includes 1 stasher sandwich bag. Holds one healthy-sized sandwich, a hearty serving of prepped veggies ready to steam, or your TSA approved carry-on liquids. - 100% pure platinum silicone - Non-toxic - Pinch-loc™ seal - Dishwasher and microwave safe - Endlessly reusable - Write on it! Dimensions: 7 x 7.5 x 1
1 count
Great size
- by
Chloe
I love using this for odds and ends like lemon, ginger, onion, or avocado. Could use 3 more!
So practical
- by
Kelly Curran
Love using this for food, but also for packing when traveling (pens, electronics, cards, etc.)
Love
- by
Abigail
Love and great price
Love this bag!
- by
Emily
I use this every single day instead of plastic bag for my veggies I love it!
Handy
- by
Seeta John
Easily washable all around great
0816990012592
816990012592