A paleo diet might seem limiting upon first glance since dairy, grain, sugar, and alcohol are all off the menu, but the truth is that there are a variety of foods and recipes you can enjoy without feeling the least bit deprived. All you need is a little shopping know-how. From pantry must-haves to beloved paleo brands and crave-worthy recipes, we've got everything you need to hunt and gather with ease.
What Is the Paleo Diet?
You may know the paleo diet as the "caveman diet." That's because a paleo eating plan is centered on eating the same foods that were consumed by our Neolithic ancestors. This includes foods that could be sourced thousands of years ago, like meat, fish, vegetables, and fruit. The paleo diet is founded on the belief that we should avoid processed foods like dairy, grains, and refined sugar because our bodies are not evolved enough to digest these foods properly. Learn more about the benefits of a paleo diet here.
What Is the Difference Between Paleo and Keto?
A ketogenic diet works to put your body into ketosis, a fat-burning metabolic state, which involves reducing your daily carb intake to 50 grams or less. Unlike keto, a paleo diet doesn't highly restrict carbs. Instead, it focuses on nutrient-rich, low-sugar, whole food carbs that adhere to paleo guidelines.
What Is the Difference Between Paleo and Whole30?
While they are similar in their approach to eating whole, unprocessed foods and omitting dairy and sugar, there are some key differences between a paleo diet and Whole30 diet. The philosophy behind Whole30 is to eliminate foods that may trigger sensitivities for an entire month and gradually reintroduce them to determine what works for your body and what doesn't. In this sense, Whole30 is more strict than the paleo diet but it's only for a limited time. In contrast, eating paleo is more of a lifestyle choice.
What Can You Eat on the Paleo Diet?
A paleo diet is all about sticking to whole, unprocessed foods that were available thousands of years ago. Instead of loading your shopping list with baked goods, dairy, or sugary snacks, you'll want to stick to the following categories:
Meat: Beef, pork, lamb, poultry, jerky, bacon, and eggs are all paleo-approved
Fish & Shellfish: If you're a seafood lover, you're in luck! Salmon, halibut, bass, red snapper, swordfish, crab, lobster, shrimp, clams, scallops are all okay
Oils: The best oils for paleo cooking are unrefined like coconut, olive, macadamia, avocado, and ghee
Veggies: You can't go wrong with leafy greens. Asparagus, broccoli, carrots, peppers, cauliflower, zucchini, spinach, and sweet potatoes are all favorites on a paleo diet
Fruit: While refined sugar is off the menu, you can enjoy fruit in moderation. Add avocados, apples, peaches, plums, mangoes, strawberries, blueberries, raspberries, watermelon, lemons, grapes, figs, or pineapples to your list
What Can't You Eat on the Paleo Diet?
While wholesome, unprocessed foods are paleo approved, the same can't be said for processed foods or foods that were not present during caveman days. These foods include:
Corn and corn syrup
Soy
Gluten
Legumes (including peanuts)
Rice
Dairy
Coffee
Alcohol
---
5 Top Paleo Brands
Get familiar with these popular paleo-approved brands.
From paleo-friendly marinades to jerky and beef sticks, The New Primal uses grass-fed and pasture-raised meat, free from antibiotics or added hormones, along with wholesome ingredients and leaves out refined sugar, dairy, and soy.
Tuna is a paleo must-have, and Wild Planet makes it easy to source sustainably caught seafood that's full of flavor. The eco-friendly brand helps support the conservation of wild marine ecosystems while fueling your body at the same time.
Not only is Epic known for its high-quality bone broths, pork rinds, bars, and animal cooking oils, but the brand is also an advocate for sustainability. Epic works toward scaling livestock production in ways that benefit the planet and diversify ecosystems.
Offering a range of minimally processed nut butters, Artisana was awarded both R.A.W. and C.L.E.A.N certifications by the Clean Food Certified Project in 2017.
This Chicago-based company offers gluten-free, dairy-free baking mixes and pantry must-haves, including pancake mixes, crackers, and frostings. Every item is Non-GMO Project Verified and made with real, wholesome ingredients.
---
10 Top Paleo Products
These paleo-perfect staples deserve a spot in your shopping cart.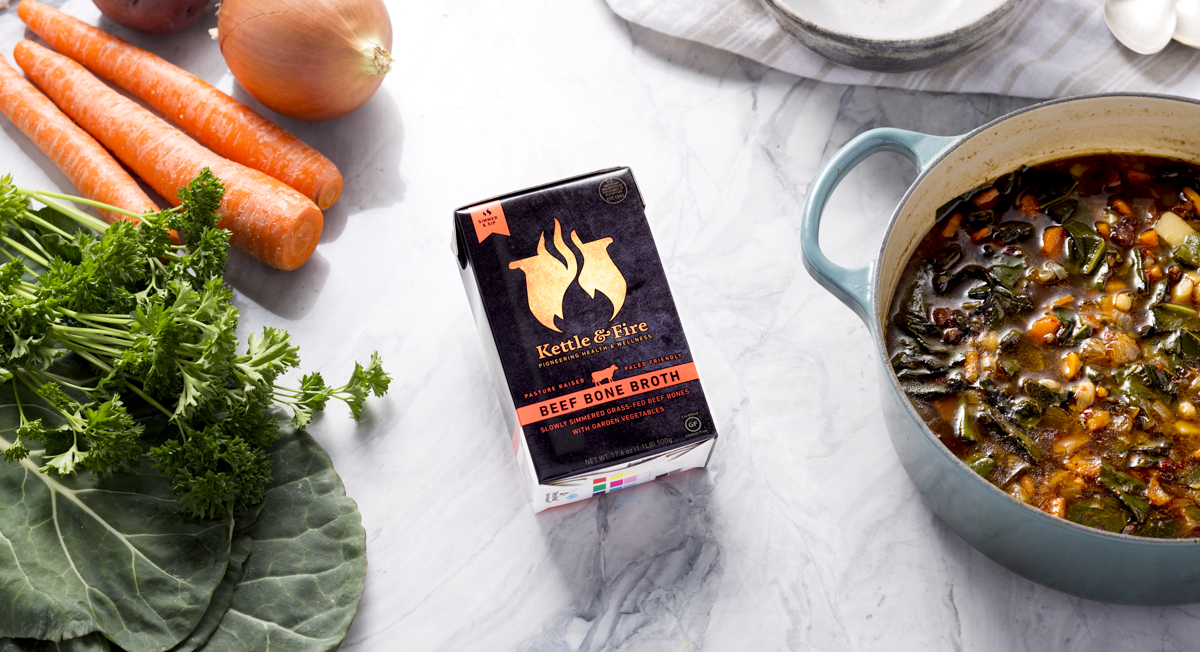 Thrive Market Paleo Starter Kit
Fill up on savory beef bone broth and creamy almond butter or stuff coconut wraps with grilled chicken and fresh veggies. This kit is packed with protein, healthy fats, and fiber to fuel your inner caveman.
Need a dose of healthy protein fast? Each filet of this sustainably caught tuna is cooked only once to help retain nutrients like omega-3 fatty acids in every can. Plus, each serving delivers 14g of protein.
Add slow-simmered flavor to your favorite dishes (or sip it on its own); every carton of this hearty bone broth includes simple ingredients like organic chicken bones, celery, onion, and spices.
Meet your new favorite condiment! Creamy, zesty and totally Paleo-friendly, this garlic-infused spread is made with avocado oil, cage-free eggs, and rosemary.
This maple, grain-free granola is filled with paleo-approved ingredients like almonds, pecans, and pumpkin seeds.
Yep, you can enjoy creamer on a Paleo diet (even if you're adding it to tea instead of coffee)! This non-dairy creamer is made with coconut cream, almonds, and natural flavors.
Thrive Market Organic Coconut Flour
Paleo baking usually requires a few ingredient swaps and this coconut flour is a must-try. Every two-tablespoon serving delivers dietary fiber, protein, and iron.
The only ingredient in this rich and creamy butter is organic almonds. Crafted in small batches, it's downright addictive.
Nutiva Organic Virgin Coconut Oil
Great for cooking, smoothies, or even DIY beauty treatments, this pantry staple is crafted in Southeast Asia where fresh coconuts are cold-pressed immediately after harvesting and never bleached, refined, or deodorized.
Larabar Pineapple, Kale & Cashew Bar
Made from just apples, apricots, cashews, dried pineapple, and kale, each of these gluten-free and totally tasty bars includes a ¼ cup of greens, with no added sugar or preservatives.
---
Best Paleo Recipes
Once your kitchen is well-stocked, you're ready to heat things up with these paleo-friendly meals.
Paleo Breakfast Recipes
Make breakfast the most important meal of the day with these hearty recipes.
You're sure to flip for this shortstack, which uses coconut flour, coconut oil, raw honey, eggs, and almond milk for fluffy cakes that stand up to syrup.
This versatile, one-pan egg recipe layers in sweet potatoes, onion, fresh herbs, and freshly grated nutmeg for a wholesome start to the day.
This Moroccan-inspired, one-pot meal is wonderfully savory and oh-so-comforting. With a paleo-friendly jarred sauce, it practically cooks itself.
Paleo Lunch Ideas
Stay fueled with these lunchtime favorites.
Top a warm bowl of cauliflower rice with spice-rubbed skirt steak, grilled onions, cherry tomatoes, and ripe avocado slices for a paleo-friendly midday meal.
The broth in this curry is a flavor explosion thanks to spices like paprika, coriander, tomato paste, and cooling coconut milk.
This paleo-friendly spin on chili takes its inspiration from classic Texas con carne, which loads every bowl with meat, spices, and beef bone broth.
Paleo Dinner Recipes
Hunt, gather, and cook up a feast with these paleo dinners.
In a weekday slump? This easy stir-fry recipe will perk up your week with grass-fed skirt steak, protein-rich bone broth, and hearty vegetables.
This unique burger upgrade calls for ground lamb, exotic spices, and a mint-infused pistachio pesto.
Just add chicken to an Instant Pot, cover it in aromatic spices, and let the pressure cooker do its thing for a surprisingly simple meal.
Paleo Desserts
These paleo desserts will end your day on a sweet note.
If you love bacon and have a soft spot for cheesecake, you're about to enjoy the best of both worlds. This paleo-friendly dessert tops a crust of pecans, dates, and almond flour with a cashew butter caramel sauce and a creamy filling of cashews, maple syrup, and bacon bits.
Spice up your slice with this gluten-free and paleo-friendly loaf. The genius recipe uses maple syrup instead of cane sugar and coconut oil instead of butter.
This beautiful blended treat boasts a filling of bananas, cashews, dates, honey, and coconut oil, which is then folded into a gluten-free granola tart shell. Drizzle with a rich (dairy-free) caramel sauce and dig in!