Carbs are the ultimate comfort food. Sometimes taking a bite of fresh-from-the-oven bread or digging into a bowl of homemade spaghetti is enough to put a smile on your face.
But if you're not mindful about eating good carbs versus bad carbs, you might pay the price—in the form of weight gain, inflammation, and diabetes risk. Going low-carb might sound intimidating, but it's actually not that hard to cut back. Here are a few things you can do to stay healthy and satisfied:
Start by eliminating starchy foods like white breads, pastries, and non whole–grain pastas.
Make sure you're getting ample veggies and some fruits for fiber, vitamins, and minerals. These foods do have carbs, but generally they're the good kind.
Get plenty of protein from meats or vegetarian sources like eggs, nuts, and seeds.
Avoid refined sugar; some natural sweeteners—like raw honey and maple syrup—may be OK in small doses.
Now onto the really good stuff—here are 43 incredible low-carb recipes to set yourself up for success.
Low-carb breakfast recipes
Kickstarting the day with greens and protein is always a great idea. If you're over omelets or scrambles, these baked eggs will bring excitement back to breakfast. Spinach creamed in coconut milk gives the dish a rich flavor and plenty of healthy fats. Crack eggs over top and it all comes together as a well-rounded, energizing meal that tastes satisfying enough to eat it for breakfast, lunch, or dinner.

Who knew granola could be grain-free? Instead of using plain oats, make a batch loaded with crunchy coconut flakes and nuts, plus pumpkin, sunflower, and chia seeds. Add cinnamon, maple, and cacao to transform it into a truly decadent yet wholesome spin on the breakfast staple.
If you're on a low-carb diet, chances are, you eat a lot of protein-rich meals. Bacon and eggs are a no-brainer, and you can never have too many ways to eat them. We like soft-boiled eggs served with asparagus spears wrapped in crisp, salty bacon—instead of toast—for dipping.
Quiche can be low-carb—if you make it with almond flour instead of white flour. Infusing the lightened-up dough with thyme leaves adds even more flavor, and green veggies like broccolini, zucchini, asparagus, and peas pop against the silkiness of the eggs.
Fatty, flavorful pork is already one of our favorite meats for making sausage, but combined with sweet maple syrup and aromatic sage and fennel, it's on a whole new level.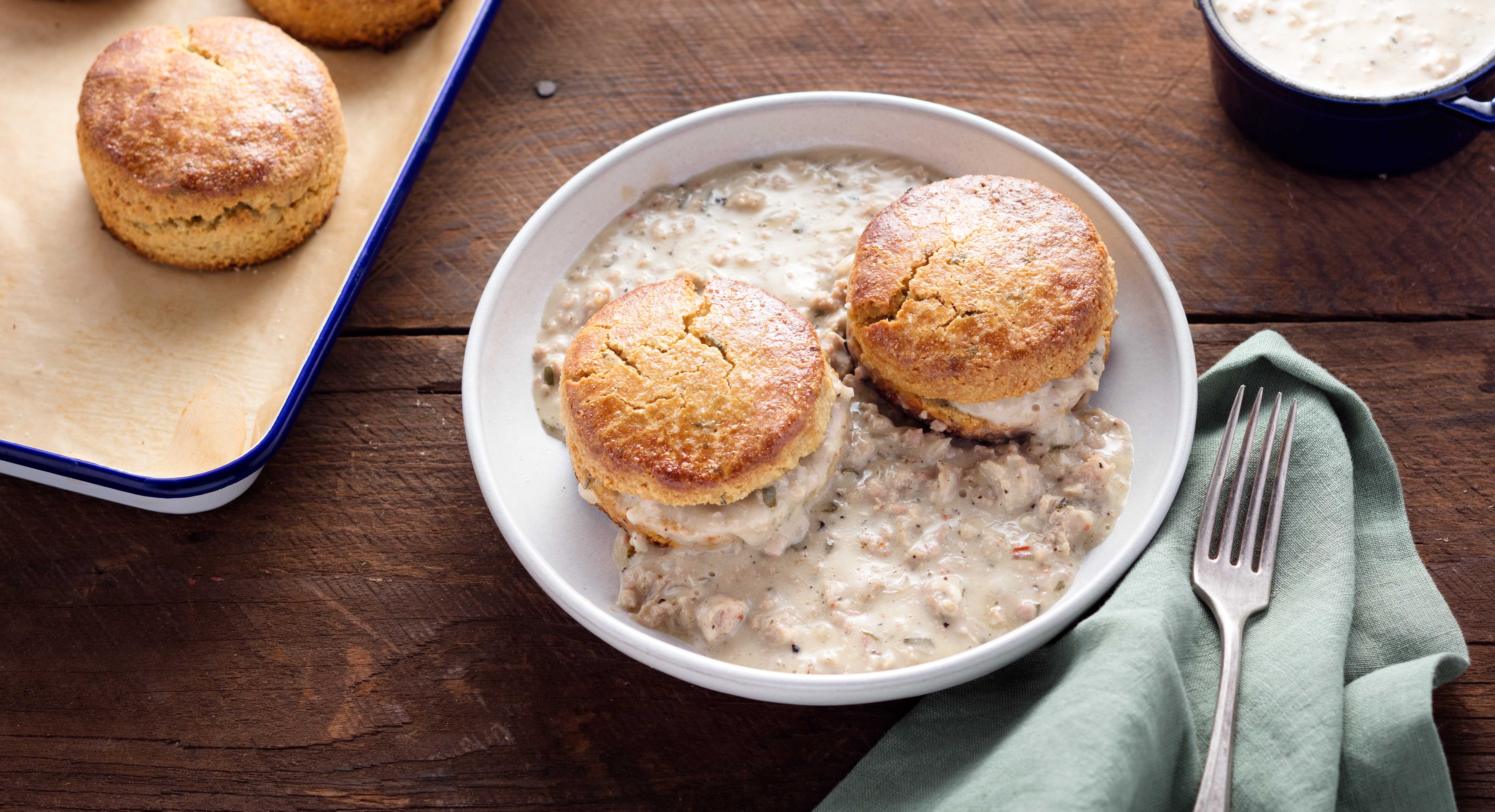 Fluffy low-carb rosemary biscuits? Totally possible when you sub almond flour in for regular—the gravy needs just a little bit of arrowroot starch to thicken. (Serve with the homemade breakfast sausages above to keep it even healthier.)
Recipes for low-carb lunches
A cool and refreshing salad made with fresh, raw zucchini, zesty lime, bright herbs is the perfect accompaniment to a high-quality extra virgin olive oil—add fresh mozzarella for a light but satisfying protein boost.
It doesn't get cleaner or greener than a bowl of fresh, peppery watercress and watermelon radishes. Sauerkraut, creamy avocado, and a sprinkling of salty feta really amp up the flavor.
In Provence, they make a traditional flatbread called socca from chickpea flour, which is lower in carbs and higher in protein than regular white flour. It's easy—just watch the video below, and top it with a tart salad of zucchini, watermelon radish, and feta.

Tossing together a chopped salad is a quick way to create a nutritious meal with balanced flavors and textures in every bite. Let the rainbow of ingredients shine through with a simple lemon-garlic olive oil dressing.
Poke is Hawaii's answer to sushi and usually consists of raw fish marinated in soy sauce and sesame oil, and served over a bed of rice. To make it low-carb and gluten-free, swap cucumber noodles in for rice and use coconut aminos instead of soy sauce.
Dinner recipes that are low-carb
A staple in Tunisian cuisine, harissa is a garlicky hot chile paste that makes the most amazing sauce for roasted chicken. A side of cooling yogurt-mint sauce helps balance out all that heat.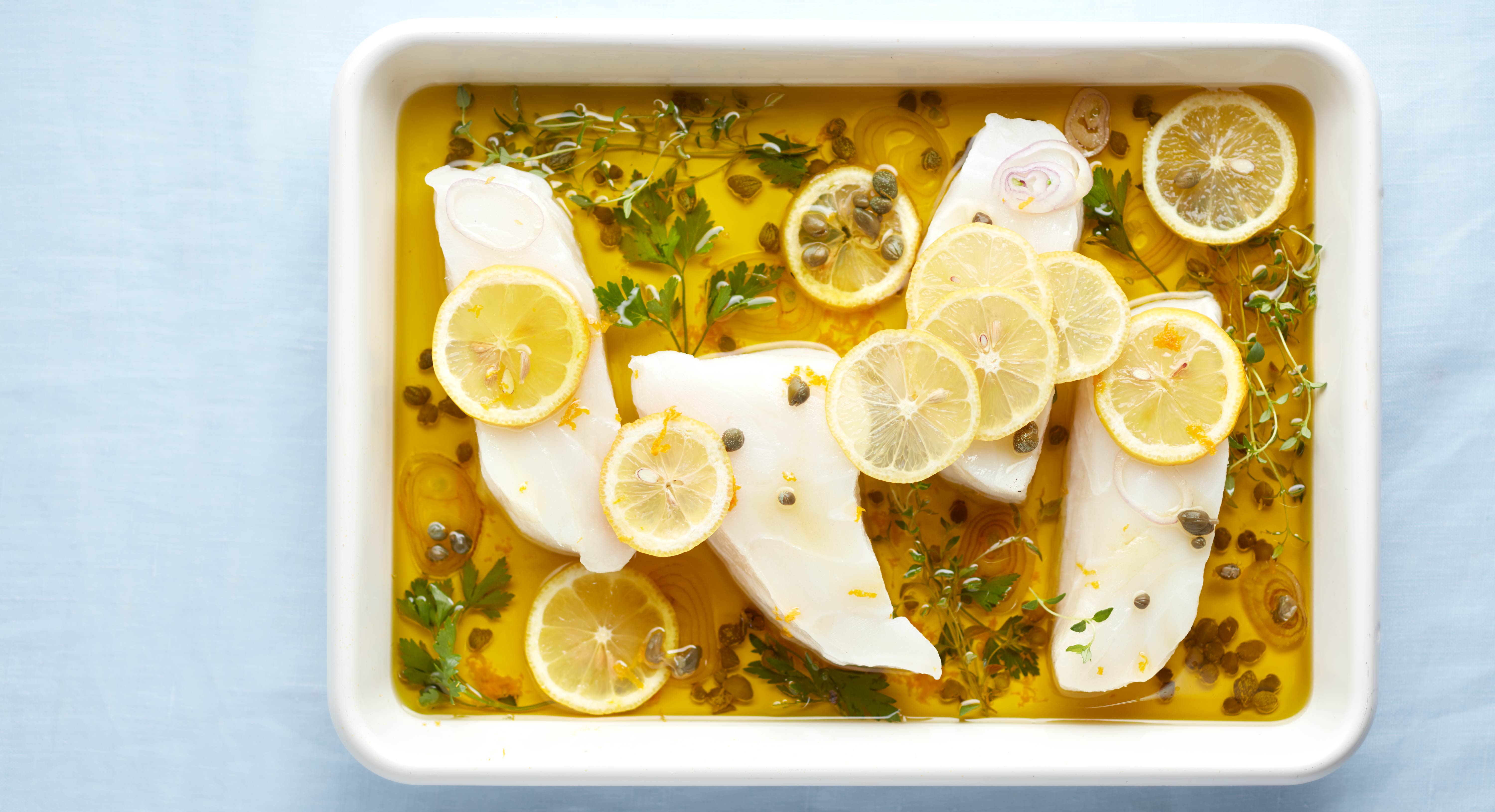 Poach sea bass in a full-bodied olive oil, and it'll come out tender, flaky, and flavorful every time.
Tagine is both the name of a traditional Moroccan stew and the earthenware dish it's usually cooked in. But you can make the dish in any large pot. It takes a while to slow-simmer the chicken thighs, but it's worth the wait—the end result is tender, juicy meat flavored with turmeric, cumin, cinnamon, ginger, onion, and garlic.
Classic roasted chicken is simple and versatile enough to serve with anything from green salad to quinoa—and you'll have plenty left over for lunch and dinner throughout the week.
For a tangy take on chicken kebabs, let the meat marinade in a lemon-turmeric yogurt sauce for several hours before hitting the grill. On the side, try our shaved fennel slaw topped with savory parmesan.
Balsamic and beef ribs are a match made in heaven, and a slow cooker makes it so easy to achieve that transcendent, melt-in-your-mouth texture.
Skip the rice noodles and serve vegetable-rich red curry over Miracle Noodles, which have zero carbs and zero calories.
Here, garlicky cherry tomatoes keep chicken breasts juicy and tender while they cook—and also bring tons of fresh, tart flavor to the dish.
Chicken noodle soup can still be one of your go-to comfort foods even if you're trying to cut the carbs. That's the beauty of zucchini noodles—they absorb the flavors of ginger, garlic, mushrooms, and lemon just as well as the starchy stuff.
Lime juice, coconut sugar, and fish sauce come together in a Thai-style sweet and sour sauce that transforms mild sea bass fillets into something unforgettable.
Try cauliflower "rice" once, and you may never miss the real thing again! Our recipe gets tons of flavor from onions, mushrooms, garlic, and an array of Middle Eastern spices. Serve it with roasted salmon for a tasty and nutritious dinner you'll crave over and over again.
Here's another genius way to enjoy cauliflower: puréed, as a velvety, low-carb alternative to mashed potatoes. It's an ideal accompaniment to intensely flavorful braised short ribs.
Low-carb sides recipes

Amp up steamed green beans with ricotta, toasted hazelnuts, and a walnut-apple cider vinaigrette—the combo creamy, crispy, and zesty, and a little unexpected.
Give roasted Brussels sprouts a big flavor upgrade with garlic-infused ghee, bright lemon juice, sweet medjool dates, and salty parmesan cheese.
Throw romaine hearts on the grill, and the outer leaves soften and char, while the core remains crunchy. Drizzled on s fresh dressing made of avocado, cilantro, and lime, and you have a dish that truly tastes like summer.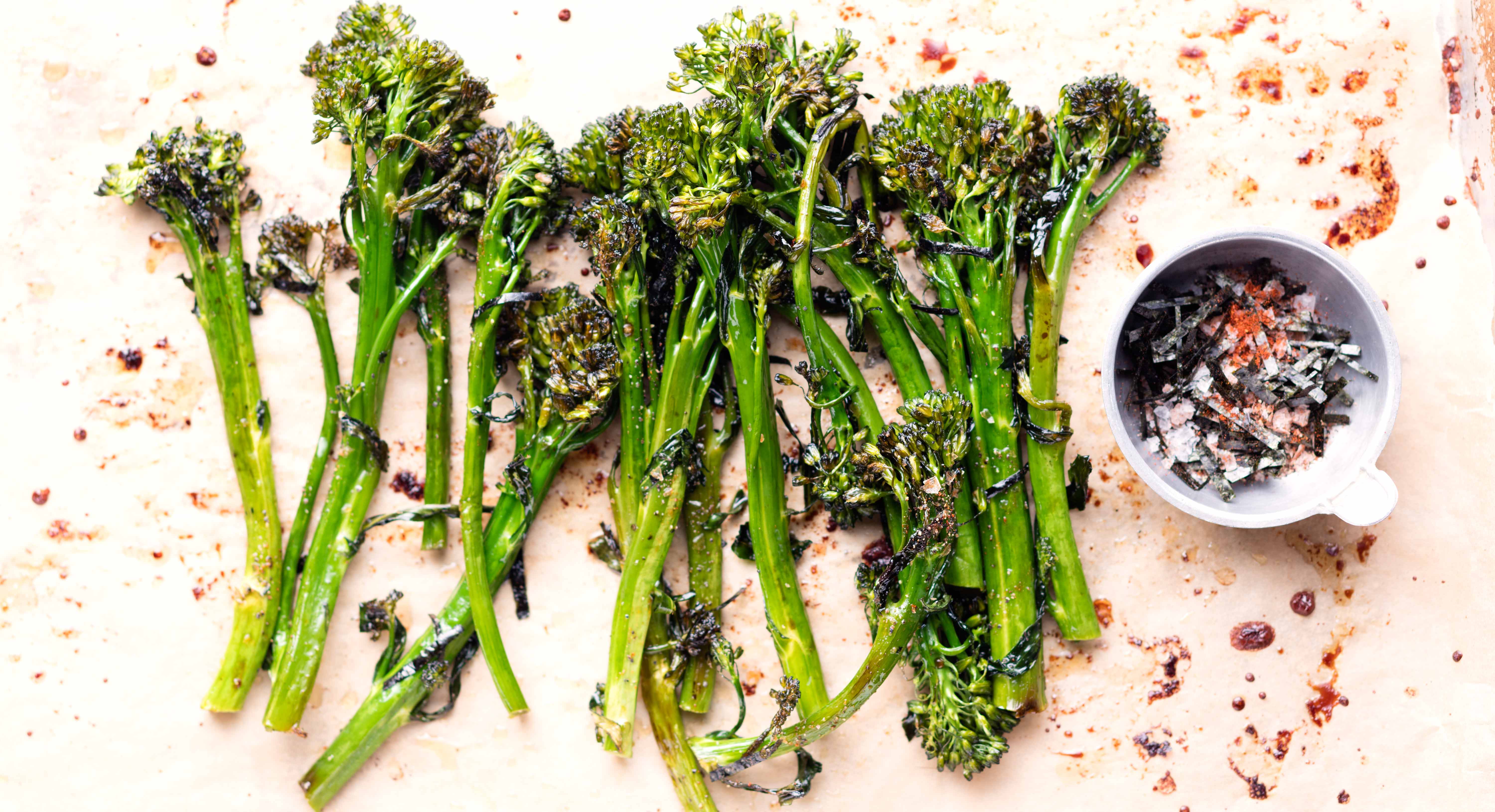 Broccolini, a milder cousin of broccoli, lets the umami flavors of coconut aminos, sesame oil, and toasted nori seaweed take center stage in a Japanese-inspired dish.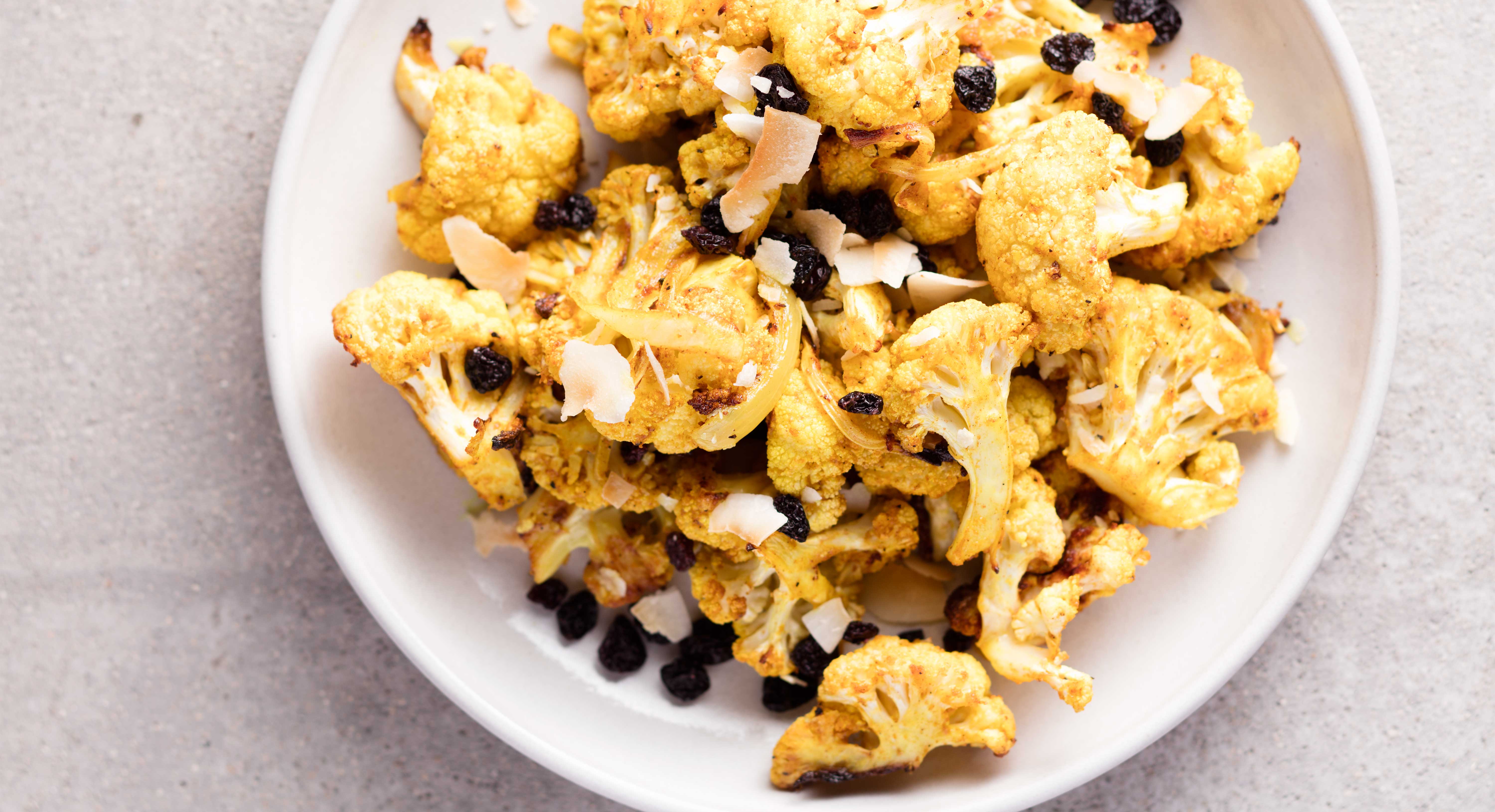 Roasting cauliflower with onions and bold spices brings out an almost caramel-like flavor. Toss it with coconut flakes and raisins to play up the sweetness.
How to make low-carb bread
Why live without bread if you don't have to? This loaf is rich in protein thanks to the almond flour and cashew butter, and also pretty easy to make—it only takes an hour, including baking time. You're welcome.
Making a sweet bread is just as simple, and just as fast. Same recipe as the above, except sub in cinnamon for cumin and sprinkle in some raisins.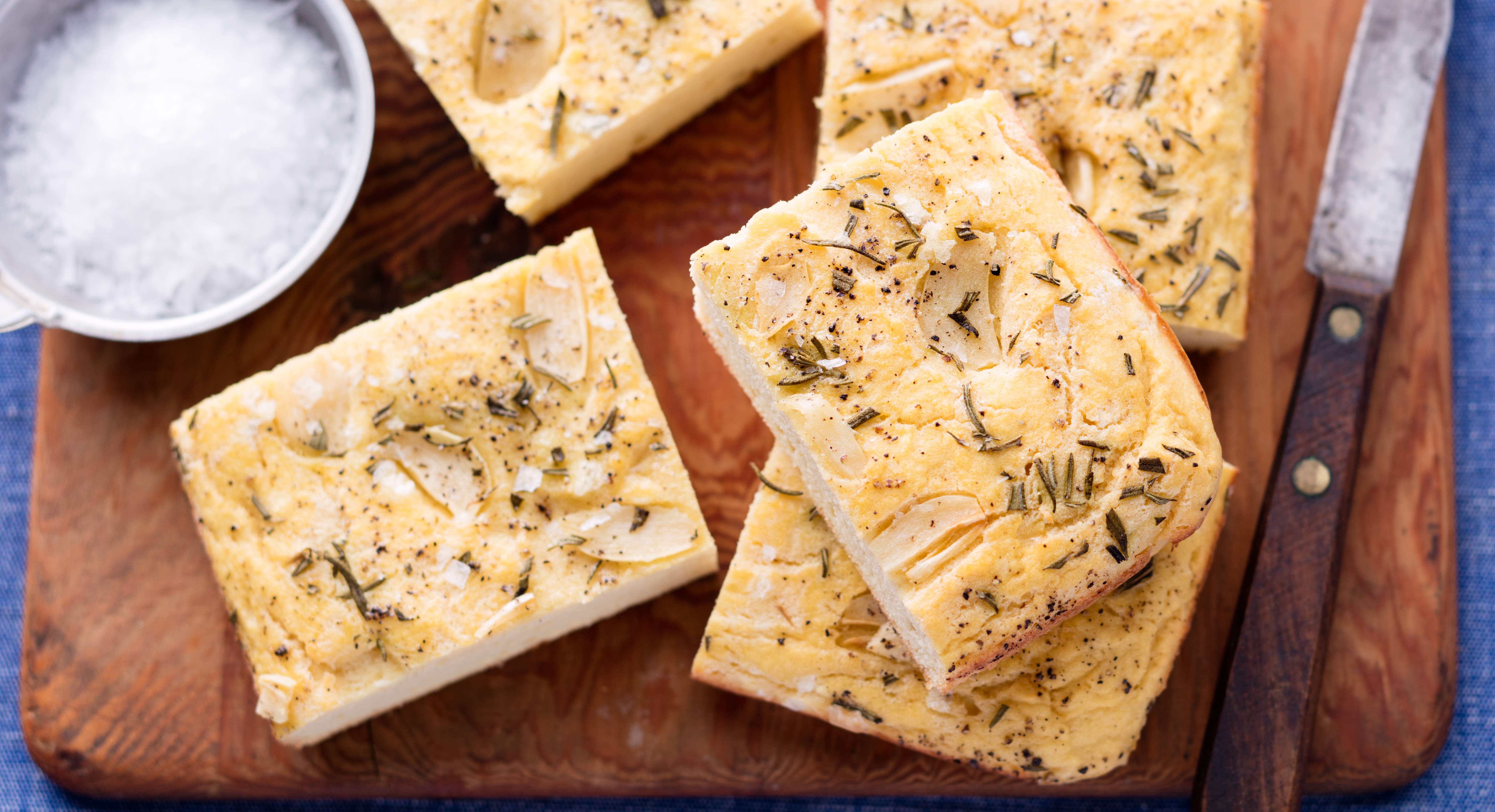 If you thought you had to say goodbye to focaccia forever, think again—with coconut flour and coconut milk, you can bring the aromatic bread back into your life. It only takes 35 minutes to bake!
Low-carb snack recipes
Few things in life are as flawless as the combo of fresh mozzarella and olive oil. Marinate the cheese overnight in oil, garlic, thyme, and oregano and you're golden.
Who says you need tortilla chips to indulge in nachos? Kale chips are the next best thing. You can even skip the cheese in favor of a vegan-friendly "queso" sauce made from cashews, nutritional yeast, and spices. Top it all off with roma tomatoes, avocado, jalapeno, and cilantro for authentic Mexican flavor.
For a lower-carb version of hummus, use raw almonds instead of chickpeas—and serve with raw celery sticks, bell peppers, and cucumbers in lieu of pita.
These healthified nuggets get their crispy coating from coconut flour and ground flaxseed instead of white flour or breadcrumbs. As for the taste—let's just say you'll never crave Mickey D's again.
Forget about the meat for a second and give these faux "wings" a chance. Cauliflower can sub in for everything from rice to potatoes to chicken, and this recipe is no exception. The veggies are battered in coconut flour, roasted, then drenched in hot, hot, hot sauce. You won't believe they're meatless.
Low-carb dessert recipes
Foodies brave long lines and wait for hours just to get a taste of pastry chef Dominique Ansel's milk-and-cookie shots. You don't have to be one of those people, when you make your own—low-carb—version at home. Watch and learn:
No need for an ice cream maker to whip up a rich frozen dessert at home—a blender will do just fine. Instead of heavy cream, start with thick, Greek-style yogurt, which also provides a healthy dose of probiotics. Luckily, strawberry is not only of the world's favorite ice cream flavors but also a lower-carb fruit.
These days, aquafaba—or the liquid from a can of chickpeas—is gaining popularity among vegan chefs and bakers as a swap for egg whites. Whip it and add melted dark chocolate, cream of tartar, and vanilla extract and you've got a dairy-free chocolate mousse.
Ice cream cake might sound ambitious, but it's relatively easy to assemble. With a crust of pulverized raw almonds, coconut oil, and raw honey, and ice cream made of coconut cream, vanilla extract, and matcha powder, it comes together in a flash.
Low-carb, gluten-free cookies coming right up! These crispy-chewy macaroons are flavored with earthy matcha green tea, which pairs nicely with delicately sweet coconut.
See? Cutting carbs doesn't have to mean depriving yourself. Choosing a variety of foods and using them in creative ways is the key.
Photo credit: Paul Delmont