Chia seeds aren't much bigger than grains of sand, but they're a superfood ingredient that's worthy of space on your shelf. In addition to being the foundation of custardy desserts (we're obsessed with this golden milk chia seed pudding recipe), chia seeds can help you add more fiber to your diet. Read on to learn some of the big benefits of this small ingredient, and get favorite chia seed-inspired dishes the whole family will enjoy.
What Is Fiber?
Dietary fiber is a plant-based carbohydrate found in ingredients such as fruits, legumes, and vegetables. Once in your body, fiber is on a focused mission: to keep food moving through your intestines—bringing toxins and waste along with it—and eventually resulting in a bowel movement. There are actually two types of fiber—soluble and insoluble.
Benefits of Soluble Fiber
Since this type of fiber takes longer to digest, it helps you feel full longer. The potential downside, though, is that soluble fiber can't be fully digested (although it does break down somewhat).
Insoluble Fiber Benefits
Insoluble fiber can't be broken down at all, which means it moves through the digestive tract without changing shape (whereas soluble fiber becomes more gelatinous as it travels in the body). The upside? Insoluble fiber bulks up your stool and helps food pass through the stomach and intestines faster, promoting regularity.
Fiber Health Benefits
The term "dietary fiber" wasn't coined until 1953, but knowledge of its health benefits date back to 430 BC, when Hippocrates compared the laxative effects of coarse wheat and refined wheat.
In addition to helping your stomach feel full, one of the key benefits of a high-fiber diet is maintaining regular bowel movements. Also, studies have found that upping your fiber intake may help reduce blood pressure, support weight loss, and reduce constipation hemorrhoids.
Good Sources of Fiber
In addition to chia seeds (which we'll explore in the next section), lots of foods offer a serving of fiber.
Here are some foods that deliver soluble fiber:
Blueberries
Apples
Lentils
Oatmeal
Beans
Here are some foods that deliver insoluble fiber:
Wheat bran
Oat bran
Couscous
Bell peppers
Cabbage
Cucumber
---
What Are Chia Seeds?
Tiny seeds that swell in size when exposed to moisture, chia seeds are virtually tasteless, which means they slip undetected into a variety of recipes that include granola, grain salads, and oatmeal. You can also embrace the gelatinous nature of chia seeds in recipes for puddings, dressings, jams, and more.
Chia Seed Benefits
Chia seeds are known for delivering omega-3 fatty acids, plus plant-based protein (chia seeds have all nine essential amino acids!). Here's a peek at the nutritional benefits of chia seeds, featuring a three-tablespoon serving of Thrive Market Organic Chia Seeds:
Chia seeds fiber content: 10g
Protein: 5g
Iron: 2mg
Omega-3: 6,015mg
Omega-6: 1,881mg
Omega-9: 540mg
Calories: 150
Chia Seed Products
There are plenty of ways to fuel up on chia seeds. Here are the top picks from our virtual pantry.
Thrive Market Organic Black Chia Seeds
This 16-ounce bag of chia seeds delivers a range of nutrients such as omega-3s, essential amino acids, fiber, and iron. Thrive Market member Jerusha from New Jersey adds a spoonful to morning shakes and afternoon yogurt.
Thrive Market Organic Ground Chia Seeds
Planning to grind up your chia seeds? Thrive Market does the work for you. Member Kristine from Florida reports keeping her bag at work and adding the ground seeds to oatmeal. "It's nice not having seeds stuck between your teeth," she shares.
Mamma Chia Organic White Chia Seeds
From Mamma Chia, organic white chia seeds deliver similar nutrients as their black counterparts—like protein, dietary fiber, and calcium, to name a few. Member Marc from Pennsylvania eats them every day in overnight oatmeal.
Mamma Chia Squeeze, Blackberry Bliss
Fuel up on the go (or after a workout) with Mamma Chia's popular squeeze packs. Filled with blackberries and purple carrot juice, each organic pouch delivers 4g of dietary fiber, plus calcium and iron.
Health Warrior Dark Chocolate Chia Bar
Chocoholics won't be able to resist this gluten-free bar that combines dark chocolate, chia seeds, and puffy rice with nutrients such as protein, iron, and dietary fiber.
---
Chia Seed Recipes
This primer on chia seed recipes has everything from pudding to ice pops.
Black Bean Brownie Bites
One of our most popular recipes of all time involves black beans, chia seeds, and coconut oil. Brownie bites taste ultra-decadent, but there's added nutrition inside every bite.
Warm Cacao Smoothie Bowl
Change up your smoothie routine with a warm and comforting bowl version. This chia seed smoothie recipe blends rolled oats with cacao creamer and almond butter, then tops the mix with a sprinkle of chia seeds.
Chia Cherry Rosé Sangria
This chia seed drink elevates sparkling wine with ginger beer, dragon fruit, and a beet-flavored squeeze pack from Mamma Chia. It's the perfect summer sip!
Balsamic-Blueberry Chia Ice Pops
Everyone will clamour for these sweet ice pops made from balsamic-simmered blueberries, chia seeds, and creamy coconut milk.
Banana-Chocolate Chia Pudding Parfaits
Looking for an elegant dessert? Chia pudding parfaits are perfect. Luscious layers of chocolate chia mousse, vanilla chia pudding, and mashed bananas make a fancy presentation. Not to worry, though—this recipe can be made in advance and chilled before the party.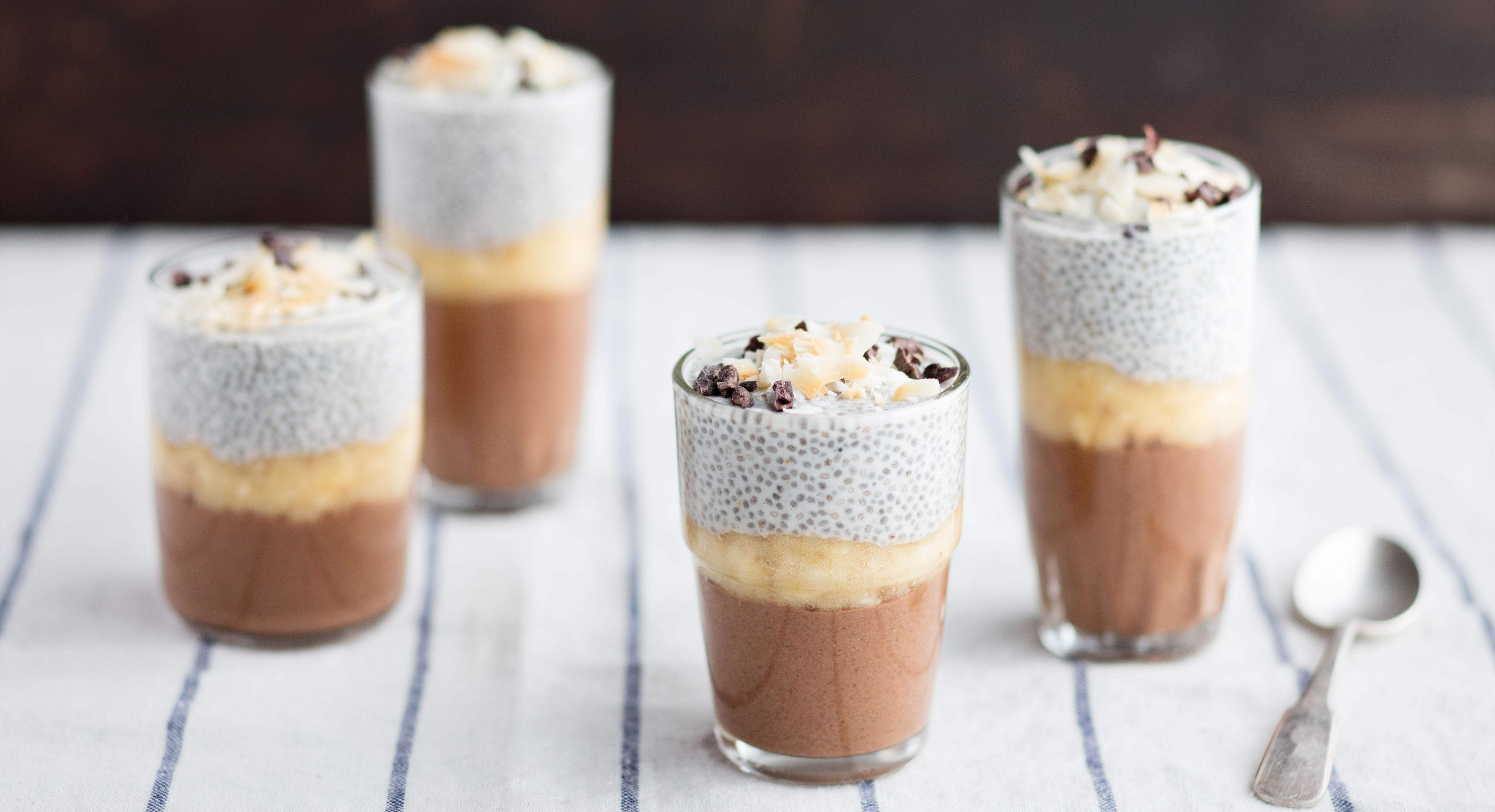 The Best Chia Pudding Recipe
We love the addition of matcha to a basic chia pudding recipe—it lends an earthiness when paired with rich vanilla and sweet maple syrup. Bonus: It only takes 20 minutes to make, and can be prepped ahead of time.
Pumpkin Spiced Chia Seed Pudding
If matcha isn't your jam, how about pumpkin? This chia seed pudding recipe blends warm spices (cinnamon, cloves, and nutmeg), with almond milk, pumpkin, and MCT oil for a nutritional boost.